1967 Ford Mustang Convertible – SOLD
About This Vehicle

Mileage: 89,500

Engine: 289

Body Style: Convertible

Transmission: Auto

Exterior Color: Pebble Beige

Interior Color: Parchment

VIN: 7F03A210180

Price: SOLD
BEAUTIFUL, RARE, 1967 FORD MUSTANG CONVERTIBLE A-CODE, LOADED AND VERY ORIGINAL!



1 OF 122 IN THIS RARE PEBBLE BEIGE AND PARCHMENT INTERIOR COLOR COMBO WITH THESE OPTIONS!!
LOOKING FOR A CLASSIC PONY CONVERTIBLE THAT STANDS OUT AT SHOWS OR ON THE ROAD? DO YOU WANT A HIGHLY ORIGINAL CLASSIC THAT HAS SOME GREAT OPTIONS AND IS FUN AND EASY TO DRIVE? SIT BACK AND ENJOY BECAUSE THIS IS THE ONE!!
Let me start off by saying that I love a Classic Red Mustang convertible as much as anyone and in fact I will be putting a fantastic Red '68 Mustang convertible on Ebay later in the week. There is just something great about some of the rare colors that were produced that you rarely see anymore. I will use the word "rare" quite a few times in this auction because it fits! Check out the Marti Report below that will spell out just how rare this car is. Original Door Tag is on the car and the vin stamping is also on the drivers front fender apron.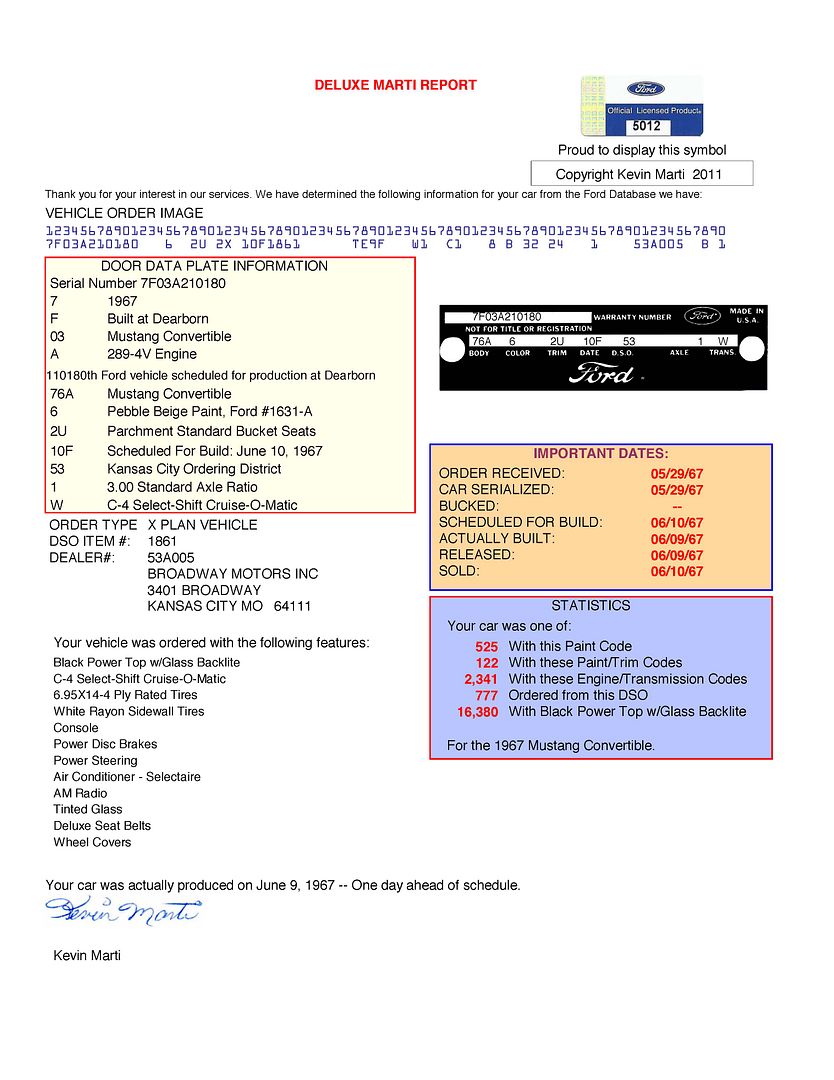 I recently acquired this awesome Mustang convertible from a gentleman in Texas. The prior owner was also from Texas and the original owners manual shows the car was purchased in July, 1967 at a Dealer in Austin, Texas. Safe to say from this documentation and the cars condition that this was a Texas Car most, if not all,of its almost 44 years. As you can see, this beautiful '67 Pony is finished in its original Pebble Beige color that it left the factory with. Complimented by the original Parchment interior and black convertible top it creates a stunning and rare color combination. On top of the rare color combo is a great list of options and we believe this classic has just under 90,000 original miles on the original A-Code 289 V8. I do not know when this car was last painted but I am estimating it was done about 10-12 years ago and it still looks great! I will do my best to honestly describe this '67 Convertible and provide enough pictures and an amateur video of her running that should show you the true condition of this Quality Pony Classic.
It is difficult to capture the beauty of this color but I will provide a walk around picture tour of the body and a few pics that should show you that in the right light there is some great reflection in this quality, older paint job. The body panel fit is very good. The Drivers side door could be adjusted slightly for an even better fit. There is no rust or bubbling along the body of this car. The car is nice and straight. Chrome and stainless trim looks excellent. The rear bumper is slightly hazy in a few spots but overall trim looks great. The Black Convertible top is fantastic condition and operates perfectly. Windows roll up and down nicely and seal up well. This pony has a great stance, riding on a brand new set of 15×7 Magnum 500 wheels wrapped in brand new BFG Radial TA radials. Overall the body is in great condition and this is one you can proudly take to your local show or cruise-in.
Adding to the Rare Pebble Beige exterior is the Parchment interior. The seat covers appear to be original and look very nice. There are some areas that show some wear but there are no holes or separations. In a few spots it looks like someone tried to dye some of the worn areas so in person there are some imperfections that do not show up in the pictures. The original center console looks excellent and all gauges and lights appear to be working correctly. Original Steering wheel looks excellent and drivers side remote mirror works. The Factory Air is working but could probably be charged for the summer season. Dash pad, door panels and carpeting all look excellent and there is a brand new set of Pony mats in front and back. Factory boot cover snaps on easily when the top is down. Overall the interior is in excellent driver quality condition and compliments the exterior beautifully! Inside the trunk is very solid and has original style trunk mat and foam on top of a fairly new gas tank. Someone placed some sound deadening material along the wheel well areas inside the trunk to dampen road noise and while it does not look particularly great it is effective. The undercarriage including Floorpans and torque boxes are very solid. It appears that there was some floorpan work done probably at the time of restoration 10-12 years ago but original style pans were used and lightly undercoated. There is a small section at the drivers front floor pan that appears to have a piece of metal welded in and it has remained solid. If someone wanted the undercarriage to look as nice as the rest of the car it would not take too much. I have added trunk and undercarriage pics at the bottom of the listing.
Open the hood of this A-Code Pony and you will find the original 289 V-8 that appears extremely original and is nicely detailed. This 4bbl V8 drives very strong and the C-4 Select Shift Cruise-O-Matic shifts great. Driving is a joy with Power Front Disc Brakes and Power Steering that can be turned with 2 fingers on the wheel. This Pony tracks straight and true and stops straight with little effort.The entire suspension, front and rear was redone by the previous owner just a few years ago including new rear leaf springs, front shocks and upper control arms. The strong 289 rumbles nicely from the throaty dual exhaust exiting from under the rear valance with a nice set of dual tips. This Pony is mechanically very strong and sound and is ready for some top-down cruising anywhere you want to go!! At the end of the listing I included a short video so you can hear it running.
HERE IS THE AMATEUR VIDEO SO YOU CAN GET A WALK AROUND TOUR AND LISTEN TO HER RUNNING:


Hopefully the pics and video have made it clear that his is truly a quality, original, VERY RARE '67 Mustang Convertible that is sure to be a great investment that you can drive and enjoy! I know the next owner will be thrilled with the condition and quality of this Classic Pony! If you have any questions feel free to call me at 770-359-8400 and I will do my best to answer them. If you are a serious buyer lets talk on the phone and discuss it. In addition to being a licensed Classic Car Dealer I am also a Transport Broker and will be happy to assist the buyer with a great rate on Enclosed Transport anywhere in the US at the buyers expense or to any port for overseas buyers.
SERIOUS BUYERS CAN CALL ME AT 770-359-8400