About This Vehicle
Mileage: 54,100
Engine: V8
Body Style: Convertible
Transmission: Auto
Exterior Color: Burgundy
Interior Color: Black
VIN: 2426778137561
Price: SOLD
GORGEOUS

1967

PONTIAC GTO CONVERTIBLE WITH TRI-POWER THAT IS READY TO SHOW OR GO!!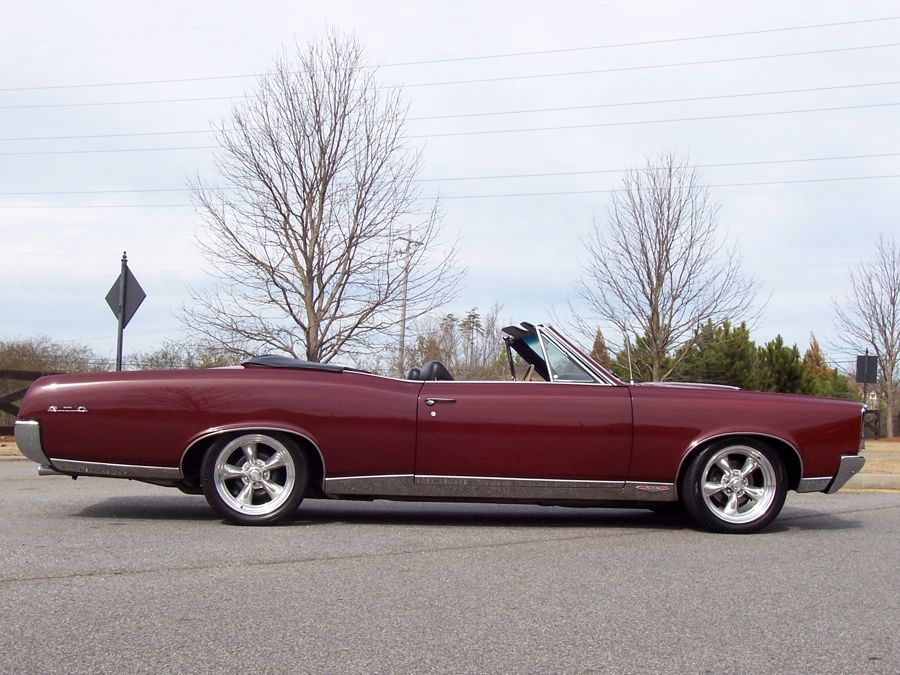 SAME OWNER SINCE 1989

AND RESTORED IN 2003… 1 OF 9517 CONVERTIBLES PRODUCED…

GRRRR!!!
If you have been looking for a fantastic GTO Convertible to drive, enjoy and possibly show then sit back and relax as this may be the one for you!! We recently acquired this beauty from a gentleman in Washington State who has owned it since 1989. Think about that…he has owned it for 23 years!!! It is always great to come across a classic American Muscle Car that has been owned by the same individual for such a long period of time, especially when they are true car enthusiasts and have maintained and restored their classics as needed.  The gentleman we bought it from has owned a wide variety of classics over the years and has restored and sold several at Barrett Jackson Auctions. This particular GTO Convertible was one he has thoroughly enjoyed through the years and had tons of memories in but due to the slow down in the construction business he decided it was time to let it go.  He told me this car was his Spring/summer cruiser and he took it to all the car events he could as well taking it on several long distance drives to San Francisco and Oregon with absolutely no issues.  In fact he thinks he put about 77,000 miles on it in his 23 years of ownership. He always winterized and stored the car properly during the fall/winter season.   In 2003 he had a very high quality cosmetic restoration performed and it has held up beautifully as you will see in the pictures that follow. At that time he had the date coded correct YS 400 motor completely rebuilt and added a rebuilt Tri-Power system from a 1966 GTO to add to the fun! I am not sure if this is the original matching number 400 but it is date code correct. As you will see the body on this Convertible is in fantastic condition and it is finished in its original factory Burgundy Color.  I will do my best to provide enough pictures and a video so you can hear this Goat running to decide if this is the right piece of Muscle Car History to add to your garage.  Please allow a few minutes for all of the images to load. As always I welcome phone calls from serious buyers to discuss any questions you may have or to negotiate a price to get this GTO in your driveway.
Absolutely beautiful body on this Burgundy '67 Convertible!!! Body panels are very straight and body gaps are excellent overall.  In 2003 a cosmetic restoration was performed and I was told there was a dent in the drivers side quarter panel and as a result he decided to have the panel replaced. Quite honestly I do not see evidence of the replacement as it must have been done very professionally and perhaps with an original GM Quarter panel as the stampings are still on both side edges of the trunk. Otherwise this was an extremely solid car and does not show any signs of rust along the body.  The paint quality itself is also excellent!! It was repainted in the correct original Burgundy color although I would guess there is a bit more metallic in this paint then there was in 1967.  We had the paint wet sanded and buffed by a professional and he was very impressed with the paint and thought it looked like Sikkens brand paint to him which is a very high quality paint.  Keep in mind this car has been driven and was built to be driven to car shows and enjoyed, not trailered!!! As a result there are a few very minor rock chips and blems that you would expect but rest assured this is a gorgeous, investment quality GTO!! Chrome trim all looks great and the front grills look fantastic. The bumpers were re-chromed in 2003 and look great. This is what I would categorize as a driver + quality car with great integrity, that can be shown at local events and will probably take home its share of trophies but best of all it is a GTO that you can drive and enjoy while knowing you have a quality, investment ride! Here is a walk around of the body:
Complimenting the Burgundy exterior is a factory black interior that was also redone in 2003 and looks excellent as well.  The seats look great with no rips or tears and the front bucket seats received upgraded Factory headrests that i believe the previous owner added.  This car has the original front and rear seat belts. His/Hers Automatic shifter in the center console that is in great condition.  This car has a tilt steering column which also may have been added by the previous owner.  The dash pad is in great condition with no cracks.  The gauge pack appears to have been upgraded to the ralley gauges however the tachometer is currently not working. Fuel gauge is also currently not working but is probably just the sending unit.  All of the other gauges and lights appear to be working correctly including the courtesy light at the rear of the center console. Steering wheel looks great, door panels look excellent. The carpet is a bit faded in spots and could be easily dyed and is in great shape otherwise. Odometer currently reads 54,100 and we believe the car has 154,100 original miles.  This GTO has a very nice sound system that was professionally installed without cutting the dash which still holds the original push button radio. An expensive Alpine AM/FM/Cd player was neatly installed in the glovebox. High end speakers and tweeters were installed in the door panels and a Alpine CD changer, amplifier and subwoofer were neatly installed in the trunk. While the awesome sound of the dual exhaust is music to my ears, it is nice to also have this high end sound system for those long cruises with the top down. Believe me you will be able to clearly hear your favorite music on this system even at 75 mph with the top down. Speaking of the top, it is in very nice condition and was replaced in 1990 according to the previous owner. He tended to keep the top down all season but it is still in very nice condition. The rear window is quite clear with just a few age spots.  The power top pump works well and this top seals up quite well and with relative ease. Windows roll up nicely and seal up to the top quite well. Windows have newer weatherstripping and seals.  Overall the interior and top are in really nice condition.  Picture yourself inside this Muscle car…..drop the top and go, go go!!!
Under the hood you will find a nicely tuned, true Pontiac Muscle Car power plant. The YS coded 400 motor appears to be date coded correct however I am not certain it is the original motor so I will not represent it as the matching # motor. I will say though that it is a very strong, stock 335hp motor that the previous owner had completely rebuilt and dressed up with the Tri-power system from a '66 GTO. The triple carbs are nicely tuned and kick in as expected under heavy throttle.  Previous owner put plenty of miles on this drivetrain prior to the rebuild in 2003 and also drove it a fair amount after it was rebuilt.  This 400 V8 is ready for cruising! Turbo Hydramatic 400 Automatic Transmission with the His/Hers shifter moves this GTO to highway speeds smoothly. I believe it has the original Rear differential with very friendly highway gears. Wonder Touch Power steering makes handling easy.  Power Front disc brakes make stopping a breeze and as you have probably noticed this '67 GTO is riding on a beautiful set of 17″ American Racing Torq Thrust 2 Polished wheels wrapped in fairly new Toyo Radials.  This GTO has a great stance and sounds just as good with the sweet muscle car rumble you would expect from the dual exhaust.  To protect your investment there is a nice Python Alarm system that will go off if the hood is opened or anyone enters the car while it is unattended.  There is a short video below so you can hear this Goat running.  She is a joy to drive and ready to hit the streets!
HERE IS A SHORT VIDEO SO YOU CAN HEAR THIS BABY RUNNING:
In addition to the rock solid body the undercarriage/floorpans and inside of the trunk are also rock solid as well. The undercarriage shows the normal road grime but floorpans and frame rails are extremely solid with no rust issues or patches. Inside of the trunk was detailed at time of restoration in 2003 and still looks excellent. Upgraded stereo equipment was installed neatly and professionally.  Although I do not have the full PHS  ( Pontiac Historical Services) packet I do have a reproduction of the original window sticker that will be included.  As you will see in the picture below it shows the current title from the previous owner who owned the car since 1989.  The Vin # tag is still attached to the inside of the drivers side door jam as shown below and the Engine bay tag clearly shows this car was born in the color combination you see in the pictures.
Hopefully you will agree that this is one sweet looking GTO!!! This car truly looks as good in person as it does in the pictures and it is a real head turner that drives as good as it looks!!
I know the next owner will be thrilled with the condition and quality of this investment grade classic!  If you have any questions feel free to call me at 770-359-8400 and I will do my best to answer them.  If you are a serious buyer lets talk on the phone and discuss it. I will be happy to negotiate a deal so we can get this beautiful car in to your garage as soon as possible.  In addition to being a licensed Classic Car Dealer I am also a Transport Broker and will be happy to assist the buyer with a great rate on Enclosed or Open Transport anywhere in the US at the buyers expense or to any port for overseas buyers.