About This Vehicle
Mileage: 24,326
Engine: V8
Body Style: SUV
Transmission: Manual
Exterior Color: Turquoise
Interior Color: Off White
VIN:  U15NLD27099
Price: SOLD
ABSOLUTELY GORGEOUS

,

CALIFORNIA ORIGINAL

, UNCUT, 1968 FORD BRONCO…

COMPLETELY RUST FREE

, NICELY RESTORED, READY TO

SHOW AND GO

!!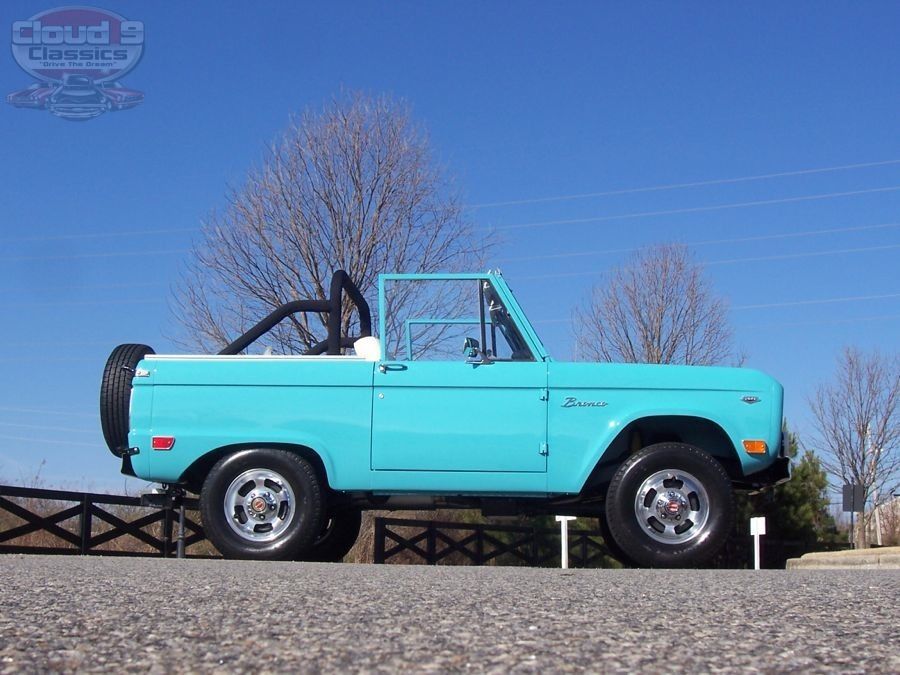 HAVE YOU BEEN SEARCHING FOR AN EYE-CATCHING, UNCUT, EXTREMELY ORIGINAL, EARLY BRONCO CLASSIC?
WOULD YOU PREFER ONE THAT HAS LIVED A RUST FREE LIFE, HAS BEEN NICELY RESTORED AND IS TURN-KEY READY TO BE DRIVEN AND ENJOYED?
DID YOU TELL YOURSELF THAT YOU WOULD MAKE SMART INVESTMENTS IN 2014 AND LIVE LIFE TO ITS FULLEST??
WELL, IF YOU ANSWERED YES TO ANY OF THE QUESTIONS ABOVE THEN THIS MAY BE THE EARLY BRONCO CLASSIC YOU HAVE BEEN WAITING FOR!!!
THIS

UNCUT

'68 IS AN ABSOLUTE SWEETHEART OF A FIND

!!!
This gorgeous Medium Turquoise 1968 Ford Bronco is truly a great find and stands heads and shoulders above most others on the market. Extremely hard to find an Early Bronco that has not been cut and lifted and this one has lived a dry, rust-free life in California for 45 years! Treated to a complete cosmetic restoration on an all original, rust free body, this '68 is in amazing condition and runs and drives as good as it looks. There is no denying that these Early Bronco Classics are becoming highly sought after in the collector market and rightfully so. If you are looking for the ultimate sunny day cruiser, beach or mountain fun ride, or just a classic 4WD investment vehicle that will be right at home at any car show or cruise in, then this is the one!! I will do my best to provide enough large images, a video of it running and an honest description to help you decide if this Bronco belongs in your stable. Sit back and enjoy!!
This gem arrived to us last summer from Northern California where it had spent its entire life! We purchased it from the 3rd owner who had owned it for the past 4 years.  He had actually first seen it in a neighboring town about 7 years ago and had spoken to the owner who turned out to be the original owner.  About a year later a friend of his showed up in it and told him he had just purchased it from the original owner. He told his friend he was in love with it and if he would sell it to him to let him know. Sure enough, a couple of years later his friend delivered the Bronco to him and for the past 4 years he and his wife had enjoyed it tremendously.  They decided it was time to downsize and were ready to let this original, sweetheart of a Bronco go….sad for them, but extremely lucky for the next owner….maybe you??  The previous owner explained to me that the Bronco was completely rust free and actually had about 90% of its original paint.  It was somewhat hard to believe because it looked so good in the pictures he had sent me but he was absolutely correct!!! When the Bronco arrived after its long journey cross country to us here in the Atlanta, GA area my partner and I just looked at each other and smiled.  It is so rare to find any classic car with so much originality and amazing patina let alone a 1968 Ford Bronco.  Lets face it, most of the Early Ford Broncos were used and abused. Most eventually received lift kits, fender flares, diamond plated panels and all kinds of modifications.  To see one with this much originality and in this nice of condition was truly refreshing!  Well, now the question was whether we should leave it completely like it was, or,  give it the cosmetic restoration it deserved so that it would be truly appreciated and enjoyed the way it was originally meant to be.  My partner drove it quite a bit when it first arrived and said it drove as good as it looked. He was actually contemplating keeping it for himself for a while.  We put it in the corner of the warehouse while we stayed busy with all of our other vehicles and when Fall hit we decided that this '68 deserved a high quality cosmetic restoration.  We dropped it off and waited, and waited, and waited. If you have ever dealt with restoration guys who take pride in their work you know that it does not make sense to rush them.  Our guy had apparently fallen in love with this Bronco and proceeded to completely disassemble it telling us how amazed he was that he did not find any rust any where.  This got him excited and he treated it like his baby, massaging the body panels stripping it to bare metal before priming, sanding, and laying down a show quality paint job.  Needless to say all of this takes time and it was difficult to stay patient but I think you will agree that it was worth the wait!!!
As you will see in the pictures the body and paint are absolutely stunning. We repainted it in its original Medium Turquoise color using a high quality Basecoat/Clearcoat finish. Body panel fit is fantastic thanks to the fact that it has its original body panels and it lived such a rust free and accident free life. Chrome trim, bumpers, emblems all look fantastic and were either replaced or polished.  Doors open and close very nicely. The only real modification to the body was the addition of hood pins that the original owner had added many years ago. We felt they were period correct and left them in tact.  Windows roll up and down nicely and we put a brand new windshield in due to some rock chips. Weatherstripping was all replaced as well. As you will see in the pictures we had the inside of the tub painted as well.  About a month after it was painted we had the paint wet sanded and buffed out.  This Uncut '68 is ready to be driven to the local shows and cruise-ins and there is plenty of room for the trophies she will win if that is something you enjoy. To be safe, I will not say it is flawless but, quite honestly I have not noticed any paint chips or flaws since it was finished. It is not a trailer queen, although the condition might suggest otherwise.  We are confident the next owner is going to be absolutely thrilled when this Turquoise Gem arrives to their driveway. Here is a walk around tour of the body:
I believe the way to enjoy these Classic Broncos is with the top off but when necessary it is nice to know that this '68 also comes with a complete soft top with dark tinted windows that is in excellent condition. You can zip out the windows and get protection from the sun when needed or enjoy it without the top completely. Here are a few pics with the soft top on. 
Complimenting the beautiful Medium Turquoise exterior is an extremely nice off white interior.  The front seats are original style seats and the rear seat is a fold and tumble style seat and looks great. The upholstery looks great with no wear and the seats are very comfortable.  Seat belts front and rear. We put a brand new carpet kit on the bed of the trunk after it was painted.  Brand new set of Toms Bronco floor mats. As you can see in the pics below the tub area was all painted to match and looks incredible. The 3-speed manual was moved to the floor many years ago with a great Mickey Thompson Shifter. The dash looks great and all gauges and lights are working correctly.  Original steering wheel is in amazing condition. An older Am/fm Cassette was installed many years ago neatly and still works well with speakers mounted in the rear of the bed. Visors, door panels, arm rests etc. all look great.  The Roll Bar is nicely padded with neoprene and has a few grab handles. As you will see the original glove box door has the Factory original data tag which verifies the original color and configuration this Bronco came with from the factory…pretty much exactly as you see it today. You will also see quite a few service history notes that were attached to the glovebox by the original owner back in the day.  Overall the interior is in fantastic condition and is equally ready for the shows or just ready for you and the family to climb in and enjoy!! Have a look:
This awesome '68 has the original 289 V8 under the hood that was completely gone through and rebuilt approximately 10 years ago according to the gentleman we bought the Bronco from. The original owner had this done but had lost all of his records and receipts unfortunately. It is estimated that there are under 30k miles on it since it was rebuilt and I can tell you that it drives beautifully!!  At the time the motor was rebuilt he also added a nice set of headers that breathe out the dual exhaust.  Steering is a breeze and you will think it is power steering but it is manual.  This Bronco tracks straight and handles really well with none of the play and floats that you get so often in the lifted trucks. Braking is also very easy and again seems much less effortless then you would expect for manual brakes.  This is an EASY Bronco to drive and is ready for your driving enjoyment!! As you will see the engine bay is extremely original and nicely detailed. You will not find any of the typical rust issues under the hood of this California Classic!  The ride is very smooth also with newer suspension components and newer shocks and in part thanks to the newer Michelin Radials that are mounted on an old school set of Slotted Mag Wheels.  This is a great period correct look.  Of course the 4 wheel drive engages properly and works well if needed but this Bronco has not seen any real off road usage from the looks of it.  The undercarriage is representative of the overall condition of this awesome original.  When we got it we could still see the original red oxide primer throughout the undercarriage so we detailed it underneath to bring back the original factory look. Floorpans are in amazing condition and again, no signs of rust or damage anywhere underneath this classic.  I also did a short video below so you can hear this Bronco start up and running.  As I mentioned this Bronco is ready to cruise!!! We have put some miles on it while we have had it and it has been a blast! Take a look:
HERE IS SHORT VIDEO SO YOU CAN HEAR THIS SWEET BRONCO START UP AND RUNNING: (
CLICK THE ARROW TO START
)