About This Vehicle
Odometer: 49,300
Engine:  289 V8 2bbl
Body Style: Convertible
Transmission: Automatic
Exterior Color: Gold
Interior Color: Black
VIN:  8R03C137433
Price: SOLD
ABSOLUTELY AWESOME

, FULLY RESTORED,  

SUNLIT GOLD

, 1968 FORD MUSTANG CONVERTIBLE…

ORIGINAL CALIFORNIA CAR

, 289 V8, AUTOMATIC,

POWER

STEERING,

POWER

DISC BRAKES,

POWER

TOP AND MORE….READY TO

SHOW

AND

GO

!!
If you have been searching for a gorgeous classic Mustang Convertible and would love to find one that stands out in the sea of red, white and black ones on the market then this Sunlit Gold 1968 Pony Convertible might just be the one you have been waiting for.  This one year only color is the original color of this car as evidenced by the MARTI report shown later.  Aside from the unique color,  this Mustang is also an original California car that stood the test of time and is in amazing condition and has had just one repaint.  I recently acquired this sweet convertible from a gentleman in Canada who had purchased it about 2 years ago out of California.  He was a serious car guy and this Mustang never saw anything but a sunny, warm day up in Canada which should tell you that he did not drive it much. As a result this Mustang looks like it could have been restored last week.  In addition to the rare color, this Mustang is also very nicely equipped with Automatic transmission, power steering, power front disc brakes, power top, upgraded deluxe interior, and more!! If you have ever seen the undercarriage of a true original California car that has never had any rust issues then you will appreciate the undercarriage of this one! This car shouts quality everywhere you look and I am certain the next owner is going to be thrilled when this Mustang is delivered to his or her garage. I will do my best to provide enough large image, a video so you can hear it running, and an honest description to help you decide if this Pony belongs in your stable. As with all of my classics I do have this Mustang listed on my website and several others. If you want to scoop it up before the next car guy or gal does feel free to give me a call to make that happen. Sit back and enjoy!
As you can see in the picture below I also have a beautiful Silver Blue '65 Mustang Convertible and a Triple Black '68 Mustang Convertible available. Feel free to contact me for more info on these as well.
As mentioned previously this '68 Mustang lived a dry, rust free life in California almost all its life. The gentleman I bought it from had it transported to Canada in an enclosed carrier about 2 years ago and the car was only taken out on sunny days.  The car was built at the San Jose plant and delivered to the San Jose sales district originally.  It is an original Sunlit Gold car and was treated to a professional repaint a little over 2 years ago. The body is extremely straight and body panels align very well. Doors open and close with ease.  IT has the deluxe hood with turn signals built in which function correctly.  It has  the added chrome rocker panel trim and chrome trim around the trunk.  I added the C-Stripe which I think adds to the look of these '68 Ponies.  We also had the paint wet sanded and buffed out professionally so this car is easy for the shows and cruise-ins the minute it arrives to your door. The weatherstripping has all been replaced and looks great. All of the glass looks great and windows roll up and down nicely. Chrome all looks excellent although there is some minor signs of age on the bumpers.  Overall the paint and body look amazing and although it is not flawless, it is pretty darn close. I noticed a very small chip on the front edge of the hood that was touched up and a very tiny scratch on the drivers rear quarter panel about 1/4 inch.  Most people would never notice these items but I prefer to mention anything I have seen. This Mustang will win its share of trophies at the local shows and is a definite crowd pleaser. You will be very proud to show up anywhere in this car so leave a little extra time to talk to folks who want to know all about the car.  Best of all, it drives as good as it looks. Here is a photo tour of the body:
While I hope the next owner enjoys this Pony with the top down as much as possible it also nice to know that this Sunlit Gold beauty has a brand new, power convertible top and looks equally as awesome with the top up.  It has the split glass rear window just as it came from the factory and seals up very nicely with new seals and latches down easily. It also comes with a black boot cover to give the car a clean look when the top is down.  Here is a look with the top up:
Accenting the Sunlit Gold exterior is a completely restored and upgraded black deluxe interior.  The interior was professionally redone a little over 2 years ago and looks practically brand new!  The upgrade to the deluxe interior was a wise move as the wood grain accents on the door panels and dash really add class to an already awesome car. The center console looks great and the radio looks like an original but was upgraded and is actually a functioning FM radio and has a jack for your mp3/ipod.  Carpeting is new and a nice set of black rubber Pony mats was added.  This car originally had the tilt-away steering wheel, however, it was replaced with a standard steering column with a gorgeous upgraded woodgrain steering wheel. All of the gauges and lights appear to be working correctly.  Original front and rear seat belts. This interior is definitely show quality…have a look:
It is one thing for a car to look great, but the key question is how does it run??? Well, I am sure you will be as thrilled with the way this '68 runs as you will be with how it looks! The original C-code 289 V8 was pulled out at the time of restoration a little over 2 years ago and completely rebuilt, detailed and reinstalled.  There is probably less then 2000 miles on the motor since it was rebuild and it drives beautifully. The original C-4 Automatic transmission was also rebuilt at the same time.  This Gold beauty cruises the local roads or highways like a dream. Handling is a breeze with the Power Steering and stopping is just as easy with the power front disc brakes. All of the suspension was gone through and freshened up at the same time so this Pony handles the road just like it did back in '68. This C-code Stang still has the original style single exhaust and sounds great. As you will see the engine bay was completely detailed and is ready for the shows. Great stance with the Magnum 500 wheels wrapped in Michelin radials that have lots of tread life left.  Make sure you listen to the video that follows to hear her start up and running!
Another tell-tale sign of a truly awesome classic Mustang is how original and nice the floorpans and inside of the trunk are. Well, this '68 shines in these categories as well. The undercarriage looks awesome and the floorpans still show the original drip marks where these cars were dipped at the factory in 1968.  There is still plenty of the original red oxide primer and some areas were freshened up for show purposes.  Rock solid everywhere underneath. Inside of the trunk also looks factory original still wearing its original sunlit gold paint. Padding over the new gas tank, spare tire, and a nice mat to finish it out. This Mustang will also come with a custom fitted car cover. Original Vin plate on the dash and original door trim tag.  I do have a MARTI report that is shown below and will be included. 
HERE IS A SHORT VIDEO SO YOU CAN HEAR HOW GREAT THIS PONY SOUNDS ( 
CLICK THE ARROW TO START
 ):
Hopefully at this point you can see that this is a truly awesome, investment quality, and rare, Classic Mustang Convertible.  I am confident that the next lucky owner is going to be absolutely thrilled when this car arrives!  Since we do have this car advertised on our website and several others I encourage serious buyers to call me to discuss the possibility of getting this car in your garage before the next lucky car guy or gal does. I am also always open to answering any questions you may have. 
Serious buyers can call me at 770-359-8400!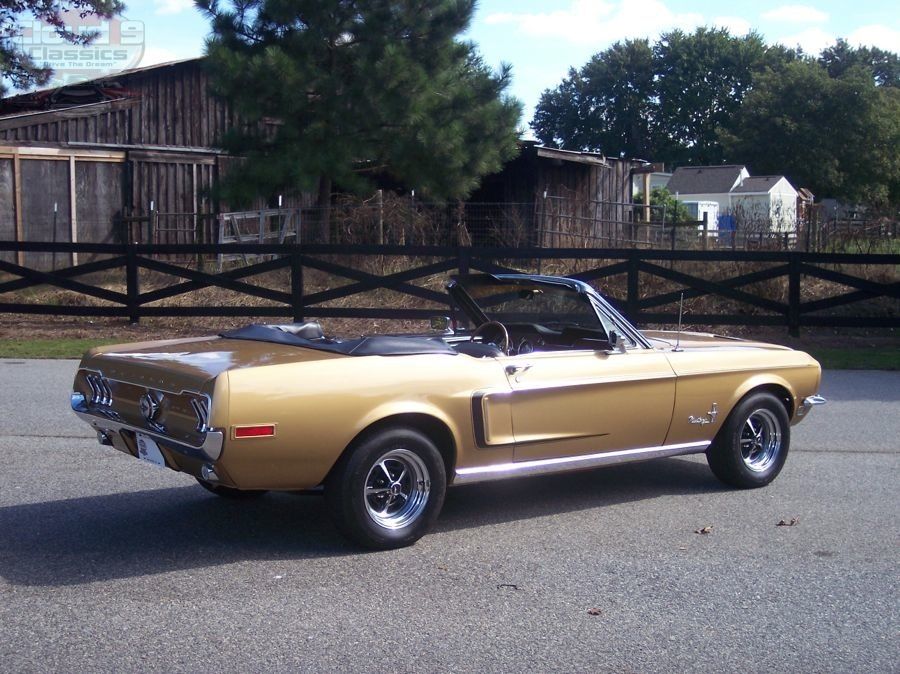 SERIOUS BUYERS CAN CALL ME AT 770-359-8400
If you have any questions feel free to call me at 
770-359-8400 
and I will do my best to answer them.  If you are a serious buyer lets talk on the phone and discuss it. In addition to being a licensed Classic Car Dealer I am also a Transport Broker and will be happy to assist the buyer with a great rate on Enclosed or Open Transport anywhere in the US at the buyers expense or to any port for overseas buyers.