About This Vehicle
Odometer: 10,760
Engine: V8
Body Style: Coupe
Transmission: Auto
Exterior Color: Gold
Interior Color: White
VIN: 8F93F510467
Price: SOLD
AWESOME

GRECIAN GOLD

1968 MERCURY COUGAR XR7 COUPE….

WELL DOCUMENTED

, 302 V8, VERY ORIGINAL……READY TO

SHOW

AND

GO

!!
TAKE A MINUTE AND REMINISCE BY WATCHING THIS 1 MINUTE COMMERCIAL FOR THE 1968 COUGAR…I LOVE THE SLOGAN, "POUND FOR POUND, DOLLAR FOR DOLLAR THE BEST EQUIPPED LUXURY SPORTS CAR IN AMERICA"
This 1968 Mercury Cougar XR7 is a great find and surprisingly was delivered to our front door by a great young man who lived about 20 miles away from us. He had finished College recently and had always wanted a classic car but wanted something a little different.  He discovered this '68 Cougar for sale in 2012 only a state away in Alabama and bought it the day he saw it and drove it home to the Atlanta area. He had been told the car had always been a Southern car that was extremely well maintained and cared for and was given the paperwork showing this.  He continued to drive this Cougar on as many sunny days as he could and said it made a really fun car while he was still working close to home and never let him down. He got engaged and got a great job in the city of Atlanta and reality started to set in.  His first Classic Car was simply not practical for his commute to Atlanta and he needed a more modern everyday driver. That coupled with the upcoming wedding expenses made him realize that the Cougar would need a new home…..sad for him, but lucky for the next owner…maybe you!!!!?  I am sure that young man will own many classic cars in the future when the timing is right and I think it is so cool that his first car was a '68 Cougar. Those of you who are familiar with our business know we have had plenty of Beautiful, Classic Ford Mustangs over the years. This is only the 2nd Mercury Cougar I have had the pleasure of buying and it is not surprising when you look at the differences in production numbers. In 1968 Ford Produced approximately 233,472 Standard Mustang Coupes. In 1968 Mercury only produced  approximately 32,709 XR7 Cougar Coupes.  There is no doubt that the Cougar is a rare breed when comparing to your Classic Mustangs and they are great cars with some really nice touches and upgrades. This Cougar was originally purchased at Ray & Pearman Mercury in Huntsvile, AL as shown on the original window sticker. In 1970 it was sold to a young woman in Knoxville, TN who owned it for the next 18 years. It was sold to a guy in Alabama who then owned it quite a while before selling it to another guy in Alabama and then apparently was sold to the young man we bought it from here in the Atlanta, GA area. It is just a matter of time before the values of these Cougars starts to really escalate, so now is the time to buy one while they are still at a reasonable level.  I will do my best to provide enough large images, a video of the Cougar starting up and running and an honest description to help you decide if this Cougar should join your stable.  Sit back and enjoy!!!
This '68 Cougar still wears its original Grecian Gold color and a walk around the body of this cat reassures you of the pampered life it lived here in the sunny Southeast climate.  I believe the car was repainted one time many years ago in its original color.  The body is in fantastic condition overall.  Body panels appear to be all original and the body panel fit and gaps are excellent.  The paint still holds a nice shine but it is not a high end, show quality paint job.  The paint could probably still be wet sanded and buffed out to be even nicer but it is very nice as a local cruise in or local show car and will surely get compliments and looks everywhere you go. Upon close inspection you will see various tiny chips and a small scratch that have been touched up over the years. I do NOT see any rust, bubbles, or signs of rust repair anywhere along the body and if you really wanted to turn this into a jaw dropping show car it would be a very simple job to repaint this body.  The body is extremely straight as you look down the body lines. The black vinyl top is a great accent to the Grecian Gold color and it is in like new condition. There are no bubbles or issues anywhere under the top that I can see and it really looks like it could be brand new although I know it is not.  The chrome all looks excellent. Rear bumper looks like it was replaced recently and the front bumper looks great but shows a little age. As you will see below the super cool hideaway headlights function perfectly! Overall, this is just a super sweet, very original '68 Cougar that is sure to please! Here is a walk around tour of the body: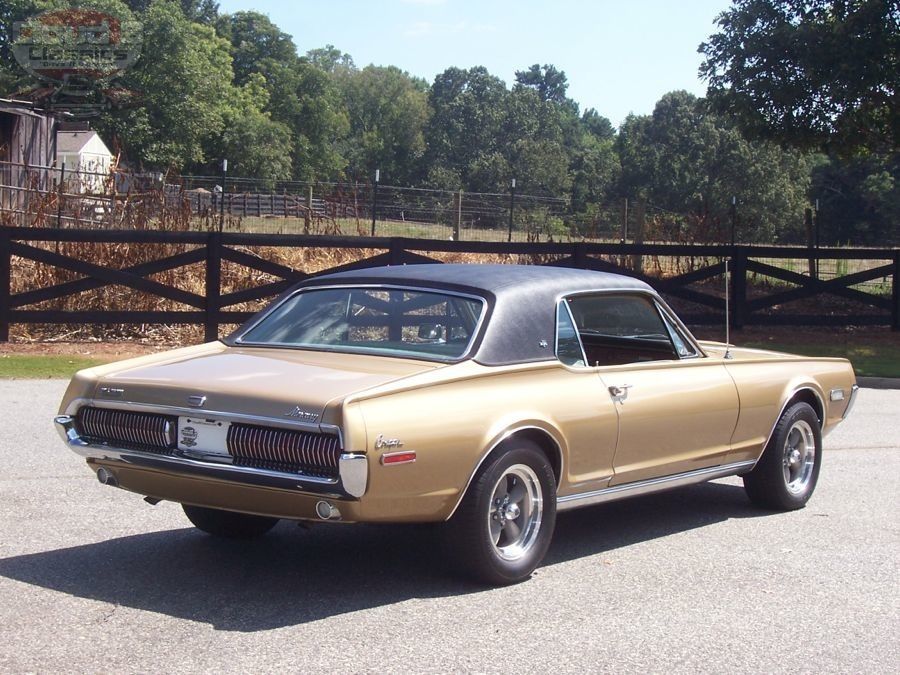 HIDEAWAY HEADLIGHTS OPERATE SMOOTHLY BOTH OPENING AND CLOSING!!!
Complimenting the Grecian Gold exterior of this '68 Cougar is a great looking off-white interior trimmed out in wood-look trim. Based on the original trim tag still attached to the door the correct original color is a light nugget gold. I am not as familiar with Cougars as I am Mustangs but it looks to me that the interior was probably dyed to the current color which is more of a off-white or sand color. It goes with the car beautifully.  Seats are in great condition both front and back with no real wear evident.  Original front and rear seat belts are in place and functional as is the overhead map lights. The wood look trim along the dash looks great and the center sports console is also a nice addition. Unfortunately the clock in the console does not appear to be working but all other lights and gauges do appear to be working correctly. Door panels, dash and carpeting are all in excellent condition. The only flaw to note in the interior is the headliner which has separated above the passenger seat and would not be difficult to replace if desired. Steering wheel is in great shape with just one minor crack. This Cougar came with Factory Air conditioning ( known as Whisper Aire ) and everything is in place and functional although it is not blowing cold but I believe just needs to be charged or upgraded to the newer freon.  The dash on these Cougars is a great upgrade compared to the Mustangs with great switches and gauges neatly arranged for the driver. Have a look inside:
Under the Hood this Cougar looks just like it did in 1968 with the original 302 V8 2bbl motor nicely detailed.  We were told, and believe the correct original mileage is just under 110,770 miles.  We do not have any receipts for a rebuild but from driving this car I can tell you that it was definitely always a well maintained motor and may have been rebuilt at some point. It handles the road beautifully with Power Steering. Manual brakes feel very good and stop this car with no issue. Suspension feels great and this car tracks down the road nice and straight and stops with no pulling.  Very nice sounding dual exhaust from the stock manifolds.  This car runs nice and cool even in the Hot Atlanta Summer temperatures.  Factory A/C still in tact and blower works but not blowing cold right now but should be a simple recharge or upgrade to R134 refrigerant.  This Cougar will make someone a great little cruiser!!!  As you probably have noticed this '68 Cougar sits on a great period correct looking Aluminum wheel from Vintage Wheel works and they are wrapped in a practically brand new set of BF goodrich Radial TA tires. Shock towers are great with no issues. The undercarriage looks great and floorpans and torque boxes look original and are rock solid with no rust issues.  Inside of the trunk looks very good as well.  Make sure you listen to the video of the car starting up and running at the end of the listing. 
This Southern '68 Cougar comes with some nice original documentation including the original Window Sticker showing the original dealership name of Ray and Pearman in Huntsville AL.  The car then made its way to Knoxville TN where a young woman named Sadie owned this sweet car for almost 20 years. We have most of the registrations during her ownership as well as the Title she had on the car when she sold it to the next owner who was from Alabama. Alabama was a non-title state at that point as is the State of GA on older cars. We do have the proper registration and the next owner will have no issues in obtaining a Title in their state and we will ale sure of that. This car can also be exported without any issues and we will assist with that as well if you are an overseas buyer.  As you will see in the pics below the car has all the correct Vin stampings and plates as well as the original door tag.  This added documentation always adds to the collectibility and value of these Classics and is nice to have to support the history of the car.  Have a look:
HERE IS A SHORT VIDEO SO YOU CAN HEAR THIS SWEET '68 COUGAR XR7 START UP AND RUNNING

(

CLICK THE ARROW TO START

):