About This Vehicle
Mileage: 77,900
Engine: V8 – 289
Body Style: Coupe
Transmission: Manual
Exterior Color: Green
Interior Color: Beige
VIN: 8R02C141341
Price: SOLD
ABSOLUTELY GORGEOUS, SHOW WINNING,  

1968 FORD MUSTANG FASTBACK

…LOW MILEAGE

BLACK PLATE CALIFORNIA CAR

LOADED WITH OPTIONS!!!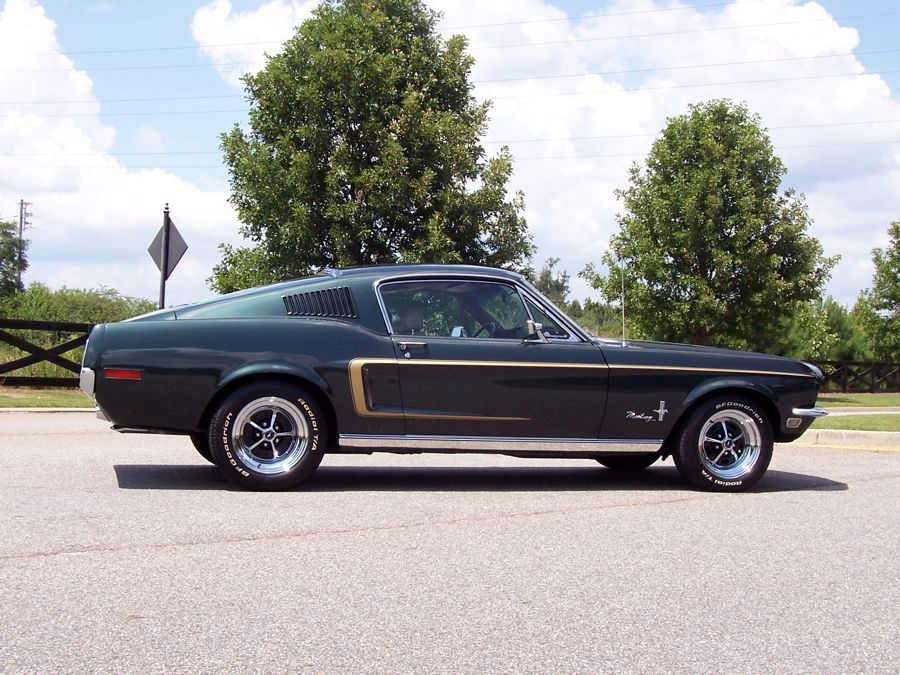 IF YOU HAVE BEEN ON THE SEARCH FOR A TOP QUALITY 1968 FORD MUSTANG FASTBACK THAT STANDS HEAD AND SHOULDERS ABOVE THE OTHERS AND CAN TAKE HOME FIRST PLACE TROPHIES WHEN DESIRED BUT CAN STILL BE DRIVEN AND ENJOYED THEN GET COMFORTABLE BECAUSE YOUR DREAM CAR HAS ARRIVED!!!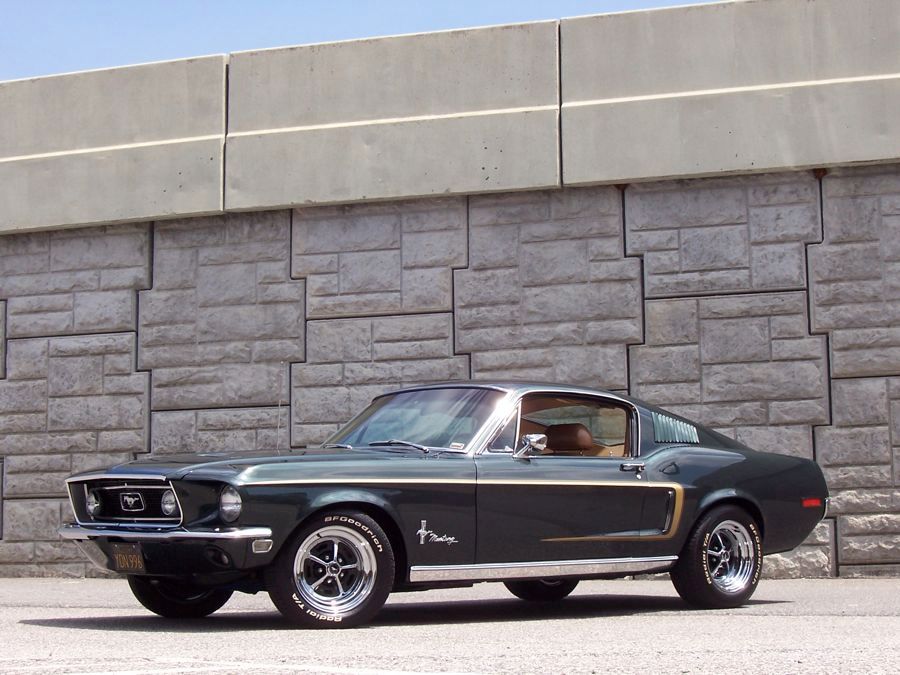 This is one of the cream of the crop Ponies that will be hard for me to fully describe and demonstrate its quality but I will try.  First of all I will tell you what I know of its history.  Produced on 2/13/1968 at the San Jose, CA Assembly plant this beauty spent most of its life in dry, Southern California.  Eight years ago it made its way to Missouri after it had a top notch professional restoration done in California about 10 years ago.  The gentleman I purchased it from in Missouri owned it since 2005 and he took home multiple First Place Trophies in this car at various Mustang and other car shows.  This dry California beauty where's its original sheetmetal and it is believed to have just 77,900 original miles! At the time of restoration the original motor, transmission and rear differential were completely rebuilt and has just 4300 miles on it since the rebuild. On top of its beauty this Fastback also comes loaded up with options which include:
* POWER STEERING

* POWER FRONT DISC BRAKES
* FACTORY AIR CONDITIONING
* FRONT SEATS WITH HEADRESTS
* UPPER CONSOLE WITH MAP LIGHTS
* TILT AWAY STEERING WHEEL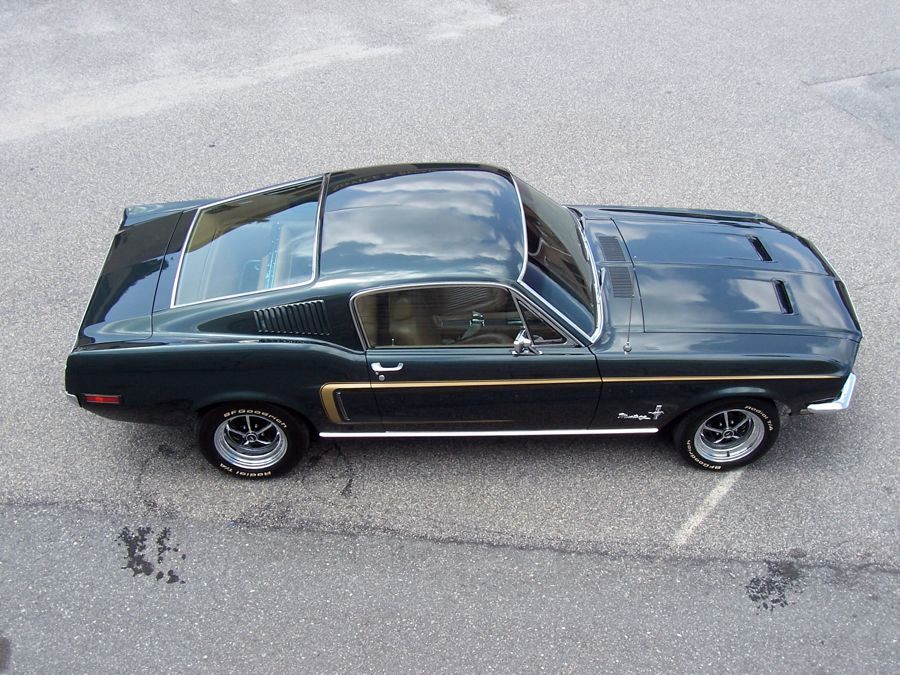 The body and paint on this beautiful Pony Fastback are basically show quality and in fact the previous owner took home multiple first place trophies at Mustang Specialty and other car shows.  This car still wears its original body panels which are extremely straight and body panel gap and fit is fantastic.  The high level professional restoration of this car was done 10 years ago, however you would think it was done a week ago. The body was so rust free that the paint was stripped to the metal I was told and the new Dark Metallic Green paint was applied. The paint was cut and buffed to a better then factory new finish.  Let me answer the question many of you are probably thinking of. This is not the original paint color. This car was originally paint code D, Acapulco Blue, but the story is that the owner in CA that had the restoration had a vision of what he wanted and this is what he did. Bravo to him as this is truly a stunning color and finish! I will hesitate to call the body flawless because the most particular of buyers may find a tiny rock chip somewhere, however it is definitely show quality. In fact a professional Appraisal gave the paint and body on this Mustang a #1- and 2+ which basically means show quality but perhaps a few minor flaws keeping it from perfect.  Chrome trim, glass, bumpers all look excellent.  Have a look for yourself:
Lets move to the interior of this gorgeous Fastback and you will see that it is amazingly as nice as the exterior.  At the time of restoration the entire interior was changed from the original standard Black interior to the Deluxe Nugget Gold interior you will see below.  The Deluxe Seats look like new, and in fact pretty much the whole interior looks new. From the front seats with the rare head rests, to the back fold down rear seat and carpet, the deluxe door panels, beautiful headliner with rare overhead console with map lights, the lower console, deluxe seat belts front and rear, perfect dash pad with a carpeted cover to prevent any wear, Woodgrain dash cluster with all gauges working including the clock, Factory A/C that is working and blows cold, to the rare Deluxe Tilt Away steering wheel with tilt option.  With under 77,900 miles showing on the odometer that are believed to be original the interior really looks like it came right off the showroom and it is loaded with all the goodies!  Take a look:
Moving right along, this C-Code Fastback has its original 289 V8 and I was told the vin stamping is on the motor some where to indicate it is definitely the original motor. As mentioned previously the original engine, automatic transmission, and 2.79:1 non-locking rear end were completely rebuilt just 4300 miles ago. As you would expect this baby cruises out as good as it looks and is a joy to drive. Power Steering makes handling a breeze and it stops with ease with the Power front disc brakes. Suspension front and rear has all been gone through and this Fastback glides along the road at any speed. Brand new Magnum Wheels 15 x7 in front and 15 x8 in rear wrapped in BFG TA Radials with tons of tread left. Great soft rumble from the dual dynomax mufflers out to the dual exhaust turn downs.  The only minor change that was made was a 4bbl intake and Holley 4 barrel Carburetor were added replacing the original 2bbl. Also you will see some chrome was added to the valve covers and air cleaner lid, however, I have the original blue ones that are painted and could be put back on if desired.  Sliding underneath the car you will see the kind of rust free, rock solid floor pans and torque boxes that you would hope to find on a car of this calibre. In fact there is still quite a bit of original red oxide primer on the floorpans still showing.  Inside the trunk  is just the same….nicely detailed, rock solid and rust free.  Here are pics of these areas as well:
It's time for this sweet Pony to join its new owners stable…For now it is safe at home here at Cloud 9 Classics playing with the other Ponies.
The 1967 Fastback pictured above is a TRUE RED GT 4-Speed car in similar condition to this '68 Fastback and will be up for sale soon as well!
Here is an amateur walk around video and a little sound clip video so you can hear the '68 Running:
Roy@Cloud9Classics.com

770-359-8400


DRIVE THE DREAM!!