About This Vehicle
Mileage: 67,300
Engine: V8
Body Style: Convertible
Transmission: Auto
Exterior Color:Palladium Silver
Interior Color: Black
VIN: 223678U108157
Price: SOLD
BEAUTIFUL AND RARE 1968 PONTIAC FIREBIRD CONVERTIBLE WITH MATCHING # 350 V8,

PHS DOCUMENTED

, LOADED AND READY TO SHOW OR GO!!!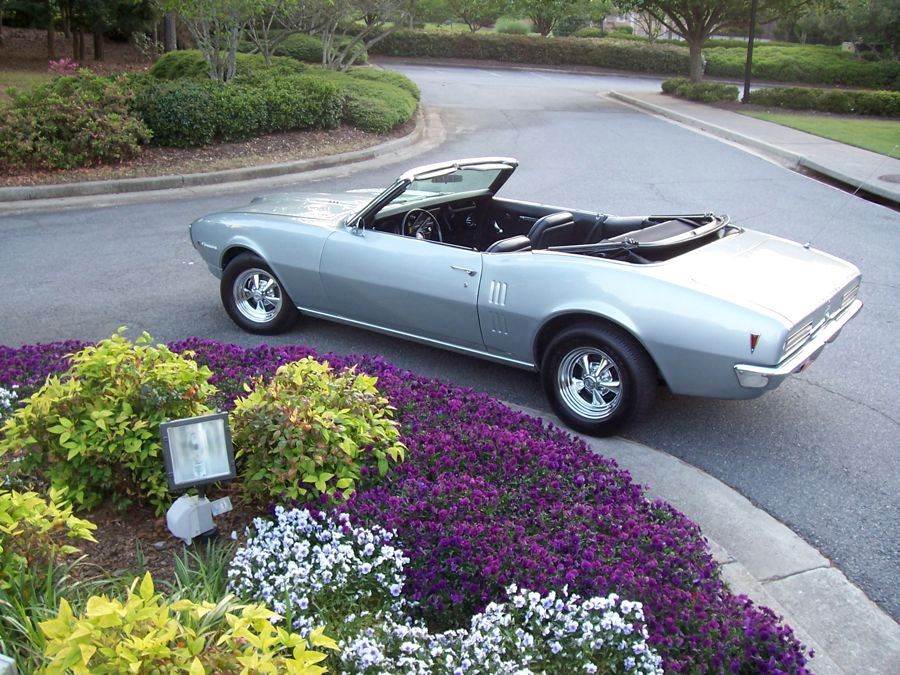 INVESTMENT QUALITY PONTIAC FIREBIRD CONVERTIBLE…

ONE RARE BIRD!!!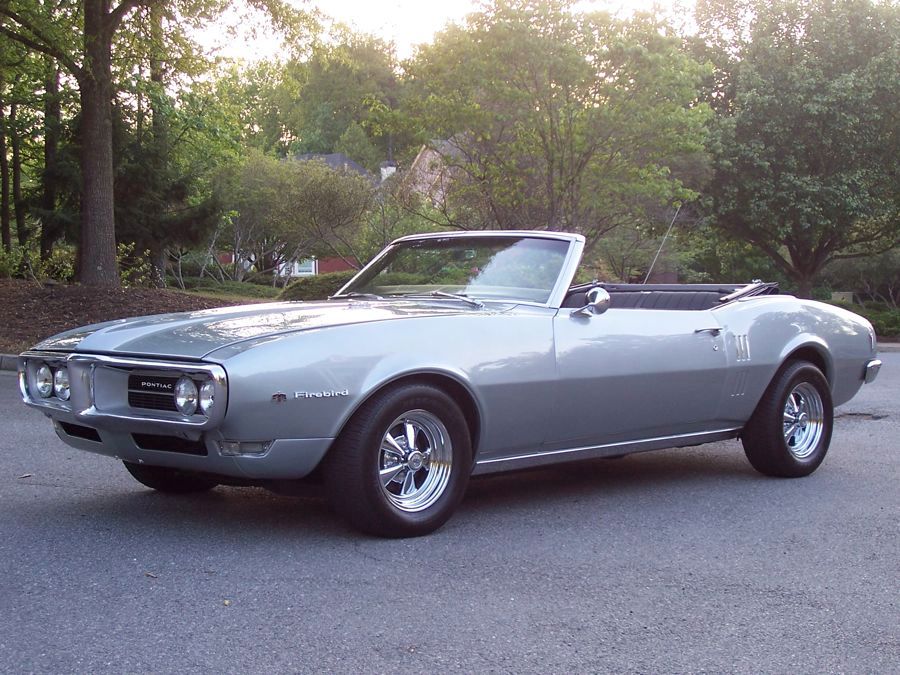 Regardless of whether you are a Pontiac Collector or enthusiast, or just an admirer of some good old American Classic Muscle, it is hard to argue with the beauty and styling of the '68 Pontiac Firebird convertibles.  Personally I am a huge Mustang fan but every time I have the opportunity to purchase a quality Pontiac Firebird Convertible I get excited. This particular Bird is no exception!! Beautifully restored about 8 years ago this Firebird looks like it could have been painted last week.  I recently acquired this classic from a gentleman who owned it since 2005. He purchased it from some folks in Oklahoma who told him that the car had spent the majority of its life in Arizona which is known to be a dry, rust free environment for classic cars.  The folks in Oklahoma had the cosmetic restoration done and he went through the drive train and other components over the 7 years he owned the car.  This classic is in phenomenal condition inside and out and runs fantastic! I have all of the PHS documentation as you will see below and have verified that this car has its original matching # 350/265hp V8. This is truly an investment quality Firebird that you will be able to drive, enjoy and show if you desire.  I will do my best to provide enough pictures, videos, and an honest description so you can decide if this rare bird should fly in to your garage. Sit back and enjoy!
The body on this '68 Bird is fantastic!! As the PHS documents and trim tag indicate this car was born Verdoro Green which was a very popular color back then. However at some point the color was changed and when the car was restored about 8 years ago the car was professionally painted a gorgeous shade of silver which is very close to the Palladium Silver color offered on '69 Firebirds. There is no doubt that if Pontiac had offered silver in '68 it would have been a very popular choice as this car glistens in silver.  Body panels are extremely straight and gaps are excellent.  I am not positive if it has all of its original body panels but any work that was done was done top notch and this is a very high quality paint job that will stand up very well in any show. I had the paint wet sanded and buffed out professionally so it has a mirror like finish.  The only flaws I noticed are a tiny scratch on the passenger side door that is barely noticeable, a few chips along the drivers side door edge that were touched up,  and a very tiny bubble at the bottom corner of the passenger side door, none of which I think will show up in pictures. Chrome trim looks excellent. Rear bumper looks like it was replaced however the front bumper may be original and is slightly faded in a few spots and these are inexpensive to replace if you want it to look like new. Overall the body and paint are near flawless and I am sure this Firebird would bring home its share of trophies if you decide to take it to the shows. Here is a walk around tour of pictures and at the end of the listing I also have a walk around video.
Complimenting the gorgeous Silver exterior is a close to brand new Black Power top that looks and works great.  Inside you will think you were back on the showroom floor as the Custom Deluxe Black interior looks practically brand new!! Seats are in perfect condition. Carpeting looks great and correct Pontiac Rubber floor mats are included. Seat belts front and rear. Center console looks great however it is missing the ashtray at the rear of the center console which is ok as it will tell your passengers that it is not ok to smoke in this beauty.  Dash pad looks great although it appears they put a dash cap over the original.  Gauges are all clear however the speedometer is reading a little fast and the fuel gauge is not reading accurately but I am going to see if I can correct this.  The glove box is not opening for some reason but I will try to fix this and I believe there is an owners manual in there.  Aside from these minor issues the interior is absolutely beautiful and very comfortable.  Have a look:
This '68 Firebird is powered by its original, Matching # 350 265 horsepower V8!!!  In one of the pictures below you will be able to clearly see the YJ stamping and the Engine Unit # stamped on the motor that matches the PHS documented engine unit number.  Collectors and investors will all confirm that having the matching # motor in a classic like this definitely has a positive impact on the cars value.  The odometer currently reads slightly under 67,500 miles which I was told was original but I have no real documentation to show this.  The motor runs super strong so it is very possible that it only has these miles on it!   The previous owner did a few performance modifications including an Edelbrock performer intake and Edelbrock 600cfm 4 bbl carburetor with electric choke that performs great.  The original powerglide transmission was getting tired so it was replaced in 2009 with a very strong rebuilt  TH-350 automatic transmission with a mild shift kit. Shifts are strong and crisp! In the fall of 2011 the rear end was changed to a rebuilt 3:73 posi rear.  This car launches and stops great! All new brake hardware, new front and rear shocks, new rear leaf springs, new water pump, and a desert cooler radiator  so this car runs cool all the time.  Power steering and Power Brakes make driving a pleasure!! Great sound from the dual exhaust with the stock style transverse muffler. Engine and rear wiring harnesses were replaced years ago with factory wire harnesses.  As mentioned earlier the speedometer is reading fast due to the newer gears in the rear but these is easy to correct with the right speedo gear. This Firebird has the original "cocktail shaker" weights in place both front and rear.  I have driven this car the past few days and had a blast!   Bottom line is this drop-top Firebird is waiting to be driven and enjoyed!!!
The undercarriage also looks fantastic. Floorpans and frame rails are rust free and solid. Inside of the trunk is also rock solid and has the correct factory style mat in place.  It appears that the fuel tank was replaced fairly recently as well. This Bird rides on a like new set of Period Correct Chrome Cragar wheels wrapped in close to new 235/60/14 radials.  This is truly a quality car from top to bottom and I know the next owner is going to be thrilled with this Firebird!!
HERE IS A VIDEO SO YOU CAN HEAR HOW GREAT THIS CAR SOUNDS AND ONE LAST WALK AROUND VIDEO AS WELL:
THE MARKET IS VERY STRONG RIGHT NOW!  DO NOT WAIT UNTIL THE LAST MINUTE OR YOU MAY BE DISAPPOINTED YOU MISSED OUT.
This car came from a non-title State so it will be sold with a Bill of Sale and current Registration. I do have the Title from Oklahoma but unfortunately the preivous state the car was in does not issue titles for the older cars. I will provide a letter from the State of GA DMV that will enable you to get this car titled in your State with no problem. This letter also makes it possible to export the car to any Country if you are an international buyer.
If you have any questions feel free to call me at 770-359-8400 and I will do my best to answer them.  If you are a serious buyer lets talk on the phone and discuss it. I will be happy to negotiate a deal so we can get this beautiful car in to your garage as soon as possible.  In addition to being a licensed Classic Car Dealer I am also a Transport Broker and will be happy to assist the buyer with a great rate on Enclosed or Open Transport anywhere in the US at the buyers expense or to any port for overseas buyers.