About This Vehicle
Odometer: 25,901
Engine: 400 V8
Body Style: Convertible
Transmission: Auto
Exterior Color: Silver
Interior Color: Black
VIN: 242678Z113352
Price: SOLD
ABSOLUTELY

GORGEOUS

, 1968 PONTIAC GTO CONVERTIBLE….TRUE 242 GTO,

MATCHING #

YS CODE 400/350 HORSEPOWER…

PHS DOCUMENTED

…READY TO

SHOW

AND

GO

!!
After the long winter most of the country has experienced it looks like Spring is finally just around the corner. What better way to celebrate the warmer weather then in a gorgeous 1968 Pontiac GTO Convertible!  This Particular GTO is a Matching #, true investment quality classic that you can drive, enjoy and take to the car shows and cruise-ins. It is 1 of just 9980 GTO Convertibles produced in 1968 and was produced at the Freemont, California production facility and then sold at Mike Salta Pontiac in Sacramento, California. This GTO spent most of its life in California with the original owner before they moved to NJ in 1993. They quickly realized they would not be enjoying the car like they were able to in California and sold it to the 2nd owner in Myrtle Beach, South Carolina.  The 2nd owner decided to treat this GTO to a professional restoration that took several years to complete but was well worth the wait.  He was a classic car enthusiast and had several classics so this GTO did not get driven very often but he did take it to the Hilton Head, SC Concourse d' Elegance several years and we have several of the catalogs where it was featured. He won quite a few trophies and awards over the years with the car and sadly passed away in 2014. A friend of the family purchased the GTO from the widow with the intention of re-selling it. We acquired the car several months ago and it looked fantastic although it had accumulated a few minor scrapes and chips over the years so we decided to have the car professionally repainted to bring it back to the show winning condition it was in years ago.  The odometer shows slightly under 26,000 miles which we were told were believed to be original but we always have a hard time believing this without proper documentation so we are not representing it as such.  We do know with 100% certainty that this GTO still has its original Matching # 400/350 Horsepower V8 motor and the car runs and drives beautifully.  I will do my best to provide enough large images, a video of the car running, and an honest description to help you decide if this GTO Convertible is the one you have been looking for.  As with all of our classics, we do have this car advertised on our website and several other sites so if you decide this is the one for you, feel free to call me to discuss the possibility of putting it in your garage before the next car guy or gal scoops it up.  Sit back and enjoy!
As you will see from the pics that follow the body on this GTO is absolutely gorgeous. According to the trim tag and PHS documents this car was originally Springmist Green which was a nice color but I hope you will agree that this GTO has even more of a muscle car look in its current Silver metallic color.  Although not a stock color in 1968, this Palladium Silver color was a stock 1969 GTO color and this car wears it well! The 2nd owner had changed the color in 1994 when he initially had it restored. I was told the car was an extremely solid rust free California car when he got it. The only body panels that had work done were the rear quarter panels that received new outer skin panels. Otherwise we believe this car has all of its original body panels. The body is extremely straight and body panels all line up very nicely. Doors open and shut great and the hood also lines up very well.  When we had received the car there were a few minor scrapes and chips on the body and the front endura rubber nose was showing some spider cracks which was common. We decided since the car was so rust free and straight that is deserved to be professionally repainted. All of the chrome and glass look excellent.  The car was originally ordered with the Hideaway headlights and they work great.  This GTO is now ready for the local shows and cruise ins and will probably win its share of trophies if that is what you enjoy. The day I took the pics the sun was in and out so the pics do not show just how nice this GTO looks in person.  Here is a walk around tour of the body:
I hope the next lucky owner takes every opportunity to drop the top on this GTO but it is also nice to know that there is a  beautiful, close to new,  black convertible top that compliments the Silver metallic paint beautifully when needed. In fact I think you will agree that this GTO almost looks as nice with the top up as it does down.  The power tops works great and rear glass window is crystal clear. The top seals up nicely when up.  There is a matching boot cover  for a clean look when the top is down. Take a look:
Take a step back in time when you open the drivers door and slide inside this beauty. Finished in the original black color the interior looks fantastic. Front and rear seats look great. Dash pad looks great with no cracks. There is a nice cover on the dash that is held on with velcro to protect it from the sun. Door panels look excellent. Carpeting looks excellent and nice set of GTO floor mats are included.  Orginal AM radio still in place and seems to work. Center console with the His/Hers dual shift gate looks great. A very small crack in the side of the center console door.  All of the gauges and lights seem to be working correctly.  A nice set of aftermarket gauges were neatly mounted under the dash for oil pressure, temperature and amp readings. Blower fan and heat are working. Very nice aftermarket woodgrain steering wheel with Pontiac center. Not much more to say….I think the pics will show you what you need to know:
Pop the hood on this GTO and you will find the original Matching # YS coded 400/350hp V8 4bbl begging to be driven. As you will see in pics below the block has the correct Engine ID # stamping on the front of the block which matches the PHS docs and the vin # stamping below the water pump also matches the cars vin #.  Power Steering and Power front disc brakes make driving effortless and this car handles the road beautifully. As I mentioned previously the mileage currently reads slightly under 26,000 miles which we were told were believed to be original and are on the title. However,  we do not have any documentation to support this so we are not representing it to be correct. My guess is it has 126,000 miles on it but regardless the motor is very strong and has most likely been gone through by the 2nd owner at the time of restoration. The Hydramatic 400 Automatic Transmission shifts strong and smooth and the his/hers shifter is always fun when desired. I believe it still has the original Safe-T-track rear axle dressed up with chrome cover,  with 3.36 gears which are great for highway cruising. This '68 is riding on a nicely re-finished set of Rally II wheels with Chrome trim rings that are wrapped in great set of white letter radial tires with 80% tread life left. The 2nd owner added an aluminum radiator as well as an auxiliary electric fan. Great tone from the dual exhaust! This GTO runs nice and cool…Simply a joy to drive!! Make sure you listen to the video that follows the pics below to hear it start up and running. 
Inside of the trunk is rock solid and original looking. Nicely detailed in the correct spatter paint and trunk mat.  Matching Spare and jack in place. The undercarriage is also super clean and rock solid. Floorpans look original and are rock solid with no rust issues.   I think you will find that the car has been nicely detailed from top to bottom. Have a look around:
As mentioned we do have the PHS documentation for this beautiful GTO Convertible. As pictured below you will see the engine stampings are correct and verify this is a matching # car. We also have the original, dealer issued registration card from Mike Salta Pontiac in Sacramento, CA. Original owners manuals and some of the catalogs from the Hilton Head, SC Concourse d' Elegance featuring this car are also included.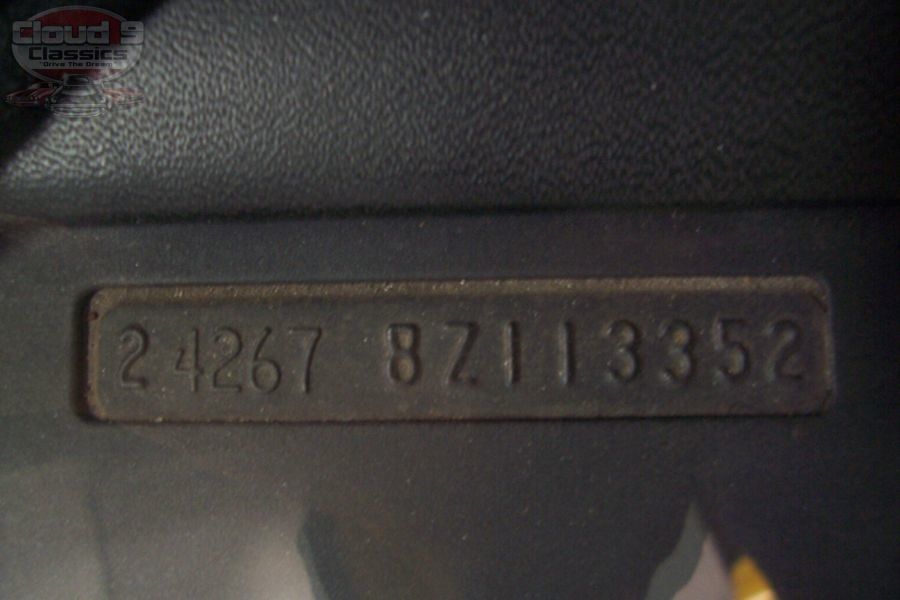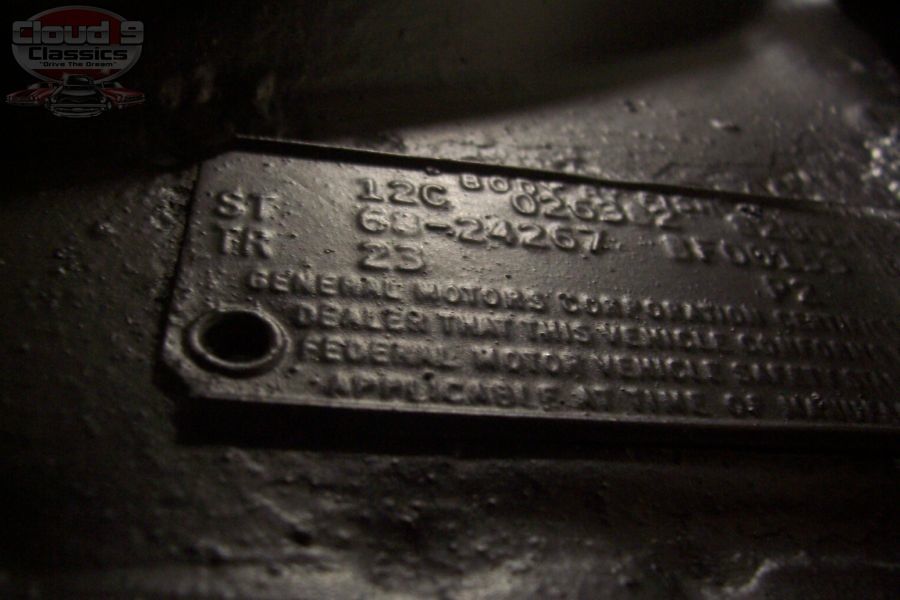 HERE IS A SHORT VIDEO SO YOU CAN HEAR THIS GTO START UP AND RUNNING (

CLICK THE ARROW TO START

):