About This Vehicle
Odometer: 71,200
Engine:  350 V8
Body Style: Standard Cab Pickup
Transmission:  Manual
Exterior Color:  Green
Interior Color: Green
VIN:  CE249Z838518
Price:  SOLD
AWESOME

,

VERY ORIGINAL

, ROCK SOLID, 1969 CHEVROLET C-20, CUSTOM CAMPER, LONG BED PICK UP…

350 V8

,

4-SPEED

, POWER STEERING…READY TO

DRIVE

AND

ENJOY

!!!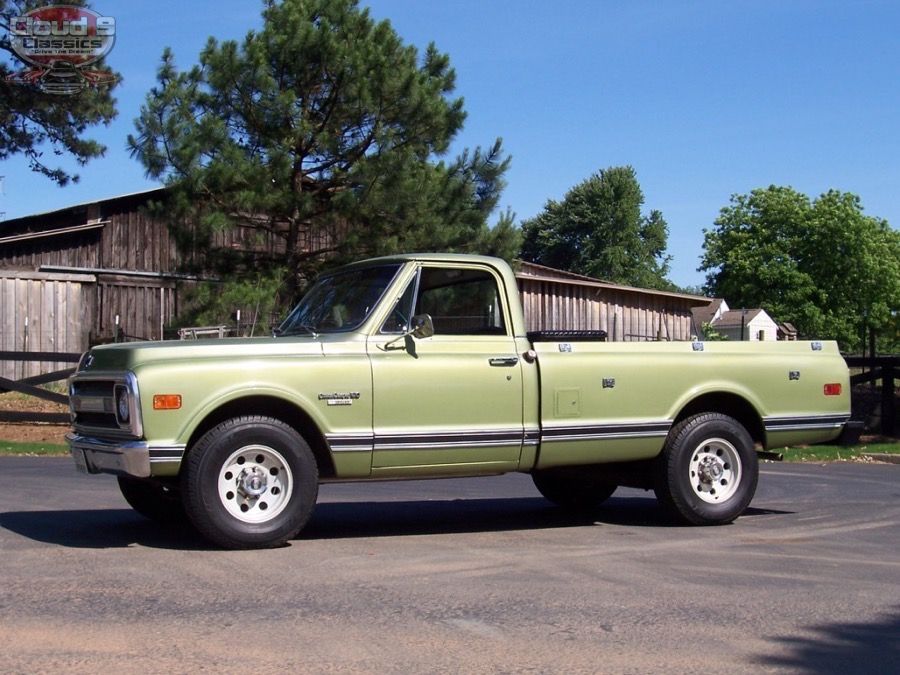 Here is an outstanding, very original 1969 Chevrolet C-20 Custom Camper that is rock solid, well maintained, ready to drive and won't break the bank!  This truck was originally produced at the Fremont, California plant and sold at a dealership in Colorado. It made its way back to California where it is believed to have spent most of life before it made its way to Georgia 4 years ago. The gentleman I bought it from found it in Paso Robles, CA where it had been traded in on, get this, a Volvo. Evidently the gentleman who traded it in had used this truck primarily to just drive around his large property over the years and needed a practical car, thus the Volvo. Well, the gentleman I bought it from here in the Atlanta, GA area got this truck and absolutely loved it. In fact he drove it whenever possible and put about 18,000 miles on it in the 4 years he owned it. His daughter was out of state in college and needed a car so he unfortunately needed to sell his toy to get her something. He explained that this truck had been unbelievably reliable and so much fun to drive and he really wished he could have kept it but unfortunately he needed to sell it.  I jumped right in it the day I got it and took it for a nice drive. It really is a blast to drive with lots of power and relatively easy to handle for a 50 yr. old truck. I did not bother to try and detail it or clean up the undercarriage as this truck has such great integrity that I wanted the next lucky owner to see it for what it is, just an awesome classic truck that is ready to enjoy. I will do my best to provide enough large images, a video of it running, and an honest description to help you decide if this truck should be in your garage. As with all of my classics, I do have this truck listed on several other sites in addition to my own. Therefore, if you decide you want to scoop it up before the next car guy or gal, feel free to call me to discus how we can make that happen. I am also a transport broker and can get you a great rate on transport anywhere in the US. I also welcome overseas buyers and can assist you in getting the truck to the port of your choice. Sit back and enjoy!
I have set a very reasonable reserve on this '69 C-20 so please do not message me asking the reserve price…serious buyers can feel free to call me at 770-359-8400 to ask any questions you may have!!
As you will see in the photo tour of the body below, this 1969 Chevy C-20 lived a great, dry, rust free life and I believe is still wearing all of its original sheet metal with no sign of rust repair or replacement.  Body panels are shockingly straight and doors open and shut great. This truck still wears its original side body moulding which is in very nice condition as well. From what the previous owner was told this truck received one repaint about 15 years ago. It was repainted in the original Olive Green Metallic and overall the paint looks very good. Originally the roof was painted from the factory but as the time of repaint it was painted the same as the body. The roof and hood shows some oxidation in the paint which I would bet will buff out if desired. I think the body/paint just have a great vintage/original look and given the fact the truck is 50 years old it looks great! No rust issues on the body panels! There are some minor dings, rock chips, scratches etc. but nothing that jumps out at you. There is a slight indentation on the bottom of the passengers side cab behind the door. Front grille is original chrome style and looks great and a heavy duty rear bumper was added at some point.  All of the stainless and trim looks very good for its age. The passengers side view mirror is cracked. All of the glass is in excellent condition and side windows roll up and down nicely.  As you will see there are several tie down hooks that were installed along the rear quarter panels which may have been factory or added after. I assume at one time a Camper shell may have been on this truck since it is the Custom Camper model. The gentleman I bought it from took it to a LINEX dealer and had the bed completely lined so that he could use the truck the way it is was intended. As you can see the Bedliner looks great and will hold up for many years to come. There is also a really nice Kobalt Tool Box that is installed and included with keys to lock it. There is some minor surface rust on the inner edge on the passenger side of the tailgate but it is still rock solid. The keys for the small utility doors never came with the truck from California but if needed a locksmith could handle that no problem. Overall the body is in great shape and you could take this truck to the local shows and cruise-ins and folks will appreciate the originality and patina. Here is a walk around tour of the body:
Pop open the drivers side door and you are welcomed by a very neat Green interior that is comfy and functional. The original green cloth seat cover was replaced with a green vinyl seat cover and the bench seat is still plenty firm and comfy.  Seat belts are in place. Door panels look like they could be original and still in nice condition. Green dash pad also in very nice condition with no cracks. Black rubber floor mat still looks great as do the factory visors. I believe it still has the original steering wheel which looks good for the age with just minor cracks that are typical. Gauge cluster looks great and an aftermarket tach was added and works correctly. All of the lights, gauges, choke, blower fan, etc.  appear to be working correctly. rear view mirror looks original and could use replacement asit is not very clear any more.  The original AM radio is still in the dash but a unit was added with an aux cord so that you can play all of your music from your phone or iPod device. Just plug it in and go…nice sound from the speakers that were added in the front kick panels. Door jams and rocker panels are all rock solid with no rust issues. Overall the interior is in excellent condition….check it out.
This C-20 is an original 350 V8 truck and the odometer reads just over 71,000 miles. It does not have the original motor and the previous owner was told that a crate 350 was installed by the owner before him. As a result I believe the current motor probably has about 30,000 miles on it however I do not have any documentation of when the motor was installed. It fire right up and pulls really strong taking this C-20 down the road with ease and cruises at 70 mph with no issue. It has an Edelbrock intake and Edelbrock 4bbl carburetor. I would estimate the horsepower to be about 250-275hp.   The gentleman I purchased this truck from put about 18,000 miles on it during his 4 years of ownership and did general maintenance to keep it running and handling great. He replaced the battery, ran new fuel lines, changed all the fluids and did regular oil changes. He said the truck always ran great and never had any overheating issues even in the Atlanta summer months. This truck also has the original 4-speed transmission which is basically a granny 1st gear and then 3 good driving gears. It shifts through the gears nicely and will cruise down the highway in 4th with no problem. She tracks down the road nice and straight and handles with ease thanks to the power steering. Previous owner replaced the shocks, tie-rod bearings, and other suspension components when he got the truck.  Manual drum brakes were also serviced and stop this truck well with no pulling but keep in mind they are old school drums.Dual exhaust looks like it was replaced fairly recently and has a nice stock tone. The undercarriage is rock solid with just minor surface rust that would be an easy weekend project if you wanted to clean it up and paint the undercarriage. Again, I wanted to show just how dry and solid this truck was so we did not spend the time to doll it up. Floorpans are rock solid and original. Good set of 8 lug American Racing wheels wrapped in nice set of radials with lots of tread life left. Original build sheet was found and comes with the truck. 
This truck is a turn key, ready to drive truck! It is a real work horse and you can use it as a daily driver if desired. Make sure you take a few minutes to watch the video that follows the pics to get a walk around tour and hear this truck start up and running!!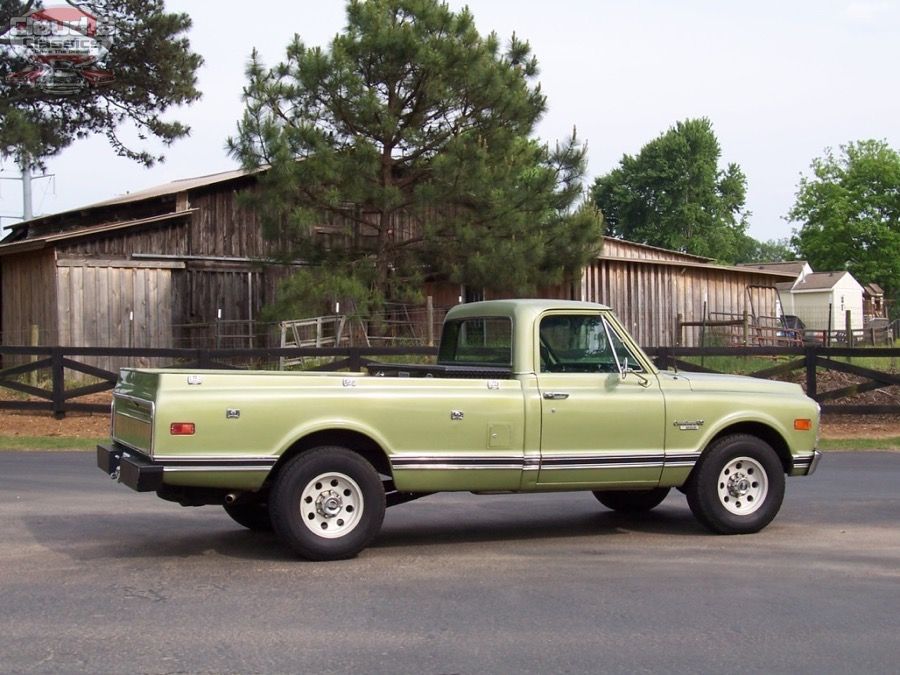 HERE IS A SHORT VIDEO SO YOU CAN HEAR THIS '69 C-20 START UP AND RUNNING (
CLICK THE PICTURE TO START
):