About This Vehicle
Odometer: 83,700
Engine:  302 V8 4bbl
Body Style: Conv
Transmission: Automatic
Exterior Color: White
Interior Color: Black
VIN:  U15GLD99725
Price: SOLD
AWESOME

EARLY BRONCO CLASSIC….1969 FORD BRONCO

NICELY RESTORED

,

LOADED

WITH AUTOMATIC, POWER STEERING, POWER DISC BRAKES, HARD TOP, BIKINI TOP AND MORE….READY TO

SHOW

AND

GO

!!
SPRING IS HERE AND IT'S BRONCO SEASON!!!
HAVE YOU BEEN SEARCHING FOR AN ABSOLUTELY AWESOME EARLY BRONCO CLASSIC AND WANT ONE THAT TRULY STANDS OUT IN A CROWD?
DO YOU LIKE  THE AGGRESSIVE STANCE OF AN EARLY BRONCO THAT HAS BEEN LIFTED AND HAS FENDER FLARES ON FRONT AND BACK?
WOULD YOU LIKE TO BUY ONE THAT IS TURN-KEY READY TO DRIVE AND ENJOY AND READY TO TAKE TO THE BEACH, CAR SHOWS, CRUISE-INS, OR OUT WITH THE FAMILY OR FRIENDS ON A BEAUTIFUL SUNNY DAY?
DO YOU WANT A 302 V8,  AUTOMATIC  TRANSMISSION, WITH POWER STEERING AND POWER DISC BRAKES? 
DO YOU RECOGNIZE THAT THESE BRONCOS ARE SOME OF THE HOTTEST COLLECTIBLE VEHICLES ON THE MARKET RIGHT NOW??
WELL, IF YOU HAVE BEEN SHAKING YOUR HEAD YES THEN GET READY BECAUSE THIS AWESOME WHITE '69 BRONCO COULD BE THE ONE YOU HAVE BEEN WAITING FOR!!!
There is no denying that these Early Ford Broncos have been one of the hottest categories in the classic car market over the past few years and we focus on locating Broncos that have lived well cared for lives in rust free parts of the country. This particular 1969 Bronco lived most of its life in California with just 2 owners until 2014 when a gentleman from Utah purchased it.  The 2nd owner had purchased it in 1989 and kept a detailed spread sheet of all work done to the Bronco while he owned it.  I have a picture of the 7 pages of service history towards the end of this listing. The 3rd owner from Utah added to this spreadsheet for the year of his ownership as well. Over $37,000 was spent over the course of time based on these spread sheets and that does not include the recent restoration that was done.  We were told that when the gentleman we purchased it from in Utah got it the body was virtually rust free but was long overdue for a fresh coat of paint and some interior upgrades. He had this work done professionally about 8 months ago and enjoyed driving the Bronco almost daily after it was finished.  Unfortunately another financial obligation came up that required him to let go of his toy.  Disappointing for him, but not for the next lucky owner…maybe you?? I will do my best to provide enough large images, a video of the Bronco starting up and running, and an honest description to help you decide if this White beauty is the one you have been looking for.  As with all of our classics this Bronco will be listed on our website and several others so if you would like to put it in your garage before the next car guy or gal does feel free to give me a call. Sit back and enjoy!
I think you will agree that this '69 Bronco looks awesome in all white. What is cool is that it was originally a white bronco. Of course the rear fenders were cut and flares were added at some point to accommodate the lift kit and larger wheels and tires but the all white body truly stands out.  As previously mentioned the gentleman in Utah has a professional body shop strip the body and repaint it in the original white color. He indicated that there were no rust issues to contend with. There were some minor dings and other imperfections that were attended to but rust was not an issue.  Overall the paint and body look excellent. There are some minor imperfections in the paint but overall as you will see in the pics this is a Bronco you will be proud to own and drive and can definitely show up to the local shows and cruise-ins and draw a crowd and probably win your share of trophies if that is what you enjoy.  At the time the Bronco was painted, the interior was removed and a hippo liner was applied throughout the interior. The 6 point roll cage was also coated in the same hippo liner material for a rugged finish.  Door handles, side view mirrors, gas caps and door hinges were painted black.  Grille area was painted silver and new chrome bumpers were added. We considered painting the fender flares black but everyone who looked at it thought it looked slick with the all white.  A new black bikini top was added and this Bronco is ready to be enjoyed this spring and summer with the top off.  I think the pictures below will give you a good feel for the overall condition of the body on this Bronco Classic. 
We prefer driving these early Bronco classics with the hard top off but if you live in the colder climates and need a hard top in the winter months it is nice to know this truck does come with the original hard top that is painted white to match. The windows have all been tinted and this Bronco does look pretty cool with the hard top on as well. There is no headliner installed in the hard top so it tends to be a bit noisy with the hard top on. These headliners are not expensive and are easy to get if needed.  We currently have the hard top off the Bronco but will install it for the next owner.  They are not the easiest to take off and put on and many of our buyers end up just telling us to keep the hard top as they realize they will rarely drive it with the hard top.  This is up to the next buyer to decide. Here are some pics with the hard top on:
Complimenting the white exterior of this Bronco is a beautiful stock black interior that has been nicely upgraded and redone. Seats look close to brand new as do the door panels, dash pad, carpeting etc…The previous owner added rear interior panels which really give the interior a nice finished look. The 6 point roll cage is great for safety and the front passengers are treated to shoulder hardness seat belts and rear passengers do have lap belts as well. A great center console was added for storage and cup holders. The only additional upgrade the next owner might choose to do is an upgraded stereo over the am/fm/cassette that is currently installed. The wiper motors were upgraded to electric motors which is a nice upgrade.  Original steering wheel still in very nice condition. All of the gauges, lights and electronics appear to be working correctly including the dual fuel tank switch and gauge. A new wiring harness was professionally installed by a shop in Utah.  Nice set of Bronco scripted sill plates were added and a new set of Toms Bronco floor mats are included.  The interior looks fantastic overall!! Have a look:
The original 302 V8 still powers this awesome '69 Bronco and as the 7 page spreadsheet shows this Bronco was maintained meticulously by the 2nd owner with every oil change, gasket, nut and bolt documented in the records.  I do not see a complete rebuild done in the records but quite honestly it looks like everything was always serviced and maintained and this motor never needed a complete rebuild. It is super strong and has great compression. It will cruise at 65 mph with no issue and is also set up for off-road use if needed.  In 1995 this Bronco was converted to an automatic transmission with all of the correct components. You may or may not know that these were all 3-speed manuals on the column until the early 70's.  The conversion was done right and you would never now. The transmission was just rebuilt in July of 2014 and shifts strong and smooth. This Bronco was also upgraded with Power steering and Power front disc brakes . This is an easy Bronco to drive and was set up very well. For off road use it has Dana 44 front and rear axles. It is also has an ARB front air locker and Detroit rear locker. If you are just cruising around it drives like any other Bronco but if you decide you want to take it through some rough terrain then these added features will help it perform better then a stock Bronco. The engine bay was nicely detailed and you will not find any rust in the inner fender areas that is typical on these early Broncos. Hydraulic hood supports were added to hold this heavy hood open when needed.  This Bronco fires right up with the turn of the key and has a nice tone through the headers that breathe out the dual exhaust and Dynomax mufflers. Make sure you listen to the video that follows of the Bronco starting up and running.  The undercarriage is rock solid and has not rust issues….another benefit of a California vehicle.  Floorpans all look great and appear to be original. The undercarriage was nicely detailed. Great set of Eagle Alloy 15 x 8 polished wheels wrapped in a nice set of BFG Mud Terrain tires with plenty of tread life left.  This White Knight is ready to be driven and enjoyed!!!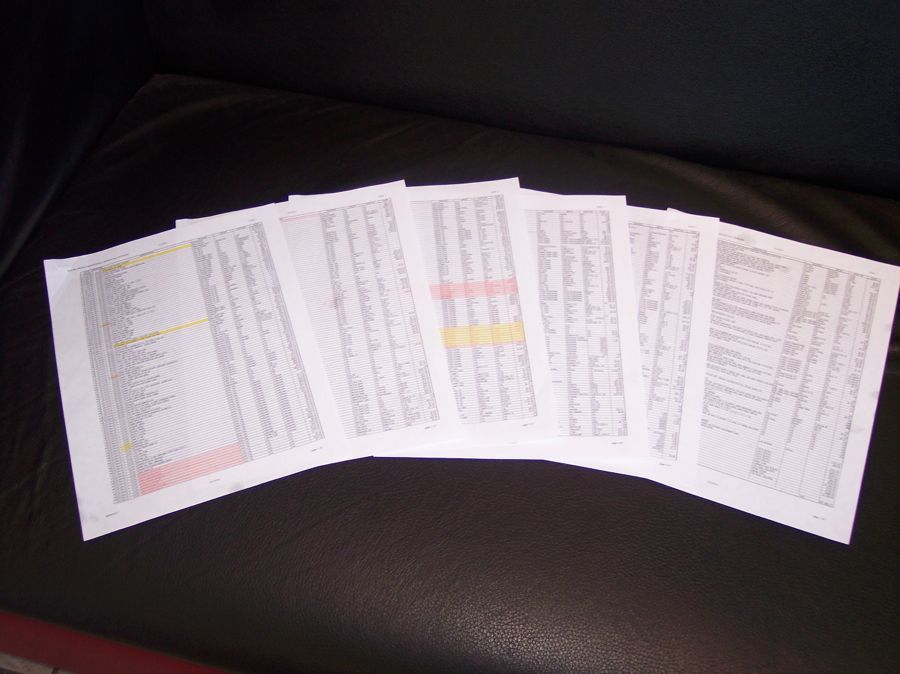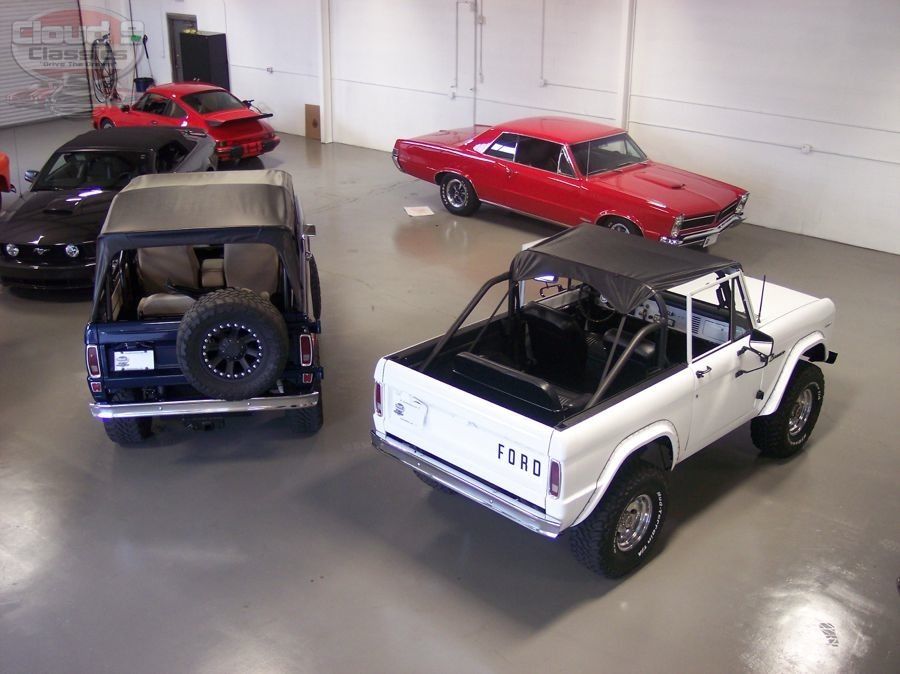 HERE IS A SHORT VIDEO SO YOU CAN HEAR THIS WHITE BRONCO FIRE UP AND RUNNING (

CLICK THE ARROW TO START

):
SERIOUS BUYERS CAN CALL ME AT 770-359-8400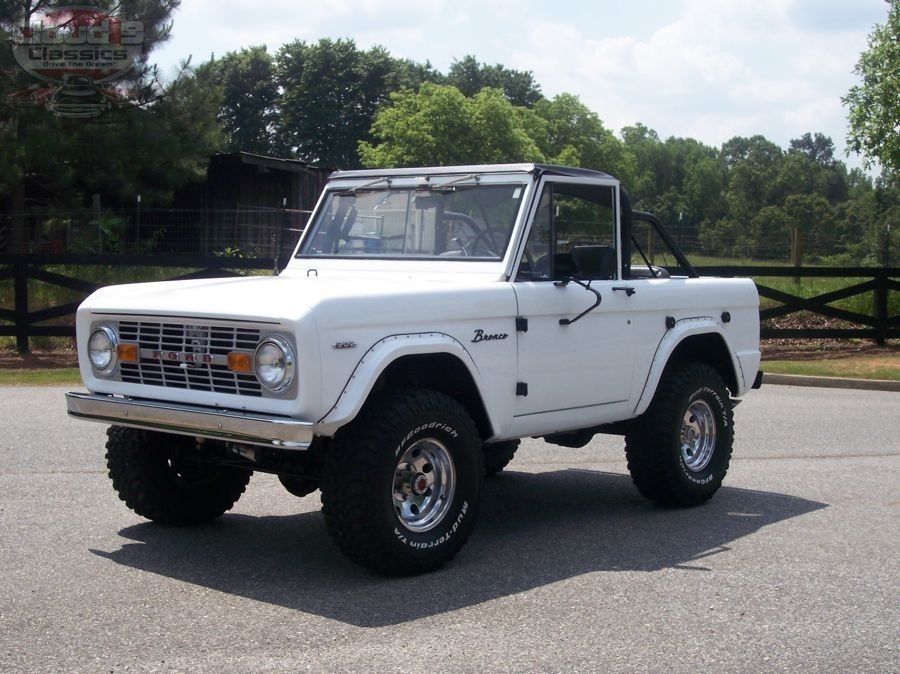 If you have any questions feel free to call me at 
770-359-8400 
and I will do my best to answer them.  If you are a serious buyer lets talk on the phone and discuss it. In addition to being a licensed Classic Car Dealer I am also a Transport Broker and will be happy to assist the buyer with a great rate on Enclosed or Open Transport anywhere in the US at the buyers expense or to any port for overseas buyers.