About This Vehicle
Odometer: 95,350
Engine: 400 V8 Matching #
Body Style:  Coupe
Transmission:  Manual
Exterior Color:  Black
Interior Color: Black
VIN:  344879M201574
Price: SOLD
VERY RARE
,
1969 OLDSMOBILE 442
W-30
4-SPEED…
UNMOLESTED SURVIVOR
, 1 OF 1389 PRODUCED, MATCHING # 400 V8, 
SAME OWNER SINCE 1981
WITH JUST OVER 95,300 ORIGINAL MILES!!!
THIS W-30 IS AN AMAZING OPPORTUNITY FOR THE COLLECTOR OR ENTHUSIAST WHO APPRECIATES AN UNRESTORED, MATCHING # INVESTMENT QUALITY MUSCLE CAR THAT CAN BE DRIVEN AND ENJOYED JUST AS IS, OR EASILY RESTORED TO SHOW QUALITY!
HESITANTLY UP FOR SALE AFTER 37 YEARS OF OWNERSHIP! 
If you have been searching for a '69 442 and would love to have a true W-30 car that has an outstanding history and still wears its original paint then this is one you do not want to miss. About 2 years ago the gentleman who owns this car stopped by with it to discuss the possibility of me selling it for him. As he gave me the history of the car and we walked around it together I was excited to have the opportunity to sell it for him. He left that day saying he would let me know if he was really ready to let it go. After all, he had owned the car since his freshman year in college back in 1981. I never did hear back from him until just recently. The decision was a difficult one but the reality was that he was ready to enter the next phase of his life and the reality was that it made sense to finally allow someone else to enjoy his pride and joy….maybe you!!!?
This 442 was originally sold at a dealership in Potsdam, NY near the Canadian border and changed hands a couple of times before the current owner noticed it sitting outside a barn on his way to College. He knocked on the door to see if it was for sale and the rest is history. He has now owned this car for 37 years and it moved with him to the Atlanta, GA area back in 1993. It has only seen sunny day drives since and was always well maintained and kept clean and garaged when not in use. He was able to contact the original owner after he bought the car and got some great history on the car. The owner enjoyed turning wrenches when needed and took the time recently to detail the engine bay. While this 442 is not a restored show winning car, it is a very rare and desirable matching number unrestored example of one of the quintessential muscle cars of its time.  I will do my best to provide you with enough pictures, a video of the car running, and an honest description fo the cars condition and history to help you decide if this 442 should be in your garage. 
As with all of my classics, this 442 W-30 is also listed on my website and several others. If you would like to scoop this survivor beauty up before the next car guy or gal does, feel free to give me a call at 770-359-8400 with any questions you may have. I am also a transport broker and can assist the buyer with getting a great rate on open or enclosed transport anywhere in the US. I also welcome overseas buyers and can assist in getting the car to the port of your choice. Sit back and enjoy!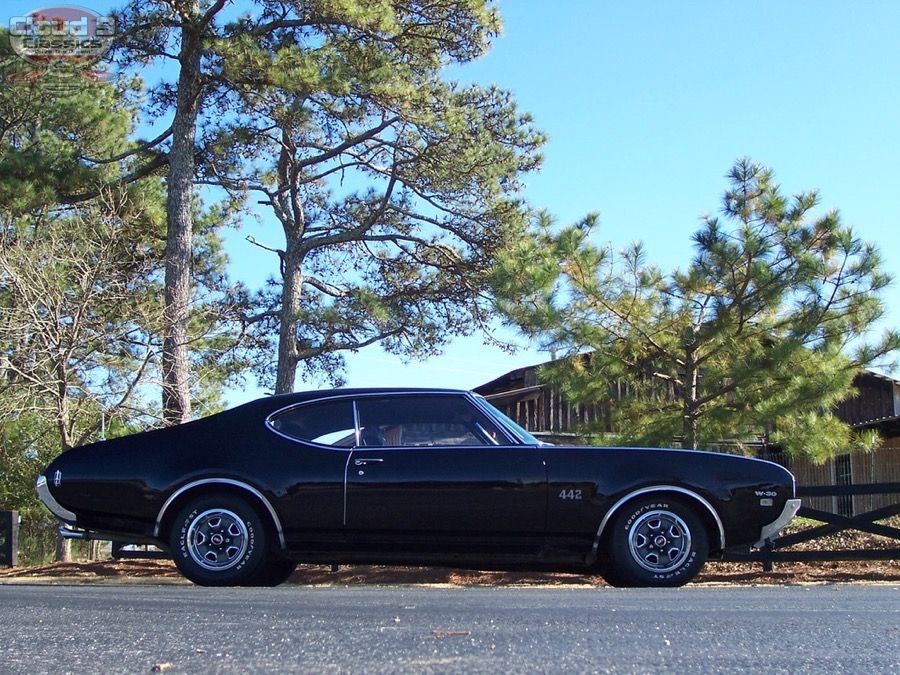 As mentioned, this Black 442 W-Machine still wears its original paint with the only exception being the trunk lid which was replaced with an original OEM one after the 2nd owner damaged it thinking he was in 1st gear and not reverse one day. When the current owner got the car he decided to also replace the damaged rear bumper and located an original '69 442 bumper which he had re-chromed before replacing. Overall the body is in very nice condition with the patina you would expect on an original 50 year old paint job. As you will see in the pics the paint still holds a pretty nice shine! There is a slight crease on the passenger rear quarter panel that the original owner said occurred when his relative pulled his car in too close on the driveway 48 years ago. There are several small door dings, a small crease on the drivers front fender, some spots in the paint that have worn through, and other minor blems as you would expect. The lower rear corner of the passenger front fender has some rust as well as a small spot behind the passenger rear wheel well. These spots would be really easy fixes if the next owner decides to treat this 442 to its first paint job and this car is a body mans dream. Of course this W-30 still has the original scoops under the front bumper for the functional OAI system. The chrome and stainless all look great. The original white hood stripes still look great. As I mentioned, this is not a restored show car but if you appreciate an original car this one will surely please you! I think the walk around photo tour of the body will show you how nice it is for the age and originality.
Check out the black interior which is equally impressive given its age and originality.The interior is also all original with the exception of the drivers seat which was recovered years ago with the correct original material. The passenger seat has a small tear and separation in the stitching and a correct, matching replacement is included. Dash pad looks great with no cracks. Door panels look fantastic. Carpeting and headliner are in nice shape. Original steering wheel looks amazing. Dash looks fantastic and gauges are crystal clear. Of course it has the Rally Pac gauges that a W-30 car has to have. All of the lights and gauges appear to be working correctly. Passenger side window crank is not working but window can be put up or down manually. All of the glass appears to be original and is in great condition although there is a rock chip on the drivers side that has been there since the owner has had the car. The 4-speed shifter handle was changed by the original owner who had a birth defect to his right hand which made using the original knob difficult. Overall the interior is just as original and impressive as the exterior. Check it out:
This '69 442 W-30 has just over 95,300 original miles on the original, matching # 400 cubic inch V8 which still pulls hard and runs great. Current owner was able to speak to a mechanic at the Oldsmobile dealer who sold this car and serviced it and learned that the lower half of the motor was rebuilt under warranty when it spun a bearing requiring the crankshaft to be replaced. The original numbers are still stamped on the pad of the motor and of course it has the correct original D-stamped heads. Original Muncie 4-speed transmission for banging through the gears. Posi-traction rear end puts the power to the road. Great tone from the dual exhaust exiting the 442 cutouts in the rear bumper with correct trumpet exhaust tips. When he first bought the car it had headers on it but when he met the original owner and asked him about it the guy pointed to shelf where he had placed the original exhaust manifolds which he purchased from him and placed back on the car. The only non-original component under the hood is the addition of Power steering which definitely makes for easier maneuvering. The original steering box was preserved and will be included. Some of the maintenance items done on the car include new water pump, new fuel pump, new timing chain and gears, brakes redone, new throw out bearing and clutch plate among other items the owner has forgotten. The tires will need to be replaced. although they only have about 10,000 miles on them, they were purchased in 1981 by the current owner and are worn due to alignment issues. The current owner has never hesitated to fire this 442 up on a sunny day and take it for a nice little cruise and drove it to my shop with no issues. I have taken it out to photograph and it is a super fun car to drive. The current owner decided the Engine bay deserved a refresh so he spent many hours degreasing and then repainting the block to enhance the appearance. He did a great job and while he was doing it he took pics of the stamping on the motor showing it is matching #'s. As you can see the original air cleaner and air snorkels for the OAI system are all intact. The notorious W-30 original Red inner fender wells are in place as well. The undercarriage/floorpans are rock solid and original. A long weekend spent cleaning and detailing the underside would go a long way if desired. The trunk pan is also rock solid and has an original spare and jack. Again, while not a show car by any means, this '69 W-30 442 is simply an amazing survivor car that can be driven and enjoyed or would be a prime candidate for a high level restoration if desired. The car comes with the Original owners Protect-o-plate in a cool original plastic holder with owners manual. 
MAKE SURE YOU ALSO WATCH THE VIDEO THAT FOLLOWS THE PICS BELOW TO SEE AND HEAR THIS 442 RUNNING!
HERE IS A SHORT VIDEO SO YOU CAN HEAR THIS W-30 START UP AND RUNNING (
CLICK THE ARROW TO START
):
At this point hopefully you can see how nice this 69 442 W-30 survivor car i
s. As with all of my classics I do have this car listed on my website and several others. If you would like to discuss how we can put this baby in your garage before the next car guy or gal scoops it up, feel free to call me at 770-359-8400. I can also assist in getting the buyer a great rate on Enclosed Transport (http://www.transporttime.com) and I welcome overseas buyers. 
SERIOUS BUYERS CAN CALL ME AT 770-359-8400 WITH ANY QUESTIONS