About This Vehicle
Mileage: 97.067
Engine: V8
Body Style: Coupe
Transmission: manual
Exterior Color: Tuxedo Black
Interior Color: Black
VIN: 136370A134589
Price: SOLD
GORGEOUS

TUXEDO BLACK

1970 CHEVROLET CHEVELLE SS

4-SPEED WITH BUILD SHEET!!
LETS TACKLE THE FIRST QUESTION ON MOST OF YOUR MINDS….

IS THIS A TRUE SS AND DO I HAVE ANY WAY OF PROVING IT???

THE ANSWER IS

YES!!!

THE BUILD SHEET WILL BE INCLUDED AND HERE IS A LOOK SO YOU KNOW THAT THERE IS NO DOUBT THIS '70 CHEVELLE IS A

TRUE SS CAR!!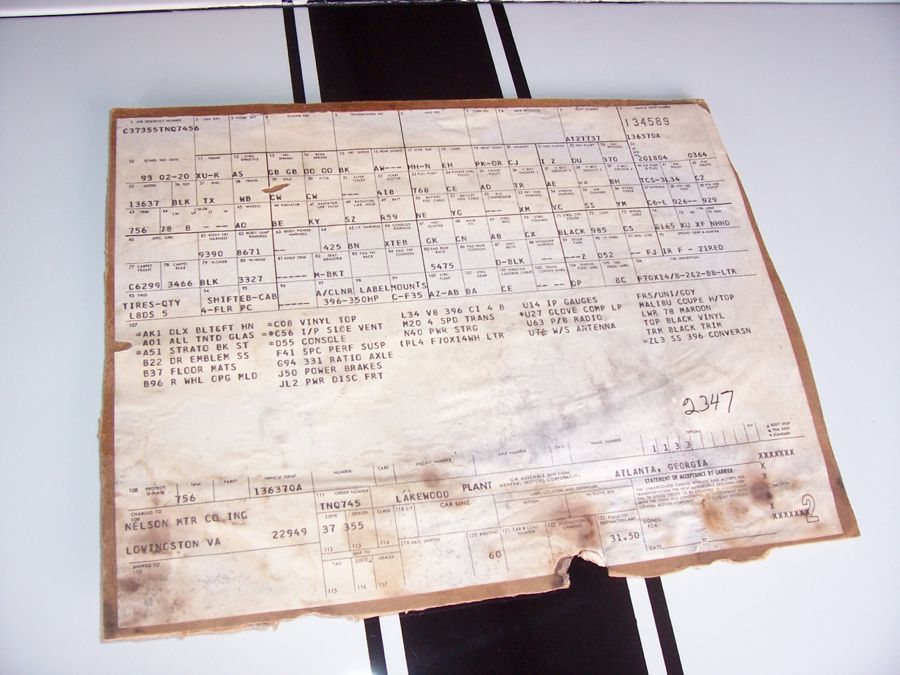 As shown on the build sheet this '70 SS Chevelle was assembled at the GM plant in Atlanta, Georgia and delivered to Nelson Motor Company in Lovingston, Virginia.  The previous owner told us he believes the car spent almost its entire life in Virginia. The previous owner was in New Jersey and had the car for a little over a year before selling it to his friend back in Virginia.  Well, a few weeks after he had the car delivered to him in Virginia an opportunity to buy a very high end Pro Street Dodge Charger came his way and he could not afford to keep both cars so he decided to let go of the Chevelle. Bad news for him but great news for the next lucky owner!!  This car is gorgeous and you will have a hard time finding a straighter Black Chevelle then this one for the money.  Add int he fact that it is a documented TRUE SS car and a 4-speed as well and it is one sweet piece of GM muscle car history.  I will do my best to provide enough pictures, videos and honest description to help you determine if this is the SS you have been looking for. Sit back and enjoy!!
The paint and body on this Chevelle SS are absolutely stunning. We were told the car underwent a cosmetic restoration about 6 years ago. From the build sheet we can see that this car started life as a Maroon car with a black vinyl top.  I have no idea when the color change first took place but I can tell you, and so will experts in the paint and body business, that if you are going to paint a classic muscle car black you better start off with one heck of a straight body or you will be disappointed with the result. Well, no disappointments here!!! The body panels are amazingly straight and body panel gaps are excellent. I believe this car is wearing its original sheet metal. The paint quality itself is very high and the white stripes are buried under the clear coat.  I would say that the body on the car is very close to flawless but to be safe lets say that the pickiest buyers may find a rock chip or blemish that I may have missed. We had the car wet sanded and buffed recently so it is ready to go and be enjoyed. Chrome trim and bumpers all look excellent. Windows rollup and down nicely and glass is in very nice condition. As you can see this car does have a Cowl induction hood however it is not a functional cowl hood at this time but could easily be made to be functional as the parts are readily available.  You can certainly show up at any of the local car shows and cruise ins and draw a crowd and probably head home with some trophies as well. Below is a walk around tour of the body and at the end of the listing there is also a video walk around tour. 
The interior of this Tuxedo Black beauty looks fantastic also!! it shows just like it was originally built as a black bucket seat car with 4-speed center console. The seats are in fantastic condition with no rips or tears and in close to new condition. Carpeting, headliner, door panels all look excellent.  The center console is in very nice condition and I believe it still has the original chrome muncie shifter.  Dash looks great and has the original factory gauges including tach in the dash.  Original radio in dash still seems to be working.  All of the gauges and lights all seem to be functioning correctly as well.  Again, the interior is beautiful and will catch plenty of compliments wherever you go. Have a look:
While we do know this is a True SS 396 Chevelle unfortunately it does not have the original matching # 396/350hp motor still.  I am not certain of when this occurred but it currently has an era correct NOM 396 that seems to decode as a 396 motor from a '72 Chevelle  4-speed car.  The horsepower rating on this motor is lower then the original 350hp although because I do not have any particulars on this motion I cannot specify the exact horsepower. I can tell you that the motor sounds very stock and this Chevelle is a great little cruiser!! Total mileage reads just under 97,625 which is believed to be correct as the Title from almost 2 years ago shows almost 87,000 miles. There are no high performance modifications that I can tell but an HEI electronic ignition was added and the motor and engine bay has a very nice and clean stock appearance and the car seems to be a very reliable driver.  The clutch was replaced approximately 3 years ago according to the previous owner and it is a heavy duty clutch and the Muncie 4-speed shifts great. Great muscle car tone from the dual exhaust exiting the correct rear chrome tips. This car tracks straight and is easy to handle thanks to the power steering. Stopping is a breeze with front power disc brakes and rear drums were redone recently.  F-41 suspension and factory sway bars. Springs in the rear are new. Beautiful SS wheels wrapped in BFG Radial TA rubber with lots of tread. Rears are 275/60/15 and fronts are 235/60/15 giving this muscle machine a great stance. This SS Chevelle is turn key and ready to hit the roads!!! Take a look at the pics and also listen to the video that follows to hear this machine rumble!!
HERE IS A SHORT VIDEO SO YOU CAN HEAR THIS SS RUNNING:

(CLICK THE ARROW)
HERE IS A FINAL WALK AROUND VIDEO TO ENJOY!

( CLICK THE ARROW )