About This Vehicle
Odometer: 63,950
Engine: 454/390 hp V8
Body Style: Coupe
Transmission: Automatic
Exterior Color: Blue
Interior Color: Black
VIN:  194370S402904
Price:   SOLD
ABSOLUTELY BEAUTIFUL

,

BRIDGEHAMPTON BLUE

, 1970 C3 CHEVROLET CORVETTE,

MATCHING #

BIG BLOCK 454/390HP

, AUTOMATIC, WITH JUST

UNDER 64,000 ORIGINAL MILES

…INTERESTING AND NICELY

DOCUMENTED HISTORY

….READY TO

SHOW

AND

GO

!!!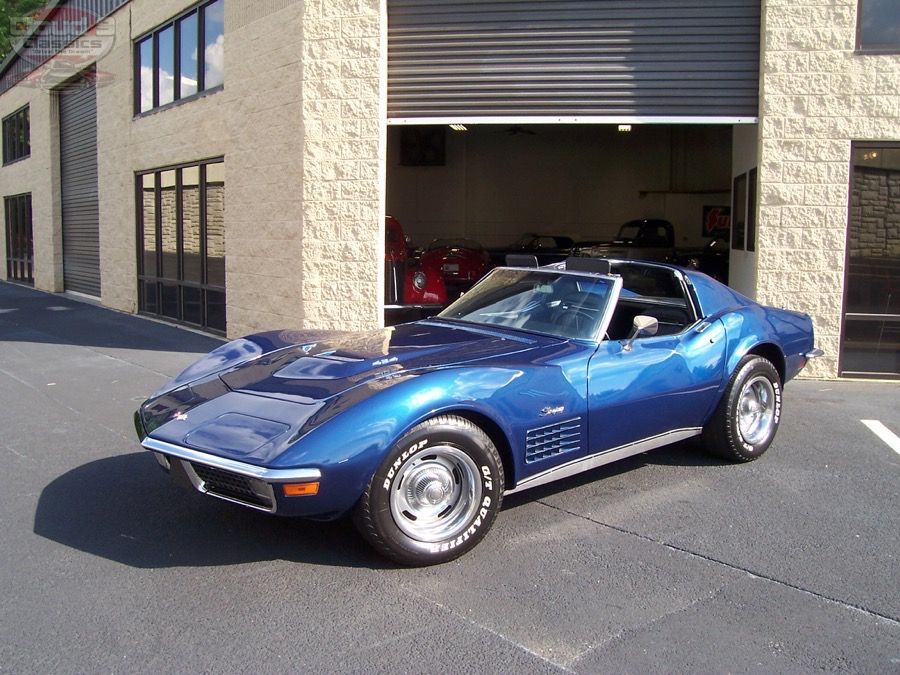 SEARCHING FOR A GORGEOUS 1970 CORVETTE??
WOULD YOU LIKE YOUR C3 CORVETTE TO BE A MATCHING #, BIG BLOCK 454, WITH A VERY COOL DOCUMENTED HISTORY THAT WILL MAKE A GREAT INVESTMENT WHILE AT THE SAME TIME BE A PLEASURE TO DRIVE?
WOULD YOU LIKE AN AUTOMATIC LOADED UP NICELY WITH POWER STEERING, POWER BRAKES, POWER WINDOWS, TILT/TELESCOPIC WHEEL, AND MORE?
DO YOU WANT A CLASSIC CORVETTE THAT YOU CAN TRULY DRIVE AND ENJOY AS WELL AS TAKE TO THE CRUISE-INS AND LOCAL SHOWS?
WELL, IF YOU HAVE BEEN SHAKING YOUR HEAD YES THEN THIS AWESOME '70  BRIDGEHAMPTON BLUE BIG BLOCK C3 VETTE MAY VERY WELL BE THE ONE YOU HAVE BEEN SEARCHING FOR!!!
I will not spend too much time with all of the production facts and stats of the 1970 Corvettes as the internet is a wealth of information for those of you who may not be Corvette experts and want to read up a bit.  However, it is important to note a few things that really make the 1970 Corvettes some of the most desirable C3 series cars. First, some of you may recall that the arrival of the 1970 model was later than usual in the automotive industry due in part to the United Auto workers strike in 1969 that caused a back log of orders for the '69 model and the decision to pro-long production to fill those orders which delayed the arrival of the 1970 model to showrooms in to February, 1970. As a result, 1970 had the lowest production numbers of the 1968-1972 Corvettes, ultimately making them more rare and collectible.  The '70 model also received some new design cues like the egg crate patterned fender louvers, fenders were flared slightly to prevent rock chips, and the seats were redesigned in addition to some other changes. In 1970 Chevrolet also enlarged the Big Block to its largest displacement at 454 cubic inches with a rated horsepower of 390hp with a massive 500 lbs/ft of torque. Production numbers show 17,316 units with 10,668 being coupes. Obviously, only a portion of these were produced with the Big Block 454 and this particular car is one of those rare cars! Ok, enough of Corvette history. Lets get to more specific info on this jaw dropping Bridgehampton beauty!!
I recently received this '70 from a local gentleman who I had assisted several years ago to sell one of his other classic Corvettes. He decided it was time again to thin the heard a bit so he made the decision to offer this awesome Big Block coupe to the next lucky owner….maybe you!!!? He purchased this car in 2004 and it came with a binder full of interesting documentation showing this car had spent a good portion of its life in England. He decided to reach out to one of the previous owners to try and get some more history on this car. Well, what he learned was pretty wild and is a story that is too good not to be true and is documented in an email.  Here is the story which is believed to be factual:
The car was special ordered by an Arab Prince who traveled to the GM plant to pick up the car off the assembly line. He had ordered it in Bridgehampton Blue but when he arrived to pick up the car he did not love the color and asked if it could be redone in Black. His wish was granted and it was repainted in black for him. A week after he took possession of it he lost the car in a poker game. The guy he lost it to sold it to a guy named Roy who eventually restored the car back to its original Bridgehampton Blue color. He enjoyed the Corvette in England until about 1997 when he moved to the United States and brought the car with him. He then sold the car to a friend of his in about 2001. This guy then sold the car to Gould Auctions who auctioned it off to a guy who then sold it to the current owner in 2004. Whew….long story, but one of those stories that someone could not have just made up and the documentation supports it. 
All of this is nicely documented with a variety of paperwork history that has all been laminated and is in a binder for the next owner. I am including photos of this documentation towards the end of this listing. So folks, that is the true story of this awesome Corvette. Lets not forget that it still retains the original Matching # 454 V8 and has just under 64,000 documented, super low miles. It is ready to drive and enjoy and will be more than welcome at the local shows and cruise-ins. 
I will do my best to provide enough large images, a video of the car running, and an honest description to help you decide if this amazing Corvette should be in your stable.  As with all of my classics I have this car listed on my website and several others so if you decide you want to scoop it up before the next car guy or gal does, feel free to call me at 770-359-8400 to discuss how we can make that happen. I will gladly sell to overseas buyers and in addition to being a licensed Classic Car dealer I am also a Transport Broker and can get you a great rate on enclosed transport anywhere in the country or to the port of your choice.  Sit back and enjoy!!!!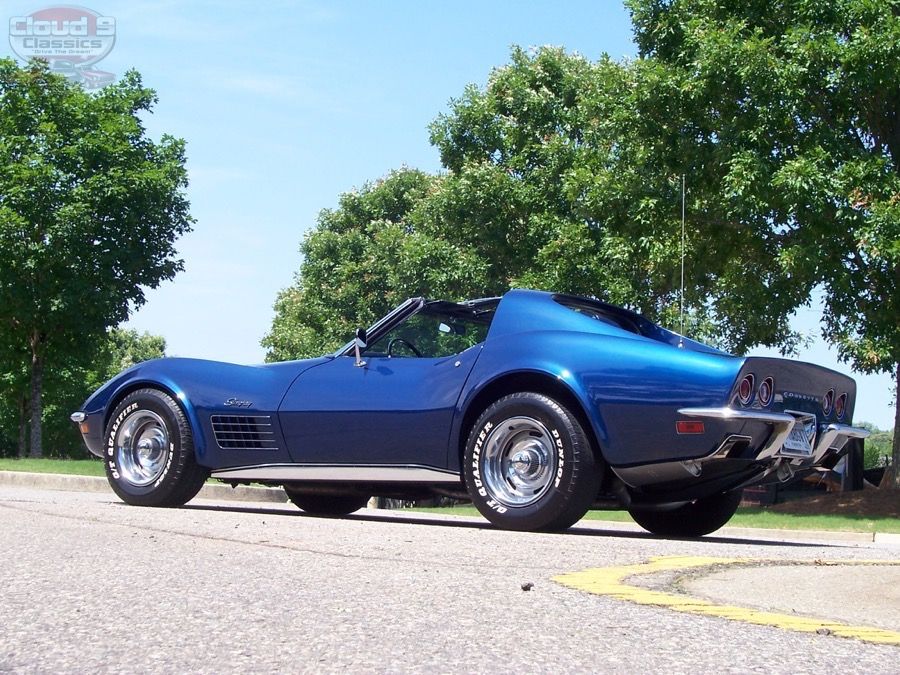 The body and paint on this '70 Corvette are absolutely beautiful and it appears to be a no hit body with all its original panels. The current owner has owned it since 2004 and decided to give the paint a refresh in the original Bridgehampton color about 8 years ago. Overall the paint quality is excellent!! There are a few minor blemishes that cannot be seen unless closely inspected. I noticed a couple of minor bubbles on the drivers side edge of the hood that were most likely a result of some type of contamination or prep deficiency.  There are a few very tiny rock chips and a very small hairline crack in the paint on the edge of the rear tail panel. All of these blemishes are very minor in nature and most people would not see them or not be bothered by them however I like to disclose as much as possible from what I have seen under close inspection. The current owner has put less than 1000 miles on this car in the past 12 years and it was always stored in his garage with the rest of his classics.It recently received a professional cut and buff so the paint shines beautifully/  Chrome and trim are believed to be original and overall look great. Some minor signs of age on the rear bumper and some minor pitting on the T-top chrome trim. Weatherstripping appears to have been replaced at time of last paint job. Headlights function well overall although the passenger side is a little slow to come up. The paint and body are nice enough for any local show and it will probably win its share of trophies if that is what you enjoy but it is not a trailer queen and was built to be driven and enjoyed!  I think the photo walk around tour below will show you what you want to see:
My personal preference is to enjoy this car with the T-tops removed which really gives you a convertible experience with the wind in your hair and sun in your face. Of course, when needed the T-tops can easily be locked in to place and are in great condition just as the rest of the body on this beautiful Corvette. Here are some pics with the T-tops installed. 
Complimenting the beautiful Brideghampton blue exterior is the original black leather interior. Seats are believed to be original and keep in mind the car has just under 64,000 original miles. Overall the seats are in fantastic original condition with just some minor wear marks on the drives side seat edge and seat bottom. These could be easily dyed by a professional interior person but we chose to leave them so you could see how nice they are. They are not split or torn at all and are still very comfortable and firm. Door panels and dash pad are in excellent condition as well. Carpeting looks excellent. Center console looks fantastic.  Original seat belts are in good shape. All of the gauges and lights appear to working correctly with the exception of the clock. Original AM/FM radio is working. Power windows work great and all of the glass is in excellent condition. Overall the condition of the interior is excellent and is indicative of a low mileage, well cared for classic!! Have a look inside:
Pop the hood and enjoy the view of this massive, matching number original 454 Big Block V8 rated at 390 horsepower and 500lb./ft of torque!!!! I have verified the engine stamping is original and matches the vin making this '70 Vette a great investment for the future.  With just under 64,000 miles on the car it hits the road beautifully and will set you back in your seat when you mash the accelerator. Receipt history shows the car was always well maintained over the years and the current owner recently spent quite a bit of money to make sure the car was ready to be driven and enjoyed by its future owner. Fluids, belts, plugs, etc. were all replaced. A new flywheel and starter were just put on. Suspension and brakes were completely gone through and anything needed was done. The Turbo Hydramatic Automatic transmission shifts beautifully and is believe to be the original transmission and has been properly serviced over the years. Also adding to the ease of drive ability are the power steering and power disc brakes. This C3 handles the road beautifully and is a pleasure to drive. During my test drive the car did not overheat and the current owner says he never had any overheating issues. I am far from a Corvette expert but from what I have seen the engine bay looks extremely original and correct. As you will see in pics that follow the stamping on the block is clear and shows it to be a matching # motor for sure. The undercarriage also looks great with no rust issues on the frame or other areas. It is very clean but is not a trailer queen. Original spare tire holder looks great. Stock exhaust sounds fantastic. The passenger side exhaust tip is just a little crooked which would be an easy fix if desired. Great set of Dunlop GT Qualifier white letter radials with very low miles on them, mounted on original Rally Wheels that are in beautiful condition. This Big Block Vette is ready for the next owner to drive and enjoy….be sure to listen to the video that follows to hear it start up and running. 
Here is a short video so you can hear this beautiful corvette start up and running (click the arrow to start)
Throughout my description in this listing I have made mention of the really cool story and history behind the 1970 Corvette. Below are some images of some of the documentation and stampings on the motor to support what was said. I do have the original tank sticker which is not very legible but has been preserved as best as possible. The low original mileage is well documented. All of these documents and the originality of this Big Block Corvette certainly add to the investment value and make this car a fantastic choice for the enthusiast who wants a car they can drive and enjoy today knowing they have a smart and sound investment for the future!!!!
Hopefully at this point you can see what an amazing, well preserved car this Bridghampton Blue 1970 Big Block Corvette is. I have the clear Title in hand and I am selling this beauty on consignment for the current owner. The car is located in my showroom in Alpharetta, GA which is about 30 minutes north of Atlanta, GA. As with all of my classics this Corvette is also advertised on several other websites in addition to my own. I encourage serious buyers to call me at 770-359-8400 to discuss any questions you may have.  In addition to being a licensed classic car dealer I am also a transport broker and can assist in getting you great rates on enclosed transport anywhere in the country. I also welcome overseas buyers and can assist in getting this car to the port of your choice. 
If you are a serious buyer give me a call and I would be happy to discuss with you over the phone.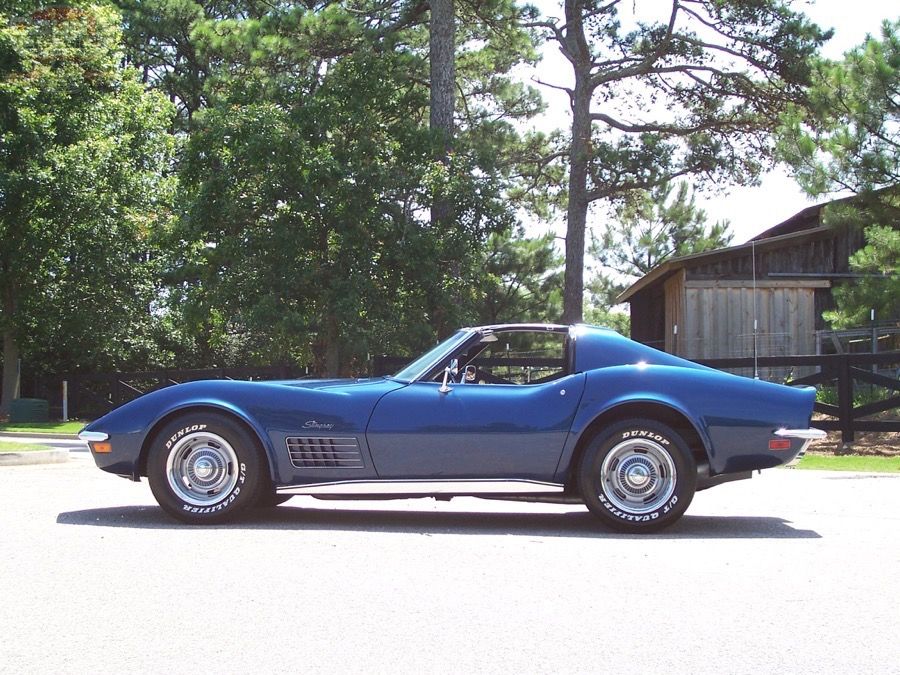 SERIOUS BUYERS CAN CALL ME AT 770-359-8400
If you have any questions feel free to call me at 
770-359-8400 
and I will do my best to answer them.  If you are a serious buyer lets talk on the phone and discuss it. In addition to being a licensed Classic Car Dealer I am also a Transport Broker and will be happy to assist the buyer with a great rate on Enclosed or Open Transport anywhere in the US at the buyers expense or to any port for overseas buyers.