About This Vehicle
Odometer: 98,000
Engine: V8
Body Style: SUV
Transmission: Manual
Exterior Color: Red
Interior Color: Parchment
VIN: U15GLH77020
Price:  SOLD
ABSOLUTELY

AWESOME

, 1970

FORD

BRONCO CLASSIC

….NICELY RESTORED, 

INVESTMENT QUALITY

, WEST COAST,

UNCUT

,

LIFTED

BRONCO….302 V8 4BBL, READY TO

SHOW

AND

GO

!!!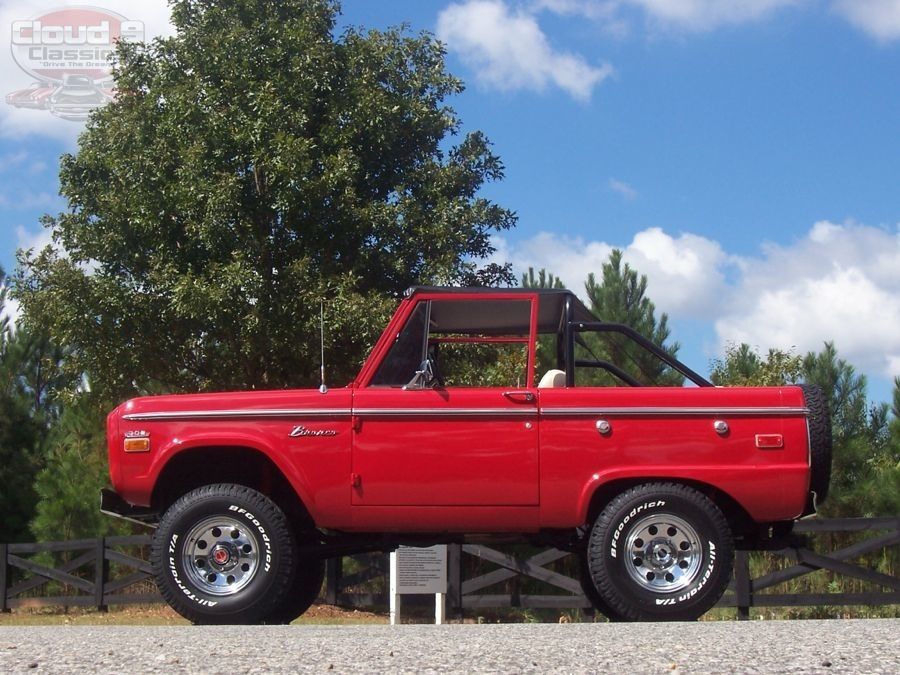 HAVE YOU BEEN SEARCHING FOR AN EYE-CATCHING, UNCUT, HIGH QUALITY, EARLY BRONCO CLASSIC?
WOULD YOU PREFER ONE THAT HAS LIVED A RUST FREE LIFE, HAS BEEN NICELY RESTORED AND IS TURN-KEY READY TO BE DRIVEN AND ENJOYED?
DO YOU WANT MAKE A SMART INVESTMENT IN ONE OF THE HOTTEST COLLECTIBLES IN THE CLASSIC CAR MARKET AND LIVE LIFE TO ITS FULLEST??
WELL,
IF YOU ANSWERED YES
TO ANY OF THE QUESTIONS ABOVE THEN THIS MAY BE THE EARLY BRONCO CLASSIC YOU HAVE BEEN WAITING FOR!!!
THIS
UNCUT
 '70 IS AN ABSOLUTE SWEETHEART OF A FIND
!!!
Over the past few years these Early Ford Broncos have become some of our best sellers and we have focused on locating classic Broncos around the country that  have lived easy lives without the typical rust issues that so many of them have or had. Although it has been getting tougher to locate these great ones  this Red 1970 is one we are very proud to be offering for sale. We acquired this one from a great guy in Michigan who had owned several vintage Broncos over the years and said this was the nicest one he had owned.  One of the reasons it was so nice was that it had spent most of its life on the West Coast between San Diego , CA and Seattle, WA.  Evidently a guy from Iowa had purchased it about 5 years ago from a person In Washington. When he got it it was completely rust free and just needed to be painted. He had a professional, beautiful Red Base coat/clear coat paint job done and then rarely drove it.  The original 302 V8 had been rebuilt prior to him and is supposed to have under 20,000 miles on it since the rebuild. The previous owner had it for about 6 months and made a variety of cosmetic upgrades while he drove and enjoyed the truck putting about 1000 miles on it.  This Bronco is an absolute joy to drive and we have done a few cosmetic upgrades making it a Bronco that will be a great investment for the next owner that can be driven and enjoy as well as taken to the local shows and cruise-ins where it is sure to take home its share of trophies. I will do my best to provide enough large images, a video so you can hear it running, and an honest description to see if this Un-cut Early Bronco is the one you have been waiting for. 
As I mentioned, the paint and body on this '70 Bronco are in fantastic condition and this Bronco appears to still have all of its original sheet metal and the body is very straight overall.  The paint quality is excellent and the body panel fit is great including the doors which typically you will find do not close well on many of the Early Broncos. According to the original trim tag in the glovebox this Bronco was a Carmel Bronze color originally but was changed to Candy apple red with no sign of the original color. Front and rear bumpers look new and the body side molding was added and also looks close to new. Emblems and other stainless and trim all look great.  All of the glass is in great condition and windows roll up and down nicely.  We aded a roll bar for added safety and also have a brand new bikini top for some top off fun. One of the coolest elements of this Bronco is that the rear fenders were never cut so this Bronco looks the way it came back in 1970.  While I love the look of Broncos with rear fender flares that have been cut, this particular Bronco has given me a real appreciation for a nicely set up Un-cut one. This Bronco also has a great stance with a 3 1/2″ Suspension lift.  In the Bronco enthusiast community these broncos are affectionately know as LUBR's which stands for Lifted Uncut Bronco. Although this Bronco body is not flawless it is in fantastic condition. There may be a few very tiny rock chips that have been touched up but overall this Bronco is ready for the local shows. One important note is that after I took the pictures of the exterior I noticed a very slight exhaust leak and decided to run brand new dual exhaust. I added pics later to show you how the new exhaust looks. This is a sweet LUBR as you will see in the photo tour that follows:
While these Broncos are awesome to enjoy with the top off and the sun in your face and wind in your hair it is also great to know that this Bronco also has a great looking Hard Top that is in great condition. There is a nice light gray headliner and when the hard top is installed the wiper motor cover and sun visors are installed are in great condition. We also installed nut-serts which makes the installation and removal of the hard top much easier when needed. The roll bar is brand new and powder coated and the new owner will also get the brand new bikini top. Have a look:
Complimenting the beautiful Red Exterior is a gorgeous parchment white interior that has been completely redone recently. Front and rear seats look like new, new rear interior quarter panels to match, new carpet kit with stainless hold down strips, etc….Dash pad looks great and a new set of Tom's Bronco floor mats finish off the interior.  Dash looks great and is all original with the new exception of an updated stereo that was neatly installed and speakers neatly installed in the doors. All of the gauges and lights appear to be working correctly. Fuel gauges for both tanks work. Factory heater works great and wipers work well also and blower motor and switch function well.   The e-brake is working but you have to push the pedal down hard or it tends to pop out.  Weatherstripping was all replaced and windshield was replaced with new weatherstrip as well. Exterior door locks all work. Original steering wheel with leather wrap in great condition also. Small diamond plate step plates were added which also protect the paint where you get in and out of the truck and where seat belts often leave chips in the paint. As you will see below the interior is show ready!!
The original 302 V8 still sits under the hood and was rebuilt and is estimated to have a little under 20,000 lies on it since the rebuild. A compression check was done recently and all 8 cylinders had excellent compression and were within a few lbs of each other.. At the time of rebuild the gentleman in Seattle, WA also added an aluminum 4bbl intake and 4bbl carburetor with electric choke.  This motor runs extremely strong!! New fuel pump, spark plugs, voltage regulator, water pump, thermostat and more were done recently as well making this a very reliable Bronco. East starts thanks the MSD Electronic ignition. This Bronco is an absolute joy to drive and I recently drove it about 20 miles including highway at 75 mph and it tracks straight and handles beautifully. Power steering makes handling a breeze and the manual drum brakes stop very well with no pulling or issues. Front brakes were recently redone.  Tie rod ends and and drag link are all nice and tight.  After I took the initial pictures of the exterior I noticed a very slight exhaust leak so we decided to go ahead and have brand new dual exhaust run front to back which sounds great. Transmission is the stock 3-speed manual on the column and shifts super smooth and is really fun to shift. Transfer case is stock Dana 20 which works great and the front lock out hubs were serviced recently and function extremely well. This Bronco is ready for some 4-wheeling if desired but it is so nice you may hesitate to take it off road.  Great stance with the 3 1/2″ suspension lift and Rancho shocks on all 4 corners.  We added a brand new set of American Racing Baja wheels wrapped in a brand new set of BFG Radial TA 31″x 10.5 all terrain tires.  Engine bay has been nicely detailed for show as well with no rust in the engine bay where they usually rust out in the inner fender areas.  The undercarriage and floorpans are rock solid and original although the front driver side pan was patched correctly at one point. a very light rust proofing was applied to the undercarriage but is not hiding any issues!!! While this Bronco is certainly eye candy it is an extremely reliable and fun SUV to drive and is set up to be driven and enjoyed!!!
AFTER TAKING THE FIRST GROUP OF PICS OF THIS BRONCO I HEARD A SLIGHT EXHAUST LEAK AND RATHER THEN PATCH IT I DECIDED IT MADE SENSE TO TREAT THE NEXT OWNER TO A BRAND NEW DUAL EXHAUST SYSTEM.  PREVIOUSLY THE EXHAUST WAS EXITING IN FRONT THE REAR WHEELS BUT WE CHOSE TO RUN IT OUT THE REAR THE WAY IT SHOULD BE BEHIND THE REAR WHEELS. HERE ARE PICS THAT SHOW THE BRONCO WITH THE BRAND NEW DUAL EXHAUST THAT NOW EXITS OUT THE BACK BEHIND THE REAR WHEELS WITH A NICE SET OF CHROME EXHAUST TIPS:
HERE IS A LOOK AT THE UNDERCARRIAGE:
HERE IS A SHORT VIDEO SO YOU CAN HEAR THIS SWEET '70 BRONCO RUNNING….TURN UP YOUR VOLUME AND CLICK THE ARROW TO START: