About This Vehicle
Mileage: Exempt
Engine: 455 V8
Body Style: Conv
Transmission: Auto
Exterior Color: Silver
Interior Color: Black
VIN: 342670E116434
Price:    SOLD

ABSOLUTELY AWESOME,

RARE

, 1 OF 793, 1970

OLDSMOBILE CUTLASS

SX

CONVERTIBLE…

MATCHING #

455

V8, WITH BUILDSHEET…"GENTLEMANS 442″…NICELY RESTORED…READY TO

SHOW

AND

GO

!!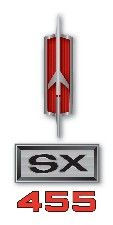 ARE YOU SEARCHING FOR A REALLY SWEET CONVERTIBLE MUSCLE CAR??
ARE YOU AN OLDSMOBILE FAN OR CUTLASS ENTHUSIAST??
DO YOU WANT A RUST FREE CLASSIC THAT HAS BEEN PROFESSIONALLY RESTORED AND IS READY TO DRIVE AND ENJOY?
WOULD YOU LIKE SOMETHING THAT THE WHOLE FAMILY CAN FIT IN AND GO TO THE CRUISE-INS, SHOWS, SPORTING EVENTS, OR JUST OUT FOR ICE CREAM??
WOULD YOU LIKE TO MAKE A REALLY SMART INVESTMENT IN A RARE CAR THAT HAS ITS ORIGINAL , MATCHING # DRIVETRAIN??
IF YOU HAVE BEEN SHAKING YOUR HEAD
YES,
THEN THIS '70 CUTLASS SX CONVERTIBLE COULD BE THE CAR FOR YOU!!!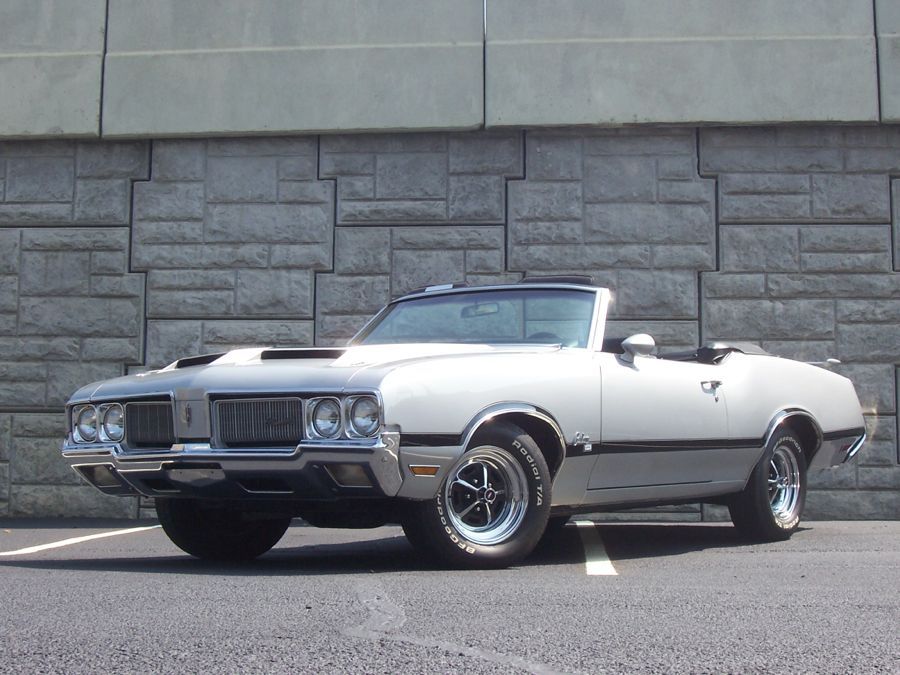 I have personally owned this awesome 1970 Oldsmobile Cutlass SX convertible for the past 5 years.  I purchased it locally in the Atlanta, GA area from a gentleman who had owned it for about 15 years.  This was his pride and joy and he had the car restored about 8 years before I bought it.  When I pulled up to his home I saw a for sale sign on his property.  After checking the car out and going for a test drive I learned that he was going through some hard times financially and was forced to sell the car to meet other obligations.  It was obvious that he was struggling with this dilemma but knew it was necessary.  I had not been searching for a Cutlass at the time and truthfully had never heard of an SX or had any idea of how rare it was.  I thought the car looked awesome so I bought it thinking that I would probably just re-sell it quickly and move on to something else.  Well, instead, I enjoyed the car so much that I have kept it for the past 5 years.  I drove it quite a bit to cruise-ins and car shows the first few years as well as sunny day drives with the family.  About 3 years ago I took my hobby and turned it in to my business and I am now a Classic Car Dealer selling cars all over the world.  I have not driven the SX nearly as often as I did the first few years and decided I would put it up for sale for the next car guy or gal to enjoy!!  This is truly the smoothest driving Muscle Car I have owned and it always draws a crowd at the local shows and cruise-ins and gets all the thumbs up and looks on the street.  I will include some general info that I have learned over the years, mostly from the SX455 Club online that does a great job of registering owners of these rare cars.  I will also do my best to provide enough large images, an honest description,  and a video of the car running to help you decide if this SX belongs in your garage. Sit back and enjoy!!!!
Here is some general info from the SX455.com website to give you a little more history on this Rare Cutlass Convertible:

Most muscle car experts will agree that Oldsmobile reached its pinnacle in 1970, the same year Oldsmobile introduced a notchback intermediate called the Cutlass Supreme.
In 1970 and 1971 this new Oldsmobile was available with a special option called the Y79 Performance Package and the car was named the Cutlass Supreme SX. The Cutlass SX featured several 455ci engine option, a 400 Turbo Hydra-matic transmission, a cut out rear bumper with dual exhaust, special SX badges on the fenders and other goodies not found on a standard Cutlass Supreme.
In 1970 there were three 455ci engine options for the Cutlass SX. In 1971 there was only one Cutlass SX engine option. These engines offered up to 365HP and 510lbs of torque!
The production numbers for this two-year-only (1970 & 1971) model are less than half of the highly collectable Oldsmobile 442 models, plus many of the Cutlass SX cars were sent to the junk yard crusher before the car became collectable. The Olds Cutlass SX is truly a very rare GM muscle car!
ALL 1970 and 1971 Cutlass Supremes had the same basic VIN codes, so identifying a real Cutlass SX can be difficult.

The Cutlass SX is certainly THE "undiscovered" General Motors muscle car, and will continue to gain in popularity and value as more collector car enthusiasts discover these cars.Sophisticated styling, luxury options and big block performance make the Cutlass SX a great gentleman's muscle car. 
Oldsmobile only produced a total of 7197 Cutlass SX cars in 1970 and of those only 793 were convertibles.  This is 1 of those 793 produced and obviously it is more rare then that as we know there are fewer still in existence today. Keep in mind this particular SX is fully documented with Build sheet and matching # drivetrain adding to its value and collectibility. The SX is more rare then the 442!!
As I mentioned, the previous owner had this Cutlass SX convertible restored about 13 years ago. He indicated that the body was pretty much rust free as the car had started its life in North Carolina before then coming to GA for a majority of its time. As result this car never saw harsh winters or salt roads and was always garage kept.  At one point the car had been repainted red so he wanted it to go back to the original Platinum Silver color so he had the body stripped to the bare metal before having a very high end, professional paint job done.  He also always loved the look of the 442's so he decided to add a W-30 steel hood,  rear spoiler and painted stripe kit. Originally, a Cutlass SX was basically a plain jane Cutlass with the 442 power plant and suspension package which is why it was also coined as the "gentleman's 442".  Body panels are very straight and body gaps and panel fit is excellent. Doors open and shut with ease. There is no sign of rust anywhere along the body and it appears to have all of its original body panels other then the hood that was replaced.  Paint quality is still excellent and I had it wet sanded and buffed several years ago and it has stayed stored inside my warehouse at all times and never driven in the rain. This car will win its share of trophies at the local shows if that is what you enjoy but for me it has been just a fantastic sunny day cruiser. Chrome and trim all look excellent.  I am not going to say the body is flawless because there are probably a few very tiny paint chips I may have missed but it is pretty darn close.  I think the pictures will show you how nice it is. Here is a photo tour of the body:
I personally think this car should be driven with the top down every chance you get but it is also nice to know that the Black Power convertible top is in fantastic condition. It has a glass rear window and the top works great and latches down nicely.  Black Boot cover is also in great shape for when the top is down.  The car actually looks pretty darn good with the top up as well. Here are some pics:
Complimenting the gorgeous Platinum Silver exterior is an equally impressive black bucket seat interior accented with wood-grain look dash, door panels and center console.  This car originally came as a bench seat car which I believe is how most of the SX's came.  The previous owner that he really preferred bucket seats with a center console and was able to locate all of the factory correct parts to convert it so that nobody would know.  He also went with a his/hers dual gate shifter and a Title steering column.  I believe I do still have the original steering column if the buyer would like it.  The seats are in fantastic condition with just one very small wear spot on the piping along the drivers seat from getting in and out. Dash pad, door panels, center console, carpeting all look excellent.  All of the gauges appear to be working correctly and this car does have the factory in-dash tachometer and clock. Power trunk release button in glove box.  I could have cleaned the rubber mats better for the pics but they are in great condition.  This was an original factory air conditioned car, however the a/c equipment was removed at time of restoration. I do have some of the original equipment which will go with the car but if you want ice cold A/c I would recommend fitting it with a system from Vintage Air.  Mileage currently reads just under 58,400 miles which I believe is accurate, however, I do not have absolute proof of this.  The previous owner installed a very nice aftermarket stereo system in the original dash hole. It is a custom auto sound system that is digital and there is a cd changer connected in the trunk.  This stereo sounds awesome although some of the speakers seem to fade in and out so the wiring should probably be checked.  Overall I think you will find that the interior is in fantastic condition and ready for the shows.  Here is a photo tour inside:
Powering this awesome SX Convertible is the original L-33, 320hp, 455ci V8.  The mileage on the car reads just under 58,400 miles which is believed to be original, however I do not have absolute proof of this.  I do have some receipts form the early 1990's showing mileage in the low 40's. The previous owner was told that the car had under 50,000 original miles on it when he got it and I know I have put less then 2000 miles on it in the 5 years I have owned it.  Regardless, the motor is extremely strong and runs fantastic!!!  As far as I know the motor is completely stock and original and still breathes out the stock manifolds and through the original style dual exhaust with special cutouts and trumpets at the rear bumper. It has a nice tone. Power is transferred to the rear en through the original Turbo-Hydramatic 400 Automatic Transmission. Previous owner installed the optional Hurst dual gate his/hers style shifter in the console which shifts beautifully.  Original Rochester 2bbl Carburetor was rebuilt several years ago. Original 12 bolt rear end with 2.78 gears makes highway cruising a breeze.  Power steering makes handling effortless and power front disc brakes stops this Muscle machine easily.  The SX model had essentially the same suspension systems the 442 which helps this car handle the road beautifully.  As you will see on the build sheet this is absolutely a true SX verified by the Y79 Performance Package option code. Shortly after purchasing this car I verified that all the codes were correct on the drivetrain and if needed could take pics of these codes for serious buyers. Engine bay has been nicely detailed as well.   I also did a short video at the end of this listing so you can hear this SX start up and running. This SX has been an absolute joy to drive!!!
The undercarriage and inside of the trunk are exactly as you would expect from a Southern, dry, rust free car. Floorpans appear to be all original and are rock solid. Same goes with trunk pan. The trunk has a carpet kit in it and if you were going to show it you may want to speckle paint the inside of the trunk.  The trunk floor is bone dry and rock solid.  Original styled wheels look great with a set of BFG Radial TA's that have tons of tread life left. 
Have a look and then listen to the video at the end of the listing as well. 
As you can see below I do have the original build sheet which is quite important in verifying the authenticity of this Cutlass SX Convertible.  There are websites where you can decode every option listed but rest assured this is the real deal!!!
Here is a short video so you can hear this SX start up and running: (Click the arrow to start)