About This Vehicle
Mileage: 102,800
Engine: V8
Body Style: Coupe
Transmission: Automatic
Exterior Color: Hemi Orange
Interior Color: Black
VIN: JH23G1B444872
Price: SOLD
HIGHLY DOCUMENTED, RUST FREE,

HEMI ORANGE

,  1971 DODGE CHALLENGER READY TO SHOW AND GO!!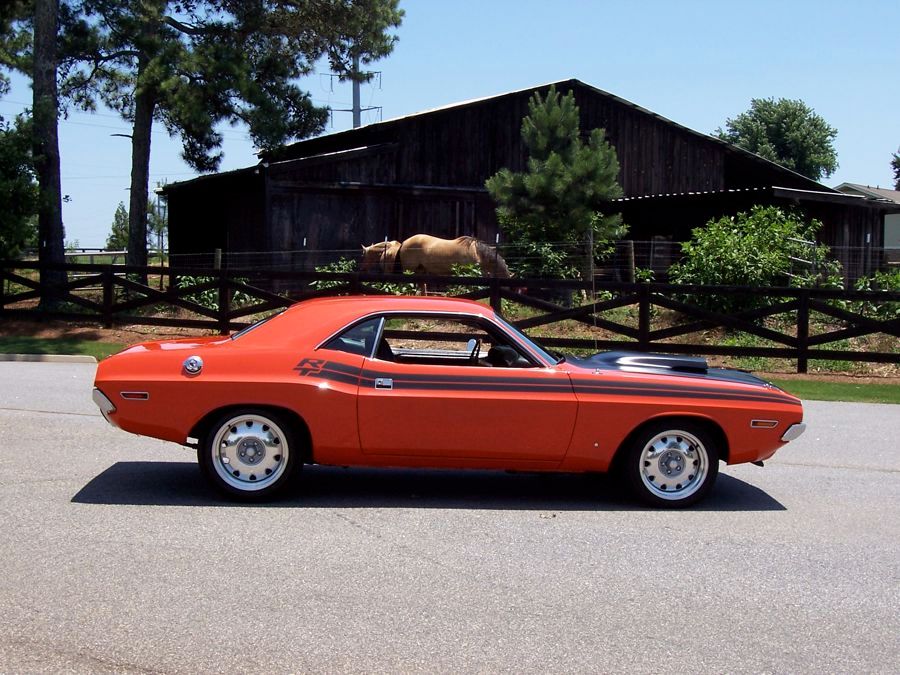 SERIOUS

MOPAR MUSCLE

SLIGHTLY MODIFIED SURE TO PLEASE ANY MUSCLE CAR ENTHUSIAST!!
In July, 1971 Royce Ann Young walked in to Beach City Dodge in Huntington Beach, CA and purchased a beautiful Hemi Orange Dodge Challenger for $4240.85. I know this because I have the original Dealer invoice and the original Pre-delivery inspection report. She continued to own and enjoy this car for the next 33 years. I know this because I have pretty much every registration in her name from new until 2004 where she resided at the same address in Costa Mesa, CA. The 2nd owner was from TX and he owned the car until 2010 when he traded with a gentleman in the Atlanta, GA area for another car. I know this because I bought the car recently from this gentleman and have the documentation that backs it up. You are about to view a fantastic car!!! I will do my best to provide an honest description with enough information, pictures, and a video to allow you to decide if this is the right car for you!
I will start off by saying that if you have been looking for a Sweet 70's Dodge Challenger that has plenty of muscle, can be driven on the streets, can win trophies at shows and turn heads at every corner without breaking the bank then sit back, enjoy and get ready to bid!!
Everyone knows that California can provide some great, rust- free muscle cars and this one is no exception. This '71 Challenger appears to have all of its original body panels other then the hood of course. The body is not only rust free but the body panels are extremely straight and the body fit is superb! The previous owner had the car painted in its original Hemi Orange color about a year ago by a top quality shop. The paint job is near flawless and was wet sanded and buffed out to a beautiful finish. I rarely use the term Show Quality because everyones expectations are different but in my opinion this one is Show Quality and the previous owner won several first place trophies to back it up.  You will obviously notice the RT stripes and RT emblem on the trunk but let me be clear that this was not originally an RT car.  I am not calling it an RT clone because it was not built to be one. The previous owner simply loved many of the RT and T/A Cosmetics and tastefully finished this car so that it would truly stand out wherever it goes….mission accomplished! He loved the dual scoop T/A hood so he added it. It is fiberglass and the fit is awesome unlike so many.  He could not decide if he wanted the black rear spoiler seen on the T/A so he after he purchased it he never put it on since he knew once the holes were drilled there was no turning back. I have the spoiler and will include it in the sale for you to decide. The body is truly in near perfect condition. I imagine there is probably a tiny rock chip if you look extremely close but I cannot think of any flaws that need to be pointed out. Chrome trim looks excellent! Front bumper was replaced and I have the original. All of the glass was replaced but unfortunately there is a small rock chip in the passenger side of the windsheild. Weather stripping was all replaced. The rear tail light lenses appear to be original and show some age. Some of the black paint on the gas cap has peeled off. The grille looks great as does the front spoiler and rear tail panel.  You will notice the awesome stance this Challenger has thanks to the high dollar Year One Polished Aluminum 18″ Ralley Wheels on back and the 17″ Ralley wheels on front. Overall the body of this Challenger is show quality and if you are looking for a show car this one fits the bill. Here is a walk around tour of this Hemi Orange Beauty!
When you climb inside this awesome Challenger you will be treated to an interior that is also in fantastic condition. In 2007 the entire interior was nicely redone including correct Black Vinyl seat covers on front buckets and rear seat. New door panels, seat backs, various trim pieces, and carpeting give this interior a very crisp and show worthy appearance. The original center console was slightly modified to accommodate a B+M Shifter. I realize this is not what the purists may like to see but I have to say that driving this piece of Muscle history with this shifter adds to the fun factor as you bump through the gears! The console itself is in great shape although the latch on the console door does not stay closed. The dash pad is in great shape with no cracks. The gauges are very clear and all work. The only knob I noticed that is missing is the dash light dimmer knob. When you look at the engine bay pics later you will notice the heater hoses are not connected however the heater core is in place if you live somewhere that needed heat.  A nice cd player was neatly installed without cutting up the dash and 6×9 speakers were neatly installed in the rear deck. The headliner is white and is in great condition although the courtesy light is not currently working and is missing the cover. You will notice that this was originally an A/C car although the compressor and under hood components were removed. If desired, someone could easily add a modern Vintage air system and utilize the existing vents.  you may also note that the drivers side remote mirror control is not present. Overall the interior looks awesome and is very comfortable especially when you mash the accelerator and are planted firmly back in your seat!! Take a look:
As nice as this Challenger looks, it runs and drives just as nice and truly has the muscle car sound and feel you would expect and are looking for.  From what I was told the 2nd owner decided that the original 318 V8 just wasn't enough for him so he had a period correct 340 professionally built and dropped in. The car had right about 100,000 miles on it at that time and now has 102,800 on the odometer.  Of course he had to add a triple carburetor 6-pack set up on top to add to the fun. Original Torqueflite Transmission was rebuilt and the rear end was completely gone through. He also added the B+M shifter that you can drive like a regular automatic or basically bump it through 1st, 2nd and 3rd for some serious road racing fun.  When the gentleman I bought the car from received the car he said the 6-pack carb set up was not running right so he had it completely redone to perfection and at the same time had the top end of the motor completely redone. He did it right and this car runs fantastic with tons of streetable horsepower that would estimate to be at about 360hp.  When I went to see the car with him he took me for a test drive on a winding country road in GA and I can honestly admit that my heart was racing as he ran through the gears and I was pushed back in my seat with a huge grin on my face. I was not only impressed by the power of the motor but how well the car handled the winding road as we accelerated through turns.  The entire front end and rear suspension was rebuilt.  Power steering makes driving a breeze and Power front disc brakes allow you stop when you need to although the lopey cam does steal some vacuum from the power brake booster when you are moving slowly. You are going to love driving this beast and it is set up to drive at highway speeds with no issues! I drove it home over an hour on the highway in 90 degree Atlanta heat and have enjoyed driving it every chance I get.  When you start this baby up you instantly smile as the muscle car rumble resonates out the dual flow masters that turn down in front of the rear end. You will notice that there also side cut outs that if you really want this baby to roar you can open up. As you accelerate the music from the exhaust sings the song that every muscle car enthusiast can't help but love. I have included a video below so you can hear it for yourself…turn the volume up on your computer and enjoy:
Of course a motor that puts out this kind of power and sounds so good has to look great too…take a look at the show quality engine bay:
As you would expect from a rust free, dry classic the undercarriage, floorpans and inside of the trunk are also rock solid and have been nicely detailed to match the quality of the rest of this Challenger. Here are a few pics:
As I mentioned in the beginning this 1971 Dodge Challenger also has a great history of documentation that will all come with the car. I have the original build sheet, original dealer invoice, original dealer Pre-Delivery inspection report, almost every registration from the original owner from 1971 through 2004, a stack of receipts from the original owner and 2nd owner that are about 6 inches thick full of service history, original Manual and other original paperwork. The original fender tag is still attached to the drivers side fender also. While this car may not be a matching # original motor car, the documentation and paperwork certainly add value now and in the future. Take a look at some of the documentation:
Bottom line is that this is a very high quality, investment grade 1971 Dodge Challenger that can be driven and enjoyed and if desired can be taken to the shows and local cruise-ins and will win plenty of trophies along the way. If you buy this beauty be ready to wave and talk to people everywhere you go as it is one of the iconic muscle cars of its day. This is one you do not want to pass up or miss out on….finding a quality piece of Mopar Muscle history like this one is not an easy task!
Hopefully I have given you all the info you need to decide if this is the one for you but as always I welcome your phone calls and questions.  If you have any questions feel free to call me at 770-359-8400 and I will do my best to answer them.  Take a look at the pics and view the video and then picture yourself behind the wheel!!!
If you are a serious buyer lets talk on the phone and discuss it. In addition to being a licensed Classic Car Dealer I am also a Transport Broker and will be happy to assist the buyer with a great rate on Enclosed Transport anywhere in the US at the buyers expense or to any port for overseas buyers.
DRIVE THE DREAM!!
SERIOUS BUYERS CAN CALL ME AT 770-359-8400