About This Vehicle
Mileage: 77,000
Engine: 302 V8
Body Style: SUV
Transmission: Manual
Exterior Color: Blue
Interior Color: White
VIN:  U15GLK62044
Price: SOLD
AWESOME

,

HIGH QUALITY

, NICELY RESTORED 1971 FORD

BRONCO

LOADED

WITH HARD TOP AND AIR CONDITIONING….READY TO

CRUISE

,

SHOW

AND

ENJOY

!!!!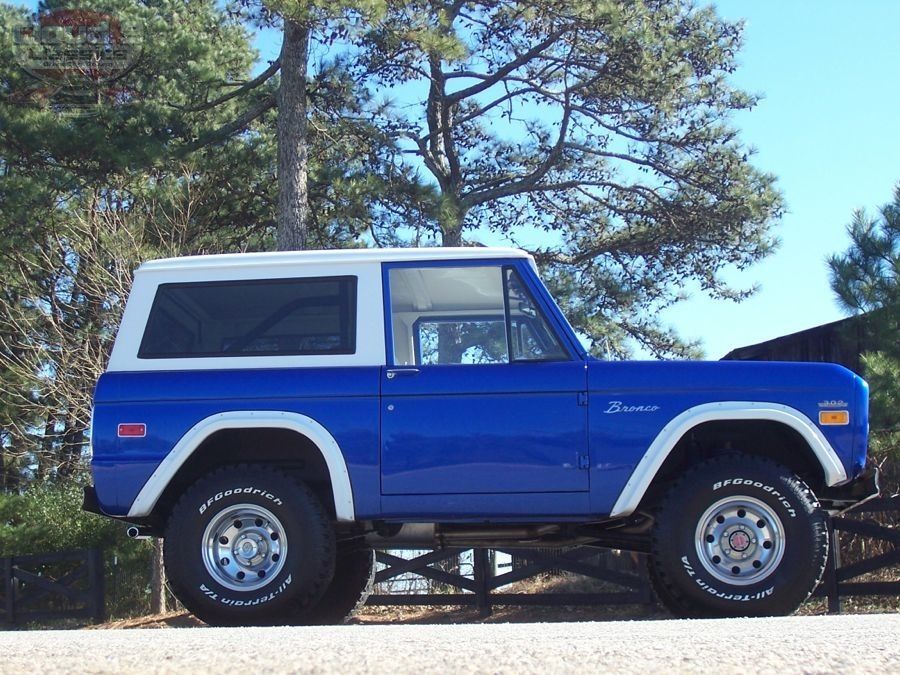 HAVE YOU BEEN SEARCHING FOR AN EYE-CATCHING EARLY BRONCO CLASSIC?
DO YOU WANT ONE THAT HAS BEEN NICELY RESTORED AND WAS BUILT TO BE DRIVEN AND ENJOYED?
DO YOU LIVE IN A CLIMATE WHERE ICE-COLD AIR CONDITIONING WOULD BE A NICE OPTION TO HAVE?
DID YOU TELL YOURSELF THAT YOU WOULD MAKE SMART INVESTMENTS IN 2014 AND LIVE LIFE TO ITS FULLEST??
WELL, IF YOU ANSWERED YES TO ANY OF THE QUESTIONS ABOVE THEN THIS MAY BE THE EARLY BRONCO CLASSIC YOU HAVE BEEN WAITING FOR!!!
This gorgeous Bright Blue Metallic 1971 Ford Bronco is truly a great find and stands heads and shoulders above most others on the market.  This restored Bronco looks awesome inside and out and drives beautifully. There is no denying that these Early Bronco Classics are becoming highly sought after in the collector market and rightfully so. If you are looking for the ultimate sunny day cruiser, beach or mountain fun ride, or just a classic 4WD investment vehicle that will be right at home at any car show or cruise in, then this is the one!! I will do my best to provide enough large images, a video of it running and an honest description to help you decide if this Bronco belongs in your stable. Sit back and enjoy!!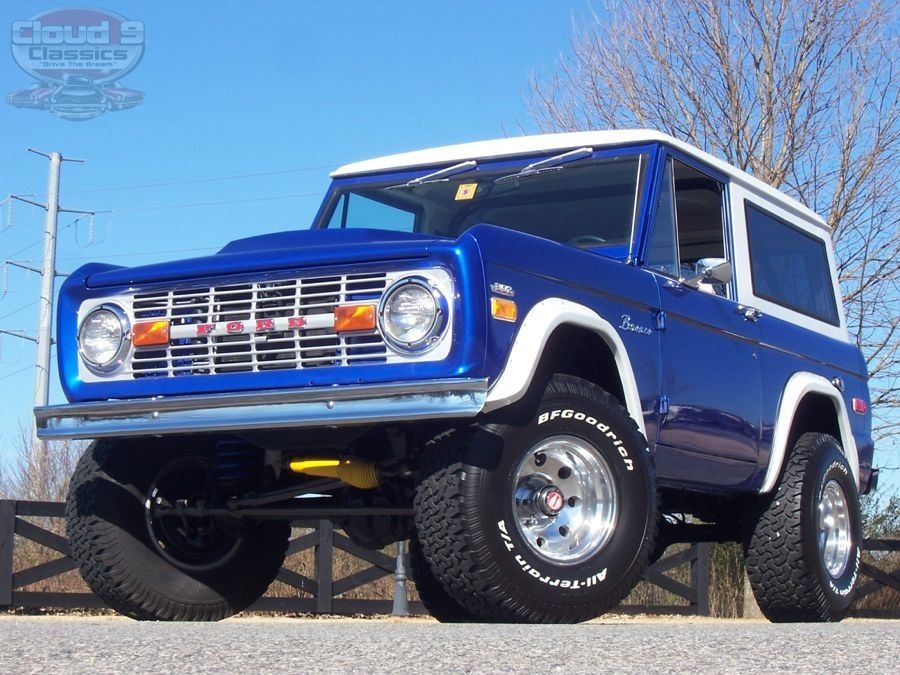 We acquired this awesome '71 Bronco from a gentleman in Vermont who had owned it for 10 years. It was strictly his spring/summer sunny day cruiser and was always stored in a climate controlled garage year round. He truly enjoyed driving it and his young daughters had grown attached to it. Unfortunately other priorities forced the decision to let it go which was a sad day for his daughters but a lucky one for the next owner of this sweet Bronco…Maybe you?? He had purchased the Bronco fully restored. It was previously owned by a guy who worked on Jeff Gordon's Race Team in North Carolina and he was told the car had spent most, if not all of its life in the North Carolina area. The Bronco was treated to a professional restoration about 11 years ago and was painted the same Blue Metallic as Jeff Gordon's Nascar race car. As you will see in the pics it is a gorgeous shade of blue and really pops.  He was told that this Bronco had the original motor and that the mileage was believed to be correct. It currently reads slightly under 77,000 miles. When we received this truck it looked fantastic and drove awesome. The only things we have done have been to wet sand and buff the paint to a show quality shine and we also added a complete carpet kit and rear interior panel kit to give the interior an upgraded finished look. This Blue Beauty not only looks amazing but it also drives and handles fantastic and is ready to be driven and enjoyed!
As you will see in the picture tour of the body below the body of this '71 is awesome. There is no rust or signs of rust anywhere along the Body and body panels are extremely straight. The only body panel that does not appear to be original is the hood which was changed to a nice higher end fiberglass hood many years ago. The hood fits great and we did add hood strut supports which make it very easy to open and close. The white fender flares provide a great accent to the glistening Blue Metallic and help accent the white interior as well. Bumpers, chrome and trim all look fantastic.  Weatherstripping was all replaced recently also. A great Roll bar with bikini top finishes off the look and as you will see we also have a great hard top that is included as well.  The Bronco was driven and enjoyed so there may be a minor rock chip or two but otherwise it is in amazing condition and will certainly draw a crowd at the shows, cruise-ins or wherever you drive it!!! Here is a walk around photo tour of this Classic Bronco:
While we always prefer these Early Bronco's when they are topless, this particular truck really looks just as good either way in our opinion. The white hard top is in fantastic condition and really gives this Bronco a different look when it is on. The windows in the hard top are tinted to match the other windows and we will have the hard top installed and ready to go for the new owner. Here are a few pics with the hard top on:
Accenting the glistening Blue Metallic exterior is an awesome Parchment white stock interior with some nice upgrades. It appears that the interior seat covers were professionally replaced when the Bronco was restored and they show almost no wear and look fantastic. When the Bronco arrived to us the interior was Rhino Lined in gray which looked pretty darn good but we always like the finished look with carpeting so we installed a brand new carpet kit. In addition we finished out the interior with new  matching vinyl rear panels and added a locking center console unit and a nice set of floor mats. For those of you in the warmer climates you will be happy to hear that this Bronco was treated to a nice aftermarket air conditioning system that blows ice cold.  A very nice am/fm/Cd stereo system was also neatly installed in the dash and rear speaker boxes sit neatly in the rear to provide some tunes for all to enjoy.  The 3-speed Manual was upgraded to a Hurst Floor shifter and a James Duff 4wd shifter was also added. Door panels, dash and dash pad all look great. All of the gauges, lights and turn signals appear to be working correctly. The interior is as ready for the shows as the exterior…take a look inside:
According to the previous owner he believed that this Bronco had just under 77,000 original miles. He was told that the previous owner had his mechanic team go through the motor at the time of restoration and take care of anything was needed but left the motor very stock aside from the addition of an Edelbrock performer intake and Holley 4bbl Carburetor. As you will see they also added a nice set of Bronco valve covers to dress up the engine a bit. The motor pulls strong and the 3-speed transmission shifts smoothly.  This Bronco is an easy truck to handle thanks to the Power Steering and braking is also quite easy to stop.  As you have probably noticed this Bronco also has a great stance thanks to the James Duff Supsension lift components which lift this truck about 3 1/2 inches.  4-wheel drive engages properly and works as it should. Nice sounding dual exhausts provides a soft rumble from the chrome tips. This Bronco rides smoothly on a great set of BFG All Terrain TA tires with very low miles on them and a great looking set of 15″ Aluminum wheels. The undercarriage is rock solid with no rust issues and has been nicely detailed also.  This is a very smooth running Bronco that handles nicely on the local roads and at highway speeds.  It is set up and ready to be driven and enjoyed!!  There is a video of the Bronco starting up and running following the pics below.
HERE IS A SHORT VIDEO SO YOU CAN HERE THIS BRONCO START UP AND RUNNING: (
CLICK THE ARROW TO START
)