About This Vehicle
Odometer: 15,700
Engine:  302 V8
Body Style: Convertible
Transmission:  Manual
Exterior Color: Blue
Interior Color: Black
VIN:  U15FLK33321
Price: SOLD
ABSOLUTELY AWESOME

, FRAME OFF RESTORED,

GRABBER BLUE

, 1971 FORD BRONCO CLASSIC,

LIFTED

AND

LOADED

….

BUILT 302 V8

, 5-SPEED, POWER STEERING, POWER DISC BRAKES, FAMILY ROLL BAR, AND MUCH MORE….RUNS AND DRIVES AS GOOD AS IT LOOKS…

SHOW

AND

GO

!!!
HAVE YOU BEEN ON THE SEARCH FOR AN AMAZING CLASSIC FORD BRONCO AND WANT ONE THAT TRULY STANDS HEADS AND SHOULDERS ABOVE MOST?
DO YOU APPRECIATE A HIGH END BUILD AND  WANT TO BUY ONE THAT HAS RECEIVED A PROFESSIONAL, FRAME OFF RESTORATION?
WOULD YOU LIKE YOUR BRONCO TO STAND TALL AND BE FINISHED IN A TRULY GORGEOUS COLOR?
DO YOU WANT ONE THAT IS ALSO A TRUE JOY TO DRIVE AND RUNS AND DRIVES AS GOOD AS IT LOOKS WITH POWER STEERING AND POWER DISC BRAKES?
HOW ABOUT A BRONCO THAT SOUNDS AS GOOD AS IT LOOKS?
ARE YOU READY TO BUY ONE OF THE HOTTEST CLASSICS ON THE MARKET RIGHT NOW AND WANT A HIGH QUALITY BUILD THAT IS SURE TO BE A GREAT INVESTMENT?
WELL, IF YOU HAVE BEEN SHAKING YOUR HEAD YES THEN SIT BACK AND ENJOY

….THE CLASSIC BRONCO YOU HAVE BEEN DREAMING OF AWAITS YOU!!
Early Classic Ford Broncos continue to be one of the hottest classics on the market with values continuing to rise at a steady pace. The challenge is finding one that not only looks great but also runs and drives great. I have now owned over 50 of these first generation Ford Broncos so I can attest to the fact that many of the ones on the market might look great in pics but the sad truth is they are no where nearly as friendly to drive as they are to look at. And, in many cases they look no where near as nice in person as they might in pictures.  Well, this gorgeous 1971 Grabber Blue Bronco will not disappoint and is without a doubt a high quality Bronco that is ready to be driven and enjoyed!!! Here is the brief history on this beauty. A gentleman from Oregon who has built quite a few of these Early Bronco Classics over the years did the frame off restoration on this one for a customer in North Carolina in 2014.  The order was for a show quality truck that had the rugged look but that was going to be completely street friendly as it was for his son to drive. The gentleman in North Carolina loved the Bronco as did his son, but it was actually almost too nice for his son to drive around so after about 18 months they decided to sell it to purchase a newer truck for his son to drive. I had the opportunity to buy it and scooped it up right away knowing the quality of the Broncos this gentleman built. This was last spring and I had a waiting list of people wanting a high quality Bronco and within a week it was sold to a great guy from New York who wanted one to keep at his summer home in the Hamptons of Long Island for he and his kids to enjoy in the summer months. Well, they had a blast with it all summer and then put it in storage for the winter.  He and his wife decided they would love to get a classic Mustang for the 2017 summer season so he contacted me and asked if I would be interested in selling it for him. Of course I said yes as I knew the quality of this Bronco. I had it transported to me in an enclosed trailer and we went through it and detailed it for the next lucky owner…maybe you!!!?? I will do my best to provide enough large images, a video of it starting up and running, and an honest description to help you decide if this is the one you have been searching for. As with all of my classics I do have this Bronco advertised on my website and several others. So, if you decide you want to scoop it up before the next car guy or gal does please feel free to give me a call to discus how we can make that happen. The last one I listed only lasted 24 hours! Sit back and enjoy!
This '71 Bronco started off as a very rust free and solid truck before it was treated to the professional,  frame off restoration in 2014. It had lived its life in the Northwest part of the country so rust was not an issue. When it was completed it was nicknamed Big Blue and I think you can see why. This Bronco was painted in a base/clear Grabber Blue paint color that is absolutely gorgeous and basically show quality. Body panels are as straight as you can get and body panel fit is outstanding. One of the worst fitting areas on these Broncos can be the doors. This one is near perfect and the doors shut great and align beautifully. They also have the removable door hinges so if you decided you wanted to remove the doors for summer fun driving that can be done pretty easily. Fender flares were painted body color. The gentleman who had it built for him in NC wanted the somewhat off-road, rugged look so they went with some high end Keystone fab pre-runner style bumpers for front and rear. Rear bumper has tire carrier and jack and front bumper has a great winch set up. Both were powder coated black and look great. Now, if for some reason you decide you love this Bronco but prefer a closer to stock look let me know and I would be more than happy to swap out these high end bumpers for some stock chrome or black bumpers for you. I think this Bronco just looks awesome the way it sits but realize everyone has different tastes and this can be achieved quite easily if needed. Some great high intensity lights were added to the front bumper if you need some serious night vision. You will also see the great looking set of rock slide step up bars that were also powder coated in freight liner black. Tucked under the new Best Top soft top is a full family roll bar.  Black sideview mirrors and emblems finish out the look. Although the build is now about 3 years old it still looks close to flawless. I did note one small chip along a door edge that was touched up and a very minor crack in the paint along the front hood edge. Otherwise this baby is show quality top to bottom, inside and out!!! I think the walk around photo tour will show you what you want to see:
The Black Best Top soft top is a great top to have on these Early Broncos as it gives you the option of an enclosed cabin for colder climates but also the ease of getting an open air feel by zipping out the windows. You can also fold back the top for total open air fun if desired. The side windows and windshield are tinted on this Bronco for a very cool look. Here are a few pics with the windows zipped in so you can see how it looks this way as well:
Open the door and climb inside this Grabber Blue beauty and you will be welcomed by an extremely comfortable and functional interior that has been nicely updated without losing the vintage look and feel. A great set of high back bucket seats from a Ford Torino were recovered in original Bronco styled pattern and offer more comfort than the originals. Rear seat is a fold and tumble seat allowing for more storage space if needed but also accommodating rear passengers comfortably. 3-point seat belts for front passengers as well as seat belts for rear passengers  Stock front door panels and the addition of rear interior panels finish this Bronco interior out nicely. The inside of the floor was done in a great, durable, bed liner material that makes it a breeze to clean out for those of you who might utilize this Bronco at the beach like the current owner did. Center console offers locking storage and drink holders. Stock gauge cluster in the dash and aftermarket gauges added under dash to provide better information for the driver on oil pressure, voltage, temperature, and vacuum pressure. All of the gauges and lights appear to be working perfectly. A period correct SunPro tach was neatly mounted on the steering column. Very comfortable aftermarket steering wheel makes Turing this rig a breeze. Switches for the added lighting that is mounted in the front bumper area are neatly located under the steering column. 5-speed shifter floor mounted in very comfortable and effortless position for easy shifting and a Toms Bronco Parts 4wd shifted also looks great. Great sounding am/fm/cd with USB port and jack for iPod neatly mounted in the dash with speakers nicely installed in the family roll bar area above the passengers. I think you will see that the interior is as nice as the exterior:
So hopefully at this point we can agree that this Bronco looks amazing and now you are wondering if it could possibly run and drive as good as it looks….ABSOLUTELY!! While this Bronco was definitely restored to catch all the attention wherever it goes, it was also built with driving in mind!!!  First off you have a completely rebuilt and "built" 302 V8 under the hood. This motor was gone through, bored .30 over, with 9.5:1 Pistons. A great 351 cam gives this 302 a muscle car like lope at idle but yet is extremely driver friendly. The gentleman who had it built wanted a 5-speed manual transmission so an AX-15 5-speed was adapted and offers a granny gear in first and then is also set up to cruise on the highway with no problem. The clutch is a center force diaphragm clutch with all new pressure plate, throw out bearing and disc for a very easy on the leg clutch pedal operation. Driveshafts were new from Toms Bronco Parts. This thumping 302 receives fuel forms he Holley 4bbl mounted on the aluminum intake and is breathing out a nice set of headers and back through the custom magna flow dual exhaust for an amazing tone that is not too loud but definitely hits the note that will put a smile on your face. (Make sure you listen to it in the video below!). An updated Power steering unit makes handling a breeze and this Bronco tracks down the road nice and straight!!!! Stopping is also a breeze thanks to the Power front disc brake kit that was added. You will notice a vacuum canister added in the engine bay to make sure these brakes have enough vacuum power since the cam on this motor does draw a bit of vacuum. The suspension and lift set up is top notch and done right. You have a 3 1/2″ suspension lift with new C bushings, shocks, progressive springs up front, and 11 pack rear leaf springs. Front end has the appropriate dropped pitman arm, dropped trac bar and adjustable trac bar. This Bronco stands tall and rides on a great set of Black Mickey Thompson Sidebyter II wheels wrapped in a great set of 35×12.5×17 radials ready for all terrain but nice and smooth on the road. Aluminum radiator keeps this baby running cool and I actually drove it last spring over an hour to a cruise in before I sold it the first time. Engine bay is nicely detailed out and has the hydraulic hood props which are nice. The undercarriage of this Big Blue Bronco looks fantastic as well and is nicely detailed for the shows if desired. Floorpans are rock solid and look great!! Fuel tank was changed out to the larger 23 gallon tank which was a nice addition.  Make sure you watch the video that follows to hear how awesome this Grabber Blue Bronco sounds. It truly does run and drive as good as it looks!!!
HERE IS A SHORT VIDEO SO YOU CAN HEAR THIS GRABBER BLUE BRONCO START UP AND RUNNING (
CLICK THE ARROW TO START
):
Hopefully you can see that this '71 Grabber Blue Bronco is truly a top quality Classic that was built right and not only looks fantastic but runs and drives as good as it looks! 
As with all of my classics I do have this Bronco listed for sale on my website and several others.  If you want to make sure you scoop this one up feel free to give me a call to discuss how we can make that happen. I am a licensed transport broker and can get you great rates on open or enclosed transport anywhere in the country.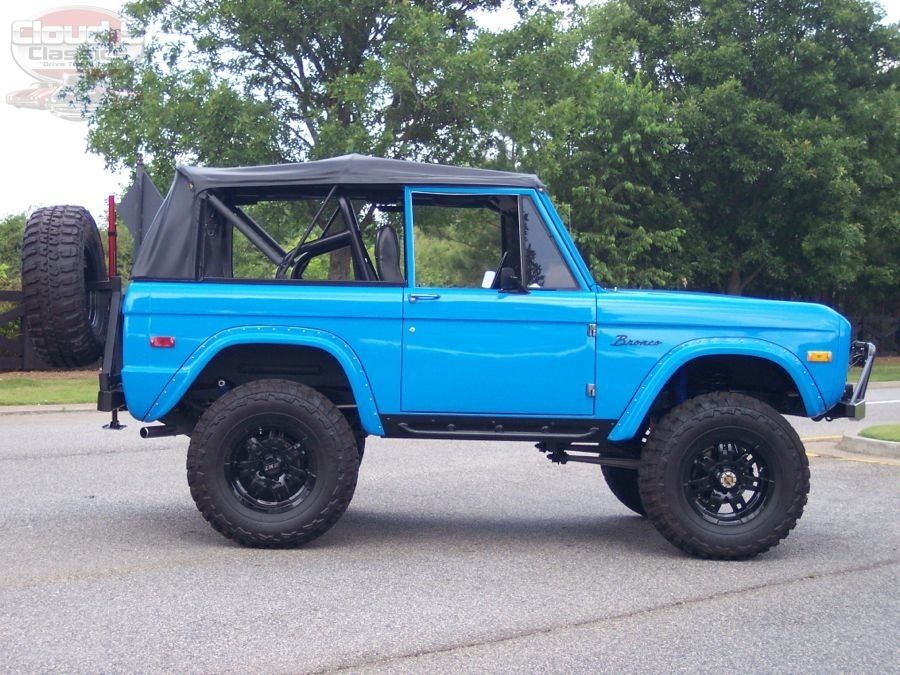 If you have any questions feel free to call me at 
770-359-8400 
and I will do my best to answer them.  If you are a serious buyer lets talk on the phone and discuss it. In addition to being a licensed Classic Car Dealer I am also a Transport Broker (http://www.transporttime.com) and will be happy to assist the buyer with a great rate on Enclosed or Open Transport anywhere in the US at the buyers expense or to any port for overseas buyers.