About This Vehicle
Mileage: 79,005
Engine: V8
Body Style: Convertible
Transmission: Auto
Exterior Color: Yellow
Interior Color: Black
VIN: 1X27H2L150662
Price: SOLD
1972 NOVA

SS

CLONE…ORIGINAL CALIFORNIA 350 V8 CAR LOADED WITH POWER STEERING, POWER DISC BRAKES, AND FACTORY A/C….READY TO GO!
This 1972 Chevy Nova SS was produced in the Hayward, California Plant and spent all of its life in the dry, rust free climate of Southern California until just recently when it arrived here in Alpharetta, Georgia. The previous owner found this car unmolested, rust free with its original body panels but the yellow paint was quite faded. He decided to remove the original chrome side moldings and repaint the car in a 2006 Corvette Yellow color.  As you will see in the pics this Nova presents itself nicely, however I need to point out that unfortunately the paint work was done was done by an amateur and is a 20 footer. He also did not spend enough time on the body work where he removed the side moldings and as a result there is some waviness along the body. It is unfortunate because this was a rust free body and really deserved a higher level professional paint job. As you will see in the pics the car still has plenty of eye appeal but want to be clear that to be ready for the car shows or cruise-ins I think it should be repainted correctly. It would also be a great candidate for the flat black paint that seems to be getting so popular. Adding Yenko stripes would be a nice touch also. Bumpers look great. Stainless trim is showing its age and there is some overspray due to the amateur paint work. It will need new weatherstripping along the doors and trunk. All of the glass looks very good. This SS Clone has a great stance thanks to a very nice set of 17″ Chrome Cragar wheels. Rear tires have plenty of tread but fronts will need to be replaced soon. Here is a photo tour of the body:
Here are a couple of pics of the car before it was repainted. As you can see it started as a very nice, rust free, California car. 
This car started as a 350 V8 car and although not the original motor, the 350 under the hood is very strong and I was told was rebuilt fairly recently and bored .30 over although I do not have documentation to support this. The motor has great compression and is nicely dressed with Edelbrock Aluminum intake, 4bbl, and headers breathing out a great sounding dual flow master exhaust.  The Automatic transmission was also rebuilt according to the previous owner and shifts strong and smooth. Power steering and Power front disc brakes make handling and driving effortless. This was an original factory air conditioned car and everything seems to be in place however it is currently not working.  The interior is in very good condition overall. There are a few cracks in the front bench seat vinyl and a couple of small holes. New Door panels and carpeting. Dash is in good shape overall with a small crack in the center.
 Undercarriage and inside of trunk are rock solid. 
This NOVA SS clone is ready to be driven and enjoyed as it is but is also a very worthy, original car to take to the next level!
Here is a link to a Video so you can hear how great this NOVA SS Clone sounds

: (turn up your volume and click the arrow to start)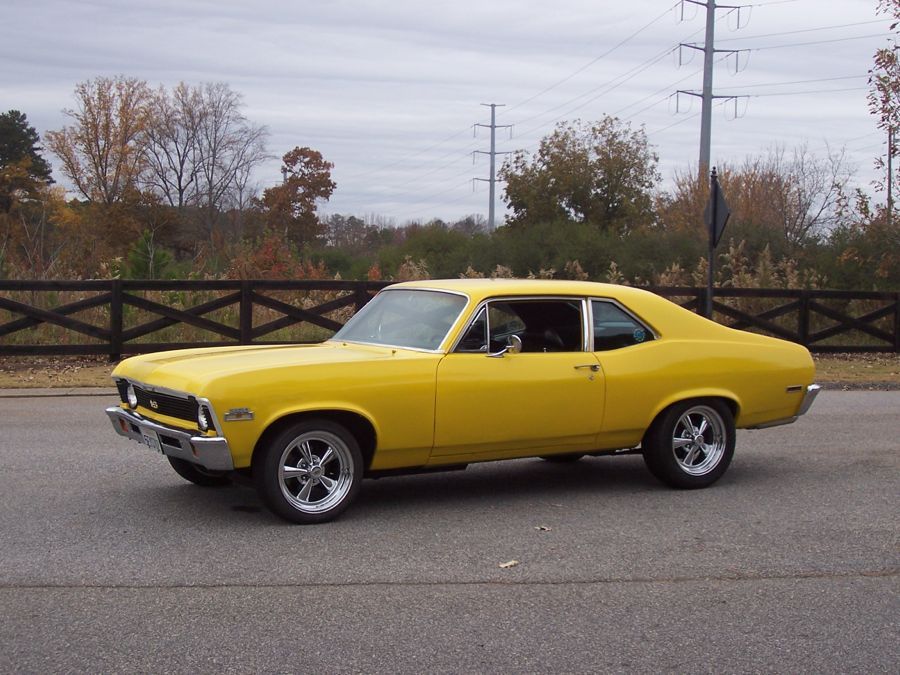 Hopefully the pics and video have shown you that this is a nice driver quality Nova that you can drive and enjoy as is, or,  take to the next level if desired. We have set a very reasonable price on this Nova and will be happy to talk to potential buyers about ending the auction early to get this car in your garage before someone else does.  In addition to being a licensed Classic Car dealer I am also a licensed Transport Broker and can assist with a great rate on transport if needed. Serious buyers can reach me at 

770-359-8400

 to discuss the car. 

 
DRIVE THE DREAM!!!!
THE MARKET IS VERY STRONG RIGHT NOW AND MOST OF MY AUCTIONS END EARLY AS I WILL NEGOTIATE A DEAL WITH SERIOUS BUYERS. DO NOT WAIT UNTIL THE LAST MINUTE OR YOU MAY BE DISAPPOINTED YOU MISSED OUT.
If you have any questions feel free to call me at 770-359-8400 and I will do my best to answer them.  If you are a serious buyer lets talk on the phone and discuss it. I will be happy to negotiate a deal so we can get this beautiful car in to your garage as soon as possible.  In addition to being a licensed Classic Car Dealer I am also a Transport Broker and will be happy to assist the buyer with a great rate on Enclosed or Open Transport anywhere in the US at the buyers expense or to any port for overseas buyers.