About This Vehicle
Odometer: 68,756
Engine: V8
Body Style: Coupe
Transmission: Auto
Exterior Color: Yellow
Interior Color: Black
VIN: 2F05H183296
Price: SOLD
ABSOLUTELY AWESOME

1972

FORD

MUSTANG

MACH 1

WITH ORIGINAL BUILD SHEET AND MARTI REPORT….

VERY LOW MILEAGE

,

SOUTHERN SURVIVOR

, NICELY RESTORED AND READY TO

SHOW

AND

GO

!!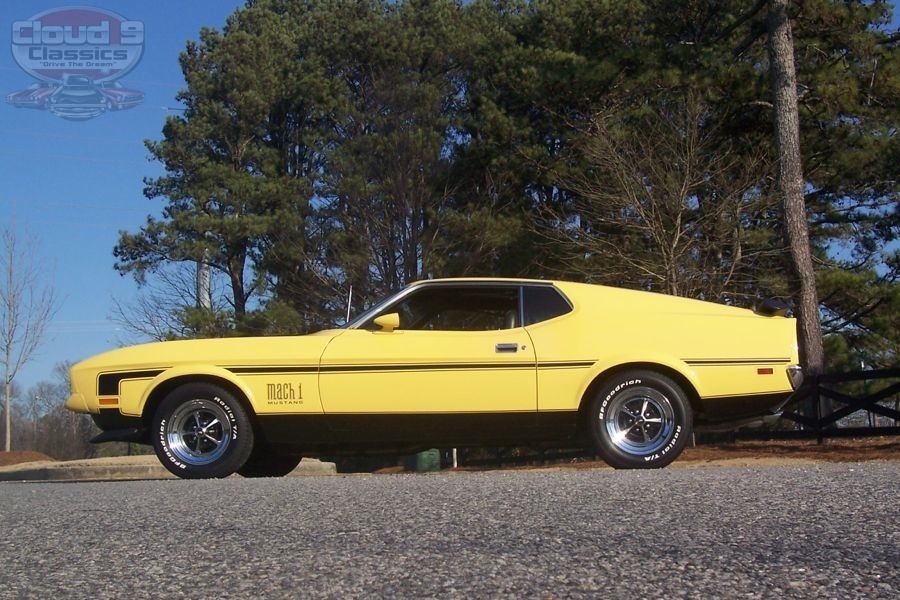 HAVE YOU BEEN HUNTING FOR A SUPER NICE '71-73 FORD MUSTANG MACH 1 AND ONE THAT HAS TRULY LIVED A RUST FREE LIFE AND HAS GREAT INTEGRITY AND ORIGINALITY?
WOULD YOU LIKE ONE THAT IS NICELY LOADED WITH AUTOMATIC, POWER STEERING, POWER FRONT DISC BRAKES, AND AIR CONDITIONING?
HOW ABOUT ONE WITH EXTREMELY LOW ORIGINAL MILES AND HAS ONLY HAD SEVERAL OWNERS IN ITS 43 YEAR LIFE??
DO YOU WANT ONE THAT IS TURN KEY AND READY TO DRIVE AND ENJOY TO THE LOCAL SHOWS WHERE IT WILL TROPHIES OR JUST TO THE LOCAL CRUISE-INS, SPORTING EVENTS, OR SUNNY DAY DRIVES??
WOULD YOU LIKE TO MAKE A SMART INVESTMENT IN A CLASSIC MUSTANG THAT IS SURE TO CLIMB IN VALUE??
WELL IF YOU HAVE BEEN SHAKING YOUR HEAD
YES
, THIS '72 MEDIUM BRIGHT YELLOW MACH 1 COULD BE THE ONE YOU HAVE BEEN WAITING FOR!!! 
We recently acquired this beautiful Medium Bright Yellow, 1972 Ford Mach 1 Sportsroof from a great car couple here in the Atlanta, GA area.  I received a phone call from the wife letting me know that she and her husband owned a gorgeous Mach 1 and with their son about to get his drivers license and their daughter recently having a car accident requiring them to buy her a new car they were in a situation where they needed to let it go.  She asked me to call her husband which I did.  He gave me the background history of the car which is as follows.  He had owned a '72 Mach 1 when he was much younger and was wanting one to enjoy with his wife and kids.  He located this one right here in the Atlanta, GA area about 3 years ago. It was for sale by the 2nd owner and he was told it lived its entire life in Georgia.  The original owners had the car for about 20 years and the 2nd owner owned it for about the same length of time.  About 10 years it was treated to its first repaint on an all original, rust free body in its original Medium Bright Yellow.  It was barely driven after that and the 2nd owner decided it was time to let it go.  The car had right about 66,000 original miles on it at that time and after owning the car for 4 years he put about 500 miles a year on it. This gem now has just under 69,000 original miles and it shows! He made a few very minor modifications that he felt helped the performance without compromising the value of the car. He converted it from a 2bbl to a 4bbl and had dual run replacing the original single exhaust.  This boosted horsepower a bit and I think it is hard to argue with his decision to do so. Due to his families circumstances he knew it made sense to let it go but I can tell you that he was very sentimental about doing so.  I drove the car back to our showroom and it drove beautifully!!! The tires were really the only item that needed attention so a brand new set of BFG Radial TA's were installed and an alignment was done. This Mach 1 is extremely nice!!! We have the original build sheet and the MARTI report.  If you have been searching for a high level Mach 1 that is both an excellent investment value as well as a Classic that can be driven and enjoyed then sit back and get ready because this is one you do not want to miss!! I will do my best to provide enough large images, a video of the car running, and an honest description to help you decide if this Pony should be in your stable before the next car guy or gal scoops it up.  Enjoy!!
As I mentioned above this car is believed to only have had one repaint in its original color approximately 10 years ago. This car was originally sold at Young Ford in Charlotte, NC and is believed to then have been brought to the Atlanta, Georgia area where it spent most if not all its well cared for life.  This is one of those classics that you really need to see in person to appreciate!! The body panels all appear to be original and this car is super straight!!! Doors open and close as you would expect on a Low mileage classic and body panel gaps are great.  The paint quality is extremely high and this Mach 1 will do very well at any local show and would probably hold its own at some of the MCA events as well.  I would not consider it a trailer queen and it is ready to be driven and enjoyed.  Upon close inspection you may find an extremely tiny rock chip or two and I did notice some along the lower areas of the body in the blacked out areas but they are very minor and do not take away from the high quality of this Mach 1.  Windows roll up and down nicely and all glass is in excellent condition.  The rubberized front bumper looks great, free of some of the ordinary stress cracks you will often see on these. Chrome rear bumper looks close to new. Weatherstripping was replaced at time of repaint and still looks great. As pointed out this Mach 1 was converted to dual exhaust and a correct dual exhaust rear valence panel was installed by the previous owner.  New decals were installed at the time of restoration and they all ooh close to new as well.  We recently had the paint professionally wet sanded and buffed and it is extremely smooth and is ready for the shows! Front and rear spoilers look excellent.  Not much more to say…I think the pics will show you what you want to know. Here is a walk around tour of the body:
Open the drivers side door and you will feel like you are stepping back in time. The original Black Ruffino/Corinthian Vinyl Bucket seats are in fantastic condition with almost no sign of wear. Another tribute to the care and low mileage of this classic.  rear seat looks like it was barely sat on. Door panels, dash and carpeting also look to be original with no real signs of wear. Check out the condition of the original steering wheel!! None of the cracks or separations you usually find on these. The original seat belt warning buzzer still seems to work and goes off when the drivers seat belt is engaged.  Gauges are all crystal clear and everything, other then the factory clock, appears to be functioning properly.  Center console is in very nice shape.  Nice set of rubber Mustang floor mats are included.  The factory air conditioning has been maintained and still blows nice and cold.  Again, not much more to say other then the interior is also ready for the shows or cruise-ins! Have a look:
Under the hood is the original H code 351 Cleveland V8 that has just under 69,000 original miles. As mentioned the previous owner upgraded the original 2bbl to a Holly Street Avenger 4bbl Carburetor and also converted the original single exhaust to dual exhaust for a little added horsepower.  Excellent compression and oil pressure and this motor is still very strong and begs to be driven! Of course it sounds awesome going down the road as well. Be sure to listen to the video that follows to hear it start up and running. Very original and nicely detailed under the hood….you will be proud to pop the hood at the shows and cruise-ins.  This muscle pony car is also a breeze to drive thanks in part to the power steering and power front disc brakes.  This Mach 1 runs nice and cool with no overheating issues.  Just a joy to drive. We did add a brand new set of BFG radial TA tires to the great looking set of 15″ Magnum 500 wheels. Front and rear shocks were replaced by the previous owner.  The undercarriage is as rock solid as the rest of the car and still shows some of the original factory undercoating protecting the original rust free floorpans.  Inside of the trunk is also rock solid and dry. It has the correct trunk mat along with another Magnum 500 with original Poly glass spare tire. Another great item this Mach 1 has is the Original Build sheet!! In addition we have the MARTI report verifying how this Mustang was originally equipped.  This is truly a fantastic running and driving Classic as well as a great investment!  Take a look: 
HERE IS A SHORT VIDEO SO YOU CAN HEAR THIS MACH 1 START UP AND RUNNING….CLICK THE ARROW TO START:
Hopefully at this point you can tell that this is a high quality, beautifully restored classic.We welcome serious buyers to call us to discuss a price that will put this awesome classic in your garage before the next car guy or gal scoops it up. 
SERIOUS BUYERS CAN CALL ME AT 770-359-8400
If you have any questions feel free to call me at 
770-359-8400 
and I will do my best to answer them.  If you are a serious buyer lets talk on the phone and discuss it. In addition to being a licensed Classic Car Dealer I am also a Transport Broker and will be happy to assist the buyer with a great rate on Enclosed or Open Transport anywhere in the US at the buyers expense or to any port for overseas buyers.