About This Vehicle
Mileage: 5255
Engine: V8
Body Style: Coupe
Transmission:  auto
Exterior Color: Red
Interior Color: Black
VIN: 1S87K3N102169
Price: SOLD
ABSOLUTELY

GORGEOUS

1973 CHEVROLET

CAMARO

Z28 CLONE, FRAME-ON RESTORATION, THAT IS READY TO

SHOW

AND

GO

!!!
If you have been searching for a High Quality, Eye-Popping, Jaw-Dropping,  2nd Generation Camaro that has been professionally built and looks as good as it runs then this may be the one!!! 
Spring is here….It's Car Show and Cruise-In Season!!!  Regardless of whether you are looking to fill your trophy case, or just want a beautiful classic Camaro Hot Rod to cruise in, this slick and slammed Red and Black '73 will plant a smile on your face the minute it arrives at your driveway!
Last year I purchased 4 amazing classic cars from a great car guy in South Carolina who was rotating some inventory. They were all high end cars and were built right. Each one of those cars sold within the first week I put them up for sale and the new owners are absolutely thrilled with them.  A few weeks ago I got an email from the guy I bought them from and he said he had another great car he was wanting to sell to make room for yet another new project. Of Course I bought it and a few days later this absolutely awesome Red and Black 1973 Chevrolet Camaro Z28 clone was delivered to us. As expected the car was exactly as described and he had recently finished a frame on restoration that was done with his usual high quality and attention to detail.  He had acquired this car last year from a good friend of his in the Military that lived in Arizona where this Camaro spent most of its life.  His friend had the car repainted approximately 15 years ago and rarely drove the car as the military kept him busy.  He needed to sell it and it was right up his friends alley so the car was transported from Arizona to South Carolina last year at which time a full frame on restoration was done to bring the car up to the high standards of the car collector in SC.  The paint and body were beautiful so nothing needed to be done there other then a good wet sand and buff.  The car was a full front bumper car that was recently converted to a split nose bumper which looks awesome.  This car was built to be driven and enjoyed as well as be a car that would win its share of trophies if desired.  This 2nd  Gen Camaro has all the driving comforts you want in a Pro Touring Hot Rod including completely updated ice cold Air Conditioning, Power windows, Power steering, Power front disc brakes, fantastic suspension and wheels,  an awesome sound system,  and much more!!!  As was the case with each of the other cars I bought from him, there is much more money put in to the build of this Camaro then it will sell for so the next lucky owner is sure to be making a great investment!!! I will do my best to provide enough large pictures, a video of the car running, and an honest description to help you decide if this sweet Camaro should be in your garage. As with all of my auctions I am always willing to speak directly with serious buyers to negotiate a deal and end the auction early to put this beauty in your driveway before another car guy or gal scoops it up. 
It is really hard to believe that the paint on this car is 15+ years old. It truly shines like it was painted last week and is a very high end, professional paint job with plenty of depth and luster.  Body panels are extremely straight and panels line up great. It appears to me that this Camaro is wearing all of its original sheet metal and lived a very dry and rust free life in Arizona. The black stripes look awesome and the black vinyl top suits this car quite well.  The body itself is close to flawless although there are a few tiny items to keep it from being perfect. There a couple of extremely tiny chips on the front nose that were professionally touched up that you will probably not detect. There are also a few very tiny bubbles under the paint in the bottom corners of both doors that have been there for many years and cannot be seen unless you are laying down and looking for them. The rest of the body is pretty much flawless!! The front end looks awesome thanks to the new split front bumper and Billet Grille. As I have stated several times this is not a true Z28 but badges were added to spice it up a bit. All of the Chrome is either new or looks absolutely fantastic with only a minor ding noted on the rear window trim molding.  Overall the body is in amazing condition and this car will win its share of trophies at the local shows and turn heads everywhere you take it!!! Here is a walk around tour of the body:
The black interior of this Pro Touring '73 Camaro looks practically brand new and is very stock in appearance with just a few custom touches. Seats were redone years ago and look close to new. Just about every other item on the interior was replaced. Starting with the carpeting, interior floor was scraped, sprayed, and a layer of dynamite sound deadener was placed throughout the interior floors before brand new carpet was installed.  Brand new upper dash ( an original style dash pad, not a dash cap!) and new lower dash panel.  New A/C vents and A/C controls.  All new gauge housing, gauge lenses, and gauge lights. This is a full factory gauge car and all of the gauges work!!  New Fisher Door sill plates. Factory center console looks great and was professionally re-dyed and a new shifter bezel installed. Power windows were added and controls were placed in the center console. All of the glass looks great and the both drivers and passengers side door glass were replaced with new crystal clear glass.  Custom made lower door panels were built to house the front speakers. New rear package tray, new sail panels, new gas and brake pedals, new firewall carpet guard, new rearview mirror, new visors, new window guides and all new weatherstripping. NEW, NEW , NEW…..just about everything inside this Camaro is brand new!!!!  A nice Billet custom steering wheel was added and this is a tilt steering column which is nice to have on these older Camaros. The only thing to pick inside is they did not re-install the remote side view mirror lever on the drivers side door panel.  Great sounding Kenwood AM/FM/CD with iPod jack stereo system was neatly installed with speakers custom molded in the front door panels and below the rear package tray. Subwoofer with amp in the trunk. Inside of the trunk is rock solid.  Overall the interior is basically like new and ready to show and enjoy!!!  Take a look around:
Under the hood of this sweet Pro Touring '73 Camaro is a brand new GM Crate 350 V8 rated at 290 horsepower @ 5100 rpm and 326 ft/lbs of torque @3750 rpm with a 4-bolt main, PM steel rods and strong cast aluminum pistons. The camshaft has .450 intake and .460″ exhaust lift with hydraulic flat tappets. The Cast iron cylinder heads have 1.94″ intake and 1.50″ exhaust valves with 76 cc combustion chamber.  There are only about 700 break in miles on the motor and it is a stock motor build to be driven and is a blast to drive!  The front end of this car was completely disassembled before the motor was installed and the engine bay was 100% completely redone. Everything has been powder coated including wheel wells, pulleys, all brackets, intake manifold, fender supports, hood springs, battery tray, radiator support, and almost every single other part under the hood. All new engine and lighting wiring harnesses! New HEI ignition, plugs, wires, NOS plug wire heat shields, Optima Red Top battery, NOS factory fan shroud, and more! The factory A/C compressor was completely rebuilt and all A/C components including condenser, dryer, relays, switches and blower were replaced with new. The system was converted to R-134 so it keeps the cabin icy cold when needed. All hoses were replaced under the hood as well as the power steering components, reservoir and rag joint.  Basically, if it is under the hood of this car it is brand new! The Crate 350 breathes out a beautiful set of ceramic coated headers and out a great sounding dual exhaust that exit out the tips under the rear quarter panels giving this car a sweet tone at idle and a nice growl under acceleration. The automatic turbo 350 transmission was also completely rebuilt and shifts strong and smooth!
Of course it looks great, and runs strong but of course it does not stop there. The complete suspension was torn down and the frame and all new suspension components were powder coated in low sheen black. Everything in the front suspension is new, not a single old part was re-used. This includes all bushings, steering arms, center link, ball joints, A-arms, springs, and spindles. This ride was lowered about 1 1/2 inches using a Hotchkiss lowering kit. New front and rear sway bars, new PST body bushings and KYB shocks. This car handles amazing and easily with the Power steering. Braking was also upgraded with new slotted and drilled rotors, new calipers, new power brake booster and brake lines. This baby will stop on a dime. Floor pans and frame rails are rock solid.  Tremendous stance on this car and the Polished 18″ Boss Wheels definitely complete the look. These wheels have a great deep dish to them and are wrapped in brand new rubber, 275/40/18 in back and 225/40/18 up front.
Basically,  this '73 Camaro has a a completely new drive train and suspension that is ready to go! Make sure you take a minute to listen to the short video below to hear it start up and running. 
HERE IS A SHORT VIDEO SO YOU CAN HEAR THIS BABY START UP AND RUNNING: (

TURN UP YOUR VOLUME AND CLICK THE ARROW TO START

)
As always, I will be more then happy to speak directly with serious buyers who would like to call me and possibly negotiate a deal to get this in to your garage before someone beats you to it.

 

Serious buyers can reach me at 770-359-8400.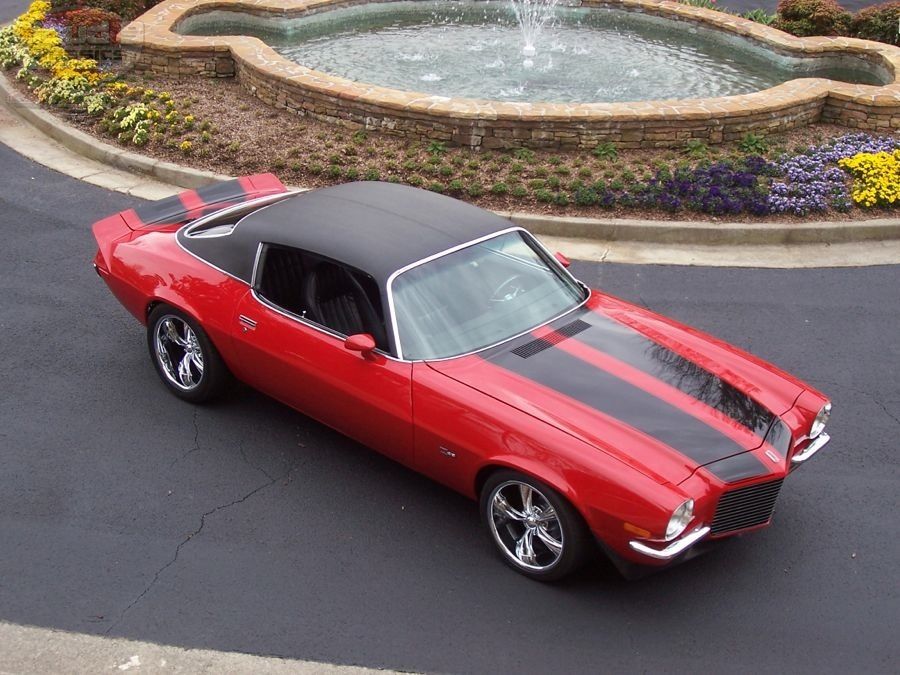 If you have any questions feel free to call me at 

770-359-8400 

and I will do my best to answer them.  If you are a serious buyer lets talk on the phone and discuss it. I will be happy to negotiate a deal so we can get this beautiful car in to your garage as soon as possible.  In addition to being a licensed Classic Car Dealer I am also a Transport Broker and will be happy to assist the buyer with a great rate on Enclosed or Open Transport anywhere in the US at the buyers expense or to any port for overseas buyers.