About This Vehicle
Mileage: 3,323
Engine: V-8
Body Style: Convertible
Transmission: Auto
Exterior Color: Yellow
Interior Color: Black
VIN: 3F03F245613
Price: SOLD
SWEET LOOKING, GREAT DRIVING

1973

FORD

MUSTANG

CONVERTIBLE READY TO HIT THE STREETS FOR SOME TOP DOWN FUN!!!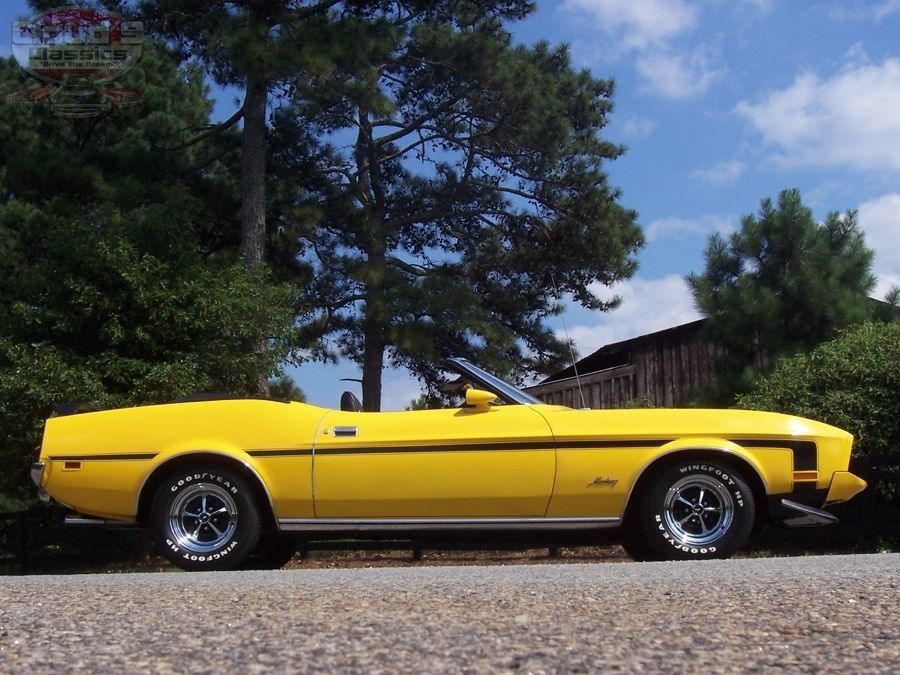 This Bright Yellow and Black '73 Mustang Convertible has just over 103,000 original miles and runs and drives like a dream!!! We recently acquired this Pony from a gentleman in North Dakota who owned the car for almost 6 years. He had purchased from a neighbor who had owned it for about 24 years prior to him.  The Mustang was enjoyed as a Spring and Summer cruiser and driven to the local car shows.  According to the previous owner this Mustang had not been winter driven in the past 30 plus years and as a result has stayed in fantastic condition.  The previous owner only put a few hundred miles on the car in the past 5 years so he realized it was time to find it a new stable…maybe yours!!! 
We were told that the car received a cosmetic restoration about 15 years ago at which time it was painted Bright Yellow and the Mach 1 style side stripe decals were added and the hood and trunk were striped as well. Obviously this was not a stock appearance but it definitely gives this Mustang a sporty and aggressive appearance.  It would be quite easy to give this car a Mach 1 appearance by adding a Mach 1 style hood and eliminating the stripes on the trunk lid. Overall the body is in excellent condition.  The paint is a good driver quality paint job that has held up well. It could be wet sanded and buffed to have an even nicer finish if desired.  Body panels appear to be original on this Mustang and body panel fit is excellent.  Overall the car is very straight. There are a few tiny bubbles forming under the paint along the lower front corners of the doors but they are not soft and have not broken through the paint. The Trunk is a slightly different color but as you will see in the pics it is barely noticeable.  All of the chrome trim looks great.  The Sport mirrors and front spoiler really add to the aggressive stance on this great looking Mustang.  Overall this Mustang Convertible is in great condition and is perfect for someone who wants a beautiful Classic Convertible to drive and enjoy and take to the local shows and cruise-ins.  Here is a walk around photo tour of the body:
These cars should be enjoyed Top-Down as much as possible in my opinion but if needed the black power convertible top will do its job of keeping you dry. There is a small cut in the outer skin of the top on the passenger side near the rear window which does not leak. The rear window is glass and it appears that the stitching began to separate years ago and was mended with heavy duty tape as a temporary fix.  While the top does not look new it does not need to be replaced at this time unless you decide you would prefer a new top. The power top mechanism functions perfect and the top latches closed easily and seals up nicely. The boot cover fits on great and is in great shape.  Here are a few pics with the top up:
The black deluxe interior looks fantastic. Door panels are accented with woodgrain inserts and look great with only a very tiny crack near the door pull on the drivers side. Seat covers look to be originals which is hard to believe given how outstanding they look with no rips or wear noticeable.  Dash pad looks excellent as does the original factory steering wheel.  Carpeting looks great as well and a matching set of black pony floor mats has been added. An aftermarket hump higher center console which is much more functional then the original center consoles were. All of the gauges are very clear and appear to be functioning accurately as well as the lights and factory key buzzer. There is a manual still in the glove box. Overall I would say the interior is in close to show condition. Have a look inside:
The original 302 2bbl V8 has just over 103,000 original miles on it and runs fantastic!! I do not have any records of it being rebuilt but there is no doubt that it was extremely well maintained. The Automatic transmission shifts smoothy and this Mustang glides along the road more like a luxury car. The power steering is nice and tight with no play and the suspension feels great and was well maintained as well. Power front disc brakes stop this car with ease with no pulling.  This strong V8 fires right up and sounds awesome out the newer dual exhaust that has a true muscle car tone to it.  There is a short video below so you can hear it start up and running.  We did not do anything to the engine bay as it is so original that I wanted the next owner to see what they were getting. You can still see the original factory markings on the valve covers. This Mustang is turn key ready to hit the road and should provide the future owner with some great driving experiences!! We installed a brand new set of Magnum 500 wheels with close to new Goodyear radial tires which really set this car off and give it a great stance. 
Here is a short video of the car starting up and running…turn up your volume and click the arrow to start:
Hopefully the pictures, video and description have shown you everything you need to see. This Bright Yellow Stallion is a great car for someone looking for a great cruiser that they can get in, drive and enjoy, as well as have a great investment that will not break the bank.  It could easily be taken up to the next level if desired or simply driven and enjoyed as it sits. You will be proud to show up at any local car show or cruise-in and I am sure this mustang will put a huge smile on your face as you drive her top down this fall. Make sure you leave a little extra time to talk to all the folks who want to check it out!!
THE MARKET IS VERY STRONG RIGHT NOW AND I WILL NEGOTIATE A DEAL WITH SERIOUS BUYERS. DO NOT WAIT UNTIL THE LAST MINUTE OR YOU MAY BE DISAPPOINTED YOU MISSED OUT.
 

 If you have any questions feel free to call me at 770-359-8400 and I will do my best to answer them.  If you are a serious buyer lets talk on the phone and discuss it. I will be happy to negotiate a deal so we can get this beautiful car in to your garage as soon as possible.  In addition to being a licensed Classic Car Dealer I am also a Transport Broker and will be happy to assist the buyer with a great rate on Enclosed or Open Transport anywhere in the US at the buyers expense or to any port for overseas buyers.