About This Vehicle
Mileage: 49,300
Engine: V8
Body Style: Convertible
Transmission: Auto
Exterior Color: Green
Interior Color:White
VIN: 3F03H231865
Price:Sold
ABSOLUTELY GORGEOUS

DARK GREEN METALLIC

1973 FORD MUSTANG CONVERTIBLE 351 H CODE LOADED WITH FACTORY A/C AND

ONLY 49,400 ORIGINAL MILES

!!!
READY TO SHOW OR GO!!!!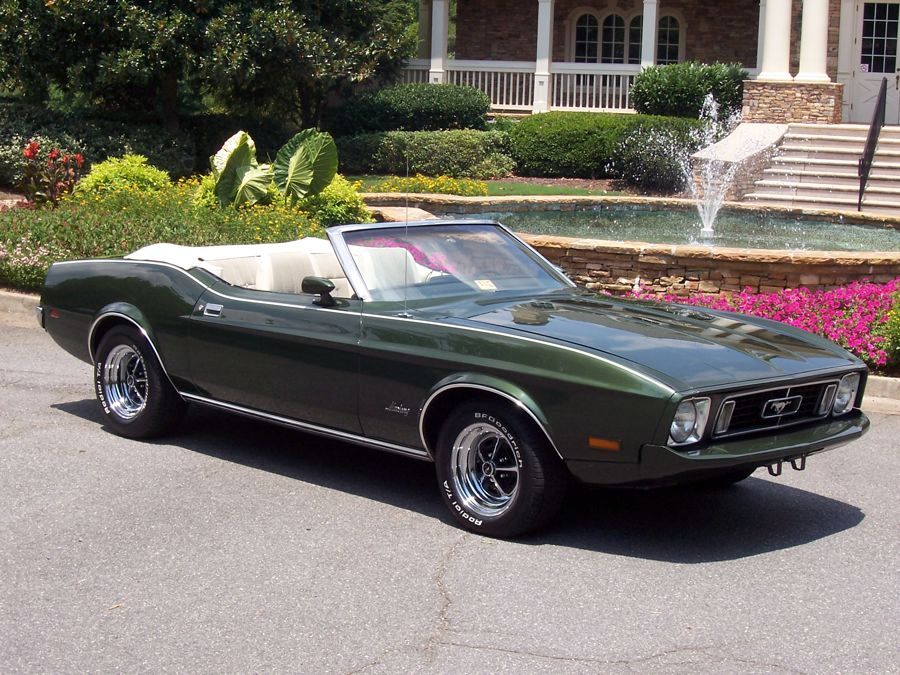 The 1973 Mustang Convertible was the last of the Pony Convertibles until a decade later when Ford re-introduced convertible Mustangs to the market.  There has been quite a surge in the popularity of the 1971-1973 Mustangs over the last year or so and having driven this particular one for several days I can see why.  I have always been a huge fan of the '65-68 Body styles and never really paid much attention to the bigger bodied '71-73 Convertibles. Ford only produced 11,853 Convertible Mustangs in 1973. This is the second '73 Convertible I have owned and I continue to be impressed by them! I can now add this body style to my list of favorites!  If you are in the market for an investment quality, unmolested, very low mileage Classic Mustang Convertible, in an absolutely stunning color combination, that can be driven and shown, then get ready because this may be the car for you!!
As I mentioned this is the 2nd '73 Mustang Convertible I have had the pleasure of purchasing. After the first one that I bought and sold a few months ago I have been on the search for another that was of the same or even better quality then the first one.  Amazingly, this one exceeds the quality of the first and is also a very low mileage, extremely original example.  We acquired this one from a couple in VA who owned it for the past 3 years.  The only reason they decided to sell it was that they were building a second home and could use the money more then they were using the car.  They were told they were the 4th owners and that the car spent its entire life in the area of Virginia they lived in.  According to what they were told the car was originally purchased by an older couple who only used the car on weekends and in nice weather.  At some point they traded it in at the local Ford Dealership who decided to keep the car for their personal collection for many years. Eventually it was sold to another older gentleman who kept it for several years and then sold it to the folks we purchased it from.  Records show the mileage is extremely low and original at just under 49,400 miles. I have driven this car, top down, several days in a row recently in the Atlanta Heat and its performance has been truly amazing and is an absolute joy to drive! The powerful, Original H code 351 V8 has plenty of giddy up and this car glides along the road. This beautiful Pony gets all the stares, comments and thumbs up you can imagine and it is truly a high quality classic that the next owner is going to be thrilled with. I will do my best to provide enough pictures, a video and an honest description of this car to help you decide if this is the right Pony Convertible for you. Sit back and enjoy!!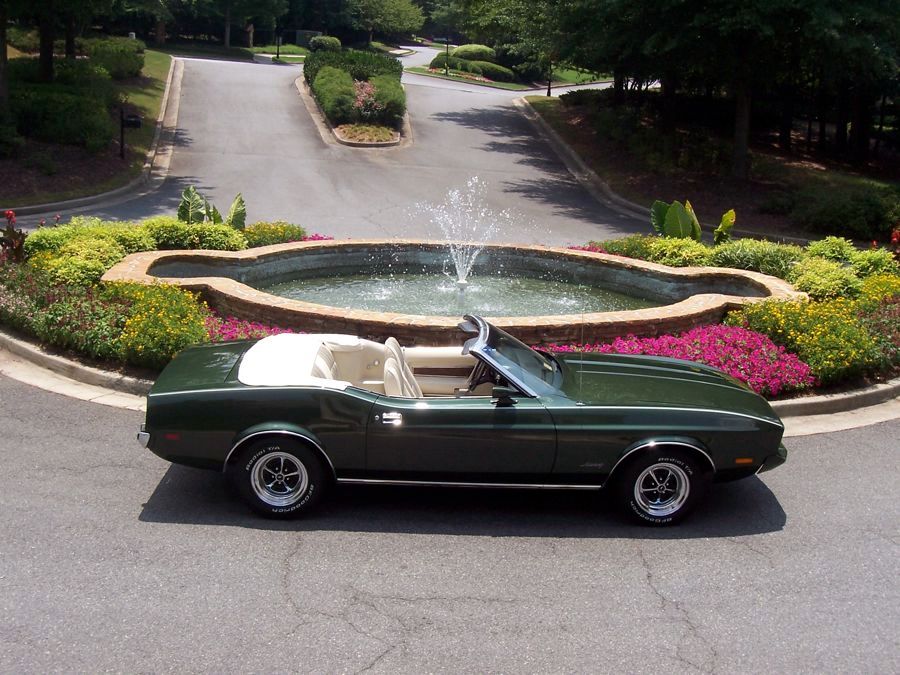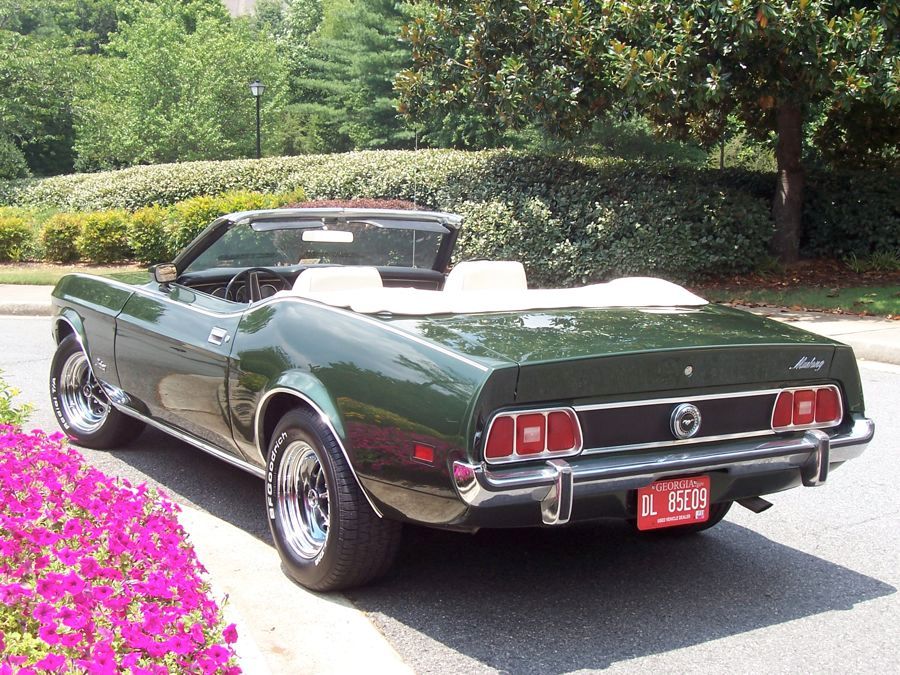 The body on this  Dark Green Metallic, color code 4Q, '73 Convertible is in amazing condition. It is believed to have been repainted one time about 10 years ago in its original color by the Ford dealership that kept it in its collection. This Pony appears to have all of its original body panels and they are extremely straight!! Body gaps are very even and doors open and shut rock solid with no sag. Even the long and heavy hood lines up great. This is not a car you need to worry about any rust issues as there are none!  While many of the "71-73 Mustang Convertibles have been altered to resemble Mach 1′s this one is true to her original classic form.  A very sharp white pin stripe accents the body line.  The '73 received a color coded Urethane front bumper which looks great. Rear bumper appears original with just minor signs of wear and all of the body chrome looks fantastic. I did not notice any flaws along the body of this beauty but to be safe lets say the paint and body are near flawless and that perhaps you will find a tiny rock chip or two that have been touched up. The paint quality itself can safely be called show quality and we had the car wet sanded and buffed out recently so it is ready to show! As you will see in some of the pics the finish is smooth and has great reflection. Overall I think it is fair to rate the body on this car a very strong 9 out of 10 and keep in mind just how unmolested and original it is.  Here is a walk around tour of the body: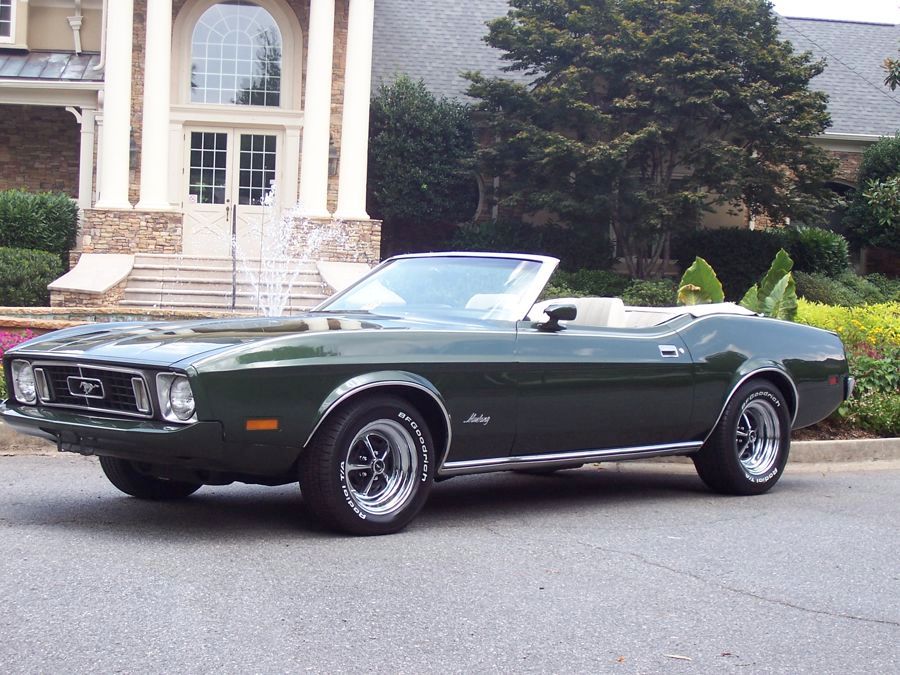 Complimenting the stunning Dark Green Metallic body of this Pony is a White Power Convertible Top with a crystal clear glass rear window and original white knitted vinyl interior.  The white power top is in excellent condition overall and functions perfectly and seals up very nicely.  It very well may be the original top but looks great with only one minor spot on the side edge that shows minor wear. The original boot cover for the convertible boot cover fits nicely and is in great shape.  The interior is in fantastic condition. The original CW coded White knitted vinyl seats have sort of a houndstooth look to them that is very nice. Front and rear seats are in great condition with no rips or holes.  I was very impressed with how comfortable the high back bucket seats were especially when compared to early year Mustang bucket seats. Dash pad is excellent with just a tiny 1 inch crack in the middle that is barely noticeable. Carpeting looks very good and may be original. Great looking brand new set of Pony Floor mats. Center Console is in great shape. The gauges are crystal clear and the factory clock works!!!  Steering wheel is in great shape.  The original Factory Am/fm/8-track stereo is still in place and seems to work although i have not tested the 8-track player. The door panels are original and look great although I did spot a couple of very small cracks on the drivers side side door panel that were repaired.  All of the gauges and lights appear to be working properly.  This is an original Factory Air conditioned car and the previous owner told me the compressor had been replaced. The A/C seems to be working fine although it will probably need to be charged for the season to be icy cold. Weather stripping all looks fairly new.  Overall the interior is in awesome condition!!! Have a peek:
As great as this Pony Convertible looks, it drives even better!!!!!!  The original H code 351 V8 has 

under 49,400 original miles

on it and runs absolutely fantastic.  I took this convertible home for several days and it was a blast to drive at any speed. The biggest difference I found in driving this car compared to 65-68 Mustangs is that this car drives like a luxury muscle car and glides along the road. You do not feel every bump and there are no creaks or rattles.  It is a much more comfortable riding car and handles tighter and easier then the early year Mustangs. This car has Power steering and Power front disc brakes. It is an extremely easy car to drive!!! Original FMX automatic transmission was shifts very smooth.  We are having some record breaking heat  and I drove this car for over an hour in 95+ degree temperatures and it runs nice and cool with no issues whatsoever! This beauty is riding on a brand new set of 15″ Magnum 500 wheels and brand new BFG Radial TA tires that were just installed! Original factory style single exhaust keeps this pony sounding sweet but quiet. This is the perfect Mustang convertible for the car guy or girl looking for a beautiful classic that he or she can get in and drive and enjoy without worries. The only thing I did to the engine bay was to repaint the factory air cleaner. There are still many original factory stampings and It could easily be dolled up for show purposes if desired.   The undercarriage of this Pony is rock solid and rust free with all its original floorpans. A light undercoating was applied when the car was new and it is obvious this car has not seen the winters or salt that so many have. .  Inside of trunk is also rock solid with no rust issues and appears to have been treated with Por 15 at some pointed.  This Mustang is simply a great find!!
HERE IS A FINAL WALK AROUND VIDEO TOUR SO YOU CAN GET ONE MORE LOOK AT THIS GEM

( CLICK ON THE ARROW):
Hopefully you will agree that this is one sweet looking '73 Mustang Convertible

!!!

This car truly looks as good in person as it does in the pictures and it is a real head turner! This will be a great investment that you can drive, enjoy and take to the shows if you want.
THE MARKET IS VERY STRONG RIGHT NOW AND I WILL NEGOTIATE A DEAL WITH SERIOUS BUYERS. DO NOT WAIT UNTIL THE LAST MINUTE OR YOU MAY BE DISAPPOINTED YOU MISSED OUT.
If you have any questions feel free to call me at 770-359-8400 and I will do my best to answer them.  If you are a serious buyer lets talk on the phone and discuss it. I will be happy to negotiate a deal so we can get this beautiful car in to your garage as soon as possible.  In addition to being a licensed Classic Car Dealer I am also a Transport Broker and will be happy to assist the buyer with a great rate on Enclosed or Open Transport anywhere in the US at the buyers expense or to any port for overseas buyers.