About This Vehicle
Mileage: 14,036
Engine: V8
Body Style: Coupe
Transmission: Auto
Exterior Color: Porcelain Blue
Interior Color: White
VIN: 2S87M3N126479
Price: SOLD
THIS IS A TRUE

1-OWNER

1973 PONTIAC FIREBIRD THAT SPENT ITS WHOLE LIFE IN CALIFORNIA AND IS IN

AMAZING CONDITION

….DRIVES AS GOOD AS IT LOOKS….READY TO

SHOW

OR

GO

….AMAZING OPPORTUNITY!!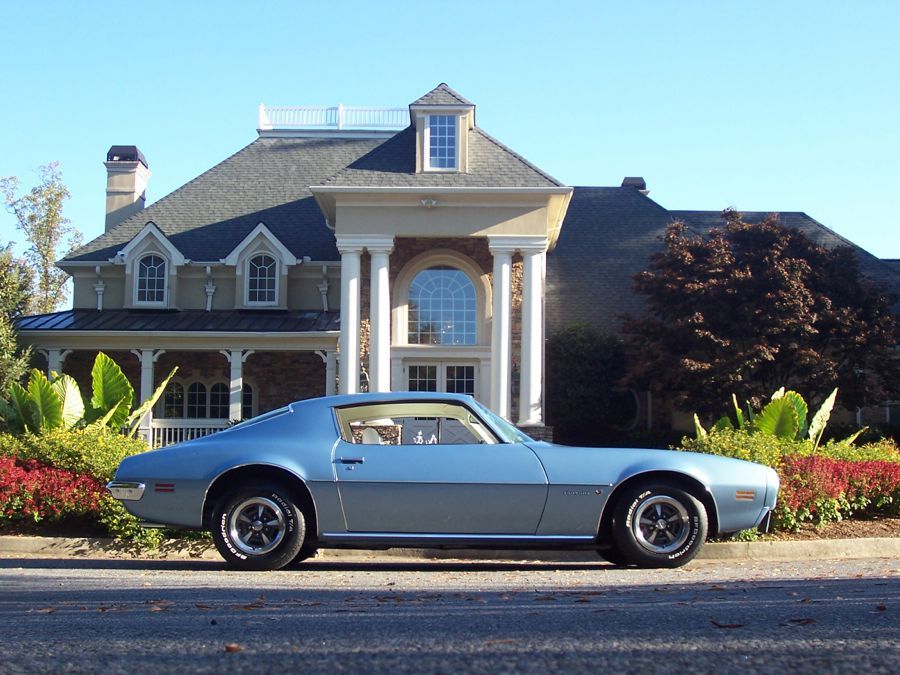 THIS 2ND GENERATION FIREBIRD IS A TRUE GEM AND HAS A HISTORY AND STORY BEHIND IT THAT IS WORTH TELLING, SO HERE IT IS:
(PLEASE ALLOW ALL THE PICS AND VIDEO TO LOAD…IT MAY TAKE A MINUTE BUT WILL BE WORTH THE WAIT!)
On March 8th, 1973 Mr. Will went to Stan Wisnes Pontiac located at 4th and E. St. in San Rafael , California to purchase a brand new Pontiac Firebird for his daughter for her 21st birthday.  The car he picked out was a beautiful Porcelain Blue Coupe with White interior.  It was a 350 V8 Automatic with Power steering, power front disc brakes, tinted windows, center console, rear window defogger, roof drip moldings, wheel well moldings, AM radio and Rally II wheels. Total purchase price with tax was $3890.34.  Needless to say, his daughter Katherine was thrilled with the amazing present!!! In fact, she was so thrilled with this beautiful 1973 Pontiac Firebird that she owned it, drove it, and truly cherished it for the past 39 years.  Here is a quote from the original owner in a letter she wrote to me when I purchased the car from her:
"The Firebird has been a wonderful and memorable part of my life, a constant, sharing each up and down, life's triumphs and defeats, education, first loves, marriages, divorce, true love, births, deaths, anniversaries, and of course the best motoring experience of a lifetime!"
I think that quote says it all.  Many of you can probably still remember your first car and all of the great times and experiences you had with, or in, that car. Most of you are probably regretting selling that first car and would love to have it back. Well, Katherine and her husband had decided it was time to move on to the next chapter of their life which would involve a move from Northern California to North Dakota.  Katherine realized that she would not be able to continue to maintain and drive this Firebird there as she had in California,  so she decided to allow her husband to put it up for sale.  I feel extremely fortunate to have found this car and have the pleasure of speaking to both Katherine and her husband about all of the history and memories it gave them.  Another great part of the story was that I learned that in 1995 Katherine decided the car deserved its first and only repaint and she wanted to make sure it was done to the highest level by a true professional who would make sure it was done in the exact factory color.  Someone told her about a  great shop and she went to discuss the repaint. The owner of the shop was so impressed with Katherine's passion and love of her Firebird that he promised her he would provide her with his best work.  The two of them really got along, so much that a few years later they got married!!!  The Firebird was now both of their favorite car and had even more meaning to both of their lives. This Firebird was always treated like a part of their family and received the best care and attention. They kept almost all of the records and receipts which will go with the car.  Here is another quote from the letter she wrote me:
"I hope that you enjoy her and that when you do sell, she finds a home that will give her all the love and care she has been given through the years. I look forward to following her history moving forward."
Her husband told me that she could not bare to watch the car be loaded on the transporter the day I had it picked up.  When the Firebird arrived after its cross-country trip from California to my warehouse in the Atlanta, Georgia area I was thrilled to see that the car was everything they said it was and more.  I have put about 50 miles on the car since it arrived and it has been a pure pleasure to drive and has attracted tons of attention everywhere I stopped.  I hope that the next owner enjoys it as much as Katherine and her husband did for the past 39 years….this is a great find  and IT COULD BE YOURS!!!
The body on this 1owner Firebird is in amazing condition.  As mentioned, it was repainted one time in 1995 by a Professional Shop in the original Porcelain Blue color. This survivor quality Pontiac has all of its original body panels and has never had any accidents or rust.  Body panel fit is just as it left the factory and the body panels are extremely straight and unmolested.   The endura front nose looks awesome.  Chrome trim and weatherstripping all looks excellent.  While it is absolutely gorgeous it is not flawless.   There are a few very minor flaws along the body as you would expect from a car that was driven and enjoyed but nothing that takes away from the amazing integrity and look of this 2nd gen bird. I noticed a small scratch in the paint along the lower passenger quarter panel, a small chip that had been touched up along the same panel, a few small scratches along the bottom of the passenger door that were touched up and maybe a couple of other minor chips that have been touched up.  There are a few dings in the chrome wheel well moldings and minor wear on the trim rings of the Rally II wheels. With those minor flaws disclosed I want to emphasize just how amazing this car looks and how original it is.  As you will see in the pics below I was able to find date code stamps on the front fenders and I am quite positive every body panel is original to this car. Here is a photo tour of the body:
Complimenting the stunning Porcelain Blue Metallic exterior is the beautiful white interior.  I was told that the original owner asked her husband to have the front seats redone in leather which he had done professionally. Otherwise the interior is completely original and in amazing condition just like the body. Again, not flawless but pretty darn close. The only real flaw I noted in the interior was the carpeting beneath the pedals which was worn through. This is the original carpeting and looks great. I purchased a brand new set of Firebird floor mats that really help complete the interior. The rear seat does not look like it was ever sat on. Door panels and  all of the plastic interior panels are in great shape with none of the chipping and deterioration that is common. Headliner looks like new. Dash pad and center console are both in fantastic condition with no cracks.  All of the gauges and controls seem to function correctly including original key buzzer. Glass is in great condition with a few very minor rock chips on the windshield.  Not only does the interior look amazing it is also extremely comfortable…have a look. 
So you may be saying "This Firebird Looks fantastic but how does it run and drive Roy?" Well, this awesome one owner Firebird drives and handles as good as it looks.  I have not really even mentioned that this '73 only has a little less then 114,100 original miles!! The majority of these miles were put on between 1973 and 1995 and then the car really began to be used only occasionally on sunny day drives and locally around town. It was always extremely well maintained and this is a Matching # car with its original 350 V8, 2bbl carburetor, and Turbo Hydramatic 350 Automatic transmission. Extensive records exist starting from 1987 and this car was serviced regularly and always extremely well maintained.  After the original owner married the gentleman who repainted the car most of the maintenance was done by him and he continued to keep excellent records. Anything that needed to be replaced was replaced with factory correct parts including the rear differential, water pump, heater core, timing chain and gears, master cylinder and power booster, rear brakes, and power steering pump. They also decided to give the Firebird a little throatier sound and some added horsepower by changing the single exhaust to a dual exhaust set up which sounds great.  I have been driving this car the past couple of days in the beautiful Atlanta, GA weather and it has performed amazingly. This car fires right up, has plenty of power and cruises effortlessly at 30 mph and 75 mph.  The power steering can be handled with 2 fingers and the power front disc brakes will stop on a dime. This Firebird is a pleasure to drive and tons of fun with plenty of horsepower. Although it is almost 40 tears old I would think this car could make a cross country drive if desired. The engine bay is completely original. I was tempted to do a cosmetic clean up but given the cars originality I thought it was best to leave it alone and show the next owner just how clean and original it was. Have a look and then also make sure to watch the video so you can hear it start up and running. 
HERE IS A SHORT VIDEO SO YOU CAN HEAR THIS FIREBIRD START UP AND RUNNING…TURN UP YOUR VOLUME!! (

CLICK ARROW TO START

)
Here is a look at the Cowl tag, Vin #, and original sticker on the drivers side door.  This car has some great documentation including the original Vehicle Purchase Order, the first 3 years registrations,  complete service record history, an appraisal done in 1995 with photographs taken at that time which show the mileage was 98,972. I will repeat one last time that this one owner California '73 Firebird has just a little over 114,000 miles and is a matching # survivor car ready to show or go!!
Hopefully you will agree that this is one sweet

1973 Pontiac Firebird

!!

 

It truly looks as good in person as it does in the pictures and it is a real head turner! You have the opportunity to be just the second owner and I truly hope that it goes to someone who will appreciate the quality, originality and love this car has received by the original owner.  This will be a great investment that you can drive, enjoy and take to the shows if you want. Pontiac Built Excitement but now that they are gone it is cars like this 2nd Generation Firebird that will bring the excitement to the Collector Car Market for years to come. 
THE MARKET IS VERY STRONG RIGHT NOW AND MOST OF MY AUCTIONS END EARLY AS I WILL NEGOTIATE A DEAL WITH SERIOUS BUYERS. DO NOT WAIT UNTIL THE LAST MINUTE OR YOU MAY BE DISAPPOINTED YOU MISSED OUT.
  If you have any questions feel free to call me at 770-359-8400 and I will do my best to answer them.  If you are a serious buyer lets talk on the phone and discuss it. I will be happy to negotiate a deal so we can get this beautiful car in to your garage as soon as possible.  In addition to being a licensed Classic Car Dealer I am also a Transport Broker and will be happy to assist the buyer with a great rate on Enclosed or Open Transport anywhere in the US at the buyers expense or to any port for overseas buyers.