About This Vehicle
Mileage: 119,634
Engine: 302
Body Style: SUV
Transmission: Auto
Exterior Color: Emerald Green
Interior Color: Parchment
VIN:  U15GLS92048
Price: SOLD
ABSOLUTELY

AWESOME

, NICELY

RESTORED

, 1974 FORD BRONCO,

LOADED

WITH

POWER STEERING

, POWER FRONT DISC BRAKES,

AIR CONDITIONING

, AND MORE!!…SOUTHERN BORN AND RAISED…READY TO

SHOW

AND

GO

!!
HAVE YOU BEEN SEARCHING FOR A HIGH QUALITY, EYE-CATCHING EARLY BRONCO CLASSIC?
WOULD YOU PREFER ONE THAT LIVED ITS LIFE IN THE SUNNY SOUTH AND NVER SAW HARSH WINTERS BEFORE IT WAS TREATED TO A PROFESSIONAL RESTORATION AND WAS BUILT TO BE DRIVEN AND ENJOYED?
DO YOU LIVE IN A CLIMATE WHERE ICE-COLD AIR CONDITIONING WOULD BE A NICE OPTION TO HAVE? 
WOULD YOU LIKE TO HAVE AN AUTOMATIC, WITH POWER STEERING AND POWER FRONT DISC BRAKES??
DID YOU TELL YOURSELF THAT YOU WOULD MAKE SMART INVESTMENTS IN 2014 AND LIVE LIFE TO ITS FULLEST??
WELL, IF YOU ANSWERED YES TO ANY OF THE QUESTIONS ABOVE THEN THIS MAY BE THE EARLY BRONCO CLASSIC YOU HAVE BEEN WAITING FOR!!!
THIS EMERALD GREEN METALLIC '74 IS DEFINITELY ONE YOU NEED TO SEE!!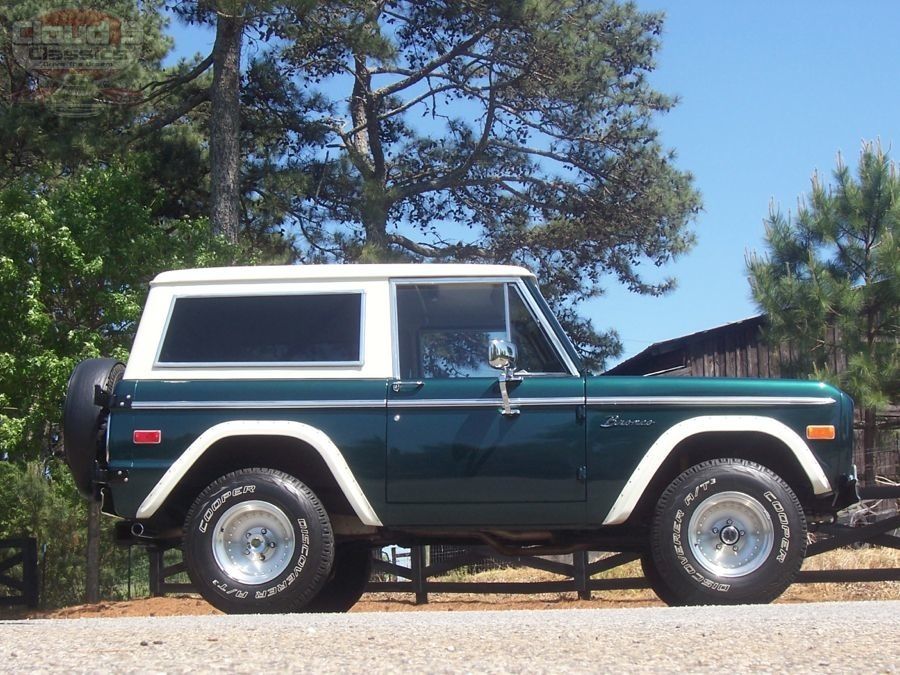 We recently acquired this awesome 1974 Ford Bronco from a Physician who owned it for the past 12 years. He purchased it from a gentleman in Alabama who owed it for many years, and before that it was believed to come out of the Dallas, TX area which is the original D.S.O ( District Sales Office) shown on the trim tag.  We love hearing history like that because typically that indicates that the Bronco never saw harsh winters, salt on the road, etc… This is definitely that type of Bronco and it appears to have lived a pretty pampered life before it was treated to a very nice restoration by the previous owner. I have a stack of receipts verifying a majority of the work that was done to this Bronco over the course of the last 12 years. The gentleman we purchased it from was a true car guy and had several other muscle cars in his collection and just decided it was time to thin the herd.  He built this Bronco to drive and enjoy as well as take to the local shows where it won several trophies.  He was meticulous in his care and maintenance and upgraded the Bronco with several items like Power front Disc Brakes, Air Conditioning, custom stereo, and more. We drove this Bronco back to our warehouse which was a 90 minute drive. It performed beautifully on a hot summer day. It runs and drives as nice as any we have owned and handles the road great with no float or wandering.  If you have been searching for an Early Classic Bronco that is turn-key, ready to drive and enjoy and can win trophies and awards at the local shows then this is definitely one you should be checking out. I will do my best to provide enough large images, a video so you can hear it start up and running, and an honest description to help you determine if this Bronco should be in your garage before the next car guy or gal scoops it up. As you can see in the pictures above we also just got in an equally nice Red/White 1973 Bronco that will be up for sale as well. Sit back and enjoy!!
As I mentioned above this Emerald Green Metallic beauty was treated to a very nice, professional restoration about 8 years ago.  According to the previous owner rust was not an issue along the body and it was stripped to bare metal before the Emerald Green paint was professionally applied. The Bronco was originally Wimbledon White but I think you will agree that the color change was a great choice.  I truly believe that the Bronco actually looks even better in person then it does in the pics. It was an overcast day and the paint glistens more in person.  Body is extremely straight and panel gaps are excellent.  The doors, which are a notorious issue on these Early Broncos close great and line up nice and flush to the rear quarter panels.  When he did the restoration he replaced the Chrome Trim around the body line which is  part of the Sport Package. This Bronco appears to have been an original Ranger package which offers the Sport Trim plus a few other items originally that have been changed at restoration. The Wimbledon white Fender flares are a great accent. All of the chrome, bumpers, weatherstripping and glass are in great condition.  The glass is all tinted.  The original spare tire holder works great and as you can see the previous owner was a Georgia Bull Dog fan ( GO DAWGS!!).  This can be easily changed to your favorite team or just a Bronco spare tire cover. Previous owner added a nice set of fog light to the front bumper as well as a nice tow hitch. Overall the body is in near flawless condition!!! I will not say it is perfect because there may be a rock chip or two that I missed but it is truly in amazing condition and I am confident the next owner will be thrilled.  Here is a photo tour of the body:
I believe these Classic Broncos should be driven with the hard top off as often as possible but it also nice to know that this '74 Bronco does have the original hard top that was repainted in the correct Wimbledon White color at the time of restoration and is in fantastic condition. The rear window has hydraulic props for easy opening and closing. The top was also fully insulated with sound deadener and a headliner was installed with working courtesy lights.  This Bronco actually looks pretty darn good with the Hard Top on as well as you will see in the pics below.  Of course, we hope you will remove the top for the season and enjoy using it with just the brand new bikini top that is also included. 
Complimenting the gorgeous Emerald Green metallic exterior is a great looking stock Parchment white interior.  Everything was redone and the interior looks practically brand new! Seat covers do not have any flaws that I have seen, dash pad and carpeting were done in a matching green to the exterior,  upgraded door panels with the wood looking trim, and rear interior panels complete the look. The floors and rear inner quarter were all insulated with sound deadener to provide a quieter ride in the cabin as well.  An aftermarket, smaller, Bronco steering wheel was added. He also added a Tach neatly mounted on the steering column, a working clock neatly installed in he dash, and an aftermarket water temp gauge under the dash.  All of the gauges, speedometer, and lights appear to working correctly.  If you live in a warm climate you will appreciate the Vintage Air Conditioning system that was professionally installed as well. A nice upgraded Pioneer AM/FM/CD stereo system was neatly installed in the original radio hole in the dash. There are speakers mounted in the doors and we removed a pair of speakers that were in the rear interior panels when we changed those panels to brand new ones that were correct for use with a Bikini/soft top. If you would like them installed we can do that, or we will simply include them in the sale for your future installation. We did not want to cut holes in the panels and thought someone might just build a small custom box for them and place them under the rear seat. This Bronco does have the factory original rear seat. A great looking 4-point Roll bar was installed and shoulder seat belts were mounted for added safety.  As you will see in the pics below, the interior is in near flawless condition as well. 
As stated earlier, the previous owner bought this Bronco to drive and enjoy and put a lot of money in to the drivetrain to make sure it would never let him down.  He actually had a correct 302 V8 Crate motor installed about 50,000 miles ago and had a nice set of headers added as well.  The motor is pretty much stock with just a very slight cam so it is not a high horsepower build. It was built to be driven and for reliability. It has electronic ignition, electric cooling fans,  aluminum radiator, and all wiring was completely gone through.  She runs nice and cool even on these Hot summer days!  It is an automatic transmission that was rebuilt and shifts great.  Power steering makes handling an absolute breeze and this Bronco does not wander or float like so many.  Brakes were upgraded to a Power Front disc brake system and stop effortlessly.  This Bronco truly cruises and handles the road beautifully.  It is not lifted which does help it to be easier to drive, but of course if you like the lifted look this can be done at a relatively low cost.  It has a great set of old school Aluminum Mag wheels with 31×10.5×15 White Letter tires that have tons of tread life left.  The rear end was completely rebuilt, shocks and springs replaced,  and pretty much everything was gone through and replaced over the previous owners care with receipts to support all of the work.  A 23 gallon rear fuel tank was added to give a longer range of driving.  The undercarriage is rock solid with no rust issues. It was very lightly undercoated at the time of restoration. They did replace a couple of the floorpans which is typical on these old Broncos as the interior floors tended to hold moisture and cause some rust.  This has all been taken care of and the floors are all rock solid now. A Great Sounding dual exhaust system was also added and I did a video so you can hear it start up and running.  Have a look and make sure you listen to the video and the end of the listing!
HERE IS A SHORT VIDEO SO YOU CAN HEAR THIS BRONCO START UP AND RUNNING:

(

CLICK THE ARROW TO START

)