About This Vehicle
Odometer: 1,725
Engine:  302 V8
Body Style: Convertible
Transmission:  Automatic
Exterior Color: Green
Interior Color: Parchment
VIN:  U15GLT87715
Price:  SOLD
ABSOLUTELY AWESOME,

SHOW QUALITY

,  

NEAR FLAWLESS

,

FRAME OFF RESTORED,

1974 FORD BRONCO… 302 V8, AUTOMATIC,

LOADED

WITH POWER STEERING, POWER DISC BRAKES, 4″ SUSPENSION LIFT, CUSTOM TOUCHES…READY TO

SHOW

AND

GO

!!
HAVE YOU BEEN SEARCHING FOR A HIGH QUALITY, EARLY BRONCO CLASSIC THAT IS TURN KEY READY TO DRIVE AND ENJOY?
DO YOU WANT ONE THAT LIVED A RUST FREE LIFE, WAS PROFESSIONALLY RESTORED, AND WILL DRAW CROWDS AT THE SHOWS AND CRUISE-INS?
DO YOU WANT YOUR BRONCO TO STAND TALL WITH AN AWESOME COLOR COMBINATION?
WOULD YOU LIKE A 302 V8, AUTOMATIC, POWER STEERING, POWER DISC BRAKES THAT IS A JOY AND BLAST TO DRIVE?
IF YOU HAVE BEEN SHAKING YOUR HEAD YES THEN GET COMFORTABLE BECAUSE

THIS IS ONE YOU DO NOT WANT TO MISS OUT ON

!!
This Synergy Green Metallic 1974 Ford Bronco is believed to have lived most, if not all, of its life in Northern California and was treated to a very high quality, professional, frame off restoration that was completed about 4 years ago and only driven about 1700 miles since the completion.  I have now owned over 50 Early Bronco Classics and can easily state that this beauty is one of the finest ones I have owned. Not only does it rate extremely high when it comes to cosmetic quality and condition but it also one of the best running and driving, lifted Broncos I have had the pleasure of owning. I have personally driven this Bronco about 100 miles. The folks that did the restoration built it to drive and enjoy but also wanted a show winning finish and quality.   Unfortunately, the gentleman who owned it had some health issues and was no longer comfortable getting in and out of this beauty so he realized it was time to let it go to the next lucky owner…maybe you!!?  I will do my best to provide you with enough large images, a video of the Bronco starting up and running, and an honest description to help you decide if this is the one you have been dreaming of. As with all of my classics I do have this Bronco listed on my website and several others. Therefore, if you want to scoop it up before the next car guy or gal does feel free to call me to discuss how we can make that happen. I welcome overseas buyers and I am also a licensed transport broker and can assist with getting you a great rate on transport anywhere in the country. Sit back and enjoy!!
Please note
: I sold this Bronco to a gentleman in Savannah, GA in December 2016. He accumulated too many toys and his wife insisted he thin his collection. This Bronco was almost too nice to drive so he decided he would let it go to the next lucky owner. He transported it back to me in an enclosed trailer and I have it in my showroom here in Alpharetta, GA. Most of the pics are from when I sold it to him 5 months ago as the condition has not changed and in fact he only put 15 miles on it during the time he owned it. It is Titled in his name and I have the Bronco on consignment and will handle the sale to the next lucky owner. 
The Bronco currently has a few minor cosmetic items that are different than in many of the pics. At the time I sold it to him, I also had some custom bumpers that were painted the same color as the Bronco that he preferred so we installed those for him instead of the stock chrome bumpers you will see in many of the pics. We also had body colored Bronco emblems that he wanted instead of the chrome ones and body colored fuel caps instead of the chrome ones. We also had black headlight rings and tail light bezels that he preferred to the chrome ones. Lastly, he preferred the FORD letters in the grille in the green so we changed those out for him. I do have all of the chrome and trim items mentioned and if you prefer those I can re-install some or all of them if you purchase the Bronco. I can also put Chrome stock bumpers on instead of the custom ones if desired as well. I will include some pics of the Bronco as it currently sits with these items on it so you can compare and decide which look you prefer. Other than these items the Bronco is exactly as you see in the pics and it is drop dead gorgeous!!!
As you will see in the pics that follow, the body and paint on this '74 Bronco are truly outstanding. The paint is show quality and I do not throw that phrase around loosely and of course everyone has their own idea of what constitutes show quality. However, I am confident that even the pickiest of buyers will agree with me on the quality of the paint job that was done. The color really stands out and is a modern color called Synergy Green.  The paint glistens in the sunlight and I have received a ton of compliments on the color from folks who have seen this Bronco in person. While it is not an original color, to me it is a modern twist on the lime green metallic colored used back in the day.  I would not be surprised to see Ford use this color on the new 2017 Ford Bronco that is supposed to be released.  As previously mentioned this was a frame-off restoration and I was told the body was essentially rust free. Body panels are extremely straight and overall body panel fit is excellent.  Accenting the glistening green metallic are some great black accents on the hood, tailgate and fender flares. Door handles are done in black chrome. An awesome set of modern FJ Cruiser side view mirrors were installed that really fit the look of this Bronco well and are far superior in functionality than the original chrome sideview mirror. Front grill area is painted silver and currently has the green FORD letters however we can change out to the Red ones if desired. As you might have read in my note above, the Bronco currently has the custom body color painted bumpers on it. If you prefer the stock chrome bumpers I could change those out for you.  There are a few minor paint chips in the custom front bumper that can be touched up. Headlight and tail light bezels are currently the black ones but again can be changed back to Chrome if desired. The Bronco fender badges are currently the green body colored ones but can be changed to the chrome ones if desired.  A
ll of the glass looks new and windows roll up and down nicely.  A family style Roll cage was painted to match the truck and installed.  A full soft top was also installed with tinted, zip out windows. I find this is a great way to go as it gives you the option of an open air Bronco, or completely fold down the top, but also you can easily seal things up with the tinted zip out windows installed when needed.  Of course you could add a hard top if needed but I find that the way to enjoy these early Bronco classics is with the fresh air flowing and sun in your face. Overall the body and paint are truly near flawless although there are probably a couple of very tiny rock chips from being driven since the restoration.  This is definitely a Bronco that will win its share of trophies and both large and small shows if that is what you enjoy.  I think the photo tour of the body below will show you what you want to know:
Here are a few pics showing you how the Bronco currently looks with the custom body colored bumpers, green Bronco emblems and fuel caps and black head light and tail light bezels:
And these pics show the chrome bumpers and trim:
Complimenting the glistening Synergy Green metallic exterior is a beautiful and classic correct Parchment white interior.  Original front bucket seats and original rear bench seat have been recovered and look close to new. Seat belts for all passengers, with 3-point belts attached to the roll bar for front passengers. Brand new dash pad, carpet kit and rear interior panels really finish out the interior beautifully. A great set of Bronco signature sill plates welcome driver and passenger upon entry. Factory gauge cluster was rebuilt and updated with a white and black face. All of the electronics and gauges appear to be functioning correctly although the fuel gauge has been working on and off but we will try to address that before it leaves us. Both the main and auxiliary fuel tanks function correctly with the correct switches under the driver seat and on the dash. The original radio is no longer in place and there must have been an aftermarket stereo put in at some point that was removed. We added a nice insert that gives you cup holders and a little storage and also added a center console which is the ideal place to put an updated stereo if desired. That is about the only thing left to do in my opinion. The complete interior floors were lined in a color matched bed lining material that you can see on the rear wheel wells. Very nice Lecarra steering wheel and the original 4wd shifter was updated with the twin stick shifters from Toms Bronco Parts. rearview mirror was also updated with a nicer one with functioning map lights. Rear tailgate functions great.  Overall the interior is also show quality and very comfortable….check it out:
As mentioned the gentleman who bought this Bronco from us in December only put 15 miles on it as you can see from the odometer readings below from before and after: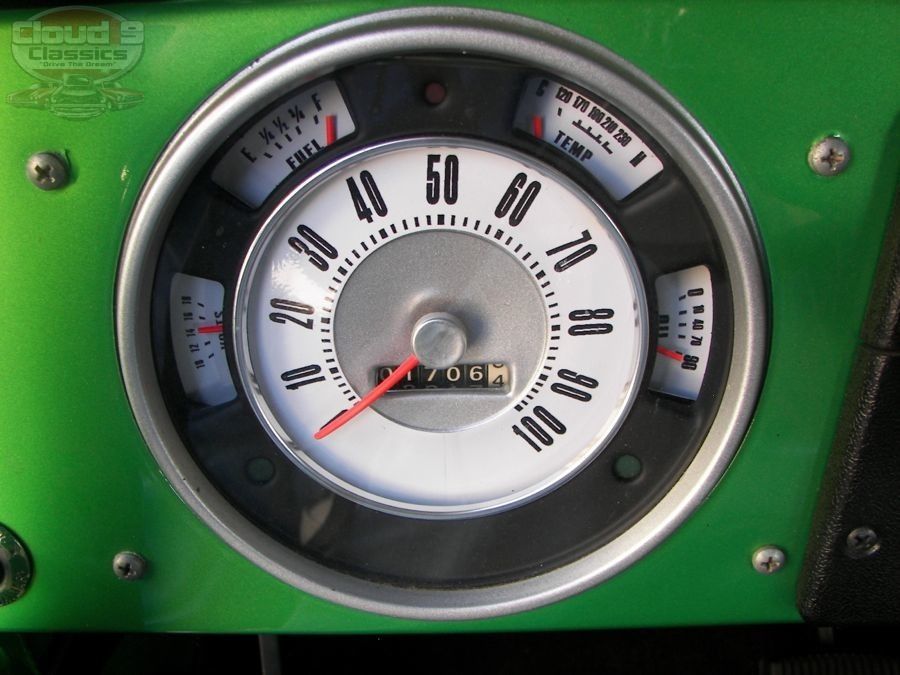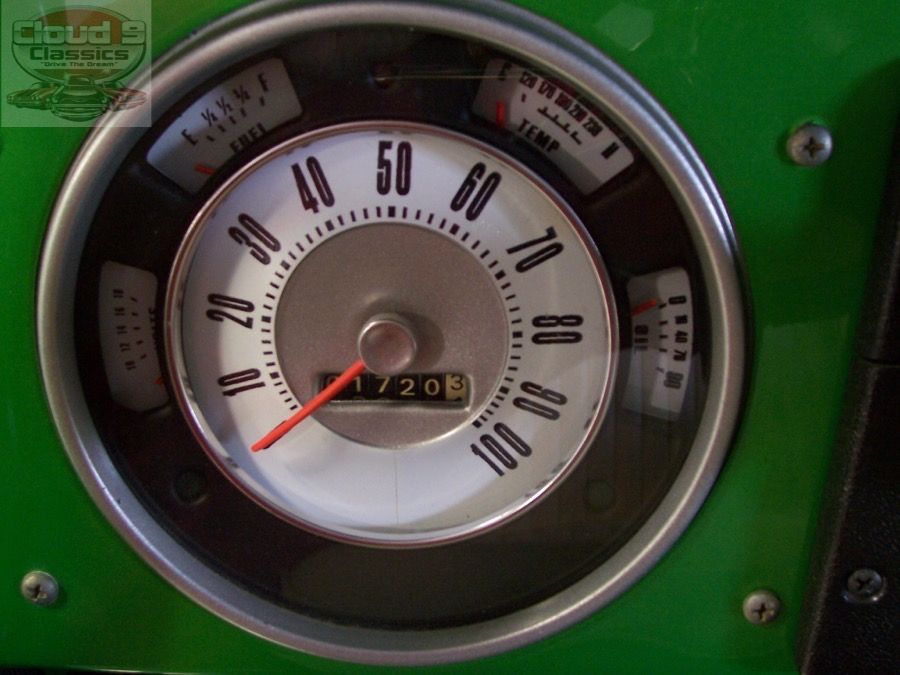 As nice as this Bronco looks both inside and out, it truly runs and drives as good if not better!!! This is not easily said with most Classic Broncos that are on the market and if you have not seen or driven any in person let me caution you to be very careful. Those of you who have, know what I am referring to as these old Broncos can be a handful to drive if they are not done professionally. No worries with this one!!!! At the time of restoration the 302 V8 motor was pulled and completely rebuilt, bored .30 over and a nice, fairly stock comp cam was added. Edelbrock intake and carburetor and a nice set of Bronco unscripted valve covers were added.  A complete new wire harness was installed with upgraded headlights.  Aluminum radiator keeps this baby running cool.  Great oil pressure from the rebuilt motor that fires right up and breathes out a great set of Hooker headers and back through the dual exhaust with a nice throaty tone but not too loud. Very smooth shifting automatic transmission was completely rebuilt as well as Dana 20 transfer case. Dana 44 open front with original locking warn hubs. Drive shafts were professionally rebuilt and this Bronco has an awesome stance thanks to the 4″ suspension lift.  Pro Comp Es1000 shocks all the way around. 9″ Posi rear end was rebuilt. All new ball joints and tie rod ends.  This Bronco steers amazingly compared to most thanks to new power steering pump, box and hoses. Stopping is also a pleasure thanks to the new power front disc brake set up and booster.  This Bronco tracks straight and true and is riding on a brand new set of BFG All Terrain KO2 33×12.5×15's wrapped around a brand new set of American Racing Baja aluminum wheels.  The hood has the updated gas struts for easy opening and closing.  As you will see the engine bay is nicely detailed out and looks fantastic. Floorpans are rock solid and the undercarriage has been nicely detailed out as well. You could place mirrors under this one at the shows to show off how nice it looks!! But seriously, forgetting about how nice it looks, it truly is a pleasure to drive!!! Make sure you watch the video that follows to hear it start up and running. 
Again, I want to show a few pics of how this Bronco currently sits with the custom bumpers and other minor trim items in green and black:
HERE IS A SHORT VIDEO SO YOU CAN HEAR THIS AWESOME BRONCO START UP AND RUNNING

( CLICK THE ARROW TO START ):
I am confident that the next lucky owner is going to be absolutely thrilled when this Bronco arrives!  Since we do have this Bronco advertised on our website and several others I encourage serious buyers to call me to discuss the possibility of getting this car in your garage before the next lucky car guy or gal does. I am also always open to answering any questions you may have. I welcome overseas buyers and can assist with getting great rates on enclosed transport anywhere in the country.
Serious buyers can call me at 770-359-8400.
SERIOUS BUYERS CAN CALL ME AT 770-359-8400
If you have any questions feel free to call me at 
770-359-8400 
and I will do my best to answer them.  If you are a serious buyer lets talk on the phone and discuss it. In addition to being a licensed Classic Car Dealer I am also a Transport Broker (http://www.transporttime.com) and will be happy to assist the buyer with a great rate on Enclosed or Open Transport anywhere in the US at the buyers expense or to any port for overseas buyers.