About This Vehicle
Odometer: 48,820
Engine:  350 HO V8 330+ HP
Body Style: Coupe
Transmission:  Automatic
Exterior Color:  Pewter
Interior Color: Black
VIN:  1X27D4L167817
Price:  SOLD
ABSOLUTELY AWESOME

,

PEWTER

AND BLACK, 1974 CHEVROLET NOVA, ORIGINAL 48,200 MILE GEORGIA CAR,

BUILT TO BE DRIVEN

WITH

NO EXPENSE SPARED

….LOADED WITH GROUND POUNDING 350 HO CRATE V8 MOTOR W/

330+ HORSEPOWER

, POWER STEERING, POWER DISC BRAKES,

ICE COLD A/C

, AND MORE…..READY TO

SHOW

AND

GO

!!!
SEARCHING FOR A REALLY SWEET, CLASSIC NOVA THAT STANDS OUT FROM THE CROWD AND IS READY FOR ANYTHING FROM THE HOT ROD POWER TOUR, TO LOCAL SHOWS/CRUISE-INS, OR EVEN A DAILY DRIVER?
DO YOU APPRECIATE A CAR THAT STANDS OUT FROM THE OTHERS, AND HAS LIVED A RUST FREE LIFE WITH EXTREMELY LOW ORIGINAL MILES?
HOW WOULD YOU LIKE A GROUND POUNDING 330+ HORSEPOWER V8 THAT RUNS AND DRIVES AMAZINGLY, HAS ICE COLD A/C, AND TRULY SOUNDS AS GOOD AS IT LOOKS?
WOULD YOU LIKE TO HAVE A CLASSIC MUSCLE CAR THAT WON'T BREAK THE BANK BUT HAS PLENTY OF UPSIDE POTENTIAL? 
WELL, IF YOU HAVE BEEN SHAKING YOUR HEAD
YES
THEN THIS GORGEOUS PEWTER AND BLACK '74 NOVA MIGHT JUST BE THE ONE YOU HAVE BEEN LOOKING FOR!!
Every now and then a car comes along that simply just stands out and shouts quality and integrity. Well, this Pewter and Black 1974 Chevy Nova is one of those cars!! A local gentleman drove this awesome '74 to my shop and told me that after 4 years of pure enjoyment, both in the build and the driving experience, the boss told him it was time to let it go. While he was not thrilled with the idea of letting it go, he was looking forward to knowing that it would go to the next lucky owner who will also thoroughly enjoy it….maybe you!!!? The current owner has owned his share of classic and muscle cars over the years. In fact he told me he has owned 77 since he was 16 and he is now a young 77 yrs. old. He acquired this Nova about 4 years ago when it had just over 44,000 original miles and still had the original 6 cylinder under the hood. This rust free gem has lived its entire life in the great state of Georgia.  He was so impressed with the overall quality and originality of the car that he knew this was the one for him. Although the car had extremely low original miles on it, he had to have some ground pounding horsepower to get excited about, so he purchased a Chevrolet Performance 350 HO turn key crate motor that put out 333+ Horsepower and had it professionally installed. If you had the chance to meet the current owner you would instantly know that this is the kind of guy you want to buy your classic car from.  He knows quality, does not mind spending the money to get a car dialed in with all the goodies, and is only satisfied with a high quality, truly reliable, and super fun Muscle car that he is proud to show off.  He has spent way more on this Nova then he is going to get for it but that's okay because he has had a blast building it and driving it. He kept all of the receipts and records during his ownership documenting everything that was done and every dime that was spent.  His hope is that the next enthusiast will enjoy the fruits of his efforts and money spent.  Although I usually own most of my inventory, I do take a select group of cars on consignment when they are quality classics owned by folks who really know what they have. This Nova is exactly that!
I will do my best to provide you with enough large images, a video walk around and start up so you can hear this Nova running, and an honest description to help you decide if this unique and amazing '74 Nova is the one for you. I can confidently say that the lucky buyer will not be disappointed when this sweet ride arrives in their driveway.  In addition to being a Classic car dealer I am also a transport broker and can get the lucky buyer a great rate on Enclosed or Open transport anywhere in the US. I also welcome overseas buyers and can assist in getting it to the port of your choice. As with all of my classics I do have this Nova on my website and several others. If you decide you want to scoop it up before the next car guy or gal does please give me a call and we can discuss how we can make that happen. Sit back and enjoy!!!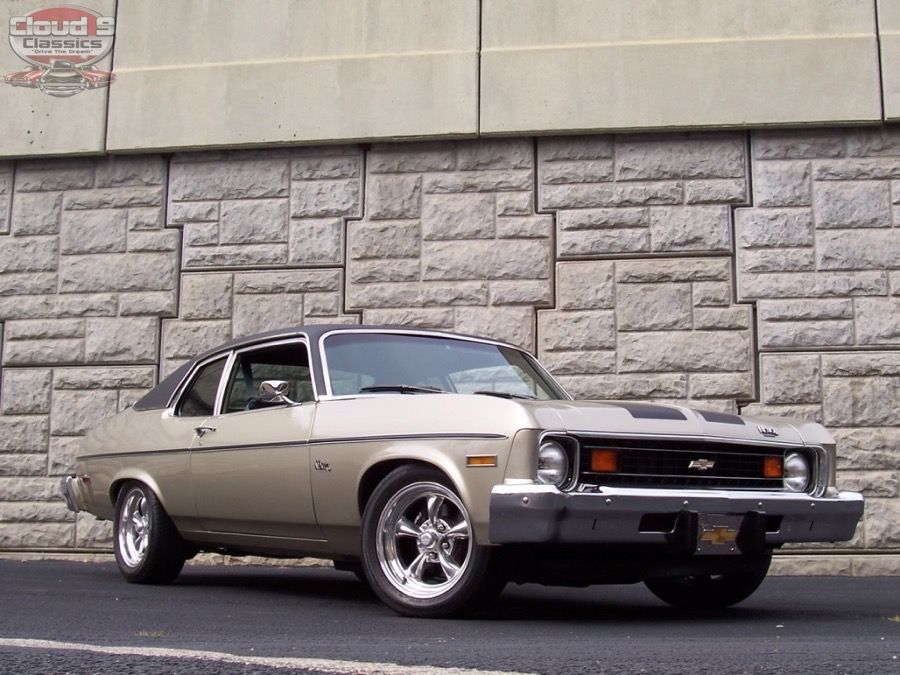 The paint and body on this '74 Nova are absolutely beautiful.  It is believed to have just one repaint in its original GM #64 Paint code of Pewter and still wears the original factory black vinyl top that looks like new. I would describe the overall paint quality as very strong local car show quality and some would say it is even nicer than that. This original, rust free Georgia car still wears its original sheet metal which is extremely straight and overall body panel fit is excellent. The black body side moulding is near perfect and really accents the body lines nicely.  The current owner decide to add the flat black SS style stripes down the hood and trunk which are decals and could be removed if desired but I think they add to the look of this muscle car. Bumpers look great and I believe they are the originals. All of the stainless and trim still look great. He added a new passenger side view mirror, a few lenses and other odds and ends that showed their age.Weather stripping all looks to have been replaced.  Windows are tinted and all roll up and down nicely. The windshield does have a small rock peck on the passenger side but no need to replace. Overall the body is really near flawless with only a few very minor rock chips or tiny scratches that have been touched up. You can drive this Nova to any local show or cruise-in and chances are you will leave with a trophy. The current owner has several that will go with the car but he preferred to drive the car more than show it.  I think the photo tour of the body will show you how nice the paint and body are. 
Complimenting the Beautiful Pewter exterior is the original black interior that is a true time capsule. The door panels look practically brand new. Front seat looks great with just one spot on the right side of where the drivers back rests that has been repaired by a vinyl interior expert where there was a wear spot. It was done well and because the interior was in such amazing original condition did not warrant going with an aftermarket seat cover fro such a small spot. The rear seat has seen more trophies then it has bodies. Headliner looks close to new and 3-point seat belts still work great. Carpeting still looks great. Dash pad looks like new and the original gauge cluster also looks great with all gauges and lights working correctly. Current owner replaced the dash lease and dash lights.  The only item missing appears to the small knob that controls the heat temperature adjustment.  But, this Nova has been treated to an awesome aftermarket air conditioning professionally installed that will freeze you out when needed….a definite plus for anyone in a warm climate like Georgia. A removable center console sits in the middle of the bench seat providing an arm rest and room for drinks. Original AM Radio that works still in dash. By the way, that switch on the dash next to the wiper switch is a special surprise the owner installed. It controls the electronic cut outs in the exhaust system that allow you to go from mild to WILD on the exhaust tone. Current owner loved to hear this car run so he never bothered with a modern stereo but that is an easy upgrade if desired. The mileage on the odometer is original and accurate, reading just under 48,820. Quite frankly, I think the interior actually presents even better in person then it does in the pictures and it is a super comfortable ride for driver and passengers. Check it out:
Under the hood sits the Chevrolet Performance 350 HO crate motor that pushes out 333+ horsepower making this Nova an absolute blast to drive whether it is stop light to stop light fun or cruising on the highway. He had this motor installed in April 2015 when the car had just over 45,000 miles on it which means the motor has basically just been broken in with about 3800 miles on it and it purrs like a kitten at idle with a nice soft rumble from the cam and roars like a lion on acceleration. He added a great set of Hooker ceramic coated headers that breathe out the dual chamber flow masters. But wait, as if that was not enough he then also added some quick time performance bolt on electric exhaust cut outs that allow you to go from mild to wild with the push of a button offering an open header tone that will shake the ground around you and turn all the heads. Beautiful front runner style serpentine belt system runs all of the equipment which includes the power steering that has this Nova handling like a modern car. This motor pulls strong and hard and power is put down through the Turbo 350 automatic transmission that shifts smooth as butter. Power to the rear wheels through the 10 bolt rear with highway friendly gearing that you can cruise comfortably at 80 mph if desired or push it hard with no issues. Stopping is also a breeze thanks to the installation of the Power Wilwood front disc brakes. Great stance with the 16″ Polished Torque Thrust wheels wrapped in Falken Performance Radials with tons of tread life left. This Nova truly runs better than new and handles better than new as well. Engine bay is very neat and tidy and you will be proud to pop the hood at any show or event. As good as this Nova looks it runs and drives even better!
Previous owner also had the trunk finished out with custom forced cut trunk panels wrapped in a high end fabric that compliments the car beautifully and also impresses at the shows. He does still have the original Spare tire with jack that he will include if desired. The undercarriage is rock solid having lived in Georgia its whole life. Floorpans are all original and solid. The undercarriage is very presentable but not highly detailed as it has been driven and enjoyed. 
As mentioned, the gentleman who did everything to this Nova over the past 4 years kept pretty much every receipt in a folder that will be included. Oil changes are all well documented. He even has quite a few, if not all, of the gas receipts with mileage documented. This is the kind of documentation and history that goes a long way to help this cars value over time. He even has the original keys which are included. All work was performed by professionals and everything is dialed in and this Nova is ready to go!!! 
Check out the final group of pics and then be sure to watch the video to hear this baby start up and running!!!!
insert pics
xxxxxxx
HERE IS A SHORT VIDEO SO YOU CAN HEAR THIS SWEET NOVA START UP AND RUNNING (
CLICK THE ARROW TO START
):
Hopefully at this point you can see that this '74 Nova is truly an outstanding example of an original classic that has been upgraded and improved to the Muscle car it is today.  This one is also a fantastic running and driving 
classic that 
will still bring home plenty of trophies at the shows if that is what you enjoy and will turn heads and start conversations wherever you take her.  If you decide this is the one you have been searching for and would like to discuss getting her in to your garage before the next car guy or gal does, feel free to 
call me at 770-359-8400
 to discuss making that happen. I am also a transport broker and can get the buyer a great rate on enclosed transport anywhere in the US . I also welcome overseas buyers and can assist in getting the car to the port of your choice. 
IF YOU ARE A SERIOUS BUYER FEEL FREE TO GIVE ME A CALL TO DISCUSS!!