About This Vehicle
Odometer: 72,350
Engine:  350 V8 4bbl
Body Style: Convertible
Transmission: Automatic
Exterior Color: Blue
Interior Color: Silver
VIN:  1Z67J5S430549
Price: SOLD
ABSOLUTELY GORGEOUS

, WELL DOCUMENTED,

BRIGHT BLUE METALLIC

, 1975 CHEVROLET CORVETTE CONVERTIBLE…

ONLY 72,350 ORIGINAL MILES

ON

MATCHING #

350 V8,

LOADED

WITH OPTIONS INCLUDING HARD TOP…READY TO

SHOW

AND

GO

!!!
ARE YOU SEARCHING FOR A GORGEOUS C3 CONVERTIBLE THAT IS TURN-KEY, READY TO DRIVE AND ENJOY??
WOULD YOU LIKE TO FIND ONE THAT LIVED A PAMPERED, WELL DOCUMENTED LIFE WITH LOW ORIGINAL MILEAGE ON THE ORIGINAL MATCHING # MOTOR?
DO YOU WANT AN AUTOMATIC, WITH POWER STEERING, POWER FRONT DISC BRAKES, FACTORY AIR CONDITIONING THAT RUNS AND DRIVES FANTASTIC??
HOW ABOUT A RARE AND STUNNING COLOR COMBINATION WITHA MATCHING COLOR HARD TOP???
LOOKING TO MAKE A SMART INVESTMENT IN THE FINAL YEAR C3 CONVERTIBLE THAT YOU CAN DRIVE AND ENJOY WHILE IT CLIMBS IN VALUE??
WELL, IF YOU HAVE BEEN SHAKING YOUR HEAD

YES

THEN SIT BACK AND GET READY BECAUSE THE CORVETTE CONVERTIBLE YOU HAVE BEEN WAITING FOR IS RIGHT HERE!!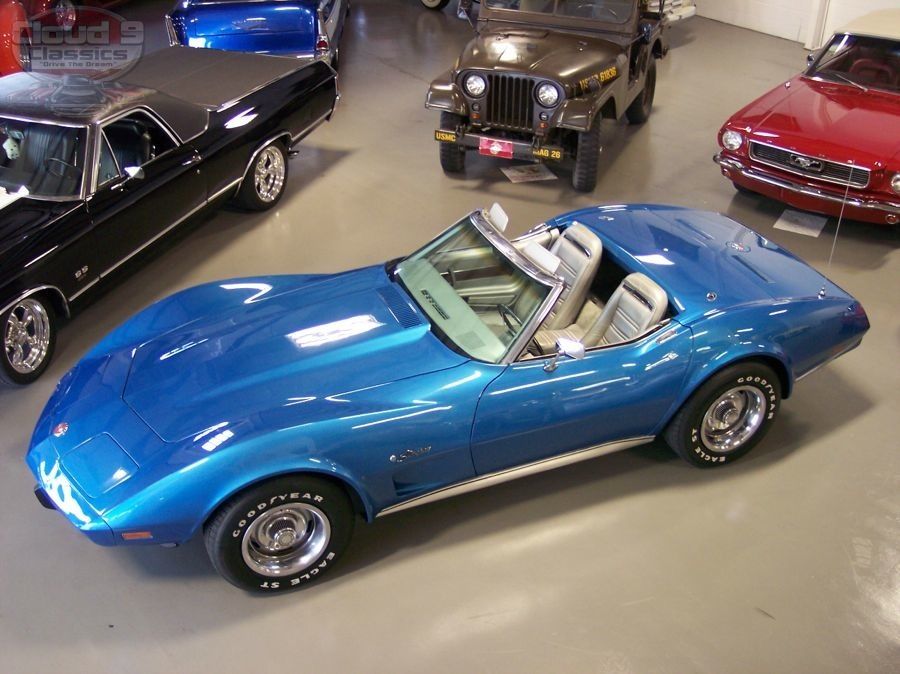 The 1975 year model for the Chevrolet Corvette was meaningful for a number of reasons. This was the last year of the Corvette Convertible until 1986. It was the first year for catalytic converters and the first year for the HEI ignition. 1975 was also the first year since 1964 that only one engine displacement size was available. The rear bumper was updated to a one piece style. The Speedometers included km/hr in smaller type face than MPH in the US. This was the last year of the Astro Ventilation and the first year for the headlight warning buzzer. Zora Arkus-Duntov resigned from GM in 1975 and he is an iconic figure in the Corvette world.  So, as you can see the 1975 model year was special for a number of reasons which of course will help to add to the collectibility and value. There were only 4629 Convertible Corvettes produced in 1975 and only 2869 Bright Blue Corvettes in 1975 including coupes. I am sure this particular car is quite a rare combination with the options and colors. 
 This particular Bright Blue Metallic C3 Convertible has been in Georgia most, if not all its life and has just under 72,350 original, documented miles. It is a matching # car with its original 350 V8 and still wearing its original colors inside and out. This car is loaded with Automatic transmission, power steering, power front disc brakes, factory air conditioning, and factory matching hard top. It is truly an outstanding example of these cars and is an absolute joy to drive!! A local gentleman recently stopped by our showroom telling us that he had a couple of vintage Corvettes that he has decided it was time to sell.  A few days later he drove this '75 Convertible over for us to look at and we were extremely impressed. He has owned it since 2002 and believes he was the 4th owner of the car. The only reason he has decided to sell it is that with his kids growing up and other life priorities taking place he simply does not have the chance to drive and enjoy it the way he did when he first bought it.  We decided to take the car on consignment from him and we are selling it on his behalf. The Corvette is in our showroom and I have personally driven it and would be happy to answer any questions. I will do my best to provide enough large images, a video of it running and an honest description to help you decide if this is the one you have been searching for. As with all of our cars we do have this Corvette listed on our site and several other ones. If you fall in love with it, as you should, and want to make sure you get it before the next car guy or gal scoops it up, feel fee to call me to discuss how we can make that happen. Sit back and enjoy!!!
As you will see in the pictures below the body on this C3 convertible is in near flawless condition. According to the current owner the car was professionally repainted one time in the mid 1990's in the original Bright Blue metallic. It was a very high quality repaint and based on an inspection report done in 1990 the body only had some very minor,  typical fiberglass stress issues but was a no hit car with its original body panels. The current owner did have the front bumper replaced and had the paint color matched extremely well. The only real flaws I noticed along the body were about 3-4 small chips in the paint that were either touched up or could easily be touched up. Glass all looks excellent as does all of the weatherstripping.  Chrome trim and emblems all look great. Headlights function perfectly and I have included some pics with them up. I think the walk around photo tour below will show you how awesome the paint and body on this Corvette…take a look:
Complimenting the gorgeous Bright Blue metallic body is a very nice white convertible soft top.  The top looks close to brand new and still has a tag on it that I believe would have come from the factory. Rear plastic window is very clear and the top seals down very nicely. Another great option that was ordered with this car was a matching hard top. The current owner never put it on and had it wrapped for storage. We removed it and placed it on the car so that you can see that it as nice as the rest of the body.  Here are some pics of the soft top and hard top:
The Silver interior really sets off the Bright Blue exterior nicely! As you will see in the pictures the interior is quite immaculate and the current owner spent quite a bit of money shortly after he purchased the car in 2002 having the interior redone. He replaced the seat covers, seat foams, carpeting, dash, door panels, and other small items to help bring the interior up to show condition. Everything has held up beautifully and the interior shows little wear.  Steering wheel, center console, area behind the front seats all look great.  All of the gauges appear to be working correctly including the clock!!! Air conditioning was upgraded to R134 and just needs to be charged to be blowing icy cold. It is currently working but blowing cool, not ice cold.  I think you will see in the pics below that the interior is ready for the shows and is quite stunning:
Now is a great time to emphasize the low mileage of just under 72,350 original miles on this awesome '75 Convertible. There are quite a few service receipts which document the mileage. In 1991 the car had 65,167 miles and then in 1999 it had 70,315. The current owner only drove the car locally and put under 2500 miles on the car during his 13 years of ownership. It has the matching number L48 350 V8. I have included a picture below to show the vin # stamping on the engine pad to verify it is numbers matching. So many times seller will say that they were told there car was matching #'s without ever actually checking. This can have a big impact on future and current values! As you will see the engine bay is nicely detailed and still shows some original chalk markings from the factory on the hood.  This car has been meticulously maintained mechanically and I have a great paperwork history documenting work done. I do not think the motor ever received a complete rebuild and quite frankly I doubt it ever needed it.  I believe the car has the correct Rochester 4bbl on it but not the original one based on some paperwork history. This car does not leak a drop of anything!! There are receipts showing that the rear main seal was done in 2002 as well as new motor and transmission mounts. New heater core and all related heater components. This car accelerates very strong and smooth! The automatic transmission shifts crisply. Power steering and Power front disc brakes!  Suspension feels great and this Vette handles the road amazingly.  I think you will have a hard time finding a stock '75 Corvette that runs and drives as good as this one! The exhaust was all replaced and sounds great as well. Great tone at idle and throaty under acceleration. The Goodyear Eagle ST radials look great with tons of tread life left. The undercarriage is very clean and with a weekend of detailing could be as show quality as the rest of the car. Original spare tire carrier still holds a spare. We will include the folder full of receipts and paperwork history along with the original owners manual.
Make sure you listen to the video below to hear it start up and running. 
HERE IS A SHORT VIDEO SO YOU CAN HEAR THIS AWESOME '75 VETTE START UP AND RUNNING (
CLICK THE ARROW TO START
):
 Hopefully, at this point you can see just how awesome this 1975 Corvette convertible is! It is certainly a rare one and with super low mileage is sure to be appreciating in value in the years to come. It is a classic you can get in to at a reasonable price now that you can also drive and enjoy…I like to think of it is a 401k that you can actually enjoy!!
As with all of our vehicles we do have this Corvette advertised on our website and a number of other sites and reserve the right to end the auction early if it sells before the end of the auction.  We welcome serious buyers to call us to discuss a price that will put this awesome classic in your garage before the next car guy or gal scoops it up. 
Please do not email me asking the reserve price!!!
SERIOUS BUYERS CAN CALL ME AT 770-359-8400
If you have any questions feel free to call me at 
770-359-8400 
and I will do my best to answer them.  If you are a serious buyer lets talk on the phone and discuss it. In addition to being a licensed Classic Car Dealer I am also a Transport Broker and will be happy to assist the buyer with a great rate on Enclosed or Open Transport anywhere in the US at the buyers expense or to any port for overseas buyers.