About This Vehicle
Mileage: 109,278
Engine: 6 cyl
Body Style: Coupe
Transmission: Manual
Exterior Color: Persimmon
Interior Color: Black
VIN: HLS30207607
Price: SOLD
AMA

Z

ING, HIGHLY DOCUMENTED, BEAUTIFULLY MAINTAINED AND RESTORED,

1975

DATSUN

280Z

!!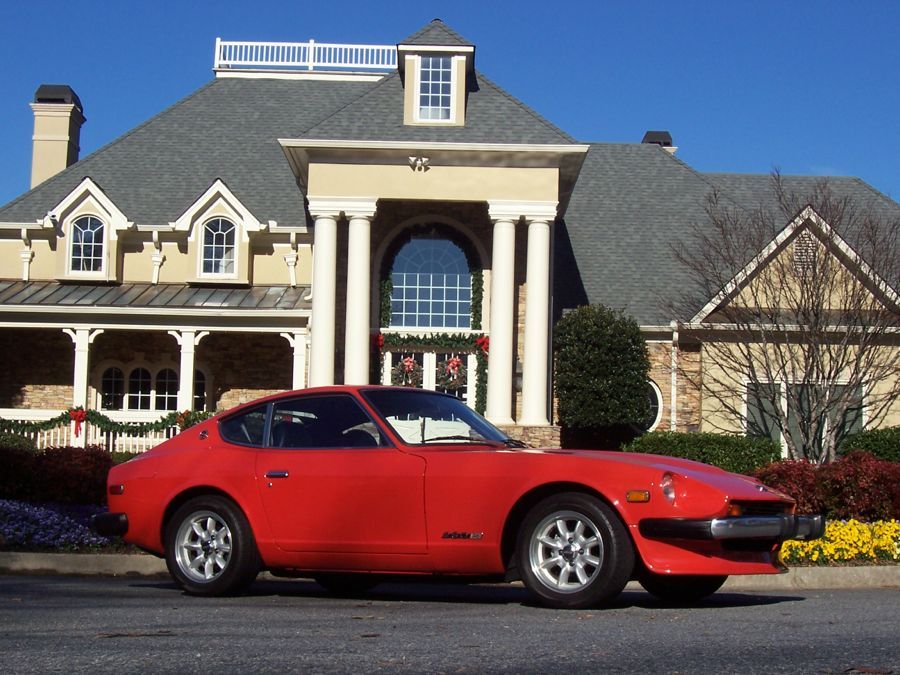 THIS

Z

IS READY TO SHOW OR GO!!!
If you have been searching for a great, investment quality 280Z, or, if this car just caught your eye and brought back memories then get comfortable because this is truly a top quality, super original, and highly documented Z!! We recently acquired this car locally in the Atlanta, GA area from a gentleman who was a true car enthusiast. His sons were begging for some motorcycles this Holiday season and the lack of extra garage space meant something had to go.  When we learned the car was available we immediately went to his home to have a look.  As he pulled back the cover and we did a quick walk around we could tell this was a quality, classic Z.  Neither my partner or I had ever owned a Z but both of us clearly remember these from our youth and they were always on our list of cars to own.  Within days this Z was in our warehouse and both my partner and I have enjoyed driving it. The gentleman we bought it from provided us with a complete history of the car via a folder full of receipts which also includes the Original Window sticker and original warranty protect-o-plate. This car started its life right here in the Atlanta, GA area when it was sold to the original owner on June 24th, 1975 from East Point Datsun. It was sold at some point to another Atlanta resident who owned it until 1999.  It then appears to have been sold to a gentleman in North Carolina who owned it for another 10 years before it was sold to the gentleman locally here in the Atlanta area who sold it to us. I will do my best to provide enough pictures, a video so you can hear this 280Z running, and an honest description of the condition so you can decide if this Z should be in your garage. What better way to bring in 2013 then with a great purchase of a fun, classic car that will be a blast to drive as well as be a great investment.  Sit back and enjoy!
This 280Z was fortunate to have lived in the sunny, warm climate of Atlanta, Georgia and North Carolina its whole life and as a result never accumulated the typical rust issues that these cars are prone to. The gentleman we bought the car from said that the car was amazingly solid and rust free when he got it and was told the car was owned by several pilots who always kept this car garaged.  The paint was faded when he got it and he wanted to bring the Z back to its original glory so he had it stripped and repainted in the original factory Persimmon color which is a red color with an orange tint. It is very possible that this was the first repaint this car had and there was virtually no body repair needed and this Z appears to have all of its factory body panels with no accidents evident.  Body panel fit is great and overall the body is very straight. The only flaws I noticed were a few very minor dings on the hood and a very tiny rock chip or two. Emblems appear to be original and do show some age but really add to the patina of this Z. Period correct rear window louvers look great and front spoiler adds to the sporty,muscle stance of this Z. I will let the pictures do the rest of the talking…here is a photo tour:
As nice as the exterior of this Z is, the interior is equally as nice. What is perhaps most amazing is that the majority of the interior is believed to be all original! The previous owner did replace the carpeting and some minor trim items but the seats, door panels and dash are believed to be original. The dash pad is in amazing condition and these almost always have cracks in them. A great testament to the care and pampered life this Z lived.  Equally impressive is the condition of the seats and door panels.  All of the gauges and electronics appear to working correctly INCLUDING the clock!!!  These Z cars really had a fantastic cockpit and sitting in the drivers seat of this car will truly bring back memories to anyone who used to own one or was a passenger in one. Again, I think I will let the pictures do the rest of the talking:
Hopefully I have established that this is one sweet looking Z. Yes, it runs as good as it looks!! This Z has just over 109,300 original miles documented throughout the receipt history. When the previous owner got the car  the 2800 cc Single overhead cam 6 Cylinder was running well although it seemed to lack a little power and  he wanted to make sure it would run even better for many years to come so he took it to a local Z expert and asked him to completely go through the drive train and replace or rebuild anything that was needed. I have the receipts for all the work that was done just 1800 miles ago so the rebuild is very fresh and this Z performs awesome!! The short list of things done includes pulling the head and doing a complete valve job, removal and rebuild of original motor,new timing chain, oil pump, water pump, new thermostat, new clutch kit and flywheel resurfaced,  all new seals and gaskets and much more! Receipt for almost $4000 in rebuild and refreshing of the drive train will be included. The only performance modification was the addition of a ceramic coated header for a little added horsepower and improved mileage.  About a year later the original 4-seed transmission was stuck in gear and the Z expert recommended a very common upgrade to a 5-speed.  At that time a correct, completely rebuilt 5-speed from a '77 280Z was installed. The car still has the original 4 speed shift knob but this Z does have 5 forward gears which really helps in highway driving.  The receipt history also shows the regular maintenance this 280Z always received including suspension components. This Z handles the road beautifully and is very tight!! I had a blast driving it about 40 miles the other day when I was taking pics. It handles the road with ease and loves the high rpms as well as cruising at 75mph on the highway. A great tone from the newer exhaust reminds you that this is a true sports car.  This Z is riding on a great set of real Panasport wheels wrapped in a great set of Bridgestone radials with plenty of tread life left. This Z begs to be driven and you will also be proud to pop the hood at the local cruise ins and car shows. As you will see below the undercarriage of this awesome car is also super clean  and nicely detailed…rock solid with no rust issue whatsoever! Make sure you also take a minute to listen to the short video below so you can hear this Z running. 
HERE IS A SHORT VIDEO SO YOU CAN HEAR THIS Z START UP AND RUNNING…TURN UP YOUR VOLUME AND CLICK THE ARROW TO START THE VIDEO:
Hopefully you can see just how awesome this Datsun 280 Z is!! I am sure the next owner will be extremely pleased with the quality of this sports car. It is definitely a car that can be driven and enjoyed and will also prove to a great investment!!
Is this exactly the Z you have been looking for??? Feel free to call me at

770-359-8400

and we can discuss putting together a deal to get this 280Z in to your garage before the next car guy or girl does!!!
This will be a great investment that you can drive, enjoy and take to the shows if you want.
THE MARKET IS VERY STRONG RIGHT NOW AND I WILL NEGOTIATE A DEAL WITH SERIOUS BUYERS. DO NOT WAIT UNTIL THE LAST MINUTE OR YOU MAY BE DISAPPOINTED YOU MISSED OUT.
 If you have any questions feel free to call me at 770-359-8400 and I will do my best to answer them.  If you are a serious buyer lets talk on the phone and discuss it. I will be happy to negotiate a deal so we can get this beautiful car in to your garage as soon as possible.  In addition to being a licensed Classic Car Dealer I am also a Transport Broker and will be happy to assist the buyer with a great rate on Enclosed or Open Transport anywhere in the US at the buyers expense or to any port for overseas buyers.