About This Vehicle
Mileage: 92,000
Engine: 4cyl
Body Style: Sedan
Transmission: Manual
Exterior Color: White
Interior Color: Bamboo
VIN: 11511710093476
Price: SOLD
ABSOLUTELY BEAUTIFUL, NEAR FLAWLESS, ONE OWNER, W115 1975 MERCEDES 240D WITH JUST UNDER 92,000 ORIGINAL MILES!!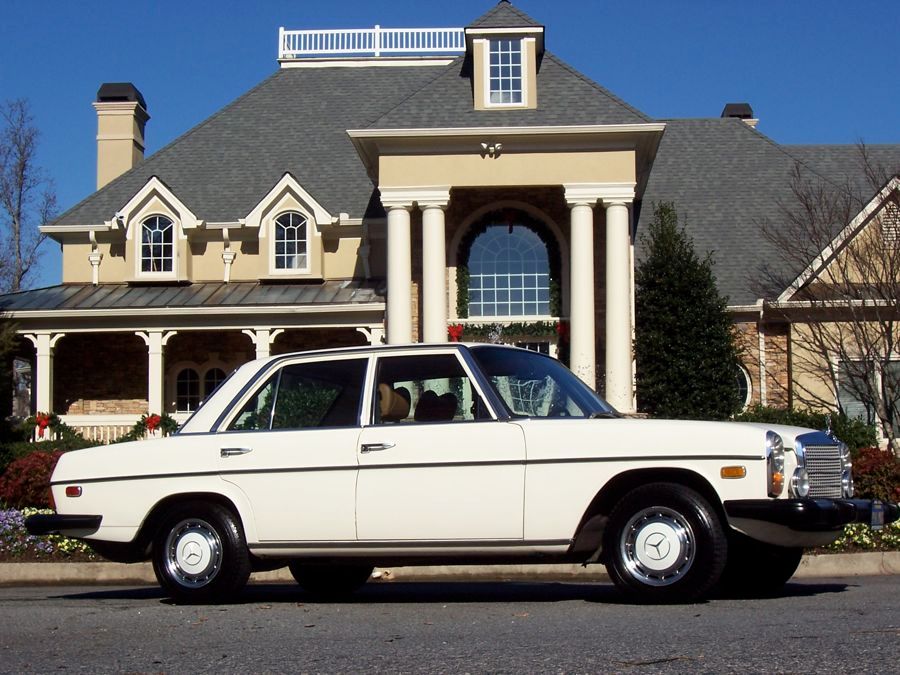 THIS HAS TO BE ONE OF THE NICEST W115 240D MERCEDES ON THE MARKET AND IS HIGHLY DOCUMENTED GOING BACK TO THE ORIGINAL IMPORT PAPERWORK. THIS DIESEL LOOKS AND DRIVES CLOSE TO NEW!!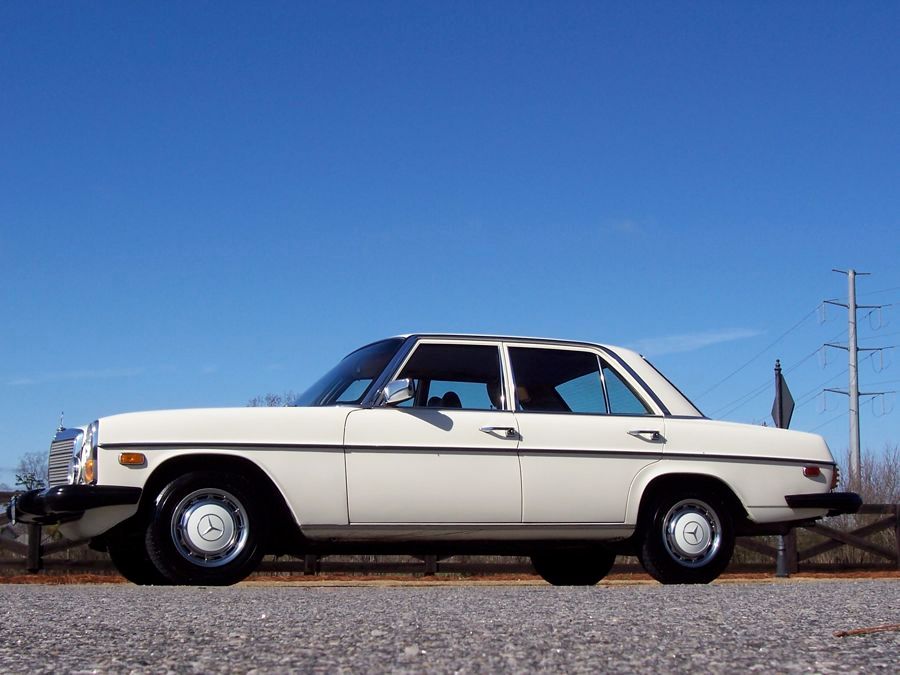 As the documentation will show this 1975 Mercedes 240D was ordered by the Original owner on April 15th, 1975 for European delivery in Germany on June 30, 1975 built with U.S equipment. The buyer, Mr. Mitchell apparently decided to take delivery in Germany and drove the car 567 miles while in Germany before the car was then imported to Menlo Park, California where the car has spent its entire life with the Original owner until just recently when we purchased the car and and had it transported to us in the Atlanta, Georgia area.  I have all of the original documentation as you will see below and the Title is still the original Title in the original envelope it was mailed in on November 28, 1975 at a postal cost of 10 cents!  While it is rare to find original owner cars of this age, it is perhaps even more rare to find one that is in the near perfect condition that this one is in!!! This 240D also drives as good as new! Although I  usually handle American classic and Muscle cars, this has been the second 240D I have had the pleasure of selling. The first was owned by my father and although it was a beautiful car that drove great, this particular White 240D stands heads and shoulders above his.  Mercedes collectors and enthusiasts will definitely appreciate this one and in fact, my warehouse is right next to a Mercedes Repair Facility and the owner's jaw dropped when he saw this one.  He commented that it was the nicest one he has seen and he was amazed at the originality and condition everywhere he looked.  I will do my best to provide enough pictures and a walk around video to show you the quality of this 240D and allow you to decide if this is the right one for you…Enjoy!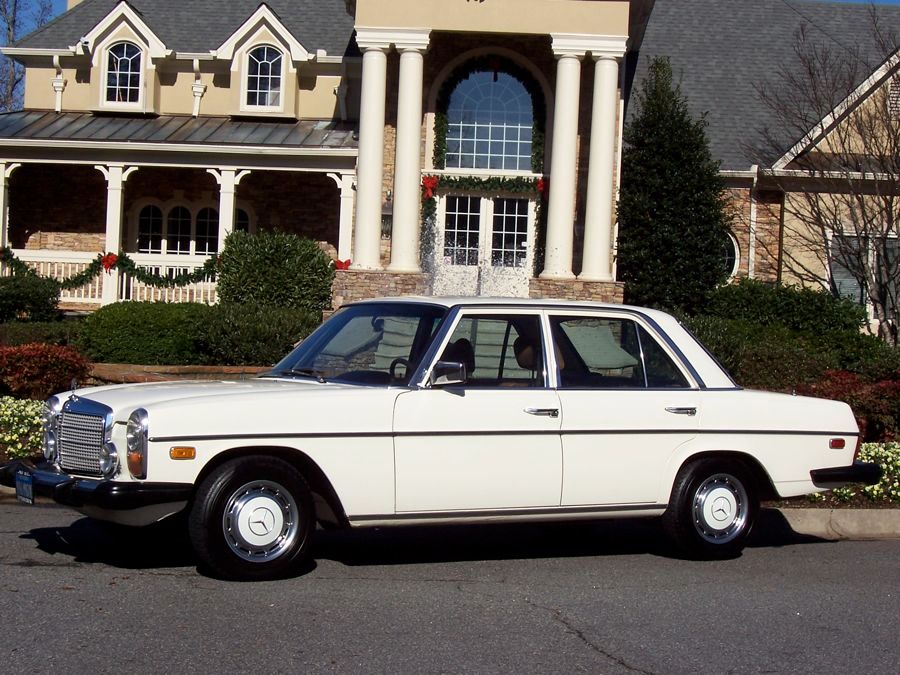 The Body on this White 240D is in amazing condition!!! I believe that most of the paint is original, however, there was a minor incident when the owner's garage door came down on the rear window that required some minor paint work to be done to the trunk and passenger rear quarter panel.  You may never notice as the paint work was done very professionally, but I was made aware of it when I bought it and wanted to disclose what I know.  All of the body panels are original to the car and are absolutely rust free and near flawless!  I found a couple of very small chips in the paint that were touched up but otherwise the body is extremely straight and unbelievably original. All of the chrome trim looks fantastic as does the grill and front and rear bumpers. It is obvious that this car was pampered and garaged its entire life. All of the glass looks perfect and windows operate smoothly. I truly believe this car looks as good, if not better in person as it does in the pics. I would score the body on this 240D a strong 9.5 out of 10.  Here is a walk around tour of the body, and at the end of the auction there is a video walk around tour as well.
The Bamboo colored Mercedes Benz Tex interior looks showroom new!! As beautiful as the exterior is it is amazing that this 240D was actually ever sat in because it truly looks like it would have right off the showroom floor.  I do not see any wear at all on the seats and I would bet that the passenger seat and rear seats were rarely ever sat on.  In fact everything inside this diesel looks amazing from the door panels, dash, carpets, floor mats, to the headliner.  You will find the original Becker Europa AM/FM with automatic antennae in place and it works perfectly.  The original first aid kit is in place on the front passenger side kick panel area. The steering wheel and 4-speed shifter look like they were barely ever touched. The instrument panel is very clear and everything seems to work accurately including the clock!!  In my opinion the interior is a 10 out of 10! Take a look:
The Mercedes 240D was perhaps the most durable diesel-powered Mercedes to ever hit the market! With under 92,000 well maintained original miles on it , this particular one has a very long life ahead of it.  Paperwork and receipts show that the car had 80,015 miles in October of 1989, 89, 238 in December of 1993, and 91,452 miles on it in October 1997. As years went by the Original owner was driving this car less and less but always maintained it. It was actually taken off the road for about the last 14 years and was stored in the garage and only started on occasions to keep everything lubricated. In August of 2011 the owner had it serviced by a Mercedes Specialist at the dealership in El Dorado Hills, CA who made sure it was in top running condition. Mileage was noted as 91,957 at this time. This 240D runs out great and is a joy to drive with the 4-speed which shifts very smoothly. I have driven this car several times and am almost embarrassed to admit how much fun it was to drive! The car runs and feels like a luxury car and once on the highway has not problem cruising at 65 mph and keeping up with traffic at any speed.  Of course you will enjoy great gas mileage out of this Diesel motor. The undercarriage is indicative of the dry, rust free life this car has had and is rock solid and the same goes for the trunk which looks brand new!! The wheels are in perfect condition and newer Michelin Radials have at least 80% tread life left. This Diesel is begging to be driven and is ready to be driven home if you so desire. Take a look:
As I originally stated this car has great original documentation including the original order invoice from the dealer in Redwood City, CA. I also have al of the import documentation when this car was brought back from Germany to CA by the original owner.  There is also a really cool Grille Badge that was never taken out of the original plastic showing this car was part of the European Delivery program. Also included are all of the original owners manuals and other original paperwork and dealer brochures. This kind of documentation certainly adds to the investment value of this incredible one owner beauty!
HERE IS A SHORT WALK AROUND VIDEO:
Hopefully the pictures, video and description have demonstrated how awesome this 1975 Mercedes 240D is. It is absolutely an investment quality car that you can show, drive and enjoy!! I know the next owner will be thrilled with this car and it is amazing to realize that you will be only the second owner.  If you have any questions please give me a call at 770-359-8400. If you are  a serious buyer lets discuss it over the phone and maybe we can put this beauty in your garage soon! In addition to being a Classic Car Dealer I am also a licensed Transport Broker and would be happy to get you an excellent rate on open or Enclosed transport right to your door.