1976 Ford Bronco – SOLD
About This Vehicle

Mileage: 760

Engine: V8

Body Style: SUV

Transmission: Auto

Exterior Color: Yellow

Interior Color: Parchment

VIN:  U15GLA63351

Price: SOLD
TRULY AWESOME,

NICELY

RESTORED

, 1976 FORD BRONCO…LOADED WITH POWER STEERING, POWER DISC BRAKES, AIR CONDITIONING AND MORE!!…

CALIFORNIA

RUST FREE

CLASSIC

BRONCO

THAT IS READY TO SHOW AND GO!!!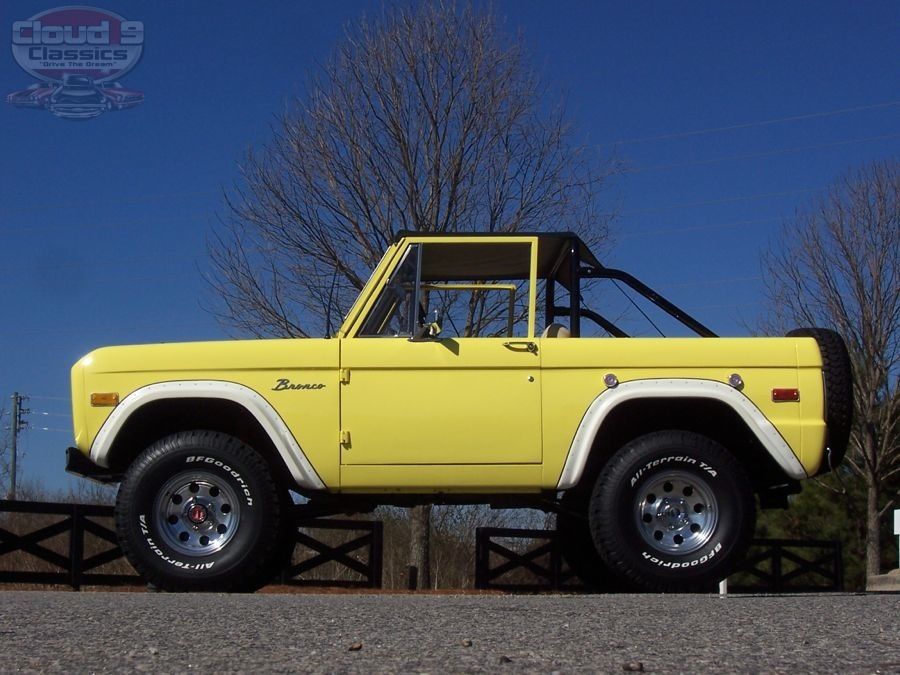 HAVE YOU BEEN SEARCHING FOR A HIGH QUALITY,  EYE-CATCHING EARLY BRONCO CLASSIC?
WOULD YOU PREFER ONE THAT LIVED MOST OF ITS LIFE IN CALIFORNIA AND WAS RUST FREE BEFORE IT WAS TREATED TO A PROFESSIONAL RESTORATION AND WAS BUILT TO BE DRIVEN AND ENJOYED?
DO YOU LIVE IN A CLIMATE WHERE ICE-COLD AIR CONDITIONING WOULD BE A NICE OPTION TO HAVE?
DID YOU TELL YOURSELF THAT YOU WOULD MAKE SMART INVESTMENTS IN 2014 AND LIVE LIFE TO ITS FULLEST??
WELL, IF YOU ANSWERED YES TO ANY OF THE QUESTIONS ABOVE THEN THIS MAY BE THE EARLY BRONCO CLASSIC YOU HAVE BEEN WAITING FOR!!!
THIS

SUNSHINE

YELLOW

BEAUTY IS ONE YOU REALLY NEED TO SEE!!
As you will see in the pics below we currently have an amazing selection of Early Bronco Classics in our inventory…if one of the other Broncos pictured interests you feel free to give me a call for more info.
This Yellow '76 Bronco is truly a great find and stands heads and shoulders above most others on the market.  This restored Bronco looks awesome inside and out and drives beautifully. Loaded with Power steering, power disc brakes, Air Conditioning,  CD Stereo, and more!! There is no denying that these Early Bronco Classics are becoming highly sought after in the collector market and rightfully so. If you are looking for the ultimate sunny day cruiser, beach or mountain fun ride, or just a classic 4WD investment vehicle that will be right at home at any car show or cruise in, then this is the one!! I will do my best to provide enough large images, a video of it running and an honest description to help you decide if this Bronco belongs in your stable. Sit back and enjoy!!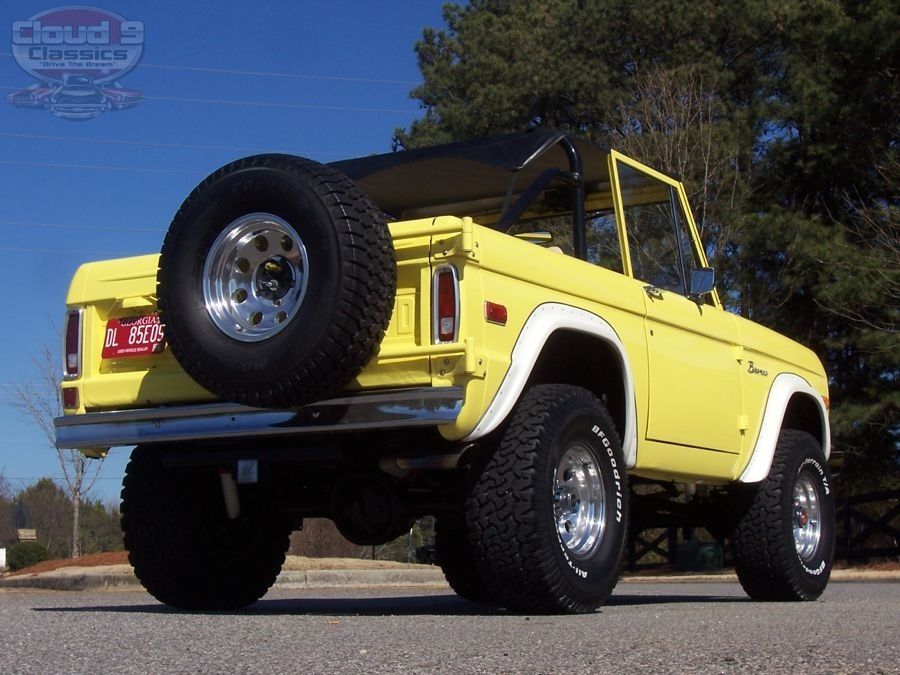 This Yellow beauty is a Bronco that is a bit more familiar to me then some of the other Early Bronco Classics we have had had in our inventory. The reason is that this is the 2nd time we have owned this awesome classic. We originally acquired this gem a little over 2 years ago from a guy who had recently moved to Oregon after living in California. He had purchased this Bronco about 6 years prior to that from the gentleman in California who had the high end restoration done. The story was that this Bronco had lived its entire live in Southern California. The original DSO code is 71 which was Los Angeles and when it arrived to us it was obvious this Bronco had lived a great, rust free life.  This was actually only the 2nd Early Bronco Classic we had owned and it sold quickly to a great guy in North Carolina who was in the Military and was looking for something to enjoy with his wife and kids on sunny days.  He did so for 2 years but then found out he was being deployed to Africa for at least a year. He called me and the following day I wired him payment and made arrangements to bring this beauty back to the Atlanta, GA area.  She looked just like she did 2 years prior….gorgeous!! This baby is going to absolutely thrill the next owner and it truly drives and handles as good as it looks! Maybe that lucky person will be you??
As you will see in the pictures below the body is in amazing condition. Keep in mind the restoration was done about 9 years ago but as you will se it has held up beautifully with little sign of age.  When it was restored the color was changed from a Ginger color to the eye-catching Yellow.  This Bronco just looks right…perfect for the beach, summer cruises, mountain drives,  local car shows and cruise-ins or trip with the family.  I do not see any signs of rust repair and the body appears to wear all of its original sheet metal. Body panels are extremely straight and line up beautifully.  Weatherstripping was all replaced at time of restoration. White fiberglass fender flares accent the yellow body nicely. Paint quality is awesome overall and the only real flaws on the body are the same ones it had 2 years ago which are a few minor chips that have been touched up. Windows roll up and down nicely. There are 2 small rock chips in the windshield that were there 2 years ago and are not a big deal.  4-point roll bar looks great. This was an original Ranger edition which included additional chrome trim around the windows, hard top, and grill area. Chrome trim, emblems and bumpers look great with just minor wear to the rear bumper chrome. Overall, as you will see, this Bronco is ready for the shows where it will win plenty of trophies if that is what you enjoy, or just drive and enjoy! Here is a walk around tour of the body: 
These Broncos are a blast to enjoy with the Hard top removed and driven as a convertible. We always remove the hard tops and drive and enjoy them with a Bikini top as often as possible. This Bronco does look great with the hard top on if needed as you will see in the pics below. The hard top is in overall very good condition however it must have had some lights installed many years ago as there were some holes on the top which were repaired but the top was never fully refinished so if you want it to look as good as the rest of the Bronco it would need to be finished and repainted. The glass and chrome trim are in great shape. If you do not think you will use the hard top we would be willing to include a new White soft top instead. This will be up to the buyer.  We also will be including the black Bikini top that you see pictured as well. 
Complimenting the beautiful yellow exterior is a great looking off-white stock interior. Seat covers are in fantastic condition and very comfortable.  Door panels both front and rear look great and stereo speakers were professionally installed throughout. The floor of this Bronco has a great vinyl mat that was installed years ago which makes it really easy to clean out after a day at the beach.  dash pad looks great and original steering wheel has a nice leather wrap on it.  All of the gauges and lights are functioning correctly. When we sold this Bronco 2 years ago the speedometer was jumping around quite a bit. The gentleman who bought it decided to replace the speedometer with a rebuilt original from Toms Broncos and it was set at zero miles when he got it. You will see it reads a little over 700 miles which is close to the total miles he put on it over the 2 years he owned it. He wrote me a otter that will be include mentioning this. As you will see this Bronco also has an aftermarket Air Conditioning system that works great and blows nice and cold for those of you in hotter climates.  Seat belts for both front and rear passengers.  Great upgraded stereo neatly installed with CD player. Original glove box door has the Trim Tag with Vin# and original trim codes. As you will see the interior looks fantastic and is show ready as well. Have a look:
This Bronco truly runs and drives as good as it looks. When we first purchased it a little over 2 years ago we were told that the original 302 V8 had been rebuilt and had about 11,000 miles on it at that time.  The gentleman we sold it to put about 1000 more miles on it so the motor is still extremely strong and fresh.  She starts up easily and will run at any speed with no overheating issues.  This Bronco is an absolute joy to drive and we recently ran it up and down the highway for about 15 miles to stretch her legs and she is definitely ready for the spring and summer fun with her new owner.  The C-4 Automatic transmission shifts smoothly. We felt a slight vibration when it first arrived which we discovered was due to slightly worn U-joints which we immediately replaced and solved the vibration.  Handling is a breeze thanks to the power steering and this Bronco tracks straight.  Of course it is still a 38 year old 4WD lifted Bronco but I would put my 19 year old daughter behind the wheel with no worries.  She stops great too thanks to the Power front disc brakes. Suspension was all gone through years ago and this Bronco handles the road beautifully. It has a 3.5 inch suspension lift that was done right! The front tires were showing wear when it arrived to us so we had a brand new set of expensive BFG All Terrain TA tires installed.  Of course the 4WD engages and functions properly. Dana 44 Front transfer case and 9″ rear.  The engine bay has been nicely detailed so you can pop the hood proudly at any event. Both front and rear fuel tanks work correctly.  The undercarriage looks as good as the rest of the truck and it is rust free and rock solid. Floorpans look fantastic with no patches or rust issues.  Be sure to watch the video below to hear this Bronco start up and running. Nice tone from the Magna Flow exhaust!  Turn the key and go in this Classic Bronco!!!
HERE IS A SHORT VIDEO SO YOU CAN HEAR THIS SWEET BRONCO START UP AND RUNNING (

CLICK THE ARROW TO START

):
Hopefully you can see that this '71 Bronco has been professionally restored to a very high level but is also one that was built to be driven and enjoyed.  We are confident that the next owner is going to be absolutely thrilled with this Bronco and it is definitely going to be a smart investment as the Early Broncos are on the radars of all the serious car collector enthusiasts. If you would like to discuss a price that would put this Bronco in your garage before the next car guy or gal scoops it up 

feel free to call me at 770-359-8400

.  We also have an awesome '74 Half Cab Bronco available that is pictured with this one below. Feel free to call me if you are interested in that one as well.  I am also a licensed transport broker and can assist the buyer with a great rate on Open or Enclosed Transport anywhere in the country.