About This Vehicle
Odometer: 84,454
Engine: 302
Body Style: SUV
Transmission: Auto
Exterior Color: Red
Interior Color: Parchment
VIN: U15GLC77140
Price: SOLD
ABSOLUTELY BEAUTIFUL,

CANDY APPLE RED

,

1976 FORD BRONCO

….NICELY RESTORED, SOUTHERN BORN AND RAISED,

LOW MILEAGE,

4WD CLASSIC

WITH HARD TOP AND BIKINI TOP…302 V8 4BBL, AUTOMATIC WITH

POWER STEERING

AND

POWER BRAKES

….READY TO

SHOW

AND

GO

!!!!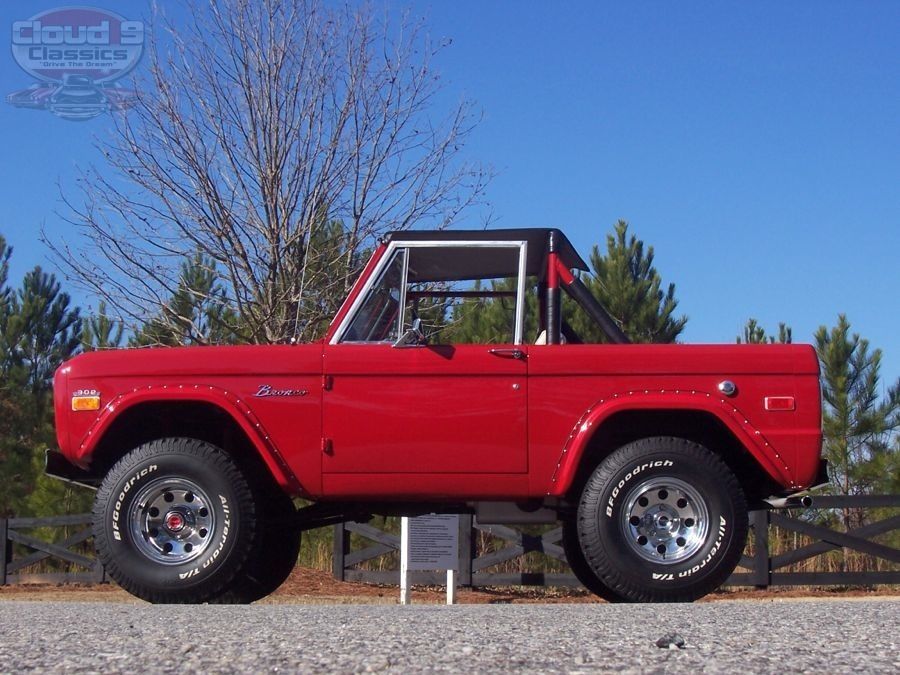 HAVE YOU BEEN SEARCHING  FOR AN EYE-CATCHING, HIGH QUALITY, EARLY FORD BRONCO CLASSIC?
WOULD YOU PREFER ONE THAT HAS LIVED A RUST FREE LIFE, HAS BEEN NICELY RESTORED AND IS TURN KEY READY TO DRIVE AND ENJOY AND WILL ALSO WIN ITS SHARE OF TROPHIES AT THE LOCAL SHOWS?
DO YOU WANT ONE THAT IS EASY TO DRIVE WITH AUTOMATIC TRANSMISSION, POWER STEERING, AND POWER BRAKES?
ARE YOU LOOKING TO MAKE A SMART INVESTMENT IN ONE OF THE HOTTEST COLLECTIBLE VEHICLES ON THE MARKET?
WELL, IF YOU ANSWERED YES TO ANY OF THE ABOVE THEN THIS 1976 

CANDY APPLE RED

BEAUTY JUST MIGHT BE THE ONE YOU HAVE BEEN WAITING FOR!!
Over the past few years the Early Ford Broncos have become one of the hottest new categories in the collectible classic car market and we focus on locating classic Broncos around the country that have lived easy lives without the typical rust issues that so many have or have had.  We did not have to go too far to locate this beautiful, very original, Candy Apple Red 1976 Bronco. It was just one state over from us in Alabama where we were told it lived its whole life with just 3 owners.  The original District Sales Office was Atlanta, GA and it made its way to the original owner in Alabama. The individual we bought it from had owned it for 2 years and he said he purchased it from the brother of the original owner. He was told, and we believe, that this Bronco has just under 85,000 original miles.  It had only had one repaint during its 38 year life before we got and the paint was showing its age when we got it. The body was completely free of rust and the body was in fantastic shape so we decided to treat this Bronco to a beautiful fresh coat of Candy Apple Red base coat/clear coat paint that looks amazing as you will see. This Bronco is an absolute joy to drive and has been restored to a level that will ensure that is a not only a great investment but will also win its share of trophies at the local shows and cruise-ins if that is what you enjoy.  I will do my best to provide enough large images, a video of the Bronco starting up and running, and an honest description to help you decide if this is the one you have been searching for. 
As I mentioned the paint and body on this '76 Bronco are in fantastic condition and I believe this Bronco still wears all of its original sheet metal.  Body panels are very straight and the paint quality is excellent. Overall body panel fit is great. All new weather stripping was installed and as a result the doors are a bit tight right now but that usually settles down in a few months as the weatherstripping breaks in and compresses a bit.  According to the original trim tag in the glove box this Bronco started its life as a Candy Apple Red color code T just as you see it today.  Bumpers, light bezels, emblems etc have all been replaced and look new. Front grill area has been detailed in silver with the correct red FORD letters. As you can see the rear fenders were cut at some point in this Broncos life to accommodate the larger wheels and tires.  Fender flares were painted to match the rest of the truck. Roll bar was added for safety and is painted in matching red with black padding.  A brand new Bikini top was added and as you will see we also have a matching red hard top for this Bronco that looks great.  All of the glass is in great shape and windows roll up and down nicely with newer window felts.  This is a super slick Bronco with a great stance that is truly ready to hit the road.  Although it is not absolutely perfect, I cannot remember seeing any real rock chips or other imperfections on the paint and body. I am confident that the next lucky owner will be thrilled with the condition! Here is a walk around tour of the body:
My personal preference is to drive and enjoy these Classic Broncos with the Hard Top off but for those of you who plan on driving this Bronco in colder weather it is nice to know that this Bronco comes with the original hardtop that is painted in the matching Candy Apple Red color and looks great. The tone on tone look really helps this Bronco stand out from others.  The hard top is in great condition with no rust issues in the rain gutters. There are some minor blems on the top of the roof but overall it is in excellent shape and the glass is all excellent. We will have the hard top installed for the next buyer and of course the brand new bikini top is also included. Here are some shots with the hard top installed:
Complimenting the awesome Candy Red exterior is a stunning parchment white interior that has also been completely restored and looks brand new.  Original front and rear seats have been recovered.  New carpet kit installed with brand new matching rear interior quarter panels. Door panels, arm rests and dash pad all look great as well. Nice aftermarket steering wheel with Ford center horn button. Front and rear seat belts installed. The dash was freshly painted in correct Wimbledon white color and original gauges and lights are all functioning correctly.  Blower fan and heater work great.  An aftermarket am/fm/cd player had been installed in the original radio hole but there are not currently any speakers so this is something for the next owner to decide on.  The original Vin # and trim tag are still attached to the glove box door.  The interior of this Bronco is truly in show condition and probably looks nicer then it did when it was brand new. Have a look:
This Bronco drives and sounds as good as it looks!!! Although we do not have any documented history we are quite confident that this '76 has just under 85,000 original miles on it. We were told the 2nd owner rebuilt the motor and upgraded the original 302 V8 to a 4bbl Edelbrock performer intake and Holley 4bbl Carburetor for a little extra horsepower. A nice set of headers were also added that breathe out a great sounding dual exhaust with Flow Masters for that muscle car sound everyone loves.  The engine bay has been nicely detailed and dressed up with Cobra valve covers. A nice set of hydraulic hood supports helps make it much easier to open and close the heavy hood on this Bronco. As you will see this Bronco does not have any rust issue on the inner fenders or in the cowl area like so many accumulate. Again, a great sign of a rust free Bronco from the South. We did a tune up with all new plugs and wires and all new fluids.  One turn of the key and this 302 fires right up and begs to be driven.  The original C4 Automatic transmission shifts smooth and strong. Power steering makes handling a breeze and Power brakes make it easy to stop this 4WD Classic.  Unlike many of these old Broncos, this one tracks straight and stops straight and is a very easy truck to handle on the road at any speed.  As you can see it does have a 3 1/2 inch suspension lift with dual front shocks.  Suspension is tight and fresh. Original 9″ Rear end.  4WD engages properly and functions well. IF desired this Bronco could be taken off road with ease but it is almost too nice to take off road.  This Bronco rides on an almost brand new set of American Racing Baja wheels wrapped in 33 x 12.5 x 15 BFG All Terrain tires with very low miles on them.  The undercarriage is nicely detailed as well and floorpans are rock solid with no rust issues.  You will be able to jump in this Bronco the day it arrives and have the time of your life. Check out the pics below and make sure you also listen to the video to hear this Bronco start up and running!!
HERE IS A SHORT VIDEO SO YOU CAN HEAR THIS RED BEAUTY START UP AND RUNNING…TURN UP YOUR VOLUME!! (

CLICK THE ARROW TO START

):
At this point hopefully you can see that this is a truly awesome 1976 Ford Bronco Classic that is sure to be a great investment and more importantly an extremely fun vehicle that you and your family and friends can drive, enjoy and take to the shows and cruise-ins.  We have this Bronco advertised on several sites so if you want to make sure you do not miss out feel free to give me a call!! While there are quite a few Broncos on the market, very few compare to the quality of this one especially at a reasonable price. 
THE MARKET IS VERY STRONG RIGHT NOW AND MOST OF MY AUCTIONS END EARLY AS I WILL NEGOTIATE A DEAL WITH SERIOUS BUYERS. DO NOT WAIT UNTIL THE LAST MINUTE OR YOU MAY BE DISAPPOINTED YOU MISSED OUT.
 If you have any questions feel free to call me at 770-359-8400 and I will do my best to answer them.  If you are a serious buyer lets talk on the phone and discuss it. I will be happy to negotiate a deal so we can get this beautiful Bronco in to your garage as soon as possible.  In addition to being a licensed Classic Car Dealer I am also a Transport Broker and will be happy to assist the buyer with a great rate on Enclosed or Open Transport anywhere in the US at the buyers expense or to any port for overseas buyers.