About This Vehicle
Odometer: 25,900
Engine:  302 V8
Body Style: U15 LUBR
Transmission: Automatic
Exterior Color: Navy
Interior Color: Tan
VIN:  U5GLB84339
Price: SOLD
ABSOLUTELY

AWESOME

, FULLY

RESTORED

,1976

FORD BRONCO

…UNCUT BODY, LIFTED, AND LOADED…READY TO

SHOW

AND

GO

!!!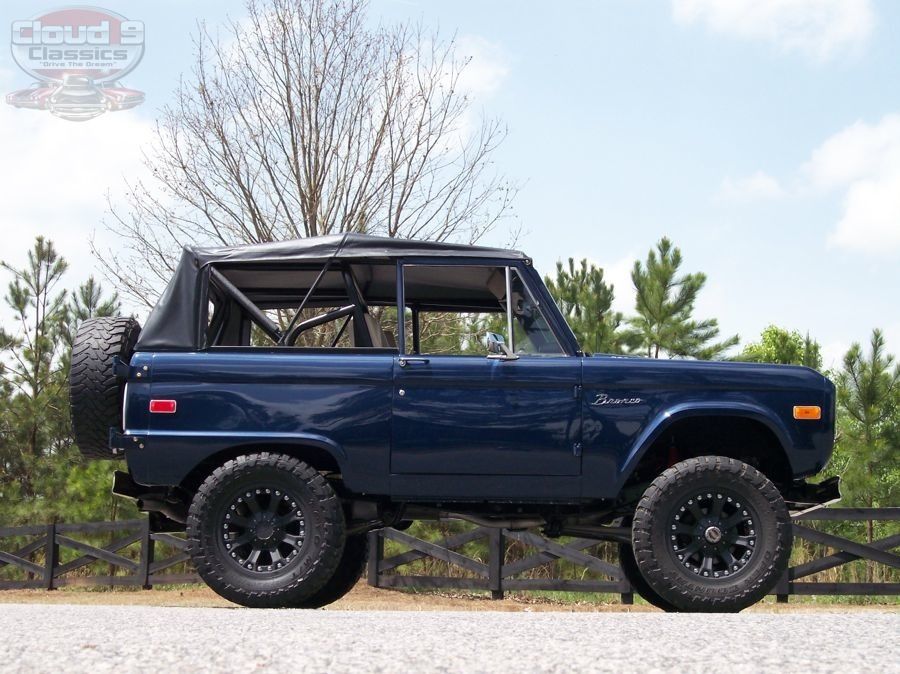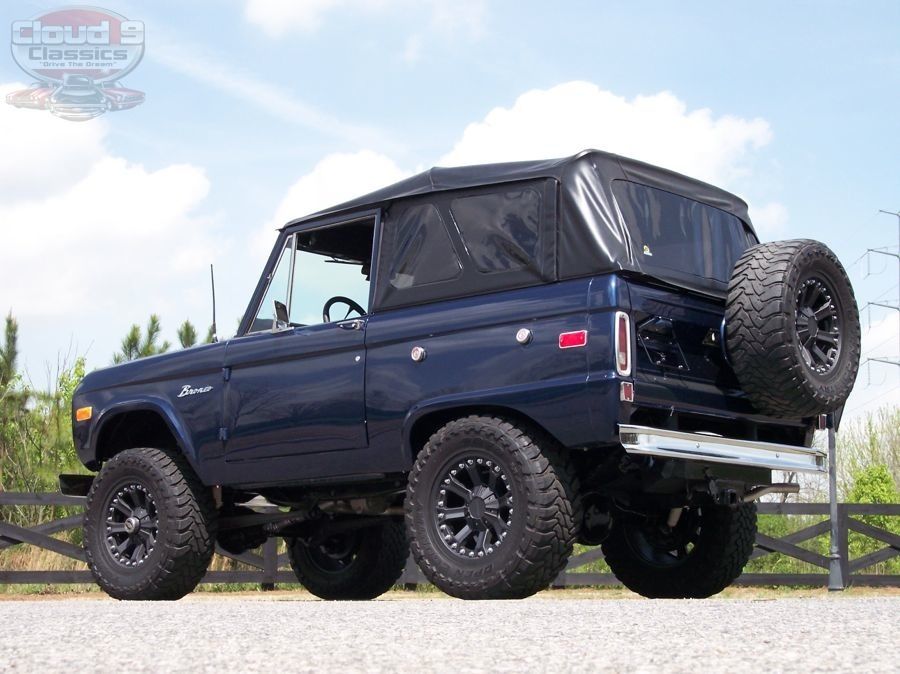 SPRING IS HERE AND IT'S BRONCO SEASON!!!
HAVE YOU BEEN SEARCHING FOR AN ABSOLUTELY AWESOME EARLY BRONCO CLASSIC AND WANT ONE THAT TRULY STANDS OUT IN A CROWD?
DO YOU PREFER THE LOOK OF AN ORIGINAL UNCUT BRONCO BUT ALSO WANT IT TO HAVE A SLIGHTLY MORE AGGRESSIVE LOOK AND STANCE THEN A STOCK BRONCO?
WOULD YOU LIKE TO BUY ONE THAT IS TURN-KEY READY TO DRIVE AND ENJOY AND READY TO TAKE TO THE CAR SHOWS, CRUISE-INS, OR OUT WITH THE FAMILY OR FRIENDS ON A BEAUTIFUL SUNNY DAY?
DO YOU WANT A 302 V8,  AUTOMATIC  TRANSMISSION, WITH POWER STEERING AND POWER DISC BRAKES?
DO YOU APPRECIATE A QUALITY BUILD AND RECOGNIZE THAT THESE BRONCOS ARE SOME OF THE HOTTEST COLLECTIBLE VEHICLES ON THE MARKET RIGHT NOW??
WELL, IF YOU HAVE BEEN SHAKING YOUR HEAD YES THEN GET READY BECAUSE THIS AMAZING '76 BRONCO COULD BE THE ONE YOU HAVE BEEN WAITING FOR!!!
Sit back and get ready to view one of the sweetest Lifted, Un-cut Early Bronco Classics we have had in a while.  Serious Bronco guys and gals call these LUBR's which means Lifted, Uncut, Bronco. Well, this is one sweet LUBR!!! We got this one a few months ago from a gentleman in Orgeon. He purchased it about a year ago from the previous owner in Washington State. Our experience has been that the Northwest part of the country has a lot of rust free, solid classics and this Bronco definitely supports that statement.  The previous owner is a classic car enthusiast who also specializes in the Early Broncos and he and his wife restore several a year. We had purchased one previously from him and we were extremely pleased, as was the next owner who bought it from us.  Without hesitation we purchased this one and to no surprise it was exactly as expected…a very high quality, beautifully restored Early Bronco that is ready to be driven and enjoyed! It was carefully restored and treated to not only a complete rebuild of the original drivetrain but it was also nicely upgraded with with some unique features as you will see in the pics that follow.  I realize there are quite a few Broncos on the market to choose from but if you have followed our inventory over the years you will know that we are very selective and offer some of the nicest Broncos on the market. I am confident that the next lucky owner is going to be absolutely thrilled when this Blue Beauty arrives in their driveway…MAYBE YOU??? Keep in mind that we have this Bronco advertised on several other sites including our own and quite often our auctions end early. So, if this looks like the one you have been dreaming of please do not hesitate to call me at 770-359-8400 to discuss further before the next car guy or gal scoops it up. 
The body on this uncut '76 is beautiful and very straight. It was treated to a gorgeous twilight navy base/clear paint job about 8 months ago. The original color was midnight navy so it is close to the original color but just a bit darker.  The color truly glistens in the sunlight with a hint of metallic and in the shade and at night looks like a very deep navy blue. This was not a quick re-spray to make it look pretty. The body was disassembled and properly prepped. The paint job was done by a true professional and the result is excellent! Prior to paint the tub was also sanded and etch primed and then a product called Rap which is similar to Rhino lining was applied before the sound deadener and carpeting was done.  All of the inner fenders were given a light undercoating to prevent any future chance of corrosion and the engine bay was painted in the same color of the truck which is how they came originally.  The original hood had a few dings and blems so he decided this LUBR deserved a more aggressive cowl styled hood which I think really sets it off. It is a steel reinforced hood and does not need hood pins as it uses the original latch. Of course, as you can see, this Bronco stands tall thanks to the 2 1/2 " body lift kit and the 2″ suspension lift. This enables you to get the larger wheels and tires under it without issue. All of the chrome and bumpers look great! Doors shut great and overall the body panel fit is outstanding. While it is not absolutely flawless it is pretty darn close! I could go on and on but I think the pics will show you what you want to know. Here is a walk around tour of the body:
As you can see this Blue Bronco is sporting an awesome black soft top that is brand new and is the Best Top brand. It has tinted, zip out windows which i recommend you remove as much as possible to enjoy the open air feel of the convertible. You can of course completely remove the top if you choose to. We do not have a hard top for this one but with the full soft top on it seals up really well and is much easier then putting on and removing the bulky hard tops which tend to rattle and present a storage issue.  This baby looks quite good with the full soft top so I am including some pics of it like this below: 
The Parchment interior is a beautiful compliment to the Twilight Navy exterior and as you will see is very unique. He took a 60/40 split front seat set up from a 2002 Ford Ranger and had it recovered to look like the originals. The benefit is a much more comfortable and supportive front seating for driver and passenger and a fold down center console that is functional and looks great. The front seats also recline so driver and passenger will be much better accommodated then the original seats allowed.  As you will see it really matches up great with the original rear seat. He also installed shoulder seat belts for front passengers to the 6 point Roll Bar. There are also seat belts for rear passengers as well.  The interior is nicely finished out with new carpet kit, rear interior panels with 4 speakers for the nice am/fm/cd stereo neatly installed in the dash.  The soft top allows the use of the original wiper cover and sun visors. Windows rollup and down nicely and the glass is in great condition. Windshield was replaced so no chips or streaks. The dash and gauges look great and everything appears to be working correctly. Both fuel tanks work and the gauge reads for both tanks with the flip of the switch.  A smaller aftermarket steering wheel was added which makes steering a bit more enjoyable. and gives the driver more room. The interior basically looks brand new although actually better then new with the upgraded seating, seat belts and roll bar. The original trim tag with Vin# is still in place on the glove box door.  Take a look inside:
Okay, so this Bronco looks pretty darn awesome…how does it drive you may be asking??? Well, it drives as good as it looks!!! I have personally put on about 100 miles in the past few weeks and took it to 2 different cruise-ins. My wife, daughter and friend came with me for the first one and we had a blast with the stereo blaring and people honking and waving the whole way there. When we arrived people immediately crowded around to take a look. The next weekend I headed down the highway cursing at 65 mph with no issues and at times pushed 75 and she continued to run smooth and straight. She runs nice and cool too with no overheating issues. She also is not a leaker….I have not noticed and oil , transmission or power steering leaks! The original 302 was pulled out and rebuilt at the time of restoration. It was rebuilt completely stock and has strong, even compression.  The automatic transmission was also rebuilt and shifts strong and smooth.  Drive shaft was balanced.  Power steering makes handling a breeze and it tracks down the road very straight especially considering the lift kit and wheel and tire size. Power front disc brakes has it stopping easily with no pulling or issues. The lift kit was done right. it has a 2 1 /2 " body lift and 2″ suspension lift. Correct drop pitman arm and front steering stabilizer along with all new springs and shocks. To give it the aggressive stance and look a new set of Raceline 18 x9's were added and the Toyo mud terrains are 33×12.5×18 and have about 80% tread life left. They run very smooth on the road with minimal road noise for an aggressive tire. The four wheel drive engages great and works properly.  As you will see the engine bay was nicely dressed up with polished, finned valve covers and other goodies. The original jack is still mounted on the drivers inner fender.  The undercarriage also looks fantastic and was nicely detailed as well. All new exhaust from the manifold back and it was kept as a stock single exhaust with a nice tone. Floorpans are rock solid and rust free. Front pans has some minor pinholes so the previous owner welded in correct partial front pans.  A heavy duty tow hitch was installed years ago so if you want to trailer a boat or some jet skis she is ready for action.  What more can I tell you??? This LUBR wants to be driven and enjoyed not to mention shown off.  Be sure to listen to the video that follows the pics below so you can hear it start up and running. 
HERE IS A SHORT VIDEO SO YOU CAN HERE THIS BEAUTIFUL BRONCO START UP AND RUNNING (

CLICK THE ARROW TO START

):
SERIOUS BUYERS CAN CALL ME AT 770-359-8400
If you have any questions feel free to call me at 
770-359-8400 
and I will do my best to answer them.  If you are a serious buyer lets talk on the phone and discuss it. In addition to being a licensed Classic Car Dealer I am also a Transport Broker and will be happy to assist the buyer with a great rate on Enclosed or Open Transport anywhere in the US at the buyers expense or to any port for overseas buyers.