About This Vehicle
Odometer: 1,000
Engine:  4.0 L Fuel Injected V6
Body Style: Convertible
Transmission:  Automatic
Exterior Color:  Gray
Interior Color: Black
VIN:  U15GLA77029
Price:  SOLD
EXTRAORDINARY

, 1976 FORD BRONCO,

HIGH END EXPLORER

TIME WARP

 

CUSTOM BUILD

…PERFECT BLEND OF EARLY BRONCO CLASSIC WITH MODERN DRIVETRAIN AND AMENITIES INCLUDING FUEL INJECTION,  INDEPENDENT FRONT AND REAR SUSPENSION, 4 WHEEL DISC BRAKES, ICE COLD A/C, NAVIGATION, AND MUCH MORE….

ONE OF A KIND

…

SHOW

AND

GO

!!!!
VINTAGE BRONCO STYLING MATED TO MODERN FORD EXPLORER RUNNING GEAR RESULTING IN A TRULY UNIQUE 21ST CENTURY TIME WARP DRIVING MACHINE!!
DON'T SETTLE FOR ORDINARY WHEN EXTRAORDINARY IS RIGHT HERE CALLING YOUR NAME!!
IF YOU LOVE THE CLASSIC EARLY FORD BRONCOS BUT WANT ONE THAT INCORPORATES THE MODERN RUNNING GEAR, AMENITIES, AND SAFETY OF A NEWER SUV THEN THIS IS ONE YOU DO NOT WANT TO MISS!!!
Welcome to the new 2018 Bronco!!! Okay, okay that is a slight exaggeration but I think that you'll agree that this '76 Bronco embodies most, if not all, of the features that Bronco Fans would love to see when Ford finally launches the 2020 Bronco. The reality is that the new Bronco will have some styling cues from these Classic originals but simply will not have the originality in styling that this amazing build offers. If you have followed the market you know that the Early Ford Bronco has been one of the most talked about vehicles in the collector car market lately. Values have sky-rocketed and several builders have been doing beautiful restorations incorporating a Coyote motor or other fuel injected motor under the hood. These are great and I love them but when Southern Off Road Specialists (SORS) here in Alpharetta, Georgia asked me to come by to check out their custom build I was truly amazed by what they had achieved.   SORS is a family run business that has been customizing lifted trucks, Jeeps, and SUV's for their customers for over 18 years. Their business has evolved tremendously and in addition to local customer builds they now customize over 3500 brand new  trucks a year for dealers all across the country. With a staff of craftsman and highly skilled technicians on hand the family has also enjoyed building some of their personal favorites that are truly Time Warp Customs that combine classic styling with modern automotive technology resulting in one of a kind builds that have been shown off at SEMA and locally. This amazing 1976 Bronco is the latest Time Warp Custom that was just finished a few months ago and having been road tested for just under 1000 miles is now being offered for sale. They know that I have sold over 100 Classic Ford Broncos so I have been asked to find this amazing build a new home….maybe yours!!!?
While some of the other Bronco builds offer a modern motor in a nicely restored, original Bronco platform, this build goes over and beyond, meshing a 1976 Ford Bronco with a  2010 Ford Explorer to offer you the classic looks combined with the driveline, suspension, safety features, and amenities of the newer SUV.  Close to 1000 man hours went in to this build and the result is spectacular. This could truly be an everyday driver if desired and is also ready to cruise the beach, mountains, or your local roads. If you enjoy collecting trophies then show this baby off and get ready to attract a crowd!!
I will do my best to provide enough large images, a video walk around so you can hear the Bronco start up and running, and an honest description to help you decide if you should be the lucky new owner.  As with all of my classics I do have this Bronco advertised on several other sites in addition to my own. Serious buyers can call me at 770-359-8400 with any questions or to discuss how they can scoop this amazing build up before the next car guy or gal does. I am also a transport broker and can assist with a great rate on transport anywhere in the US. I also welcome overseas buyers and can assist with transport to the port of your choice. Sit back and enjoy!!!
As you can see, the body of this '76 Bronco is drop dead gorgeous. Mating the classic, original body to the Ford Explorer chassis was no easy task but the builders goal was to maintain the original classic look and they definitely achieved that. You may notice the custom steel rear fender flares that were professionally grafted to the original body to leave a seamless flow to the body without the need for fiberglass flares. The body is all steel, extremely straight, excellent body panel gaps and fit, and drenched in a gorgeous medium gray metallic paint job. Power adjustable Side view mirrors from the Ford Explorer were incorporated and the builder fabricated custom front and rear bumpers to give this Time Warp a rugged look without sacrificing the classic look.  Fully functional Warn Winch was mounted up front and a custom swing away apart tire holder sits on the rear. Beautiful custom running boards were also added. Side body emblems and marker lights were smoothed out to let others know that there is definitely something custom going on.  Original hard top was completely restored and painted in a slightly darker shade of gray to match the bumpers and running boards. As you will see, this Bronco looks amazing with the hard top on but can be removed to enjoy with the sun in your face and wind in your hair. A custom fabricated, full family roll cage was installed with LED lighting. This build was completed in early 2018 and has been road tested for just under 1000 miles. Overall the body and paint are gorgeous and near flawless. I did find just a few minor flaws in the paint including a small chip on the bottom edge of the drivers side rear fender and a few other tiny flaws that most folks would never notice. While it certainly is going to be a show winning Bronco, it was built with the intention of being driven and enjoyed. Check out the photo tour of the body below:
Open the drivers side door and climb in to the luxurious, super comfortable,  leather interior from the 2010 Ford Explorer. It is simply breath taking and amazing to see how the entire dash was fitted to this '76 Bronco body to the point where it looks like it came that way from the factory. Custom door panels still have the original interior door handles. Family roll cage was carefully integrated right through the front dash pad. Front seats are wrapped in leather and look like new. Fully functional power drivers seat and 3 point seat belts for driver and passenger. Rear seat is also leather and is a fold down seat. Custom crafted rear interior panels with arm rests incorporated in the rear wheel wells again look like they were done at the factory but much nicer!!! Original Ford Explorer center console with rear air conditioning sits between the front seats and houses the Explorer automatic shifter, power window and power door lock controls.  The technology continues along the Explorer dash including push button 4 wheel drive, traction control, air conditioning controls, etc.  An awesome Alpine Navigation/Stereo sound system with bluetooth was installed with speakers in front and rear panels for amazing sound. The Ford Explorer steering wheel still has functional air bag for safety! Cruise control, wiper controls, lights etc all fully functional. The in dash screen provides accurate outside temperature and directions and will notify you when doors are open and other vital info that you are used to in todays modern vehicles. Mileage n odometer is just under 76,000 miles which is correct from the 2010 Explorer donor however there is just under 1000 miles since this amazing build has been finished. The hard top has a custom black suede headliner and the roll bar has a couple of great LED lights installed for courtesy lighting when needed. The interior is in near flawless condition and is simply spectacular!!! Have a look inside: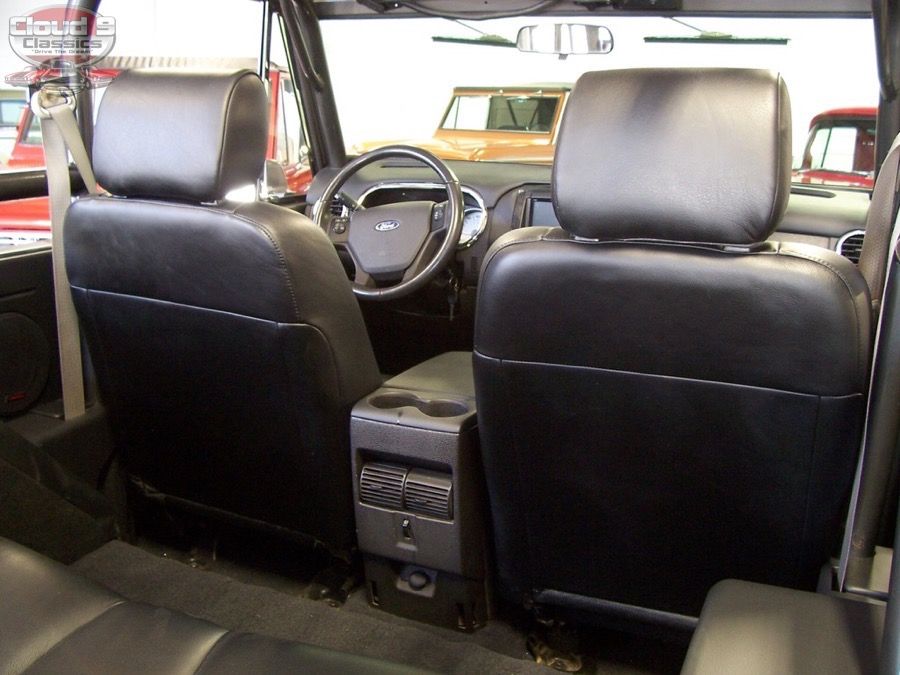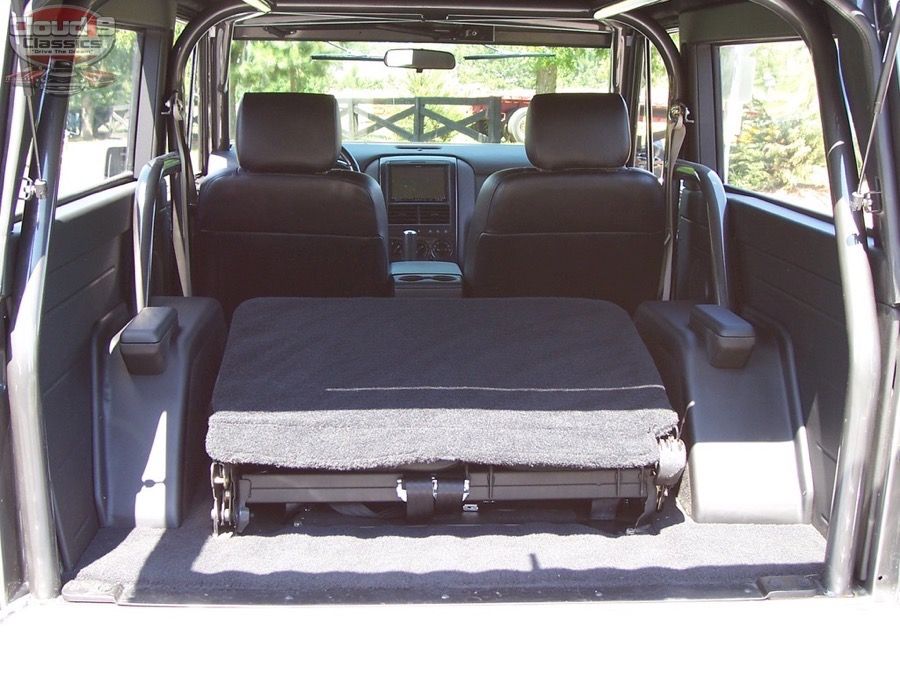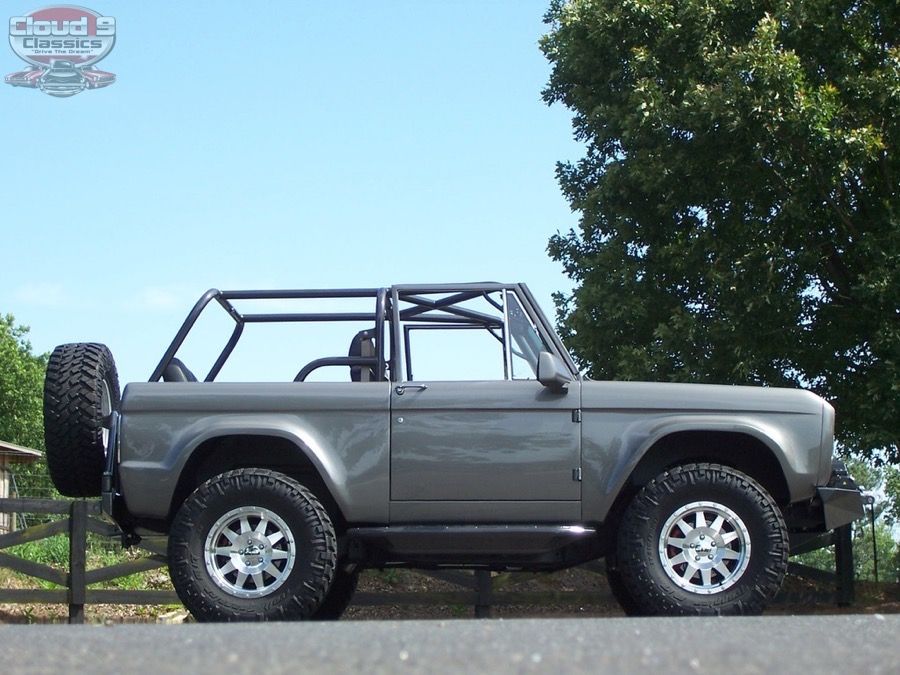 Lift the hood or look under this Bronco and you will shake your head with awe as these craftsman have done an amazing job of meshing the 2010 Ford Explorer drive train and suspension inside this Early Bronco Classics. Under the hood sits the powerful, smooth running, 4.0L fuel injected V6. The motor was completely gone through and any wear parts were replaced. This Bronco runs fantastic and is as reliable as your everyday driver. It also can be serviced by any authorized Ford dealership and all electronics and diagnostic ports remain in place. Battery was moved under the Bronco with charging ports mounted in the engine bay.  The original 5-speed automatic transmission was also utilized providing reliable, super smooth driving that will cruise at 90mph on the highway if desired. Original heating and cooling systems were maintained and the air conditioning functions like a new vehicle keeping the cabin ice cold. As you can see, the engine bay looks much like a new vehicle and was beautifully done. This Bronco also rides and handles more like a 2010 Explorer than a '76 Bronco given the amazing fact that it is sitting on the Explorer chassis complete with original Front and Rear independent suspension.  A 2″ lift with Rancho Quick Lift struts allows the gorgeous 17″ Method Wheels wrapped in close to new 35 Nitto tires to fit easily.  Other amazing features are the 4 wheel power disc brakes with fully functioning ABS brake system, traction control and more!!! LED headlights that turn on with the ignition.Stock 2010 Ford Explorer exhaust with catalytic converter so this Bronco should have no issue passing emissions even though most states will not require it since it is titled as the 1976 Ford Bronco. I am sure I may be missing some of the advancements this Bronco offers but I think you get the idea. This Bronco truly offers the turn key reliability of a newer SUV and is an absolute joy and pleasure to drive. Make sure you also watch and listen to the video that follows the pics below. 
HERE IS A SHORT VIDEO WALK AROUND AND YOU CAN HEAR IT START UP AND RUNNING (
CLICK THE ARROW TO START
):
Hopefully at this point you can see that this amazing '76 Bronco is truly a unique and fantastic Time Warp Custom that is ready to drive, enjoy and show off. If you have any questions or wold like to discuss how you can scoop this awesome Bronco up before the next car guy or gal does, feel free to call me at 770-359-8400. I welcome overseas buyers and can assist in transporting this Bronco anywhere in the US or to the port of your choice.