About This Vehicle
Odometer: 91,975
Engine:  302 V8
Body Style: Convertible
Transmission:  Manual
Exterior Color:  Copper
Interior Color: Tan
VIN:  U15GLB12481
Price:  SOLD
AWESOME

, 1976 FORD BRONCO CLASSIC,

NICELY RESTORED

AND

NICELY EQUIPPED

WITH

POWER STEERING

,

POWER FRONT DISC BRAKES

, AND

A/C

…BEAUTIFUL

COPPER METALLIC

WITH HARD TOP AND BIKINI TOP…READY TO

SHOW

AND

GO

!!!
HAVE YOU BEEN SEARCHING FOR AN AWESOME EARLY FORD BRONCO CLASSIC THAT HAS ALREADY BEEN RESTORED THAT YOU CAN JUST JUMP IN, DRIVE AND ENJOY?
DO YOU WANT YOUR BRONCO TO HAVE A GREAT STANCE BUT ALSO BE EASY TO DRIVE WITH POWER STEERING AND POWER DISC BRAKES? 
WOULD YOU PREFER TO HAVE ONE IN A GREAT COLOR COMBINATION THAT TRULY STANDS OUT?
WELL, IF YOU HAVE BEEN SHAKING YOUR HEAD YES THIS
BEAUTIFUL COPPER METALLIC
'76 BRONCO MAY JUST BE THE ONE YOU HAVE BEEN SEARCHING FOR!!
Forget Fall Fever….It's Bronco Fever time and this gorgeous '76 Classic Bronco could be the cure if you have the fever! I recently bought this beautiful Bronco from a gentleman from Florida who owned it for the past 4 years. He was really more of a GM Muscle car guy but he caught the fever and was really attracted by these Broncos as they grew in popularity. He thoroughly enjoyed it with his family but decided it was time to get back to his true passion and get another muscle car which meant the Bronco needed to go. He purchased it from a restoration shop in Florida that had done a nice cosmetic restoration about 5 years ago on a rust free Bronco that started life in Kentucky and is believed to spend a good part of its life in Alabama before heading to Florida. It is a super strong running Bronco with a 302 V8 and is also one of the easier Broncos to drive thanks to power steering and power front disc brakes. If you have been on the search for an early Ford Bronco you know how hot the market is on these. They have been showing up at all of the high end collector auctions and the demand level continues to rise and rightfully so as these convertible 4 wheel drive rigs are a blast to drive and attract all the attention you can handle on the road and at the car shows and cruise-ins.  I sell quite a few of these Broncos and many of them never even get advertised as I usually have a waiting list of folks who missed out on the last one I sold. In addition to this beautiful Copper '76 I will also be listing a really sweet '74 and a first year uncut, fully restored '66 that are pictured above. 
I will do my best to provide enough large images, a video so you can hear it starting up and running, and an honest description to help you decide if this "

COPPER BRONK

" is the right one for you. As with all of my classics I do have this Bronco listed on my website as well as several others. Therefore, if you want to scoop it up before the next car guy or gal does feel free to call me to discuss how we can make that happen. In addition to being a licensed classic car dealer I am also a transport broker and can get you a great rate on enclosed or open transport anywhere int he country. I also welcome overseas buyers and can assist in getting the Bronco to the port of your choice. Sit back and enjoy!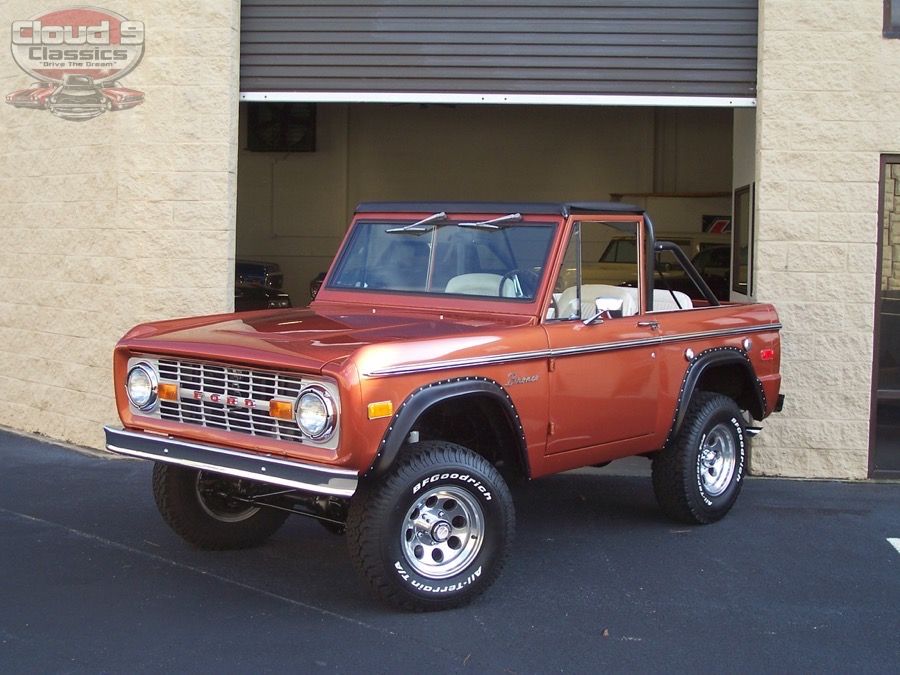 As I mentioned, this Bronco received a cosmetic restoration about 5 years ago from a shop in Florida. They did a very nice job as the paint and body are in fantastic condition. This Bronco was originally tan according to the trim tag but the shop did this Bronco a favor by laying down a beautiful base coat/clear coat paint job in this Copper Metallic color which is really close to an original '76 color called Hot Ginger Metallic. As you will see in the pics the color lightens up and the metallic really sizzles in the bright sun light and then takes on a darker tone in the shade. Body panels are really straight and overall panel fit is excellent. Doors close nicely and line up well. The Chrome belt line molding trim looks great and really adds to the look of these Broncos. Bumpers, emblems and other trim are all in excellent condition. The grille really pops painted in the argent silver color with the red Ford grille letters. Black fender flares look great and are a great sporty contrast to the Copper metallic color. Of course the Bronco has been driven for the past 5 years so it is not perfect. There are a few minor rock chips along the lower rocker panels that can easily be touched up. The overall paint quality is excellent but there are some minor flaws in the paint I noticed on the passenger from fender that look to be in the clear coat and might wet sand out. The top of the front grille has a slight bend in it. None of these minor flaws take a way from the overall beauty and quality of this Bronco but I like to disclose the flaws I have seen. Weatherstripping appears to all have been replaced at time of restoration and windows roll up and down nicely and glass is all in nice condition.  You will also notice that the top of the bed area has a great bed liner material on it 
which
 was actually applied throughout the inside of the bed. This will prevent scratches in the paint when the hard top is in place and looks great too.  I am confident that the next lucky owner of this Bronco is going to be absolutely thrilled when it arrives and I think the photo tour of the body below will show you what you need to see.
I
think the best way to enjoy these Early Ford Bronco Classics is with the top off and as you have noticed this one has a great roll bar and bikini top for that purpose. However, it is also nice to know that this one does come with a nice hard top finished in a satin black paint that looks great against the copper metallic body. The hard top is in great condition overall. It does not have the cardboard headliner in it and the rear hatch lever is acting up and we will try and figure that out but otherwise it looks great and will keep those of you in the cold climates warmer in the winter if you decide to take out that time of year. Many of my customers just tell me to keep the hard top because they are not easy to put on and take off as it really takes 4 people to do it without scratching the paint and they take up quite a bit of space when not in use. Once you drive this baby with the top off you will not want to put it back on!! Here are a few pics with the hard top on:
Complimenting the beautiful Copper metallic exterior is a great looking factory Parchment interior.  Seats were recovered at time of restoration and door panels also look new. A great original look with the factory front buckets and rear bench seat. When I got the Bronco it did not have the carpeting or rear interior panels. We added plenty of jute padding to keep the interior quiet under the carpeting and then also installed the rear interior panels for a really clean, finished look. This Bronco has a great wood grain and chrome steering wheel that is a bit smaller then the large original wheel giving the driver a bit more room as well.  The dash looks great and gauges are all very clear and appear to be working correctly. The fuel gauge may not be 100% accurate as it now has a larger rear fuel tank then stock and the auxiliary tank was removed so the switch was removed from the dash. The 3-speed shifter was moved from the column to the floor. An aftermarket under dash air conditioning unit is in place and appears to working although not blowing as cold as it could with a recharge but this time of year we did not need it. The previous owner said it was blowing very cold when he first got it but he has not used it in a few years and probably just needs a charge. A nice am/fm/cd is mounted in the dash although it is not currently powering on but we will see if we can get it working. Nice set of floor mats from Tom's Bronco finishes out the interior. As you will see in the pics the interior looks fantastic!! 
This "Copper Bronk" not only looks great but it also runs and drives great! The 302 V8 has plenty of power and runs very strong. We believe that the motor may be from a later model Ford and most likely was rebuilt. The total mileage on the odometer is just under 92,000 which is believed to be correct. The 3-speed manual transmission shifts smoothly. This Bronco really handles the road beautifully thanks in part to the Power Steering which makes handling a breeze.  There is a 2 1/2″ suspension lift kit which gives this Bronco a great stance without making it too tall to climb in to. It is also not too tall that it becomes difficult to drive and the 31×10.5×15 inch BFG All Terrain Radials are close to new and fit just right giving this Bronco good road manners. They are wrapped in a nice set of polished aluminum wheels that look like new. Stopping is also a breeze with the power front disc brakes that stop this baby straight with no pulling. The strong 302 sounds fantastic breathing out the stock manifolds and through the dual flow masters for a nice throaty sound that you can hear the video that follows the pics. Exhaust exits behind the rear wheels with nice set of chrome tips for a clean look. As you will see in the pics the engine bay is nicely detailed and you will be proud to pop the hood at the shows and cruise-ins.  This bronco has run nice and cool with no overheating issues. The undercarriage also looks great and is rock solid with no rust issues. Floorpans are the original style although they may have been replaced at time of restoration and look great. This Bronco is really a lot of fun to drive!!!! Make sure you watch the video that follows the pics below to hear it start up and running!!
HERE IS A SHORT VIDEO SO YOU CAN HEAR THIS BEAUTIFUL BRONCO START UP AND RUNNING (

CLICK THE ARROW TO START

):
As you can see this is an extremely nice Classic Bronco that is ready to drive and enjoy!! Since I do have this Bronco listed on my website and several others I encourage serious buyers to call me at 770-359-8400 if you would like to scoop it up before the next car guy or gal does. 
I am more than happy to answer any questions you may have. I also welcome overseas buyers and I can assist with getting you a great rate on transport anywhere in the US or to the port of your choice.