About This Vehicle
Odometer: 61,500
Engine:  302 V8
Body Style: SUV
Transmission: Automatic
Exterior Color: Red
Interior Color: White
VIN:  U15GLA75075
Price: SOLD
GREAT OPPORTUNITY

ON AN AWESOME

UNCUT

, ORIGINAL,

SURVIVOR

,

CANDY APPLE RED

, 1976 FORD BRONCO SPORT…

SUPER LOW MILES

, 302 V8, AUTOMATIC, POWER STEERING, POWER DISC BRAKES,

COLD AIR CONDITIONING

,

ORIGINAL WINDOW STICKER

AND MORE….RARE FIND AND READY TO

DRIVE

AND

ENJOY

!!
HAVE YOU BEEN ON THE SEARCH FOR TRULY SPECIAL EARLY BRONCO CLASSIC AND PREFER THE UNCUT ORIGINAL BODY STYLE OVER THE LIFTED CUT FENDERS SO MANY HAVE?
WOULD YOU LIKE TO FIND ONE THAT IS A RUST FREE, LOW MILEAGE,  SURVIVOR THAT IS READY TO BE DRIVEN AND ENJOYED?
DO YOU WANT AN AUTOMATIC, 302 V8, WITH POWER STEERING AND POWER FRONT DISC BRAKES SO THAT IT WILL BE AN EASY DRIVING BRONCO THAT ANYONE IN THE FAMILY CAN DRIVE?
WOULD IT BE A BONUS IF IT HAD ICE COLD AIR CONDITIONING?
DO YOU APPRECIATE AN ORIGINAL BODY WITH MOST IF NOT ALL OF ITS ORIGINAL PAINT?
WOULD IT BE NICE IF IT CAME WITH THE ORIGINAL FACTORY WINDOW STICKER, ORIGINAL WARRANTY PLATE, AND ORIGINAL OWNERS MANUAL??
WELL IF YOU HAVE BEEN SHAKING YOUR HEAD
YES
THEN GET READY BECAUSE THIS CANDY APPLE RED '76 BRONCO MIGHT BE THE ONE YOU HAVE BEEN WAITING FOR!!!
CHECK OUT THE ORIGINAL WINDOW STICKER FOR THIS SWEET '76 BRONCO…PRETTY MUCH STILL EXACTLY AS IT WAS DELIVERED IN 1976!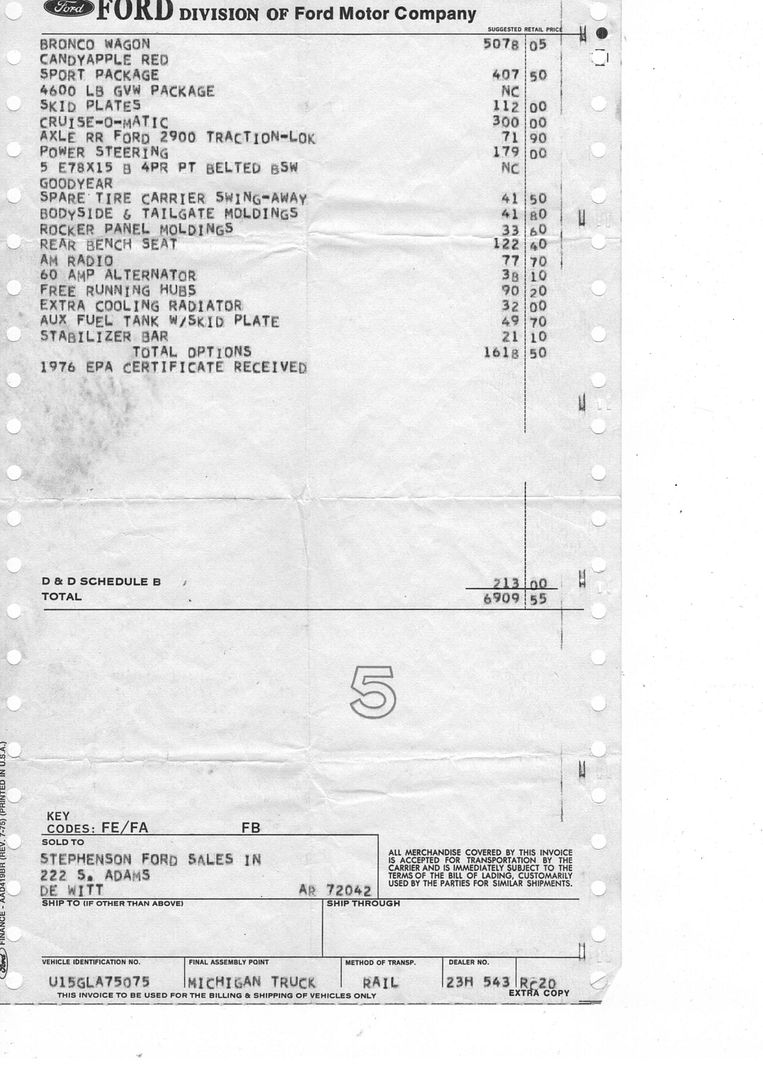 This Candy Apple Red '76 Bronco is a rare find these days. As you probably know these Early Bronco Classics have become one of the hottest categories in the collector car market over the past few years and as a result there is quite a wide variety of Broncos on the market. As you may have noticed in the pics above I also have a beautiful Medium Green Metallic Uncut '73 and a lifted Burgundy '72 Bronco I will be listing for sale soon too. Feel free to call me if you are interested in either of those.  I have sold close to 40 of these Classic Broncos in the past few years and the majority of them have been very nicely restored Broncos that have had lift kits, cut fenders with fender flares and other modifications that are very well received in the market. However, finding an extremely original, uncut Bronco with low original miles, wearing most, if not all of its original paint with a rust free body is a rarity.  Well, this particular '76 is one of those rare finds! The body is so nice that I was very tempted to send it out to have it professionally repainted and do a complete engine bay detail and other minor cosmetics at  which point it would be priced in the upper $30's as most of our similar Broncos have sold for.  But something about this one tells me that there is someone out there right now looking for an awesome, original Bronco that they can hop right in to and drive and enjoy without worrying about getting the first nick or chip in the paint…..maybe that someone is you. As you will see in the pictures that follow this Bronco still presents itself very nicely and does not need to be repainted unless you are looking for something that is more of a show truck then a sweet little survivor. I will be the first one to point out that the pictures make the paint look nicer then it does when you are standing 3 feet away from it.  But, keep in mind that most, if not all of this Bronco body still has its original paint!!! 
I bought this Bronco from a gentleman in Florida who owned it for the past 11 years. He purchased it from a gentleman in Southern Georgia who had it for many years and supposedly bought it from the original owners in Arkansas where it was originally sold. This Bronco was always garage kept and rarely driven other then for sunny day pleasure rides in recent years.  I do not think the original hard top has ever been off so I did not remove it.  As you probably know, with the help of 3 friends you can removes these hard tops, install a roll bar, add a bikini top and have a super fun convertible beach cruiser or sunny day driver. As I have already shown,  I have the original window sticker and I also have the original warranty protect-o-plate.  The mileage on this Bronco is just under 61,500 original miles. Although I do not have any paperwork history to document the mileage, I have owned enough of these to know that this is the actual mileage on this one, just as it was represented to be by the previous owner.  I did not doll up the engine bay or even try to buff out the original paint. You are seeing it just as I got it with one exception. We did re-spray the silver paint in the front grill area which was very dull. On top of the amazing originality this Bronco is also fully loaded with all of the great features which will make it a pleasure to drive. It is an automatic, with power steering, power front disc brakes and nice cold air conditioning!!! I will do my best to provide enough large images, a video of it starting up and running and an honest description to help you decide if this is the survivor, original uncut Bronco you have been hoping for. As will all of my classics I do have this Bronco advertised on several other sites including our own so if you do not want another car guy or gal to beat you to this one feel free to give me a call to discuss how we can put it in your garage! Sit back and enjoy!
As previously mentioned this Candy Apple Red Bronco has most, if not all of its original paint. Therefore, upon close inspection you will see a variety of chips, scratches and flaws consistent with a 40 year old vehicle. You will not find any rust, body damage, or sign of any previous body damage or repair and I am quite positive this Bronco still has all of its original sheet metal and was never involved in any accidents. The pictures that were taken from 20 feet away make the paint look better then it does in person…I have no problem admitting that. You should be able to see the flaws in more of the close up shots. If you are looking for a Bronco to take to the next level you could not start with a better one then this one. However, it is extremely presentable just the way it is and definitely does not need to be repainted if you are not looking for a show winner.  It could quite possibly win awards in a survivor category but I think it is just an awesome Bronco for someone to drive and enjoy. Perfect for the beach house, lake house, mountain home, or possibly an everyday driver if you want.  This is an original Sport model so it has all of the added body trim and chrome trim along the windows of the hardtop, and windshield. It was also ordered with the added rocker panel moldings. All of this trim is in excellent original condition. All of the glass looks great with just a few rock pecks on the windshield. The windows were tinted for the Florida sun. Spare tire carrier and rear tailgate and lift gate function well.  One of the tell tale signs of a great bronco is how well the doors open and close and line up. The doors line up great on this one and do not stick out like so many on the market. The only item we painted on the body was the silver portion of the front grille. We decided to freshen that up and it looks great. I have not waxed, buffed, or detailed this Bronco so you are seeing it just as we got it. The hard top is in fantastic condition and does not appear to have ever been removed. If you choose to you this Bronco as a convertible it can be easily removed and a roll bar and bikini top can be added to provide some great top down fun! Here is a walk around tour of the body of this classic survivor:
Complimenting the Candy Apple Red exterior is an awesome Parchment white stock interior. It is possible that the seats are original but they almost look too good. There are no rips or real signs of wear. I know that the previous owner did put a new carpet kit in the bronco. He said the previous one that was in it was deteriorating and he had a heck of a time trying to remove some of the adhesive that was sprayed on under the carpet over the floor pans. He had mentioned that when he removed the original carpeting that the floorpans had the original red paint on them and appeared rock solid with no rust issues. I pulled back a few areas of the carpet and have pics of that later in the listing to confirm what he said. Door panels look great. Dash pad looks awesome with no cracks. Original steering wheel also looks great with no real cracks or separations that are typically found on these. The dash itself looks great but has some minor chips and wear on the white painted portion. This again is an easy fix but we decided to leave it original. All of the lights and gauges appear to be functioning correctly.  An aftermarket air conditioning system was dealer installed years ago and still blows nice and cold!! The original headliner, wiper cover and sun visors look great. Overall the interior looks amazing and extremely original…take a look:
Open the heavy steel hood on this Bronco and you will find the low mileage, original 302 V8 with original markings and stampings. The engine bay is pretty clean overall and most importantly does not show signs of rust in the typical areas of the inner fenders or cowl area.  Of course this Bronco runs and drives as awesome as it looks! With what is believed to be just under 61,500 well maintained miles this Bronco is a pleasure to drive at any speed. Keep in mind that these are not built like todays SUV's but with the Power Steering and Power Front disc brakes this one is quite easy to handle. The Cruise-o-matic automatic transmission shifts nicely and 4WD engages and operates well. I do not think this Bronco ever saw any off road or winter weather.  I have not noticed any leaks under this Bronco when it sits.  I have driven this Bronco a fair amount and it runs nice and cool even in the hot Atlanta weather.  It also has ice cold A/C for those of you in the warmer climate areas to enjoy. It is sitting on stock suspension and on stock wheels with original hub caps.  A great set of Good Year all terrain radials was recently put on by the previous owner so they still have about 90% tread life left.  The original wheels and hub caps look great. Be sure to listen to the video that follows to hear this Bronco start up and running. At some point, many years ago the original owner had the undercarriage sprayed with an undercoating.  While this would not have been my preference it certainly did its job and thee are no rust issues on the floorpans or frame rails. It is not as pretty as if it was left raw but it is and was very functional.  I pulled back the carpeting to look at the floorpan areas from the topside of the Bronco and they look great and definitely look original without any patches or rust issues. The pictures show a bunch of marks which are just the adhesive residue and dirt from the original carpeting. The pans themselves are rock solid!! Also, as mentioned previously I have the original window sticker, original warranty protect-o-plate and original owners manual which will be passed on to the next lucky owner. 
HERE IS A SHORT VIDEO SO YOU CAN HEAR THIS BRONCO START UP AND RUNNING (

CLICK THE ARROW TO START

):
Hopefully at this point you can see just how special this original uncut '76 Bronco is.  I truly believe the next owner will be thrilled with it and hopefully will either drive and enjoy it for years just the way it is, or perhaps at some point decide to take it up a notch. Either way this will make an excellent investment n one of the hottest categories in the collector car market. These Broncos continue to increase in value and popularity and locating one as original and nice as this one is difficult.  As with all of my classics I have this Bronco listed for sale on several other sites so if you want to put this one in your garage before someone else scoops it up feel free to call me at 770-359-8400.  Please do not email me or message me asking what the reserve price is. 
If you have any questions feel free to call me at 
770-359-8400
and I will do my best to answer them.  If you are a serious buyer lets talk on the phone and discuss it. In addition to being a licensed Classic Car Dealer I am also a Transport Broker and will be happy to assist the buyer with a great rate on Enclosed or Open Transport anywhere in the US at the buyers expense or to any port for overseas buyers.