About This Vehicle
Mileage: 41250
Engine: V8
Body Style: SUV
Transmission:  auto
Exterior Color: Blue
Interior Color: White
VIN: U15GL032362
Price: SOLD
NICELY RESTORED,

BRIGHT BLUE METALLIC, 

1977 FORD BRONCO

WITH POWER STEERING, POWER FRONT DISC BRAKES, STANDS UP TALL AND READY TO

SHOW

AND

GO

!!!
 ONE OF THE HOTTEST CLASSICS ON THE MARKET

… THIS '77 IS THE

LAST YEAR OF PRODUCTION FOR THE EARLY BRONCOS

AND THIS ONE IS READY TO BE DRIVEN AND ENJOYED!!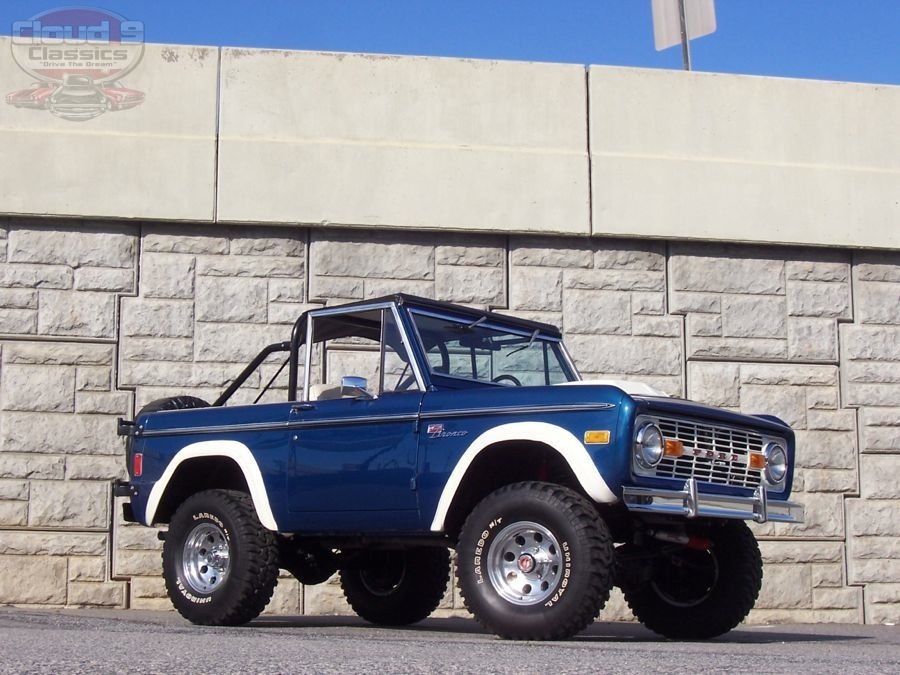 THIS IS THE FIRST OF 4 EARLY FORD BRONCOS WE WILL BE LISTING FOR SALE THIS SPRING…PICTURED BELOW WITH THIS BRIGHT BLUE BEAUTY ARE 2 OF THE OTHERS THAT WILL BE GOING UP FOR SALE SOON. FEEL FREE TO CONTACT ME FOR MORE INFORMATION ON THESE. THIS AUCTION IS ONLY FOR THE '77.
This Sweet '77 Bronco spent most of its life as a Southern vehicle in the Tennessee area. We were told that a number of years ago the owners son took the Bronco up to College in Indiana. Upon graduation he left the Bronco at his relatives house in Indiana. It was stored in the garage for a few years until they decided that he needed a more practical vehicle and it was time to sell it. It was sold to a Bronco enthusiast in the Indiana area who told us the truck was extremely solid but the paint was showing its age and because the body was so solid it was an easy decision to have it repainted. . He was told the Bronco had received a cosmetic restoration in the mid-90's and that at that time the original motor was rebuilt. He had the Bronco professionally painted last summer and after enjoying it for several months decided to let it go so he could focus on a new project. We have gone through this Bronco and it would seem that the information is correct as this is a beautiful Bronco in fantastic condition that runs out very strong and looks and sounds great! This is the last year of production for the Early Broncos and this one is ready to be driven and enjoyed, or even taken to the local shows and cruise-ins where it will probably win a few trophies if you are in to that.  I will do my best to provide enough large pictures, a video of it running and an honest description so you can decide if this Bronco Classic belongs in your stable! As with all of my auctions I am always willing to negotiate a deal with serious buyers who want to add this Bronco to their collection before the next car guy or gal does.  We also have 3 other Early Classic Broncos that we are about to put up for sale and you can feel free to call me to get more information on those as well. 
The Body on this '77 Bronco is in fantastic condition and it appears to have all of its original body panels. Obviously the rear fenders were cut at some point to add the Fedner Flares and accommodate the larger wheels and tires, and a hood scoop was added giving this Bronco a more aggressive, sporty look as well.  The paint job that was done about a year ago was done professionally and we recently had it wet sanded and buffed and it shines brilliantly.  I did not spot any rust on the body nor obvious signs of rust repair. Any work that was done to the body of the truck was done years ago and done well. The drivers side door does not align perfectly at the bottom corner which is quite common but overall body fit is excellent. Rear tailgate opens and closes with no issues. Front and rear chrome bumpers are new factory correct bumpers. Front bumper guards are original and show some wear. Chrome side molding looks great. Chrome window trim is original and shows some wear and outside door handles show their age but look very good. Glass is all in great shape and windows roll up and down easily.   We installed a brand new Roll bar that we had powder coated.  We have also installed a brand new Bikini top so this rig is ready for Spring and summer sunny day fun! Very minor scratch from where the hard top was removed and a few rock chips that all have been professionally touched up. Overall, as you will see in the pics below, the body on this Bronco looks outstanding and  gets looks and comments every time we take it out.  This is a Bronco you would be proud to show up in at any local car show or cruise in and will sure to be a hit among family and friends wherever you take it. As you can see this Bronco sits up tall thanks to the 4″ lift kit and 33″ tires.  Here is a picture tour of the body:
I personally love the look of these Early Broncos without the hard top but if you feel you will get more use out of this 4WD Classic with the hard top on it is nice to know that we do have the hard top and it is in excellent condition.  I did not photograph it with the hard top on because it is a 3 man job to put it on and I think the next owner can envision it with the top on.  The hard top is really solid without any of the typical rust that you usually find on them in the rain gutter areas.  The off white paint is a nice compliment to the fender flares and interior and it looks great on.  The rear window operates great. It is missing one piece of chrome trim on each of the side windows.  We will be glad to place the hard top on the Bronco if you buy it and want it shipped with the hard top on. If you do not want the hard top we will be happy to keep it.  Here are a few pics of the hard top.
The parchment white interior is a great compliment to the bright blue exterior. Seats look excellent with almost no wear and appear to have been recovered fairly recently. Original back seat is in great shape! Brand new dash pad, steering wheel and floor mats from Toms Bronco Parts.  Dash looks fantastic. The Am Radio is just a face plate. Nice high end Tuffy locking center console will be a great spot to install an aftermarket cd player. Gauges are all crystal clear. Speedometer and fuel gauge function properly. Aftermarket oil pressure gauge installed under dash. Temperature gauge currently not working but this Bronco has been running cool with no issues of over heating and we hope to have the temp gauge working before the new owner takes delivery. Lights, wipers, and other controls all seem to be functioning properly. This Bronco has a larger main fuel tank installed and the auxiliary fuel tank was removed. If desired you could add an auxiliary tank and utilize the switch under the drivers seat to alternate tanks. Our experience has been that the use of one larger tank is the way to go.Very nice Hurst after market automatic shifter has been mounted on the floor. You have the option of dropping it in drive and cruising or drop it down to first and bump through the gears for a little added fun. The rock solid floors have been lined for easy cleaning and a nice set of matching parchment rear interior panels were added to give this Bronco interior a nice finished look. Again, the interior is very show worthy and is ready to go and enjoy. Take a peek.
Under the hood of this beautiful Bronco is the original 302 V8. Total miles on this truck are believed to be a little under 141,200 but the motor is believed to have been rebuilt in the mid 1990's and believed to have less then 20,000 miles on it since then. We have removed the valve covers and intake and the internals are ultra clean and the motor has great oil pressure. This 302 is very strong and runs great! Engine bay also looks great and has been nicely detailed. The 302 breathes out a nice set of headers and out the dual flow masters which provide a great tone out the dual pipes exiting behind the rear tires.  Power steering makes handling this baby a breeze and this Bronco tracks straight and true thanks to newer front suspension, front steering stabilizer and a tight steering box. Power front disc brakes making stopping effortless. This is a Bronco that is easy to drive unlike many out there that wander all over the road and take tons of effort to stop.  Automatic transmission shifts strong and feels like a shift kit was installed at time of the motor rebuild. Ford 9″ rear end and Dana front transfer case.  New rancho shocks on front and rear and new front springs.  This Bronco has a great stance thanks to a nice 4″ lift kit and a great set of American Racing 15×10 Baja wheels wrapped in a great set of 33×12.5×15 Mud terrain white letter tires that have 80% tread left and ride great on the road. The floorpans, frame and undercarriage look awesome with no rust issues.  It is possible that someone replaced the front floorpans but if so they used the correct pans and did a great job. The undercarriage of this Bronco is indicative of its Southern history and obviously did not see the rough winters and salted roads that rusts out so many of these. Make sure you take a minute to listen to the video of this sweet Bronco running after the pics below. 
If you follow any of the Classic Car auctions that run across the country you have probably noticed how hot these Early Broncos have gotten.  Rightfully so as they are really a blast to drive and certainly draw a crowd wherever they go. What I  love is that you can put your family or friends in this rig and get out and drive an enjoy it!! The challenge is finding one that has been well taken care, professionally restored and is turn-key ready to be enjoyed.  This particular Bronco is a very high quality truck and will make it's next owner smile from ear to ear when it arrives at their driveway…..shouldn't that be you?? If you would like to discuss a price that can put this Bronco in your garage before the next guy or gal gets it then feel free to call me at 770-359-8400 to discuss it.