About This Vehicle
Mileage: 35,700
Engine: V8
Body Style: SUV
Transmission: Auto
Exterior Color: Blue
Interior Color: Gray
VIN: U15GL060202
Price: SOLD
FANTASTIC

,

HIGH QUALITY

, FULLY RESTORED, 1977 FORD BRONCO SPORT,

LOADED

WITH HARD TOP AND A/C, READY TO CRUISE

AND

ENJOY OR TAKE TO THE SHOWS!!!
THIS '77 BRONCO IS TRULY A GREAT FIND AND STANDS HEADS AND SHOULDERS ABOVE MOST OTHERS ON THE MARKET. IS IN FANTASTIC CONDITION INSIDE AND OUT AND RUNS AND DRIVES LIKE A DREAM!  THERE IS NO DENYING THAT THESE CLASSIC EARLY BRONCOS ARE BECOMING HIGHLY SOUGHT AFTER IN THE COLLECTOR MARKET AND RIGHTFULLY SO! IF YOU ARE LOOKING FOR THE ULTIMATE SUNNY DAY CRUISER,  BEACH OR MOUNTAIN FUN RIDE, OR JUST A CLASSIC 4WD VEHICLE THAT WILL BE RIGHT AT HOME AT ANY CAR SHOW OR CRUISE-IN THEN THIS IS THE ONE!!! I WILL DO MY BEST TO PROVIDE ENOUGH PICTURES AND A COUPLE OF VIDEOS TO ALLOW YOU TO DETERMINE IF THIS CLASSIC BRONCO SHOULD BE IN YOUR GARAGE…SIT BACK AND ENJOY!!
We recently acquired this awesome '77 Ford Bronco from the previous owner in Florida who bought it 6 years ago. Based on what he was told and as the receipt history confirms, this Bronco is believed to have most of its life in the Northwest part of the country where salt was not used on the roads and a quick look around this Bronco would confirm it lived a rust free life which is rare to find on these fun 4×4 Classic SUV's.  The gentleman we bought it from owned a very successful business and for the first few years he owned the Bronco was driving it and enjoying it every chance he got, but with his business thriving he found himself driving it less and less and decided it was time to let someone else enjoy this beauty…maybe you!! He stored the Bronco in his climates controlled warehouse and it stayed in the same amazing condition he got it in. Looking at the receipts it appears that this Bronco first went through a full cosmetic restoration starting in 2003 by a gentleman in Washington State.  The body was apparently stripped to the bare metal and a very high end Navy Blue Metallic paint job was professionally done.  In 2005 the entire interior was treated to an expensive custom re-upholstery on the factory original seats.  The previous owner was told that a Ford SVO GT40 302 Crate motor was installed in this Bronco in 1998.  Receipts show that the motor was also completely rebuilt and upgraded in 2006. Prior to taking delivery of this Bronco, the previous owner had some great upgrades done including a full family roll bar and the addition of Air Conditioning to handle the hot Florida climate. As you will see in the pics and hear in the video, this Navy Blue Beauty is in exceptional condition and sounds and drives as good as it looks!! This Bronco is going to thrill the next owner as it is a very high quality example that can be driven and enjoyed and taken to the shows where it will take plenty of trophies if that is what you enjoy!
When this Bronco was repainted 10 years ago it was stripped to bare metal and a very high end custom Navy Blue Metallic base coat/clear coat paint job was applied. We had the body wet sanded and buffed and this Bronco shines like it was painted yesterday! Our detailer was very impressed with the paint quality and said  there was plenty of clear coat laid down which really adds to the paints luster and reflection.  I do not see any evidence of any rust repair on the body and it appears to have all of its original sheet metal.  Body panels are extremely straight and line up great. Doors and rear tailgate are rock solid and open and close nicely.  White fiberglass fender flares accent the Navy Blue body nicely and were replaced at the time of restoration. I noticed a few minor touch ups on one of the fender flares. This is a Sport model so it has the added chrome trim on the side body and chrome trim on the grille and around the windshield and windows on the hard top.  The Full Family style Roll bar is in great condition with just a few minor scratches. Chrome and bumpers all look excellent! All of the weather-stripping has been replaced.  This Bronco comes with the black bikini top that is shown that is great for those hot summer days. Windows roll up and down nicely. Windshield and side windows were nicely tinted to keep the sun out. The body is in amazing condition and this Bronco will turn heads everywhere you go and can be entered in any local show or cruise in and will probably bring home its share of trophies if you enjoy that. Here is a walk around photo tour and there is also a walk around video tour at the end of the listing:
I personally think these Early Bronco classics look the best with the hard top off and are more enjoyable as a convertible. However, I have to admit that this Navy Blue beauty looks just as good with its white hard top on. The hard top is in great condition and the windows have been tinted to match the rest of the glass.  I still recommend removing the hard top for as much of the year as possible, but depending on where you live you may decide that the hard top is needed. The headliner inside the hardtop was custom done to match the interior and we will be including the wiper motor cover and sun visors as well. Here are some shots so you can see this Bronco with the hard top on:
The inside of this Bronco looks as nice as the exterior and has also been professionally customized in 2005. The one complaint I have had with all the Classic Broncos we have had is that the vinyl seats will burn you up in the summer heat.  Well, the gentleman who owned this Bronco in 2005 must have been thinking the same thing and he went all out spending $3000 on a custom cloth interior utilizing the factory original seats. The medium gray color works great against the Navy Blue exterior and the Silver family style Roll bar is also a great accent. As you will see,  door panels and rear interior panels were all done to match.  The carpet is a custom gray color as well.  The previous owner installed a very high quality Pioneer AM/FM/CD stereo with 6×9 speakers and tweeters mounted in a custom box under the rear seat and additional speakers under the dash plus a sub behind the rear seat. This system sounds great even with the top off.  All of the gauges in the dash appear to be functioning accurately and an aftermarket tach was neatly installed on the watering column. The previous owner also had a brand new under dash Air Conditioning system installed which is great for those of you living in warmer climates. It takes R134 refrigerant and we recently charged it up and it is blowing nice and cold.  Nice Custom Bronco steering wheel. A great sounding train horn was installed with a button mounted on the dash to alert others to get out of the way. Great Tuffy locking center console houses a battery cut off switch. Front and rear seat belts. Nice set of Tom's Bronco floor mats completes the interior. Original trim tag is still riveted to the inside of the glove box door but you cannot open the glove box completely because of the family style roll bar. Overall the interior looks fantastic, is very comfortable and is ready to go. Have a look:
In addition to looking great both inside and out this '77 Bronco also performs great and is a blast to drive! We were told that the original 302 was replaced with a Ford SVO GT40 Crate 302 in 1998 and there is a receipt to support that. There is also another receipt showing the motor being rebuilt in 2006 with a performance cam and lifters as well as a number of other new components.  We have quite a few receipts showing pretty much everything having been gone through mechanically and anything needed replaced or repaired. This includes electrical systems,  cooling systems, brakes and fuel including a new Holley 4bbl carburetor. The 302 V8 pulls strong and the C-4 Automatic transmission shifts strong and smooth. This Bronco drives beautifully at all speeds and I drove it about 50 miles the other day and it drove flawlessly.  This Bronco handles the road with ease thanks to the power steering and stops extremely well thanks to the Power Front Disc brakes. This Bronco has a truly intimidating stance thanks to a 5 1/2″ lift kit, brand new shocks and steering stabilizer and the Brand New set of  33 x 12.5 x 15 BFG All Terrain tires mounted on brand new 15 x10 American Racing Alloy Rims.  4wd shifts and functions properly. Dana 44 front transfer case and 9″ rear.  This Bronco really drives amazing and does not wander on the road like so many of these old Broncos do. I can drive this lifted beauty with one hand with no worries. The undercarriage looks fantastic and the floor pans appear to be original are all rock solid with absolutely no rust issues. The engine bay and undercarriage are both very clean and nicely detailed. As I have already mentioned this Bronco is a great running classic and I have also included a video at the end of the listing so you can hear it running. As you will hear this Bronco has some serious muscle car rumble thanks to the 3″ aluminum pipes and great sounding mufflers. Take a look:
insert pics of receipts
xxxxxxxxxxx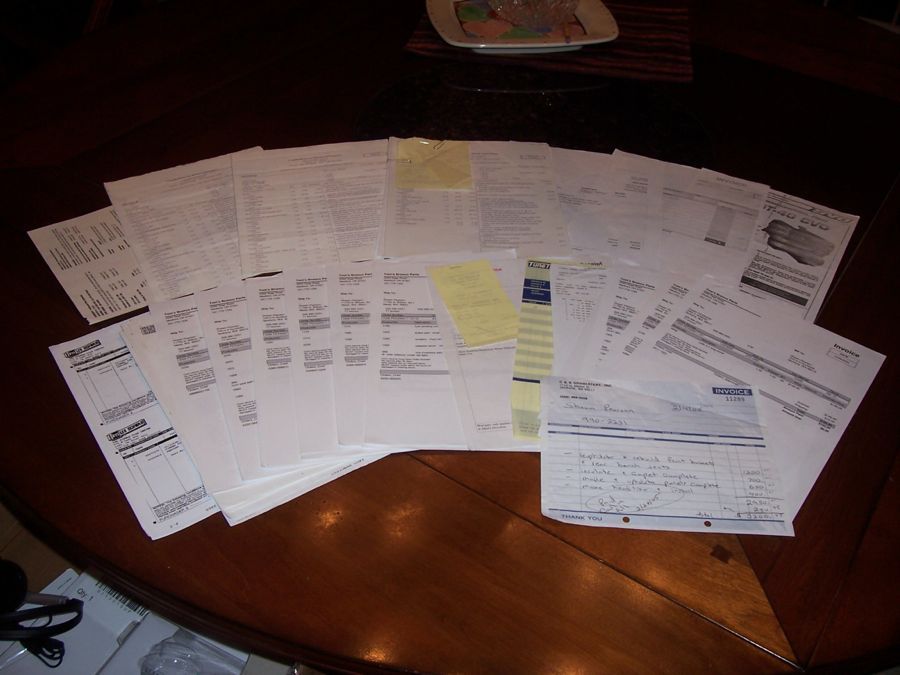 Here is a short video so you can hear this great Bronco Running (

click on the arrow

):
Hopefully you will agree that this is one sweet looking

 

1977 Ford Bronco Classic

!!!

 

This BRONCO truly looks as good in person as it does in the pictures and it is a real head turner! This will be a great investment that you can drive, enjoy and take to the shows if you want.
If you have any questions feel free to call me at 770-359-8400 and I will do my best to answer them.  If you are a serious buyer lets talk on the phone and discuss it.  In addition to being a licensed Classic Car Dealer I am also a Transport Broker and will be happy to assist the buyer with a great rate on Enclosed or Open Transport anywhere in the US at the buyers expense or to any port for overseas buyers.