About This Vehicle
Mileage: 40,074
Engine: V8
Body Style: Coupe
Transmission: Auto
Exterior Color: Black
Interior Color: Camel
VIN: 2G2FV22P2R2242709
Price: SOLD
ABSOLUTELY

GORGEOUS

,  BLACK AND

GOLD

, BANDIT STYLED, 1978

PONTIAC

TRANS AM THAT IS IN AMAZING CONDITION AND DRIVES AS GOOD AS IT LOOKS!!
IF YOU HAVE BEEN SEARCHING FOR A HIGH QUALITY, COLLECTIBLE TRANS AM THAT DRIVES AS GOOD AS IT LOOKS, WILL WIN TROPHIES AT SHOWS, AND CAN BE DRIVEN WHEREVER YOU WANT TO GO,  THEN THIS IS THE ONE!!
We recently acquired this awesome 1978 Pontiac Trans Am from the previous owner in Texas who decided it was time to change toys and was ready for a boat. He purchased the car in 2007 in the Texas Area from a guy who had owned it for many years. Before that it spent its life in California which is where it was originally built in the Los Angeles Plant.  Right up front I want you to know this is not a Y84 car but was restored to resemble one with some minor differences.  We have owned many 1978-1979 Trans Ams some of which have been original Y84 cars and some have been cloned.  This particular Trans Am is a very high quality car and is ideal for the guy or gal looking for an eye catching, jaw dropping example of a Black and Gold late 70's TA.  Aside from the high quality paint and body it is also a Trans Am that has had its original drive train professionally rebuilt and slightly modified for better performance then when it was new.  I realize there are many Trans Ams on the market and that the decision can be tough when just looking at pics, but I assure you that I have seen and driven a wide range of quality and this Trans Am that we are offering will stand up against any of them and probably exceed your expectations!!! I would tell the next owner that if they want to fly in and drive it home that they should do it…I do not always say that as you never know with older cars but this one is set up to drive and enjoy. Just make sure you map out all of the gas stations and leave extra time for all the conversations you will be having with admirers as this one definitely catches attention!! I will do my best to include enough pictures, a video of the car running and an honest description so you can decide if this is the one for you!  Enjoy!!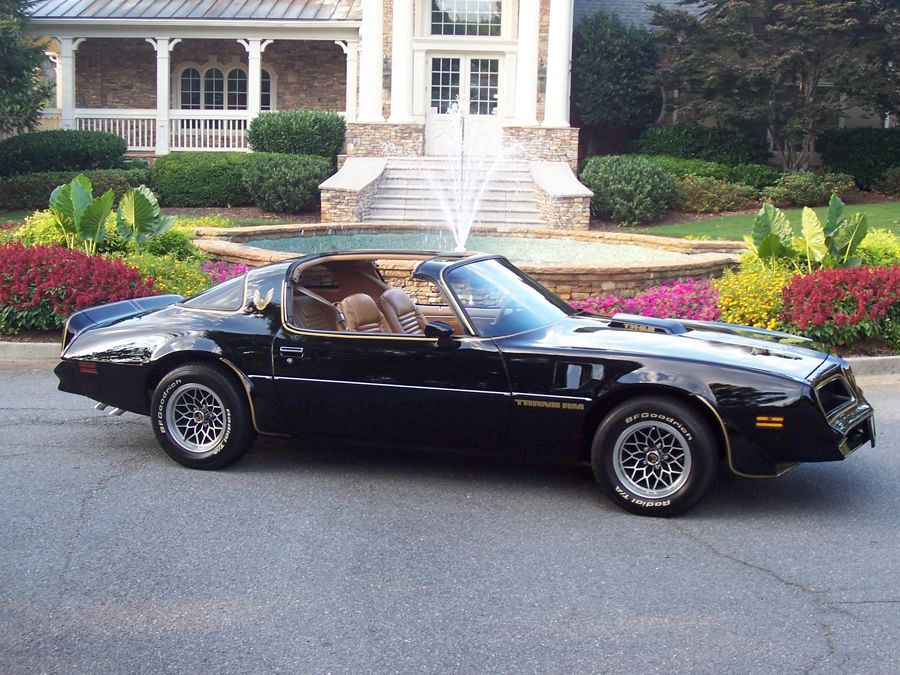 "Breaker 19, breaker 19….we got a Bandit looking Trans Am and need some eyes out there." If you are old enough to remember those days this Black and Gold Trans Am will plant a smile on your face from ear to ear every time you climb in it.  The body on this car is in fantastic condition and appears to be wearing all of its original sheet metal with no sign of any rust or previous rust repair. The paint has been professionally wet sanded and buffed and is ready to show. I ran a razor thin magnet all along the body and it stuck everywhere!! Body lines and gaps are excellent. When the previous owner purchased the car in 2007 it did have various tiny chips along the body which bothered him so he had about 75% of the body repainted and applied all new decals. As originally stated this '78 Trans Am has been given the look of a Bandit but is not a true Y84 Bandit car and it was not redone to the exact specs of the Bandit.  For example it is wearing the Eagle Hood Decal usually found on 1979 Trans Ams and some of the gold pin striping that Special Edition Bandit cars had has not ben applied. You will also notice that the WS6 Honeycomb wheels were painted black , not gold. I think they look great this way and helps this car stand out from the crowd. This car was originally gold but was changed to black many years ago. While the body looks amazing it is not flawless. You may find a tiny rock chip somewhere and there are a few very tiny ripples along the doors that you will not notice unless you examine the car extremely close. You WILL NOT find any bubbles in the paint or signs of rust on this awesome Trans Am!!! Windows have been tinted nicely and weather stripping has all been replaced. I recommend removing the T-Tops and enjoying it as an open air cruiser as much as possible but the T-Tops are in great condition too.   The car is definitely show worthy and should win its share of trophies if that is what you enjoy! Have a look:
Open the drivers side door and slide in side the original Camel Colored Custom Deluxe interior. Front seats were recovered at some point and look excellent and the rear seats are believed to be original and do not appear to have been sat in very often. Door panels, carpeting and headliner look fantastic. Center console is in great condition.  As you will see there is a nice carpeted dash cover. The original dash does have one crack about midway in the dash that could be repaired if desired. The only other flaw I noticed was a tiny 1/4 inch cut in the bottom of the drivers side seat that I do not think will show up in the pics. Front and rear factory seat belts. Power windows function great, power locks work, tilt steering wheel with almost no wear to the steering wheel.  Gauges are all very clear and function correctly with the exception of the clock.  An aftermarket Sony am/fm/cd/mp3 stereo system was professionally installed and sounds great with JBL amp and 4 6×9 speakers neatly mounted in the rear deck and behind the rear seats.  The Air Conditioning works great and was completely serviced and updated to R134 in 2008. I repeat the A/C blows very cold unlike most of the Trans Ams you will see out there. All of the plastic panels around the rear seat look great! Original owners manual still in the glove box and there is a connection for your Ipod there as well.  Overall the interior is also in fantastic condition and is ready for the car shows and cruise ins. Here is a walk around tour inside:
This Trans Am truly runs and drives as good as it looks!! With a little over 40,000 miles on the odometer I believe it is safe to assume this car has a total of 140,000 miles on it.  But listen up, the original 6.6 liter 403 V8 was professionally rebuilt approximately 5000 miles ago in 2008.  This was a true Rebuild that also included some nice mild performance upgrades to make sure this Trans Am would be a blast to drive.  The rebuild was done by Whitten Machine Shop in Texas and included some nice performance parts from Mondello Performance. These included a Crane Cam with .450 intake and .474 exhaust lift,  roller rockers,  and ceramic coated headers. As you will see the motor still looks completely stock and believe me it is an absolute blast to drive and will put you back in your seat when you stomp on it.  A new Stage 5 Rochester Quadrajet Carb. was added in 2009. Original transmission was also rebuilt in 2007 and shifts strong and smooth. Also in 2007 all of the brakes, steering and cooling system were gone through and many items were replaced to make sure this Trans Am handles the road and stops like it should. I have receipts for all of this work!!! When purchasing a late 70's Trans Am knowing these items have all been professionally attended to will save you thousands and will allow you to get in and enjoy your new Classic rather then see it sitting on the lift at your mechanic. The complete exhaust system from the ceramic coated headers back to the factory styled tips was replaced around the same time. I did a short video of this Trans Am starting up and running that you can listen to below. You have to love the shaker hood scoops on these cars and this one has that little bit of shake that you will love to see on heavy acceleration. The previous owner also removed the fake vents which helps get some additional airflow through the engine compartment. I have driven this car in the 90 degree Atlanta heat and it runs nice and cool. Since this car spent its life pampered in California and Texas the inside of the trunk and undercarriage are as rust free and rock solid as the rest of the car. It has the original GM Fisher body T-Top bags as well for storage and the original space saver spare and I do have the original filler canister. Take a look and make sure you also listen to this baby running on the video.
HERE IS A SHORT VIDEO SO YOU CAN HEAR THIS TRANS AM RUNNING…

TURN UP THE VOLUME

AND HIT THE ARROW:
Hopefully you will agree that this is one sweet Bandit Looking 1978 Pontiac Trans Am

!!

It truly looks as good in person as it does in the pictures and it is a real head turner! This will be a great investment that you can drive, enjoy and take to the shows if you want.

This car is for the buyer who wants to know they are buying a true high quality Trans Am that is turn key and ready to be enjoyed while it appreciates in value!!
THE MARKET IS VERY STRONG RIGHT NOW AND MOST OF MY AUCTIONS END EARLY AS I WILL NEGOTIATE A DEAL WITH SERIOUS BUYERS. DO NOT WAIT UNTIL THE LAST MINUTE OR YOU MAY BE DISAPPOINTED YOU MISSED OUT.
If you have any questions feel free to call me at 770-359-8400 and I will do my best to answer them.  If you are a serious buyer lets talk on the phone and discuss it. I will be happy to negotiate a deal so we can get this beautiful car in to your garage as soon as possible.  In addition to being a licensed Classic Car Dealer I am also a Transport Broker and will be happy to assist the buyer with a great rate on Enclosed or Open Transport anywhere in the US at the buyers expense or to any port for overseas buyers.