About This Vehicle
Odometer: 49,750
Engine: 5.7L 350 V8 Cross Fire
Body Style:  Coupe
Transmission:  Automatic
Exterior Color:  Silver Beige
Interior Color: Silver Beige
VIN:  1G1AY0786C5115629
Price:  SOLD
ABSOLUTELY AWESOME

, 1982

COLLECTOR EDITION

CORVETTE WITH

JUST UNDER 49,750 MILES

…

1

OF

6759

PRODUCED, SOUTHERN CAR IN

FANTASTIC CONDITION

INSIDE AND OUT…READY TO

SHOW

AND

GO

!!!
IF YOU HAVE BEEN SEARCHING FOR AN AFFORDABLE, CLASSIC C-3 CORVETTE, THAT IS A GREAT VALUE IN THE CLASSIC CAR MARKET AND CAN BE DRIVEN AND ENJOYED, THEN THIS '82 COLLECTOR EDITION SHOULD BE ONE YOU TAKE A SERIOUS LOOK AT!!!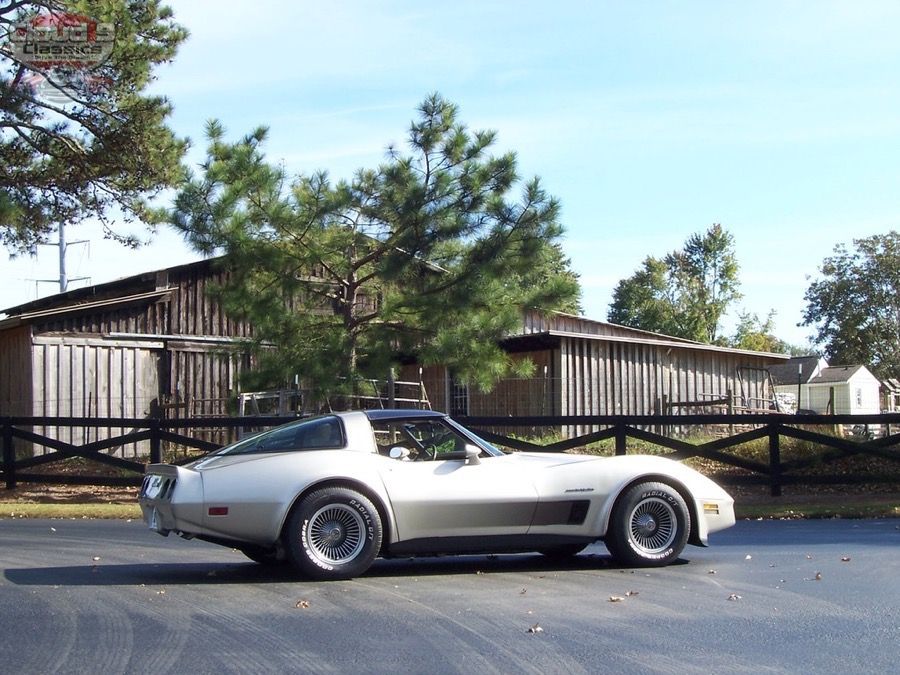 The last year of the C-3 Corvette body style that was introduced in 1968 and the first year Fuel Injection was re-introduced in quite a number of years. The 1982 Corvette Collector Edition marked the end of an era before the Bowling Green, KY plant shut down for a year to re-tool for the next body style. Only 6759 of these Collector Edition models were produced and all came with an automatic transmission.  This was the first year for the Cross Fire Fuel injection.  The Silver Beige color combined with some awesome graphics along with a unique matching interior really sets the Collector Edition apart and is sure to add to the collectibility of these as the years go by.  I recently purchased this locally here in the Atlanta, GA area from a guy who inherited it several years ago from a good friend who was a Corvette enthusiast. He did not have the extra garage space so he stored the car at his relatives in Alabama and it was taken out on sunny day drives. Since he was not a classic car enthusiast like his friend he decided it made more sense for this car to go to an owner who would truly appreciate it and take care of it as his friend had….maybe you???!!!
This is a great, low mileage example that has spent its life in the Southeast part of the country and was always garage kept and well cared for. I will do my best to provide enough large images, a video so you can hear it running, and an honest description to help you decide if this Corvette should be in your garage. As with all of my classics I do have this '82 advertised on my website and several others. So, if you decide you want to scoop it up before the next car guy or gal does feel free to call me to discuss how we can make that happen. I am also a transport broker and can get you a great rate on open or enclosed transport anywhere in the US. I also welcome overseas buyers and can assist in getting the car to the port of your choice. Sit back and enjoy!!!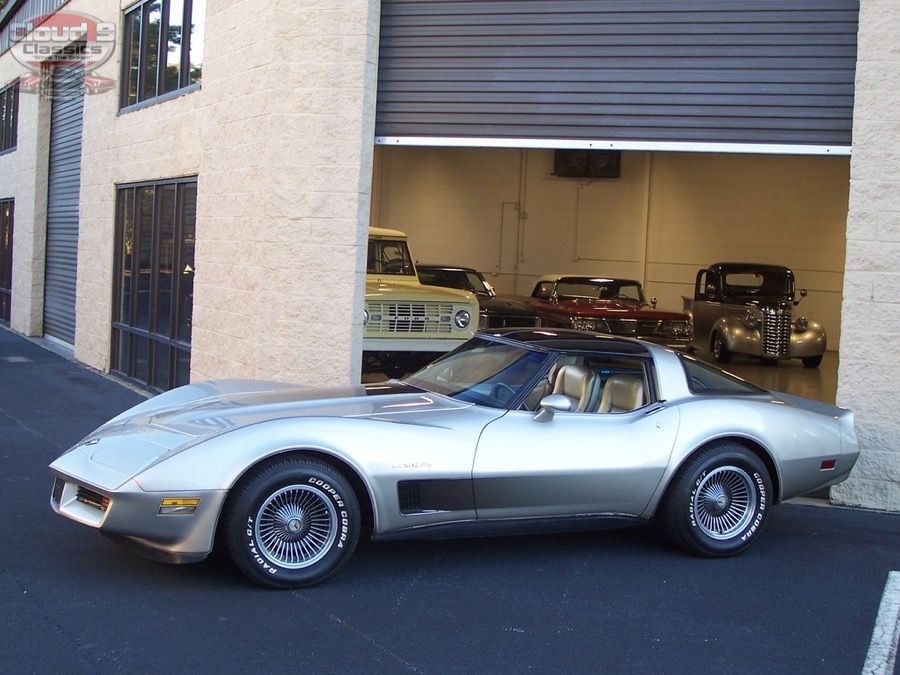 The body and Silver Beige paint on this '82 Collector Edition are in fantastic condition. Body panels are extremely straight and it appears to be a no hit body with excellent body panel gaps.  With just over 49,700 miles I believe the car is still wearing most of its original paint and it shines up beautifully.  I say most because when I bought it there was a very small crack in the paint on the front nose which is quite common. I decided to have the front bumper repainted to fix this minor blemish and replaced the pin striping along the bumper with the correct metallic brown pinstripe. The rest of the decals and pin striping look great. There is a minor tiny rock chip on the front fender that was touched up but otherwise the body is close to flawless but lets assume there might be another rock chip or two I may have missed. What I am trying to describe is an absolutely gorgeous, original, unrestored body that most people will think looks brand new but I like to describe my cars as accurately as possible. Of course this Collector Edition has the bronze solar screened T-Tops that are in great shape with just a few minor hairline scratches. I prefer driving the car with the T-tops off for that open air feel but the T-tops fit up great and seal up nicely. The Collector Edition also had a unique rear glass that opens to access the storage. Right now it is not opening due to the cable not being attached on the passenger side. We will try to correct this before it leaves but cannot guarantee that.  You can still easily access the storage area behind the seats just like every other C3 Corvette. Pop up headlights function nicely. As you will see in the photo tour below this is an outstanding example of a well maintained '82 Collector Edition…check it out:
Accenting the unique silver beige exterior is an equally impressive tri-color leather interior that is also in fantastic, original condition. Door panels look fantastic! Seats are in excellent condition with very little wear. There is one very small wear spot on the drivers side seat bolster that you would expect from a 36 yr. old original classic but there are no rips, holes, or unusual wear and it really looks great. Dash looks great overall and all of the gauges are crystal clear and appear to be working correctly.  Some great options including Power drivers seat which works great, power windows which work great, tilt steering, power mirrors which work well, and more. Factory Air conditioning blows ice cold. Carpeting is in very nice condition. Brown factory steering wheel looks close to new.  Visors are in nice condition but the light on the passenger visor mirror does not work. Original Am/FM/Cassette seems to work well and the glove box will come stocked with a nice group of period correct cassettes for your listening pleasure. Overall as you will see in the pics below, the interior is in fantastic original condition. 
Under the hood sits the original 5.7L 350 V8 with the Cross fire fuel injection that has computers that control 2 fuel injectors that enhance drivability and fuel economy. With just over 49,700 miles on it this motor runs super strong and although horsepower was nothing to write home about this lightweight Corvette still gets up and goes quite nicely and still offers a great spirited ride whether you are cruising on the highway or cutting through the turns on a scenic mountain road. Horsepower ratings were down among all V8's in this year and the 200hp rating on this Corvette was still higher than most American V8 cars.  All of these Collector Edition models came with the GM 4-speed 2R4 Automatic transmissions that shift this baby smoothly through the gears.Four wheel disc brakes and four wheel independent suspension has this '82 handling and stopping like the true American Sports Car that it is. Engine bay is very clean and you will be proud to pop the hood at the local show and cruise in events to show it off.  Undercarriage is in nice condition and was lightly undercoated at some point probably when new. Great tone from the dual exhaust although I noticed a very small hole forming on the passenger side muffler which is a cheap fix when needed.  The finned aluminum wheels are in great condition and wrapped in a great set of Cooper Cobra white letter radials with tons of tread left. I have the clean carfax I can provide if needed showing this car spent the majority, if not all its life in South Carolina, Tennessee, Georgia and Alabama.  This Corvette is sure to turn heads wherever you go and is the perfect classic to take on a long spirited drive or just enjoy locally on those sunny days. Chevy did a great job honoring the final year of the C3 with this limited production Collector Edition. Make sure you click on the video that follows the pics below for a walk around tour and listen to this Vette start up and running.
HERE IS A SHORT VIDEO SO YOU CAN HEAR THIS SWEET '82 COLLECTOR EDITION START UP AND RUNNING
(

CLICK THE ARROW TO START

):
Hopefully at this point you can see that this low mileage 1982 Corvette Collector Edition is in excellent overall condition and ready to be driven and enjoyed as well as taken to the car shows and cruise-ins if that is what you enjoy. As with all of my classics this Corvette is listed for sale on my website as well as other sites so if you want to scoop it up before the next car guy or gal does please give me a call at 770-359-8400 to discuss how we can make that happen. I am also a transport broker (http://www.transporttime.com) and can assist in getting you a great rate on Enclosed or Open transport anywhere in the US. I also welcome overseas buyers.