About This Vehicle
Odometer: 144,250
Engine:  4.2L 6Cylinder
Body Style: SUV
Transmission: Manual
Exterior Color: Beige
Interior Color: Grey
VIN:  JT3FJ40C1C3349264
Price: SOLD
ABSOLUTELY AWESOME

, VERY NICELY RESTORED, 1982 TOYOTA FJ 40 LAND CRUISER….

CLASSIC ORIGINAL

BEIGE COLOR,

4-SPEED, WITH HARD AND SOFT TOPS….

RARE COLLECTIBLE

THAT IS READY TO

SHOW

AND

GO

!!!
HAVE YOU BEEN SEARCHING FOR AN ORIGINAL TOYOTA FJ40 LAND CRUISER BUT WANT TO MAKE A SMART INVESTMENT IN ONE THAT IS READY TO DRIVE AND ENJOY?
WOULD YOU PREFER TO FIND ONE THAT HAS ALREADY BEEN RESTORED, WITH AN ORIGINAL MOTOR THAT HAS BEEN REBUILT AND IS TURN-KEY READY TO GO??
WOULD YOU LIKE IT TO BE NICE ENOUGH TO TAKE TO THE LOCAL SHOWS AND CRUISE-IN EVENTS?
HOW ABOUT ONE THAT HAS THE ORIGINAL HARD TOP AND OPTIONAL SOFT TOP, SOFT DOORS, AND BIKINI TOP?
WOULD YOU PREFER A 1980'S MODEL THAT IS MORE RARE?
DO YOU LOVE THE ORIGINAL VINTAGE BEIGE COLOR THAT TOYOTA ACTUALLY STARTED PUTTING ON THE NEWER FJ 40 MODELS?
WELL IF YOU HAVE BEEN SHAKING YOUR HEAD
YES
THEN THIS MIGHT BE THE FJ 40 YOU HAVE BEEN SEARCHING FOR!!!!
This '82 FJ 40 is a great find! The history we were given on this one is that it spent most of its life in California before it was purchased by a family in Maryland.  The FJ had a little over 100k miles on it and they had the original motor professionally rebuilt in 2000. They eventually moved to Florida at which time they had the complete drive train gone through and took care of anything that needed to be done so that their 16 year old son could safely and reliably drive it for a couple of years. When he graduated High school they decided that it was time let the FJ go to help pay for college. This FJ was in fantastic mechanical condition at that point but the paint was showing its age as well as some of the interior and trim items.  A gentleman from Florida bought it and began the cosmetic restoration. He indicated there was very little rust and any that was found was cut out and repaired with proper sheet metal that he bought from one of the well known FJ 40 parts suppliers.  After that a very high quality paint job was done leaving this FJ in absolutely stunning condition and ready to drive and enjoy or even take to the local  shows where it will win its share of trophies if that is what you enjoy. The interior was also completely redone and new wheels and tires were added.  This is the first classic FJ we have had and it will definitely not be the last! We have had quite a few classic Ford Broncos and have gotten to know them very well. While my knowledge of the FJ's is limited,  there is no doubt that these have gotten extremely popular in the classic car collector market and the 1980's models seem to be the most desirable.  Production numbers were lower and there were upgrades that make them more desirable as well. This particular FJ is a true quality classic that is a blast to drive and will surely make a great investment.  I will do my best to provide enough large images and an honest description to help you decide if this is the one you have been looking for. As with all of our classics I do have this FJ listed on several other sites as well as our own. Therefore if you want to scoop it up before the next car guy or gal does feel free to give me a call to discuss how we can make that happen. Sit back and enjoy!
As you will see in the photo tour of the body, this FJ is in amazing condition ad the paint really looks fantastic. It was professionally painted in base coat, clear coat in its original Beige paint code. Body panels are extremely straight and doors open and close with ease.  The body and paint are near flawless! The hard tops on these FJ's are removable but it takes a bit of time and effort. We chose to leave the hard top on for pictures but the previous owner purchased a brand new soft top ( including soft top frame), brand new Soft doors and a brand new bikini top that will all be included.  All of the exterior trim and stainless looks fantastic and much of it is brand new.  The front bumper is a Warn winch adaptable front bumper. All new top rubber and door seals. The hard top is in great condition and has a sun roof that does not leak at all. All of the glass is tinted and looks excellent. Windows roll up and down nicely.   As you will see in the pics that follow you will be very proud to show off this classic FJ!! Have a look:
Complimenting the gorgeous Beige exterior is an equally nice grey interior that was also completely redone. The seats were professionally recovered with new foams and are very comfortable. Original rear jump seats look awesome. Dash pad is in great condition as are the door panels. Dash looks great and all of the gauges and lights appear to working correctly. Rubber floor mats in front and in the rear over painted interior make this a great FJ to enjoy at the beach or on the trails and can easily be rinsed out and cleaned up if needed. The previous owner tried to install a new headliner himself and did an ok job but it could have been done a little better. That is really the only complaint I might have about all of the work that was done.   Functional simplicity from an extremely rugged and reliable classic SUV! Have a look inside:
This '82 FJ has its original F type 4.2L 6 cylinder that we were told was completely rebuilt about 15 years ago and has about 35,000 miles on it since the rebuild.  The odometer reads a little over 144k original miles on it. As you probably know there FJ Land Cruisers will run forever if properly maintained and this one definitely has been. It fires up with no issue and runs and drives fantastic. Keep in mind this is still a 30+ year old SUV and it is not a high horsepower luxury SUV. It is rugged, reliable classic that is plenty of fun to drive and is extremely capable of handling off road terrain if needed although it is obvious this one has not been off road since the restoration. I have personally driven this FJ and it runs and drives great and handles the road nicely. The original 4-speed manual transmission shifts smooth.  Power brakes make stopping a breeze and steering, while manual, is a breeze to drive. 4 Wheel drive engages properly and I am sure this FJ will handle the trails with ease if that is what you enjoy.  The engine bay looks very clean and original and you will be proud to pop the hood if you take this to any local shows or cruise-ins. Great stance with a newer set of 17″ polished wheels wrapped in great set of Nitto Crosstek tires that have only a few hundred miles on them.  The undercarriage and floorpans are rock solid and rust free. Frame was sandblasted at time of restoration and painted with POR 15.  All in all this FJ is in fantastic condition top to bottom, inside and out!! Here is a look under the hood and under the FJ: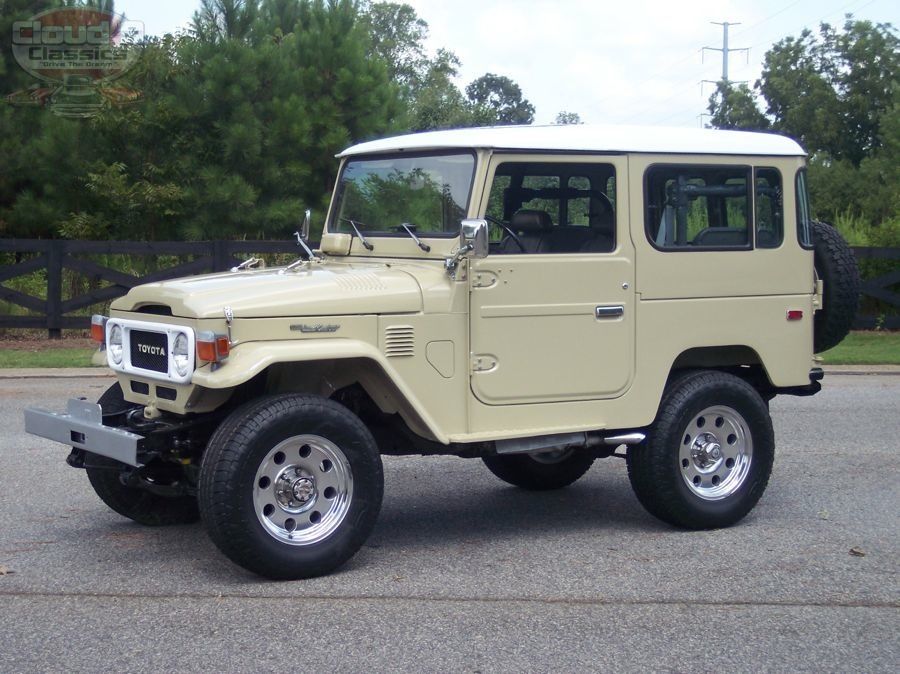 Hopefully you can see that this FJ 40 Land Cruiser is truly in exceptional condition and is ready to be driven and enjoyed. 
 It is definitely a shrewd investment, and the savvy buyer will call me to make sure they scoop it up before the next car guy or gal grabs it. As with all of our classics we do have this FJ advertised on several other sites in addition to our own. 
Serious buyers can call me at 770-359-8400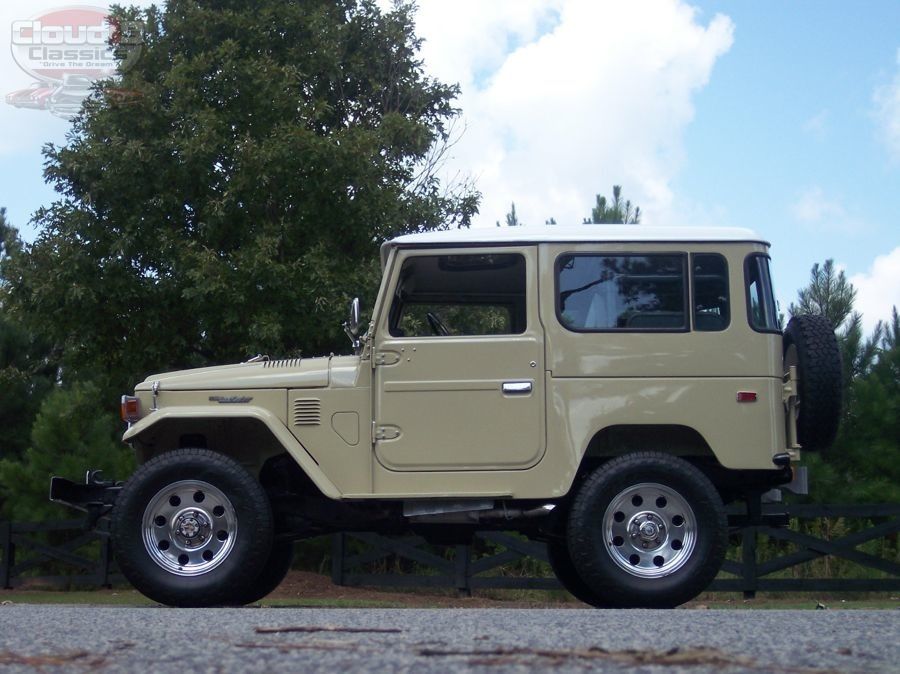 If you have any questions feel free to call me at 
770-359-8400 
and I will do my best to answer them.  If you are a serious buyer lets talk on the phone and discuss it. I will be happy to negotiate a deal so we can get this beautiful truck in to your garage as soon as possible.  In addition to being a licensed Classic Car Dealer I am also a Transport Broker and will be happy to assist the buyer with a great rate on Enclosed or Open Transport anywhere in the US at the buyers expense or to any port for overseas buyers.