About This Vehicle
Odometer: 99,000
Engine: 2.0 Fuel Injected DOHC
Body Style: Convertible
Transmission: Manual
Exterior Color: White
Interior Color: Red
VIN:  ZARBA5416F1021336
Price:  SOLD
VERY NICE, ORIGINAL,

1985 ALFA ROMEO SPIDER VELOCE

…GREAT ENTRY LEVEL ITALIAN SPORTS CAR…FUEL INJECTED, DOHC 2.0 LITER, 5-SPEED, 4 WHEEL DISC BRAKES, READY TO

DRIVE

AND

ENJOY

!!!
What a perfect time of year to drop the top on a sweet little Italian Sports Car and go for a spirited drive with the sun in your face and wind in your hair as folks give you the thumbs up and you evoke smiles everywhere you go. This 1985 Alfa Romeo Spider Veloce is ready for exactly that! A local gentleman has owned this Alfa for the past 10 years. He has thoroughly enjoyed driving this little sports car on sunny days but unfortunately over the past few years has driven it less and less and a recent move has left him without the added garage space he was used to so it is time for someone else to enjoy this great little car.  He asked me to locate a new owner who will enjoy this Spider as much as he had so I took it out for its beauty pics and had a blast driving it. I currently have the car in my showroom in the Atlanta, Georgia area and welcome personal inspections. I am also a licensed transport broker so if you need this car transported anywhere in the country I can get you a great rate on Enclosed or Open transport. I also welcome overseas buyers and can assist in getting the car to the port of your choice. 
I will do my best to provide you with enough large images, a video of the car running, and an honest description to help you decide if this future collectible should be in your garage. As with all of my classics I do have this Alfa advertised on my website and several others. If you want to make sure that another car guy or gal does not beat you to it, feel free to call me at 770-359-8400 to discuss how we can make that happen. Sit back and enjoy!
The paint and body on this '85 Spider Veloce are in overall very good condition. I believe the car may have received one repaint probably about 15 years ago as it was definitely before the current owner and he has had it for 10+ years. It's possible that just a few panels were spot painted. The paint shines up pretty well and all I did was wipe it down with a little spray wax for the pictures. A good buff would really make it shine! This car fits the definition of  "driver quality" perfectly I believe. It has obviously been driven and enjoyed and as a result you will find various chips and scratches and a few small door dings if you look closely. There is a small spot on the lower front passenger rocker that is starting to bubble but it is not soft and could easily be addressed if desired. There is a small crack in the paint on the front of the hood.  I do not see any evidence of any accidents and overall the body is quite straight and body panel fit looks factory. They added the black rubber ducktail spoiler in these years which I think gives the car a more aggressive look. The adhesive has started to dry out so the spoiler is a little loose but again a simple fix.  Front spoiler looks very good with a small scratch in the paint down low. All of the Crome and stainless trim looks very good overall. One of the headlight trim rings is pitted although the other looks like it was probably replaced.  Again, a cheap and easy fix if desired.  All of the glass looks original and there is a small rock chip down low on the center of the windshield that has been there for years.This is the upgraded Veloce model which added power windows which work well although a little slow, power sideview mirrors, as well as some other options.  As you will see in the photo tour below the body still looks really nice but expect typical blems for a car of this age that is very original and unrestored. Have a look:
Hopefully the next lucky owner will enjoy this Spider with the top down as often as possible but if needed it is great to know that the convertible top was recently replaced with a high quality canvas top that fits great. These tops open and close very easily and this one latches down nicely and seals up very well. The car actually looks pretty darn good with the top up as well. When the top is down there is an original black boot cover that is missing some of the clips but still functions fine. Here are some pics with the top up:
Complimenting the white exterior is a really nice dark red leather interior. The seats are super comfortable and are in excellent condition with no rips or tear and barely any sign of wear.  Carpeting still looks good overall and a newer set of red carpeted floor mats was added. Door panels look great. The dash pad looks very good overall and does not have the typical cracks by the vents. There is a small crack on the edge above the glove box. Center console looks good with just a few minor blems. Original shifter has a newer shifter boot. The original woodgrain steering wheel looks great. All of the gauges, lights and turn signals appear to working correctly with the exception of the odometer which recently just started to malfunction. When the current owner bought the car it had just under 93,000 miles on it. He said about a year ago with 98,000 miles the odometer stopped working and he has only put a few hundred miles on it since then so he believes it to have under 99,000 miles on it.  The speedometer and tachometer are both working fine. I think the photo tour of the interior will show you how nice it is:
These little Series III Alfa Romeo Spiders have a very peppy 2.0 Litre Dual Overhead Cam Fuel injected 4 cylinder with about 120 horsepower that is a lot of fun to drive. Although not a rocket ship off the line this Alfa is happiest revving in the 3000-5500 rpm range and has no problem keeping up with highway traffic. Steering is tight and the 4 wheel disc brakes stop this little sports car with ease. Suspension is nice and tight and this car loves the curves. This Alfa has been pretty maintenance free during the current owners 10 years of ownership. Regular oil changes and maintenance have been performed and he is put less than 10,000 miles on it in the 10 years he has had it. He did have a mechanic go through the wiring to make sure everything was functioning a few years ago.The 5-speed manual gear box shifts smoothly and does not pop out of gear at all. Clutch feels great.  A new set of Michelin Defender tires were added less than 1000 miles ago.  As you will see the engine bay looks like a car that has been driven and not restored but do not let that fool you. She runs great and a weekend of cleaning would make a big difference if that is important to you. Make sure you also watch and listen to the video that follows to hear it running. 
The undercarriage looks great and is pretty much rust free from what I could tell which confirms that this car lived a good life and did not see winter driving or salt roads. These cars are typically fair weather cars and this one certainly appears that way.  As you can see in the pics of the undercarriage the original factory undercoating is still in place and floorpans are all solid. The trunk area also looks solid and clean with original spare tire and wheel stored away.  Original Vin tags are in place at the windshield and door jam and the Vin # is also stamped on the firewall. 
HERE IS A SHORT VIDEO SO YOU CAN HEAR THIS GREAT LITTLE ITALIAN SPORTS CAR START UP AND RUNNING (

CLICK THE PICTURE TO START

):
Overall this is just a sweet little, very original 1985 Alfa Romeo Spider Veloce that has lived a good life and has been well cared for. It should be a great little car for the enthusiast to enjoy on sunny day drives with the top down and will be a welcome addition at any of the local cruise-ins and shows. These Alfa's are sure to do nothing but go up in value in the collector car market and this is one that you can drive and enjoy the day it arrives to your driveway.  This car is currently in my showroom on consignment and is sold on a Georgia Registration and Bill of Sale as GA does not require Titles on the older vehicles. Out of State buyers will have no issue getting the car titled in their state and overseas buyers will have no problem exporting this car with the paperwork I will provide. I am also a Licensed Transport Broker and can assist in getting you a great rate on transport anywhere in the country. I also welcome overseas buyers and can assist in getting the car to the port of your choice. 
IF YOU ARE A SERIOUS BUYER FEEL FREE TO

CALL ME AT 770-359-8400

TO DISCUSS FURTHER.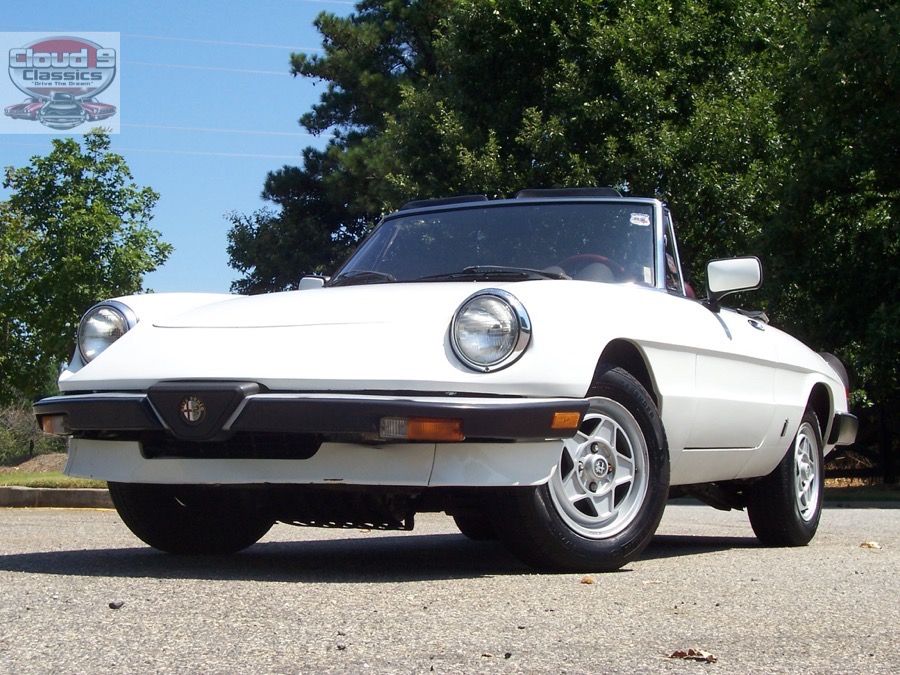 SERIOUS BUYERS CAN CALL ME AT 770-359-8400
If you have any questions feel free to call me at 
770-359-8400 
and I will do my best to answer them.  If you are a serious buyer lets talk on the phone and discuss it. In addition to being a licensed Classic Car Dealer I am also a Transport Broker (http://www.transporttime.com) and will be happy to assist the buyer with a great rate on Enclosed or Open Transport anywhere in the US at the buyers expense or to any port for overseas buyers.