About This Vehicle
Odometer: 109,950
Engine:  3.2L 6 Cyl
Body Style: Coupe
Transmission: 5-Speed Manual
Exterior Color: Red
Interior Color: Tan
VIN:  WP0AB0910FS120887
Price: SOLD
ABSOLUTELY GORGEOUS,

GUARDS RED

, 1985

PORSCHE 911

CARRERA…GEORGIA CAR, LOW MILEAGE,

LOADED

WITH OPTIONS, METICULOUSLY MAINTAINED,

AMAZING PAPERWORK

AND HISTORY…READY TO SHOW AND GO!
Have you been searching for an absolutely gorgeous '84-'89 911 Carrera?
Do you want one that has lived a rust free life, has been meticulously maintained by Porsche enthusiasts, and is ready to be driven and enjoyed or taken to the shows?
Would you prefer one that has great documentation including the original window sticker and almost all of its service records and history?
Are you ready to make an investment in one of the hottest import collectibles on the market right now?
If you have been shaking your head yes, then get ready because this Guards Red '85 911 Carrera is probably the one you have been waiting for!!
This beautiful Guards Red 911 Carrera was sold new at Walker Porsche Audi in Augusta, GA and the original owner took delivery on March 18, 1985.  It has lived in the Atlanta, Georgia area for all of its 30+ years and has been lovingly cared for throughout. How do I know this? Well, as you will see towards the end of this listing, the owners of this car kept just about every record imaginable with complete maintenance history, original window sticker, and a letter of authenticity from Porsche.  If you are a Porsche enthusiast or collector, or want to be one, this is the kind of car you look for! We purchased it recently from a gentleman who had purchased it about 2 years ago and thought he would never sell it. Unfortunately, a medical emergency with his wife arose and he was faced with the reality that he needed the money more then the car to pay her medical expenses. Very unfortunate for him but extremely lucky for the next lucky owner….maybe you?? I will do my best to provide enough large images, a video of the car starting up and running, and an honest description to help you decide if this is the 911 Carrera you have been waiting for.  As with all of our classics, we do have this Porsche listed on several other sites in addition to our own. If you decide this is the one for you feel free to call em to discuss how you can have this beauty in your garage before the next car guy or gal scoops it up. Sit back and enjoy!
As you will see in the pics that follow the body on this 911 Carrera is absolutely stunning. The guards red color glistens in the sun! We believe the car has been repainted one time in its life and it is possible that only certain body panels received a repaint to take care of some fading in the clear coat. Overall the body is near flawless with only some very minor flaws in the paint and perhaps a few very minor rock chips. We ran an auto check report which scored this car a 62 while others similar were in the range of 36-62.  The report did show a minor incident in 1994 which shows the car was hit in the rear. We were told this was a parking lot incident and only required the rear bumper and rear valance to be replaced. There is no evidence of any other damage and the rest of the body appears to have all of its original body panels and everything lines up and fits great as expected.  This 911 also has the highly desirable Whale tail which appears to have been added at some point as it was not listed on the original window sticker. All of the rubber and trim look excellent. All of the glass looks great and power windows operate smoothly.  There is no rust or sign of rust on the body anywhere and this is just one of the great attributes of a car that has lived its whole life in sunny, dry, Georgia.  This 911 was ordered with the optional power sunroof which operates smoothly and seals up great. I think the pictures below will tell you everything else you need to know…have a look:
Complimenting the gorgeous Guards Red Exterior is an equally stunning Tan interior.  The interior is in amazing condition and shows almost no wear. Front seats were recovered recently and look practically brand new. rear seat area looks great. Dash pad looks brand new and I found a receipt from the 90's showing that the dash pad had been replaced at one time. Door panels, carpeting, headliner, all look fantastic. The only areas I can pick are the drivers side floor mat shows some wear which is cheap to replace if desired and the rear padded deck area is curling up a bit at the edges.  This 911 has power seats. The original steering wheel was changed out for a Momo wheel with Porsche crest which I think is more attractive. We do have the original steering wheel which will be included. Also, the original Blaupunkt stereo was upgraded with a newer Blaupunkt system with cd player and auxiliary jack. Everything seems to be working correctly with the exception of the clock. The Air conditioning blows nice and cold and was recently serviced and upgraded o R134. You will be extremely pleased with the interior on this beautiful 911…have a look inside:
As previously mentioned this Porsche was extremely well maintained and all of the maintenance is documented. The car currently has 109,500 miles but drives like new or possibly even better! Based on the receipt history the car was always maintained with regular oil changes and service and at 89,000 miles received a major service costing $4800. I will not list all of the details of the work done but it included replacing all of the synchros, clutch, flywheel, major service performed, etc. In 2012, with approximately 104,000 miles the car received a major overhaul of the suspension and front and rear brakes at a cost of $3700. In December of 2013 the car was gone through and anything needed was done at a cost of $2600. At that time the gentleman we purchased the car from had the computer chip upgraded with a Steve Wong Sport chip which he said brings the performance up to the 1988 sport club model.  In December of 2014 the air-conditioning system was gone through completely and upgraded to R134 refrigerant.  At some point the car was slightly lowered to european height, a front strut bar was added, a cold air intake system was installed, and the exhaust was replaced. We have all of the original parts which will come with the car.  Fuchs wheels are in great condition and wrapped in great set of Michelins with plenty of tread life left.  When you see the binder full of receipts and history you will know this 911 was properly cared for by some great Porsche enthusiasts over its 30 year life. It runs and drives fantastic!!! Inside the front trunk area you will see it looks basically new as well. The original spare, tools, and spare tire inflator are all still in place. Of course the underside and pans are dry and rust free as expected form a Georgia car that never saw harsh winters or road salt.  Be sure to listen to the video at the end of the listing as well. 
As I have mentioned throughout the listing this '85 911 has great provenance. We have a thick binder full of everything including the original window sticker, pre-deivery inspection form, letter of authenticity from Porsche and receipts and history of maintenance throughout the 30 years of ownership.  As collectors know, this type of paperwork trial and history definitely adds value and collectibility as years go by. We also have 2 keys and the remote control for the upgraded stereo. Also, we will be including all of the original parts that were removed and other parts passed along by previous owner.  Here is a look at some of the paperwork:
HERE IS A SHORT VIDEO SO YOU CAN HEAR THIS 911 CARRERA START UP AND RUNNING (

CLICK THE ARROW TO START

):
SERIOUS BUYERS CAN CALL ME AT 770-359-8400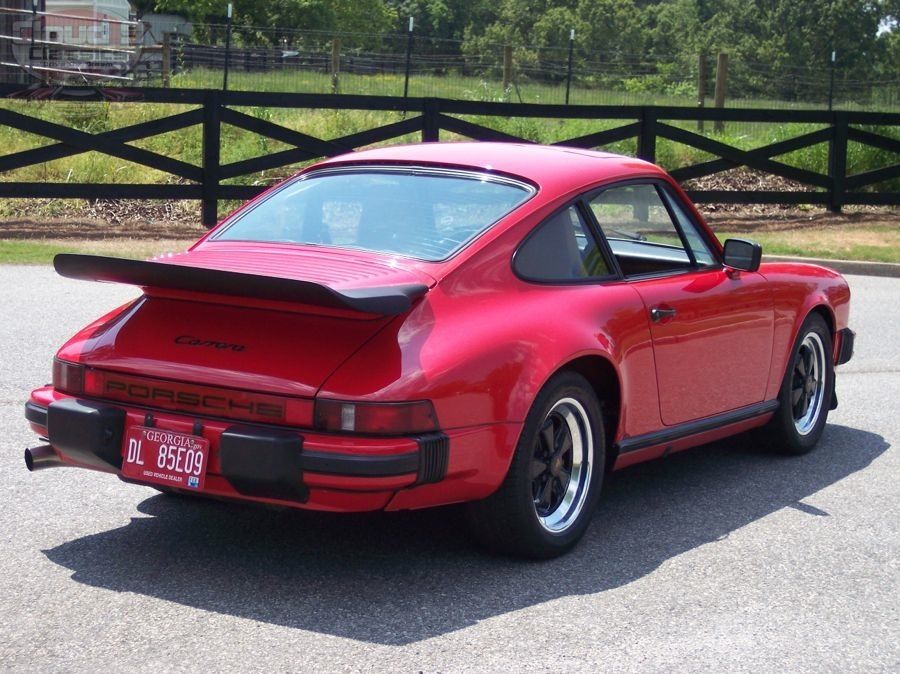 If you have any questions feel free to call me at 
770-359-8400 
and I will do my best to answer them.  If you are a serious buyer lets talk on the phone and discuss it. In addition to being a licensed Classic Car Dealer I am also a Transport Broker and will be happy to assist the buyer with a great rate on Enclosed or Open Transport anywhere in the US at the buyers expense or to any port for overseas buyers.