About This Vehicle
Odometer: 111,300
Engine: 8 cyl
Body Style: Conv
Transmission: Auto
Exterior Color: Silver Smoke
Interior Color: Brazil Brown
VIN: WDBBA48D8GA041032
Price: SOLD
ABSOLUTELY BEAUTIFUL

, 1986 MERCEDES BENZ 560SL,

SILVER SMOKE METALLIC

WITH

BRAZIL BROWN LEATHER

….

2 OWNER

,

LOW MILEAGE

, EXTREMELY WELL MAINTAINED WITH SERVICE RECORD HISTORY….READY TO

DRIVE

AND

ENJOY

!!!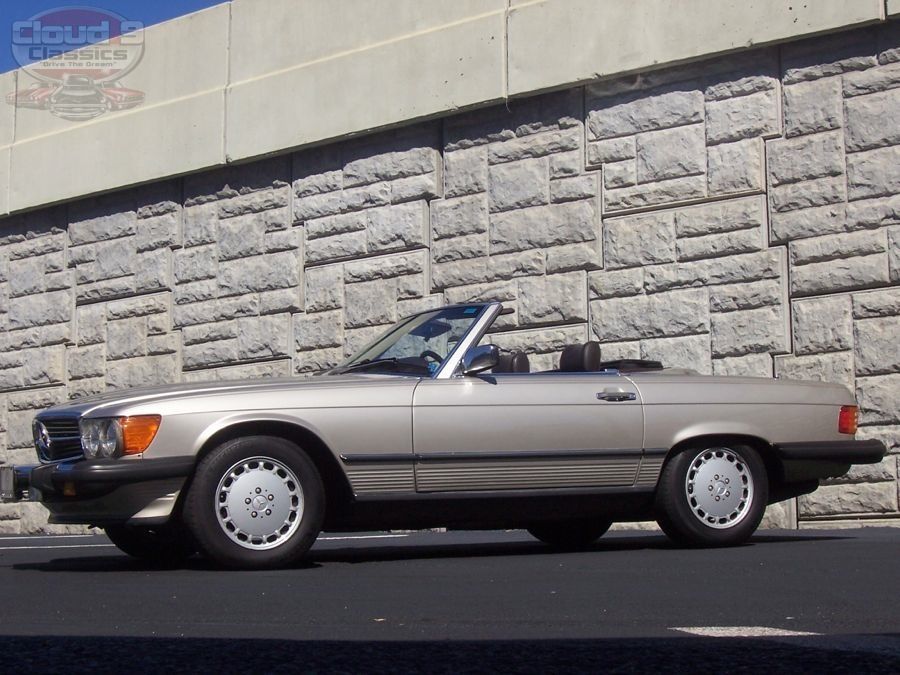 THIS TOP OF THE LINE, FUTURE COLLECTIBLE, 560SL IS IN BEAUTIFUL CONDITION INSIDE AND OUT AND OF COURSE COMES WITH REMOVABLE HARD TOP WITH STAND AND HAS A BEAUTIFUL SOFT TOP….WE HOPE YOU'LL ENJOY IT TOP DOWN AS OFTEN AS POSSIBLE!!
This beautiful, Smoke Silver Metallic, luxury Mercedes Benz 560 SL Roadster has only had 2 owners and has spent almost all of its life in NC and GA living a very dry, rust free life.  We recently acquired this beauty from the 2nd owner who had purchased it in 2002 when it had just over 99,000 miles.  He had looked at quite a few 560SL's and when he located this one. He was very impressed with not only the near flawless condition inside and out but also that it was being sold by the original owners who kept all of the service records and obviously always pampered this future classic.  He thoroughly enjoyed this car for the past 12 years, only driving it on sunny days and almost always with the top down. He has only put an additional 12,000 miles on it in the 12 years of ownership but continued the high level of maintenance that was done by the original owners. However,  a recent move to SC and other financial obligations became a priority and he reluctantly had to let his toy go. Unfortunate for him but the next lucky owner will be thrilled….maybe you!!!? I will do my best to provide enough large images, a video of the car running, and an honest description to help you decide if this 560SL is the one for you.  We have it priced to sell and have it advertised on several other sites so if you want to put this 560 SL in your garage before the next car guy or gal scoops it up feel free to give me a a call at 770-359-8400. Sit back and enjoy!
The body of this 560SL is in magnificent condition.  This car was never involved in any accidents and still has all of its original body panels. We have a current Auto check report that we would be happy to provide to serious buyers that shows the 2 owner history and shows there were not any accidents reported involving this car.  The Auto Check score is a 64 for this particular car with similar vehicles receiving a score range of 15-36.  The paint looks excellent overall and is believed to be mostly original although we were told the trunk was repainted at some point when it was scratched by someone when removing the hard top.  All of the chrome and stainless looks great. All of the rubber molding looks excellent.  There is a small spot on the front of the hood that was touched up but not very noticeable and maybe a few other tiny rock chips that were touched up. Nice painted pinstripe along the body accents the brown interior and brown soft top nicely.  There is a very nice wind screen for use when the top is down to keep the cabin less windy.  As you will see, the brown soft top is in fantastic condition and rear window is very clear. Overall the body and paint looks awesome! Original wheels look great. Here is a walk around photo tour of the body.
If you live in a climate where using the hard top makes sense you will be pleased to know that it is as nice as the rest of the body and with an assistant is quite easy to put on and remove. These 560 Sl's really do have as much class and style with the hard top on as they do with it off. It comes with a very nice stand for storing it when not in use as well as a cover for the hard top as you will see below.  There is no doubt that this 560 SL is designed to be enjoyed with the top down though so we hope you will remove the hard top for as much of the year as possible depending on where you live.  There is also a very nice custom cover that will come with the car as well. Have a look: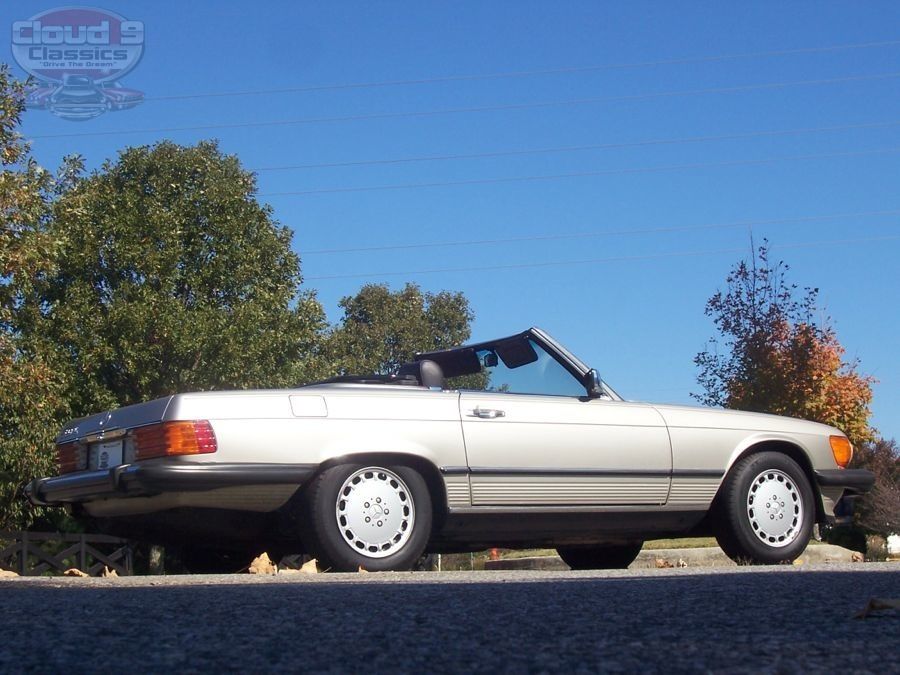 Complimenting the Silver Smoke Exterior is a beautiful Brazil Brown leather interior.  The leather is in outstanding condition and is a true testament to the quality that Mercedes was known for.  The drivers seat which typically shows wear on these cars barely shows any wear whatsoever. Passengers seat looks close to new as do the door panels.  The dash is in beautiful condition with no cracks. The woodgrain in the center console looks fantastic.  All of the gauges and lights appear to be working correctly.  A very nice aftermarket stereo/cd was professionally and neatly installed. Speakers were mounted in the rear storage area and an amplifier placed in the trunk.  Carpeting looks great and Mercedes floor mats finish out the interior. The air conditioning may need to be serviced . We were told by the previous owner it was functioning intermittently.  Power windows work great and all of the glass is in great condition. Just a beautiful, simplistic Brazil Brown interior ready to welcome you and your companion. Have a look inside:
This '86 560 SL has just under 111,850 miles on it and drives fantastic. The original owner was very diligent in maintaining the car and the original service book demonstrates this. We also have a binder full of receipt history with service records demonstrating how well maintained this car was. All of the important, expensive service work that was needed was done to this car. A year after the 2nd owner purchased the car he had a major service performed at 102,500 miles which included replacing the timing chain, chain tensioner,  as well asa  number of other maintenance items show in receipt below. At 103,800 miles the transmission was completely rebuilt and rear main seal replaced. Prior to all of that the cooling system was gone through with new water pump, radiator, hoses, etc… Air conditioning was converted to R134 refrigerant in 2005.  Tires were replaced with Michelins about 10,000 miles ago and have tons of tread life left. This car handles the road beautifully and performs as you would expect. An absolute joy to drive with plenty of power when needed.  Engine bay is clean and all of the original tags and vin stampings are in place. Inside of the trunk is super clean and the original spare appears to have never been touched. Since this car spent its life in the South the undercarriage is super solid with no rust issues! There is a short video following the pics below so you can hear the car start up and running. 
insert pic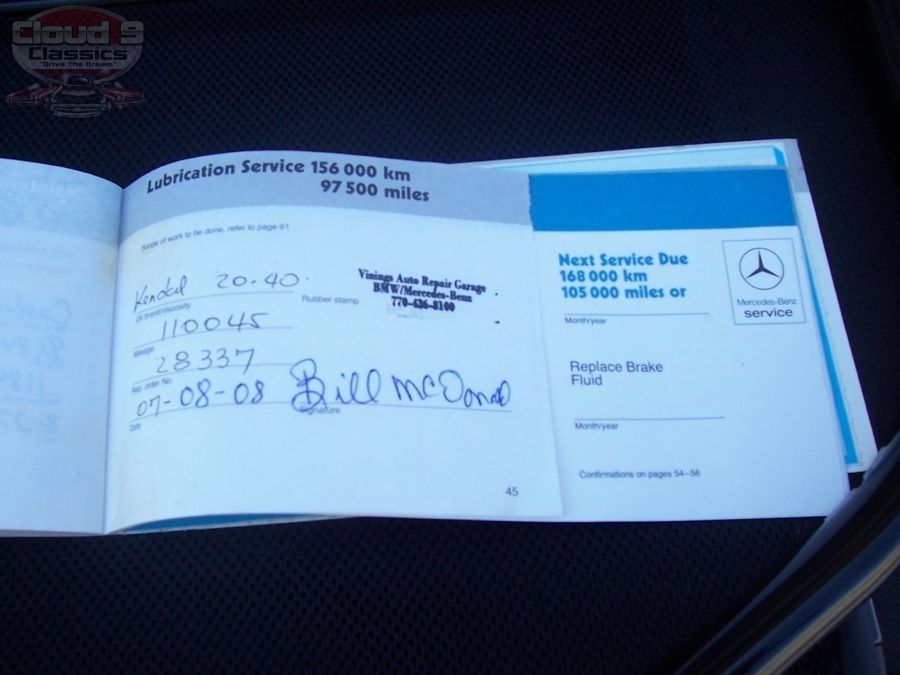 Here is a short video so you can hear this 560 SL start up and running….click the arrow to start:
Hopefully you will agree that this Silver Smoke Metallic '86 560SL is a beautiful car that has obviously lived a pampered life by its 2 owners who took tremendous care of her. These 560SL's are sure to be future collectibles and right now are tremendous values.  I am sure the next owner will be absolutely thrilled with the condition and ride of this 560 SL!!
 If you have any questions feel free to call me at 770-359-8400 and I will do my best to answer them.  If you are a serious buyer lets talk on the phone and discuss it. I will be happy to negotiate a deal so we can get this beautiful car in to your garage as soon as possible.  In addition to being a licensed Classic Car Dealer I am also a Transport Broker and will be happy to assist the buyer with a great rate on Enclosed or Open Transport anywhere in the US at the buyers expense or to any port for overseas buyers.