About This Vehicle
Mileage: 42,500
Engine: V6
Body Style: Coupe
Transmission: Manual
Exterior Color: Red
Interior Color: Beige
VIN: 1G2PG1194JP225807
Price: SOLD
VERY RARE, LOW MILEAGE 5-SPEED 1988 PONTIAC FIERO GT WITH T-TOPS IN AMAZING CONDITION!!
1 of 1252 T-Top Fiero GT's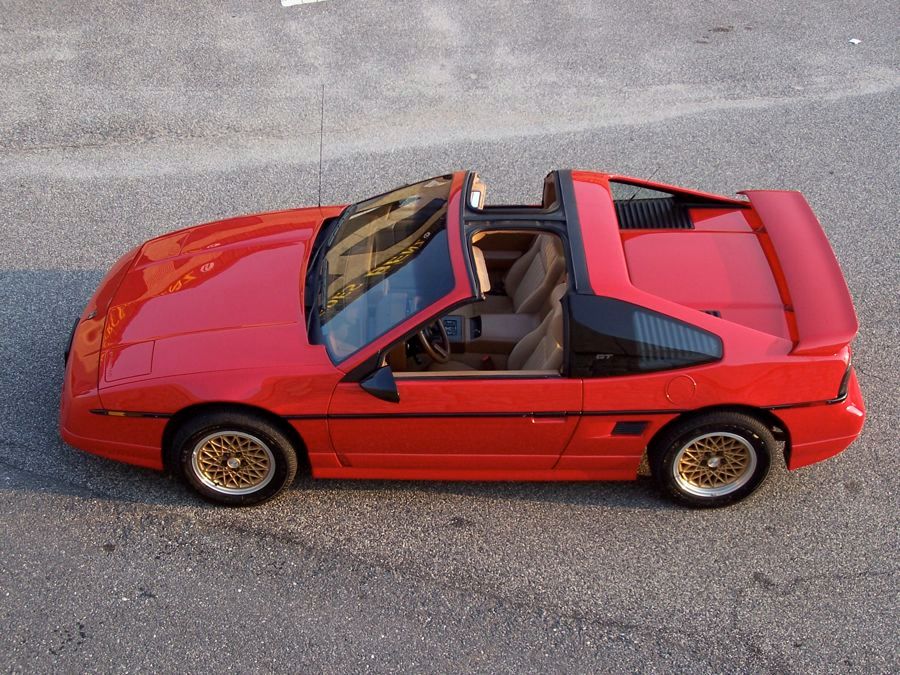 Regardless of whether you are an avid Fiero enthusiast, owned a Fiero back in the day, or knew someone who owned one, it is hard to argue that the 1988 Pontiac Fiero GT is going to be one of the iconic Pontiac Collectible cars as years go by.  Among other things, the Fiero was the first 2 seater Pontiac since the 1938 coupes. We all know Pontiac "used" to build excitement and there are sure to be many exciting years to come for owners of low mileage, top quality Fiero GT's.  This is the third Fiero GT I have owned and it is truly in amazing condition and has a rare list of options that any car collector can appreciate.  I recently purchased this awesome 5-speed, T-Top, GT from the second owner in Wisconsin. He bought it in 1997 from the Original owner who owend a Pontiac Dealership and ordered this one for his wife to drive. It only had 22,000 miles in 1997 and now has less then 43,000 miles and never saw a winter as it was used purely as a fun weekend car in spring and summer. The previous owner bought this car for his wife who was recovering from a bout with Cancer and she had owned a Fiero when they first met.  He knew it would be something she would love and he put a vanity license plate on it that was "PRKY AGN" which stood for Perky Again due to her positive attitude and recovery. As the years went by they realized that as much as they loved it they just were not using it and it was time to let it go to the next lucky owner which could be you!! This Fiero is truly in near flawless original condition!!  I will do my best to honestly describe this future classic collectible and provide as many pics as possible as well as several videos so you can see the true condition and quality of this car and hear it running. Sit back and enjoy!!
If you are like me you remember these Fiero GT's when they came out and they bring back some great memories. Since this is now the 3rd Fiero GT I have bought I have learned that the Fiero Community is a serious group of enthusiasts just as any collector car group is. In fact there is a registry of Fiero T -top Cars and mine is on it and it was #1168 of #1252 GM ordered RPO CJB T-top Fiero GT's that was sent by GM to a company called Cars and Concepts on 8/8/88 to have the T-Tops installed. I took the fiero out all day yesterday and in the 95 degree heat the A/C blew ice cold and kept me frosty in the cabin. In the evening when I was driving it back to my warehouse I passed a guy in another 88 Fiero GT going the opposite way. We waved and I saw him pull a U-turn as I knew he wanted to stop and see my car. I pulled over and had a great conversation with him and even took a pic you will see below of the 2 cars together. His car was nice and had some mods but with twice the mileage of mine it was obvious to both of us that mine was in superior condition. Small world as you really do not see that many of these out there any more. Rest Assured, these Fiero GT's are going to continue in popularity in the collector car market!!
The pictures that follow will give you a walk around tour of the near flawless body on this Fiero.  This car has all of its original body panels and was recently professionally buffed to a showroom finish and the paint is in amazing condition. It was never in any accidents, minor or otherwise. Upon close personal inspection the meticulous buyer might find an extremely tiny rock chip or two but the body is in fantastic condition! A few chips have been professionally touched up and I was told that the hood was painted by the original owner due to rock chips. This was done at least 15 years ago and I doubt you would notice if I did not mention it. There is a small rock chip in the windshield that has been there for over 10 years according to the previous owner.   It is nice enough to win shows,  and it is also a car you could or should drive and enjoy whether it is to the shows or just for the fun and excitement! At the end of the description I also included a walk around video of the car.
Open the drivers side door on this 2-seater mid engine sports car and you will think this car just came off the showroom floor. The beechwood interior is basically close to perfect and shows almost no wear…amazing condition inside! The car was never smoked in and still has that new car smell.   Gauges are crystal clear and all electronics are functioning correctly including the pop-up headlights. The A/C system blows ice cold! Original floor mats look excellent.  Power windows and locks work well and it comes with 2 remote key fobs. This GT also has rare rear window defrost and cruise control. The t-tops seal up great and do not leak and have locks on them and I have the key to lock them. I also have the original T-top covers that you store them in and there is a spot in the hatch where they go. Original AM/FM Cassette works well.  You will notice it still has an old school cell phone holder that was installed back in the day which I thought I would leave for the next owner to decide if they wanted to remove or not. The only flaws I noted on the interior were a slight tear in the emergency brake boot cover and a small glue mark on the rear part of the headliner from when they did the cell phone Antenna install. Just a true time capsule inside this beauty.  Here is a quick photo tour inside.
The Fiero's mid engine layout was chosen as a way to reduce aerodynamic drag and vehicle weight to improve fuel efficiency, and also for its handling, traction and braking benefits. The 1988 Model is considered the most desired by most for many reasons. Numerous changes were made to the 1988 Fiero. The most significant was a completely redesigned suspension to realize the full potential of the mid-engine layout. The new suspension included new two-piece brake calipers and upgraded brake rotors.  The GT model included the V6 motor with 43 hp more then the 4 cylinder, upgraded suspension and wider tires. Topping off the package were the new vented disc brakes on all 4 corners.  With under 43,000 original miles this particular Fiero GT has really just been broken in and drives like a new one did in 1988. The 5-speed really adds to the fun of driving this true sports car !!The preivous owner kept all of the records of maintenance that was done to the Fiero which included re-doing the front suspension, frequent oil changes and a new battery recently. This particular Fiero runs fantastic with no issues!!!! This Fiero handles like it is on rails…fun!! During this final year of production the Pontiac, MI plant where the Fiero was produced shut down and Pontiac made the decision to cease production of the Fiero in February, 1988. There were only 6849 Fiero GT's produced in this final year. If you do some web research you will see that there are some very interesting comparisons of the Fiero to the Ferrari 308 and performance statistics would surprise the heck out of you with the Fiero. It is a known fact that Pontiac purchased several Ferrari 308 models for handling, engineering and comparison purposes. Some called it a mini Ferrari that was far more affordable. Wheels and tires are in excellent shape!  Here are a few pics of the engine bay, trunk area and undercarriage.
Bottom line is that this particular Fiero GT is in amazing condition and is truly one of the few American automobiles of its time that can be considered a collectible.  Perhaps even better is that it can definitely be driven and enjoyed while it maintains its investment potential. It is definitely a vehicle that has left its mark and would fit it to any car collection. If you are considering a Fiero then doesn't it make sense to buy an ultra rare, T-top, 5 speed in the best color combo?? You bet it does!!!
Here is a walk around video of this awesome Fiero GT:
AND, HERE IS A SHORT VIDEO SO YOU CAN HEAR HOW GREAT THIS CAR SOUNDS!!!  IT DRIVES AS GREAT AS IT SOUNDS!!!
Hopefully I have given you all the info you need to decide if this is the one for you but as always I welcome your phone calls and questions.  If you have any questions feel free to call me at 770-359-8400 and I will do my best to answer them.  Take a look at the pics and video and then picture yourself behind the wheel!!!
If you are a serious buyer lets talk on the phone and discuss it. In addition to being a licensed Classic Car Dealer I am also a Transport Broker and will be happy to assist the buyer with a great rate on Enclosed Transport anywhere in the US at the buyers expense or to any port for overseas buyers.