About This Vehicle
Mileage: 72,108
Engine: V8
Body Style: Convertible
Transmission: Auto
Exterior Color: Black
Interior Color: Palomino
VIN: WDBBA48D6JA087076
Price: SOLD
ABSOLUTELY STUNNING 1988 MERCEDES BENZ 560SL IN PERHAPS THE BEST COLOR COMBINATION…VERY LOW MILES AND EXCELLENT MAINTENANCE AND SERVICE HISTORY FULLY DOCUMENTED!!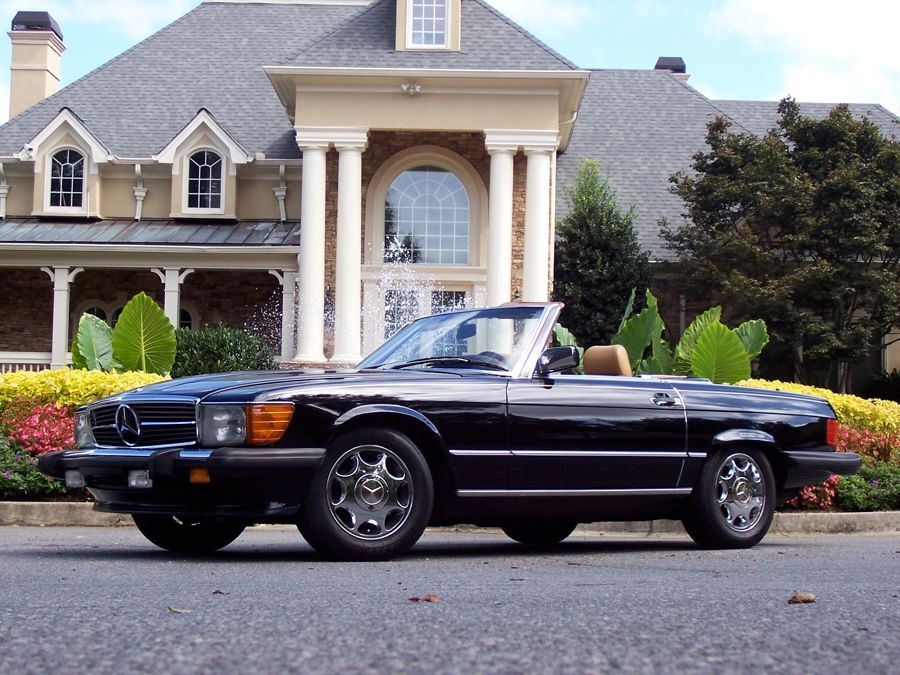 ONE OF THE ALL TIME GREATEST LUXURY ROADSTERS!!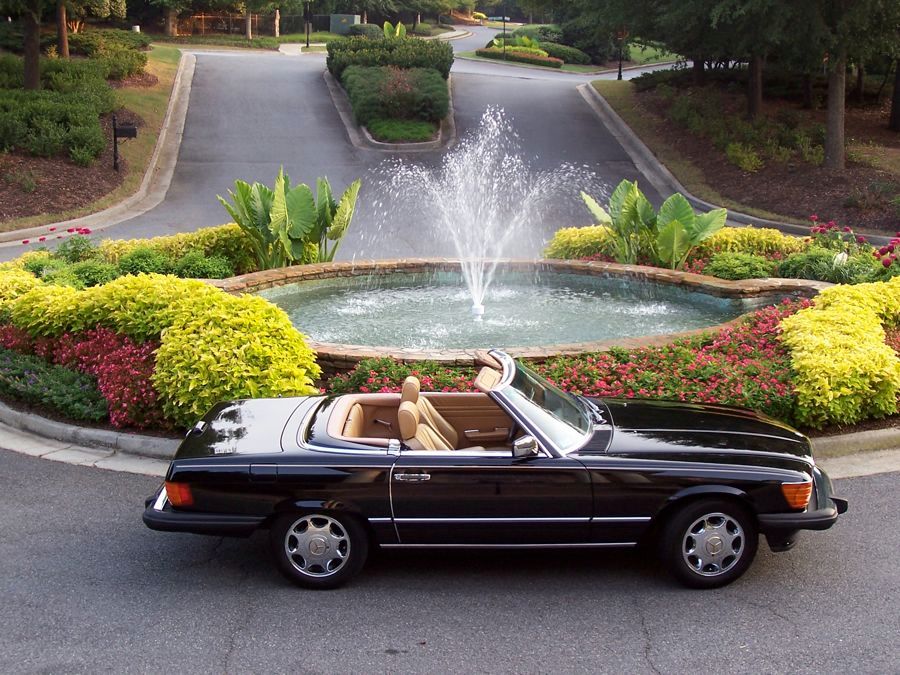 This gorgeous 1988 Mercedes 560 SL is not only great eye candy but it also stands out from the rest when it comes to being a low mileage, extremely well maintained and very well documented luxury roadster.  We recently acquired this beautiful car from a retired couple who had other financial obligations that had to take precedence over owning a luxury toy like this one.  They had purchased it a little over a year ago from friends of theirs who owned it since 2001. Prior to that it was owned by the same woman since 1990.   The gentleman thought that this would be the ultimate weekend cruiser for his wife to enjoy with the wind in her hair and the sun on her face. Well, having been spoiled by driving a large luxury SUV his wife did not feel nearly as comfortable driving this smaller roadster and as a result it barely got driven the way he intended it would be. Now that his wife retired they had other financial obligations that have taken priority over the beautiful roadster covered up in the garage so it was time to sell it.  I had assisted my father about 4 years ago to sell his low mileage 560 SL which ended up going to a guy in Germany for $34,000. Granted it only had 25,000 miles and the market was a bit stronger but when I went to go see this one all I could think was that it was in close to as nice condition and drove just as well.  Plus, it was the same color combination of Black with Palomino interior.  This is one of the most sought after color combos in these 560 SL's and this one wears it well!!  Someone is going to get a gem of a car and at a price that dwarfs what I sold my fathers for several years ago. I will provide enough pictures and do my best to give you an honest description so you can determine if this is the Luxury Mercedes Roadster for you to add to your collection.  This is truly a fantastic investment quality car that the next owner is sure to love!
The body on this black beauty is in amazing condition!!  It is obvious that this car was always garaged and never winter driven or driven in inclement weather.  This is quite common as these were typically 3rd or 4th cars for families.  The paint has fantastic shine and reflection. I am not sure if the whole car was repainted however I do believe there has been some paint work done at some point on the rear of the car. I found a receipt in the history where it looks like the rear valance was painted and possibly the rear bumper was replaced most likely due to a small parking lot type incident. I ran a carfax report and there were never any accidents reported so I am quite positive that any cosmetic work that may have been done to this car was purely done to keep the car looking as pristine as it does now.  The body panels are extremely straight and true and the doors open and close with the quality feel you expect from a high end Mercedes. The grill and chrome all look fantastic as well! Those of you who know 560 SL's will notice that the headlights were changed out back in the 90's for the European style headlights. This was fairly common and evidently these headlights are much brighter then the stock originals.  This was not a gray market car!! This was a car that was originally sold here in the United States and then had this simple modification done. If you are a purist and prefer the original style headlamps they can be found easily on Ebay or other sources. Another cosmetic change made by the owner in 1996 was a change to the original wheels. For a bit more flash and style the owner chose the Chrome Octav, or  Eight pocket" Mercedes wheel as they are sometimes referred to. I have the receipt for when these were put on at a cost of $1200. The Chrome wheels look great against the black paint and they are in excellent condition.  The black paint is tastefully accented with a hand painted palomino pinstripe that compliments the palomino leather interior. Yes, I do have the original hardtop that comes on a stand and has a cover for it.  Again a slight modification was done to the hardtop by the owner in 1990. They had the hardtop wrapped in Mercedes canvas that you find on the convertible soft top. It is still in beautiful condition but has not been used in many years since in Georgia we have 10 months of top down weather. The soft top looks brand new and is the original High end Mercedes type Convertible top. Everything functions perfectly for manually putting the top up and down an of course we have the original tools needed.  All in all the body on this Mercedes is in amazing condition. I will not call it flawless because there may be a minor rock chip or two that I have missed so I will just say that is in close to flawless condition especially considering the age.  You could proudly show up at any car show or Mercedes Club event and probably walk away with a trophy if that is what you like to do.  However, you will also get tons of stares and thumbs up as you enjoy this beautiful roadster on a sunny day drive! Here is a walk around tour of the body of this beauty:
Complimenting the Black exterior is the beautiful Palomino leather interior with woodgrain console and dash.  The leather interior is in fantastic condition overall. The only flaw worth mentioning is a quarter size wear spot on the drivers side seat bolster that is quite common.  Otherwise the leather looks fantastic. Carpet and mercedes floor mats look great. Under the center armrest flip up cup holders were placed for those long rides when you need to have a coffee or drink easily accessible.  You will see that a rear seat was added to this roadster for those of you who have small toddlers who want to enjoy the ride with mom and dad. The rear seat was installed in 1990 in the original Mercedes Palomino leather at a cost of $1600. This rear seat folds down if you would rather use it for storage. All of the gauges and lights are working correctly and the dash pad is in great shape with no cracks! The A/C was converted to R134 years ago and was charged up in June 2010. The A/C blows nice and cold but the center vents are currently blowing from the defrost upper vents. Evidently this is a common problem with a flapper that controls the direction of air flow and can be fixed if desired by the next owner. The only other item not working perfectly are the vacuum power door locks which may be as simple as a vacuum hose leak.  The Woodgrain in the console and dash looks excellent and is not all dried out as you sometimes find. You may see some superficial cracks under the surface. The power windows were tinted to help keep some of the Georgia sun out but otherwise this car should be driven top down and windows down for the fullest enjoyment.  Here is a walk around of the interior:
The bullet proof power train under the hood of this '88 560 SL has just 72,200 original miles on it ,which for those of you who know about this 5.6L V8, means it is barely in its prime. Aside from just having low mileage this 560 was also meticulously serviced and cared for and service records were kept in a binder dating all the way up from 1990 to 2011.  This roadster glides along the highway and handles the windy roads with ease and in silence. A new battery was recently installed and this car was completely gone through when the previous owners acquired it in 2010 and anything that needed the least bit of attention was taken care of. You should not need to do anything other then turn the key and enjoy!! Yokohama tires have lots of tread  and provide a quiet and smooth ride. Inside the trunk you will find a Mercedes car cover, the original Mercedes tool kit and jack. Undercarriage is rock solid and original and obviously never saw salt or rough weather. Documentation included shows this car was purchased in September of 1990 by a woman from a Loeber Motors, A Mercedes Dealership in Chicago, IL.  She paid $52,000 and financed it over 24 months with payments of $2600/month.  In 2001 it was purchased by some folks in the Atlanta, GA area and then sold again to the folks I bought it from in June, 2010.  I have copies of all the Titles.  In addition to all of the original record and maintenance history I also have all of the original manuals and the original factory documentation which certainly will help round out the investment value of this soon to be Classic.  We also have both sets of original factory keys.  This 560 SL is  a pure pleasure to drive and when you are comparing this one to the others keep in mind the originality and documented maintenance history this one has. Anyone who has owned a Mercedes knows that when they are not taken care of repairs are quite costly.  Buy this one and have the peace of mind that your cars has had an excellent, documented maintenance history.  Here is a look at a few of the areas and items mentioned.
Hopefully you can see the quality of this 560 SL in the pictures I provided. I assure you that this one stands above the crowd of 560 SL's you will find for sale and will make not only a fun and enjoyable car to drive but also a fantastic investment as well.
If you have any questions feel free to call me at 770-359-8400 and I will do my best to answer them.  If you are a serious buyer lets talk on the phone and discuss it. In addition to being a licensed Classic Car Dealer I am also a Transport Broker and will be happy to assist the buyer with a great rate on Enclosed or Open Transport anywhere in the US at the buyers expense or to any port for overseas buyers.