About This Vehicle
Mileage: 14,385
Engine: V6
Body Style: Coupe
Transmission: Manual
Exterior Color: Red
Interior Color: Gray
VIN: 1G2PG1190JP217803
Price: SOLD
AMAZING, LOW MILEAGE

1988 PONTIAC FIERO GT

5-SPEED WITH SUNROOF AND IN NEAR FLAWLESS CONDITION!!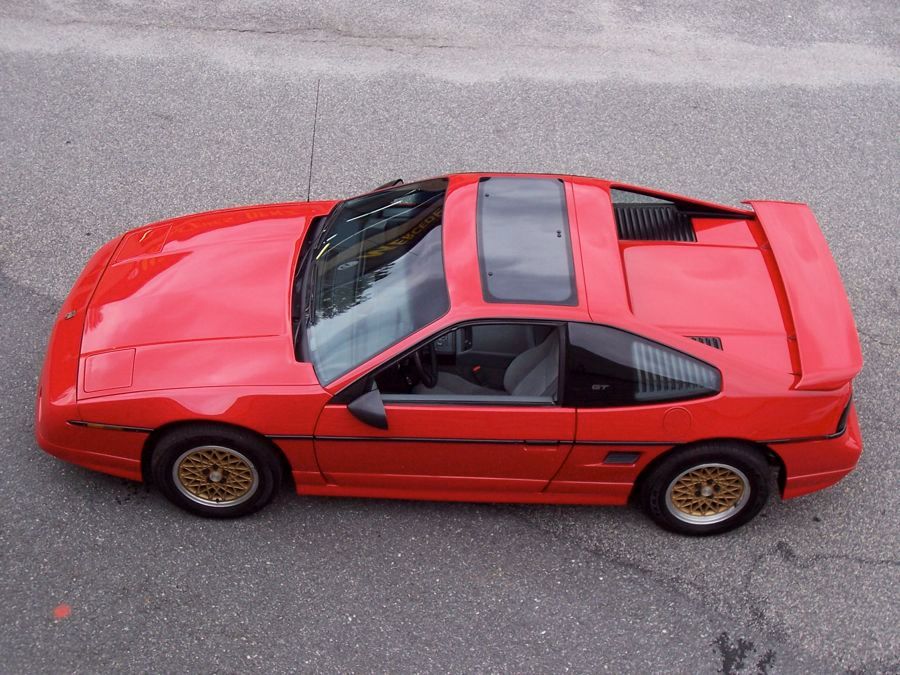 Regardless of whether you are an avid Fiero enthusiast, owned a Fiero back in the day, or knew someone who owned one, it is hard to argue that the 1988 Pontiac Fiero GT is going to be one of the iconic Pontiac Collectible cars as years go by.  Among other things, the Fiero was the first 2 seater Pontiac since the 1938 coupes. We all know Pontiac "used" to build excitement and there are sure to be many exciting years to come for owners of low mileage, top quality Fiero GT's. This particular one is a prime example of the type of Fiero a true enthusiast or collector would love to add to their collection. This is the 4th Fiero GT I have owned so I am really starting to grow fond of them.  They are really a blast to drive and handle the road amazingly at any speed.  There is quite a strong following for Fieros now and you will find many Fiero Clubs all over the country.  It is not unusual to see a few Fieros at your local car shows and cruise-ins and this one would fit in anywhere and will probably bring home a few trophies if that is what you enjoy. At the same time, you can jump in this mid-engine sports car and drive the heck out of it while knowing you have one of the future collectibles that surely be going up in value.
I recently acquired this '88 Fiero GT and was told that it spent most of its life in Texas before it was brought to Georgia by the 2nd owner in 2004.  The second owner left the car to her son who decided it was not a car he would use so he sold it. I do have the original window sticker and all of the original manuals.  The original maintenance manual was last filled out in October of 1994 when the car had 11,059 miles. Obviously the car was garage kept and barely driven since then as it has just over 14,000 original miles and appears to be completely original with no accidents or paint work.  This is one of those rare opportunities to buy a collectible sports car that was truly pampered but always well maintained and needs nothing.  The body is in fantastic condition!! Paint shines beautifully. Upon close inspection you will find a few tiny rock chips, a small spot on the lower front bumper where there are some small spider cracks common to these flexible bumpers, and on the lower side of the rear bumper on the drivers side there is a small scratch where something rubber up against the car.  I point these minor items out to let you know it is not absolutely perfect but it is probably as close as you will find, especially on one that has never been repainted.  All of the original VIN stickers are present on the body panels. Pop-up Headlights function perfectly. The body style on the Fiero is really quite sleek and this red beauty is in amazing condition. Take a look around the body:
When you slide inside this low mileage Fiero you will think you are sitting inside a brand new car. It still has that new car smell! The grey cloth seats are in amazing condition with no wear at all!  Dash looks perfect, center console looks new, ash trays never used,  carpeting in like new condition and a nice set of aftermarket floor mats have been added.  Sunroof pops open to let the breeze in and power windows and power mirrors function just as new. The steering wheel and 5-speed shifter show no wear which is amazing. If I had to pick the interior apart I would point out that the headliner is starting to come loose in a few spots. It is just a matter of the adhesives probably drying out over time and it is minor but could be easily addressed if desired. I also have the cover panel that you can put over the sunroof area to block the sun from coming in. It is stored in the original case that goes in the front trunk area. All of the gauges and lights appear to working correctly and the A/c blows ice cold and was recharged and serviced recently. This Fiero GT was nicely loaded with options including rear defroster and cruise control.  Have a look inside:
The Fiero's mid engine layout was chosen as a way to reduce aerodynamic drag and vehicle weight to improve fuel efficiency, and also for its handling, traction and braking benefits. The 1988 Model is considered the most desired by most for many reasons. Numerous changes were made to the 1988 Fiero. The most significant was a completely redesigned suspension to realize the full potential of the mid-engine layout. The new suspension included new two-piece brake calipers and upgraded brake rotors.  The GT model included the V6 motor with 43 hp more then the 4 cylinder, upgraded suspension and wider tires. Topping off the package were the new vented disc brakes on all 4 corners.  With just over 14,000 original miles this particular Fiero GT has really just been broken in and drives like a new one did in 1988. The 5-speed really adds to the fun of driving this true sports car !! The previous owner replaced the original tires and battery due to age. Tires were replaced with nice set of Eagle GT Radials that are close to brand new.This particular Fiero runs fantastic with no issues and sounds awesome!!!! This Fiero handles like it is on rails…fun!! During this final year of production the Pontiac, MI plant where the Fiero was produced shut down and Pontiac made the decision to cease production of the Fiero in February, 1988. There were only 6849 Fiero GT's produced in this final year. If you do some web research you will see that there are some very interesting comparisons of the Fiero to the Ferrari 308 and performance statistics would surprise the heck out of you with the Fiero. It is a known fact that Pontiac purchased several Ferrari 308 models for handling, engineering and comparison purposes. Some called it a mini Ferrari that was far more affordable. Original Gold Painted Wheels are in excellent shape with some minor oxidation along the aluminum edges that could probably be buffed out! Front trunk area looks like it did in 1988 and engine compartment is extremely clean as well. The undercarriage looks awesome as you would expect from a dry, garage kept Southern vehicle. As you will see I have the original window sticker and all of the original manuals. This car retailed at just over $16,000 in 1988…think about that! Here are a few pics of the engine bay, trunk area and undercarriage.
HERE IS A SHORT VIDEO SO YOU CAN HEAR THE SWEET TONE FROM THE FACTORY ORIGINAL DUAL EXHAUST!
Bottom line is that this particular Fiero GT is in amazing condition and is truly one of the few American automobiles of its time that can be considered a collectible.  Perhaps even better is that it can definitely be driven and enjoyed while it maintains its investment potential. It is definitely a vehicle that has left its mark and would fit it to any car collection. If you are considering a Fiero then doesn't it make sense to buy a super low mileage, original, 5-speed in the best color combo?? You bet it does!!!
Hopefully I have given you all the info you need to decide if this is the one for you but as always I welcome your phone calls and questions.  If you have any questions feel free to call me at 770-359-8400 and I will do my best to answer them. Take a look at the pics and video and then picture yourself behind the wheel!!!
If you are a serious buyer lets talk on the phone and discuss it. In addition to being a licensed Classic Car Dealer I am also a Transport Broker and will be happy to assist the buyer with a great rate on Enclosed Transport anywhere in the US at the buyers expense or to any port for overseas buyers.