About This Vehicle
Mileage: 49,069
Engine: 6 cyl
Body Style: Coupe
Transmission: Manual
Exterior Color: Burgundy
Interior Color: Beige
VIN:  1G2PG1193JP212580
Price: SOLD
AMAZING

, LOW MILEAGE, 1988 PONTIAC FIERO GT

5-SPEED

. NICELY OPTIONED WITH COMPLETE

DOCUMENTATION FROM DAY ONE

!
We know this particular '88 Fiero GT quite well!

In fact this is the second time we have had the pleasure of owning it!! We sold it to a great car guy in SC in March, 2011. He had an Airplane hanger full of toys and this Fiero fit right in to his family.  He loved the car when it arrived and enjoyed the car for almost 2 1/2 years.  He put about 4000 miles on it during those 2 years and I can truly say it looks as good as it did when we shipped it to him 2 1/2 years ago. Amazingly it now runs and drives even better then it did when we sold it to him which is hard to believe because we felt it drove amazing at the time.  He was a very meticulous guy and decided to perform some great maintenance to to the brakes, suspension, and air-conditioning system. Everything was done top-notch and this Fiero not only looks close to showroom new but truly drives and handles probably better then showroom new!! He gave us the courtesy of a phone call when he decided it was time to move on to a new toy and we quickly jumped at the opportunity to buy it back.

If you have been searching for a really sweet '88 Fiero GT I am sure this one will plant a smile on your face!!!
Some of the description below is from when I had originally listed it for sale 2 1/2 years ago. The only thing that has changed is that the car is even nicer then it was then!!
Regardless of whether you are an avid Fiero enthusiast, owned a Fiero back in the day, or knew someone who owned one, it is hard to argue that the 1988 Pontiac Fiero GT is going to be one of the iconic Pontiac Collectible cars as years go by.  Among other things, the Fiero was the first 2 seater Pontiac since the 1938 coupes. We all know Pontiac "used" to build excitement and there are sure to be many exciting years to come for owners of low mileage, top quality Fiero GT's.  This is the second Fiero GT I have owned and it is truly in amazing condition and has a pedigree that any car collector can appreciate.  I recently purchased this awesome 5-speed GT from the second owner in Alabama.  This was the 3rd Fiero he had owned and he actually bought one brand new back in '88.  He bought this one 4 years ago from the original owner in Arizona.  He had a blast driving it from AZ to his home in AL and without a doubt if someone wanted to drive this cross country it is ready to go!  He only put a few thousand miles on it during his ownership and decided it was time to make space for his next toy.  This Fiero is truly in near flawless original condition!!  I will do my best to honestly describe this future classic collectible and provide as many pics as possible as well as several videos so you can see the true condition and quality of this car. Sit back and enjoy!!
As I mentioned this car was bought brand new in Mesa, Arizona at Sun Pontiac. The original owner babied this Fiero and it shows! He was obviously a serious car enthusiast and saved all of the original paperwork and documentation. This Burgundy GT has never been in any accidents or had any paint work as far as I can tell.  The previous owner was quite positive that this car wears its original factory paint on all of the original body panels. I was also told that this Fiero was never even driven in the rain.   You may have already noticed that this GT does not have the rear spoiler that many have. This was actually an option on the GT and the original owner decided he would prefer to have a luggage rack instead.  As the 2nd owner told me this luggage rack almost looks like a mini spoiler and as a result he called it "The Gentleman's Fiero GT".  This option probably makes this particular car even more rare and will add to its value and collectibility as time goes by.  This Fiero recently won 1st place at an All Pontiac Show in Alabama.  The original documentation on this car is phenomenal and includes everything from the original window sticker and Sales Receipt from the dealer to the original VIP Owners Card and of course all of the original manuals and great service history documenting the very low original miles. This car now has just 49,100 original miles and needs absolutely nothing!! I learned from the first Fiero GT I owned that there were some options that tend to be pretty rare on these cars. This particular car has several very desireable and rare options like the drivers side lumbar support and premium stereo with sub-woofer.  Not to mention that this is a 5-speed and has a dealer installed luggage rack….I wouldn't be surprised if this Fiero GT is 1 of 1 in this color with these options!
The pictures that follow will give you a walk around tour of the near flawless body on this Fiero.  This car has all of its original paint that is in amazing condition. It was never in any accidents, minor or otherwise. Upon close personal inspection the meticulous buyer might find an extremely tiny rock chip or two but the body is really near flawless! Upon really close inspection you can see some crazing in the side wing windows that is very common on these. It is nice enough to win shows, and has! It is also a car you could or should drive and enjoy whether it is to the shows or just for the fun and excitement! At the end of the description I also included a walk around video of the car.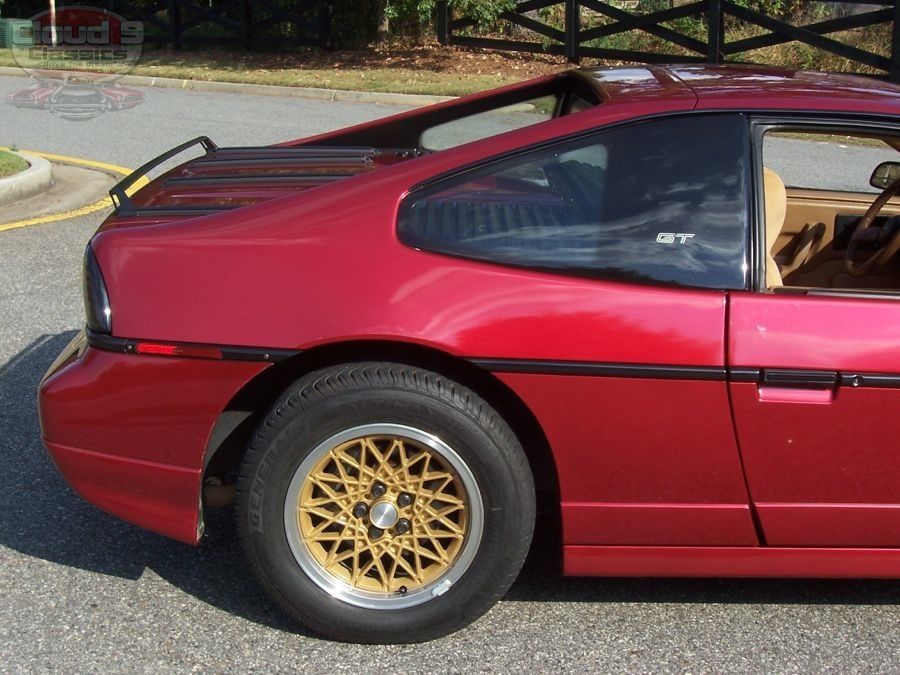 Open the drivers side door on this 2-seater mid engine sports car and you will think this car just came off the showroom floor. The beechwood interior is basically perfect and shows no wear that I could see. The car was never smoked in and still has that new car smell.   Gauges are crystal clear and all electronics are functioning correctly including the pop-up headlights. The A/C system blows ice cold! Original floor mats look excellent.  Power windows and locks work great.  This Fiero has the upgraded Premium Sound option with sub-woofer. The 2nd owner replaced the front speakers with upgraded speakers but I have the originals. The original sub-woofer was re-coned and I have the receipt. The original shifter was upgraded with a Rodney Dickman sport shifter previously but the gentleman we sold the car to re-installed the factory shifter which is the way the car is now and it shows beautifully. Drivers seat has added lumbar support.  Just a true time capsule inside this beauty.  Here is a quick photo tour inside. 
The Fiero's mid engine layout was chosen as a way to reduce aerodynamic drag and vehicle weight to improve fuel efficiency, and also for its handling, traction and braking benefits. The 1988 Model is considered the most desired by most for many reasons. Numerous changes were made to the 1988 Fiero. The most significant was a completely redesigned suspension to realize the full potential of the mid-engine layout. The new suspension included new two-piece brake calipers and upgraded brake rotors.  The GT model included the V6 motor with 43 hp more then the 4 cylinder, upgraded suspension and wider tires. Topping off the package were the new vented disc brakes on all 4 corners.  With just 49,100 original miles this particular Fiero GT has really just been broken in and drives like a new one did in 1988. The 5-speed really adds to the fun of driving this true sports car. As you will see in the picture below, there has been some great maintenance and service done by the gentleman who bought it from us 2 1/2 years ago to ensure that this Fiero GT needs absolutely nothing and drives like brand new! The only other modification done by the 2nd owner was to improve the handling by adding 1″ lowering ball joints in front and new front bushings. This Fiero handles like it is on rails…fun!! During this final year of production the Pontiac, MI plant where the Fiero was produced shut down and Pontiac made the decision to cease production of the Fiero in February, 1988. There were only 6849 Fiero GT's produced in this final year. If you do some web research you will see that there are some very interesting comparisons of the Fiero to the Ferrari 308 and performance statistics would surprise the heck out of you with the Fiero. It is a known fact that Pontiac purchased several Ferrari 308 models for handling, engineering and comparison purposes. Some called it a mini Ferrari that was far more affordable.  Here are a few pics of the engine bay. 
Here is the list of items that were done to this Fiero over the last 2 years or 4000 miles: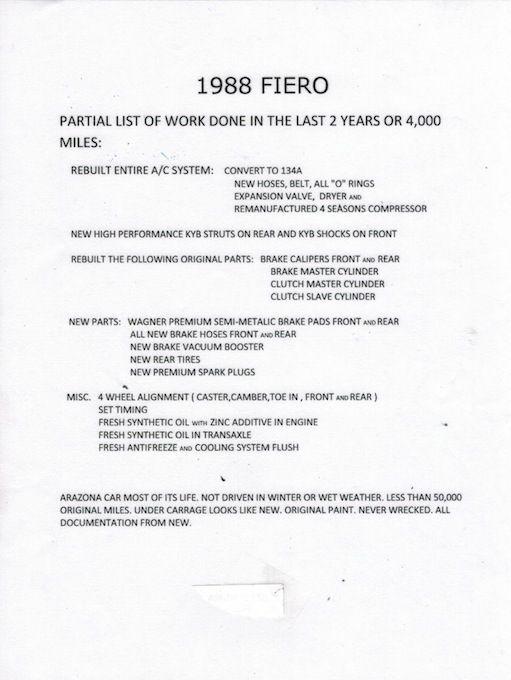 As you probably have noticed this GT also rides on the original stock gold diamond spoke wheels that are in fantastic condition with no curb rash.  The 2nd owner said that he drove the car back from AZ with the original tires still on the car but they were really showing there age so he did some research and put on the quietest set of Kumho tires that he could find and had an alignment done. The tires only have a few thousand miles on them and are basically like new. For some reason the gentleman who bought the car from me 2 1/2 years ago said he felt like the rear tires were not driving smoothly enough and he replaced them with a set of different tires. It handles the road smooth as butter now so I guess he knew what he was doing.  The front trunk area looks like new as well with original spare. The underside of this Fiero is bone dry as it was always in a a warm, dry climate unlike many of the Fieros from the Northeast or midwest you will see that show rust and corrosion….I did not take any pics but believe me it looks fantastic underneath!  
Bottom line is that this particular Fiero GT is in amazing condition and is truly one of the few American automobiles of its time that can be considered a collectible.  Perhaps even better is that it can definitely be driven and enjoyed while it maintains its investment potential. It is definitely a vehicle that has left its mark and would fit it to any car collection.  
Here is a short, amateur walk around video of this sweet Fiero:
Here is a short sound clip so you can hear the nice throaty sound from this 5-speed GT:
 Hopefully I have given you all the info you need to decide if this is the one for you but as always I welcome your phone calls and questions.  If you have any questions feel free to call me at 770-359-8400 and I will do my best to answer them.  I will also listen to serious offers from serious buyers.   If you are a serious buyer lets talk on the phone and discuss it. Take a look at the pics and video and then picture yourself behind the wheel!!!