About This Vehicle
Mileage: 29,100
Engine: V6
Body Style: Coupe
Transmission: Manual
Exterior Color: White
Interior Color: Beige
VIN:  1G2PG1193JP221022
Price: SOLD
AWESOME,

NEAR FLAWLESS

1988 PONTIAC

FIERO GT,

5-SPEED

, WITH JUST 29,200 MILES….

FUTURE COLLECTIBLE

, NICELY EQUIPPED AND WELL DOCUMENTED!!!
Regardless
of whether you are an avid Fiero enthusiast, owned a Fiero back in the day, or
knew someone who owned one, it is hard to argue that the 1988 Pontiac Fiero GT
is going to be one of the iconic Pontiac Collectible cars as years go by.
Among other things, the Fiero was the first 2 seater Pontiac since the
1938 coupes. We all know Pontiac "used" to build excitement and there are sure
to be many exciting years to come for owners of low mileage, top quality Fiero
GT's.
This is now the 10th '88 Fiero GT we have owned and it is truly in amazing condition and has under 29,200 pampered, original miles!! This White, mid-engine, pocket rocket had just 3 owners and lived its entire life in Missouri where it was originally sold at Lou Fusz Motor Company. The gentleman we acquired it from was a true car enthusiast who had a great collection of cars but he realized the time had come to let this awesome Fiero go so that he could get his wife's daily driver back in the garage for the winter. He owned this car for 10 years and he knew both of the previous owners who lived locally.  He was a true Fiero Enthusiast and over his 10 years of ownership took this White beauty to many Fiero Shows where it won its share of first place awards. Well, he had his fun and decided he was ready to pass it along to the next lucky owner….maybe you??  There is quite a strong following for Fieros now and you will find many Fiero Clubs all over the country.  It is not unusual to see a few Fieros at your local car shows and cruise-ins and this one would fit in anywhere and will probably bring home a few trophies if that is what you enjoy. At the same time, you can jump in this mid-engine sports car and drive the heck out of it while knowing you have one of the future collectibles that surely be going up in value. 
This Fiero is really in amazing original condition with extremely low miles and a nice group of options. I will do my best to provide enough large images, a video of it start up and running, and an honest description so you can decide if this is the one you have been waiting for. Sit back and enjoy!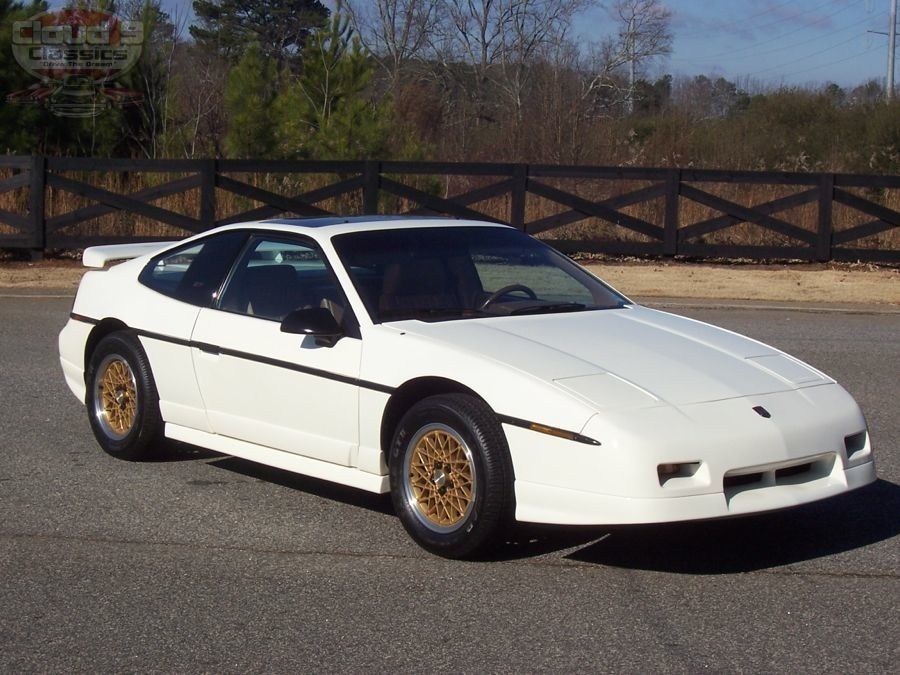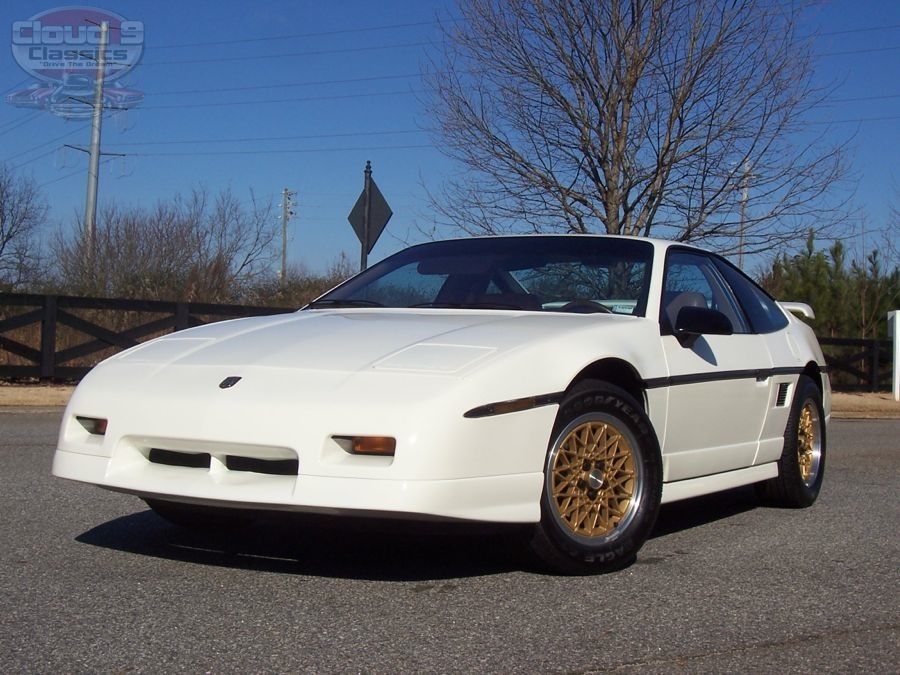 Hard to believe that this Pontiac Sports Car is 25 years old! Obviously pampered and extremely maintained, the body on this White '88 Fiero GT is really in amazing condition and extremely original with no accidents!! The original vin # stickers are still in place on all of the body panels and the original white paint looks great.  As you walk around this Fiero you will be hard pressed to find any rock chips or flaws.  Several years ago, the previous owner was bothered by a few rock chips that had accumulated on the ground effects panels below the doors so he had those painted, but otherwise he was quite positive this car still has its original paint. He enjoyed taking this car to the shows and always kept a great coat of high end wax on it and never drove the car in the winter. He is quite positive the previous owners also never took this Fiero out on the roads in the winter so it never saw salt roads and one look underneath the car confirms this.  This Fiero was equipped with the factory rear spoiler and sunroof that is removable and has a sunshade that is still in its original case. The wing windows that often times will "check" over time look fantastic and all of the glass looks excellent.  The pop up front headlights work flawlessly and were rebuilt by the previous owner.  This car has already proven itself by winning first place in several Fiero shows and I am sure the next owner will be extremely pleased by the condition of the body. Here is a walk around photo tour of the body: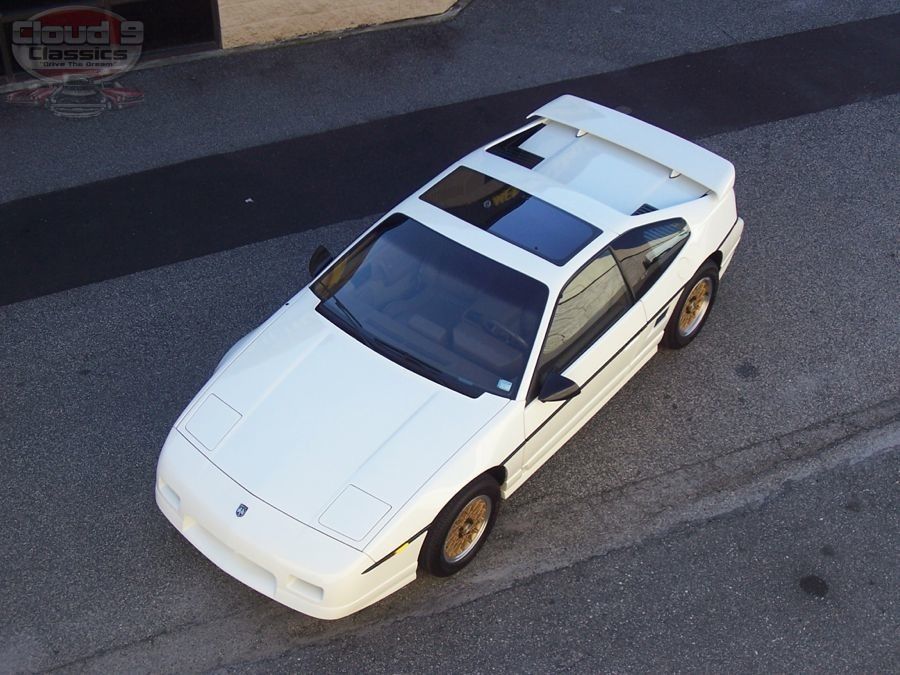 Complimenting the beautiful white exterior is an awesome Light Camel colored Leather interior. When you slide inside this ultra low mileage Fiero you will truly feel like you are back on the showroom floor in 1988. The car even still has a new car smell inside. The light camel leather seats are in awesome condition with just one minor wear mark on the drivers side seat bolster. It is just a slight discoloration and could easily be dyed if desired. Otherwise I did not see any other signs of wear anywhere inside this sweet little Fiero.  The dash looks perfect, center console looks new, steering wheel shows no wear, original floor mats are like new and covered by a very nice set of matching custom Fiero Mats. All of the gauges in the dash appear to be working correctly.  The previous owner decided to upgrade the stereo with a factory deluxe stereo unit which you would never know was changed as it fits perfectly. Headliner looks awesome without any of the sagging that is common.  Power windows work great and the Air conditioning blows ice cold. As you will see in the pics below the interior looks close to new and is ready for the shows.  Have a look:
The Fiero's mid engine layout was chosen as a way to reduce aerodynamic drag and vehicle weight to improve fuel efficiency, and also for its handling, traction and braking benefits. The 1988 model is considered the most desired for many reasons. Numerous changes were made to the '88 Fiero. The most significant was a completely redesigned suspension to realize the full potential of the mid-engine layout. The new suspension included new two-piece brake calipers and upgraded brake rotors. The GT model included the 2.8L V6 motor with 43hp more then the 4 cylinder, upgraded suspension and wider tires. Topping off the package were the new vented disc brakes on all four corners. 
With just under 29,200 original miles this particular Fiero GT has really just been broken in and truly drives like a new one would have in 1988.  The Gertrag manual 5-speed transmission adds to the fun of driving this sports car and it handles like a go kart. Previous owners were all car enthusiasts who maintained this Fiero extremely well.  The previous owner just replaced the Eagle GT II tires about 1000 miles ago.  Due to the car not being driven that often one of the injectors was clogged so he had all of the fuel injectors rebuilt and put in new spark plugs. He also had the heater core replaced during his ownership.  No oil leaks!!! This Fiero truly runs and drives like new and is an absolute blast to drive and handles like it is on rails. The awesome looking factory Gold wheels look brand new with no curb rash.  Original dual exhaust sounds awesome. As you will see the engine compartment looks brand new and the front trunk area also looks showroom new and you will see the sunshade stored in its original case. Undercarriage looks amazing and it is obvious this car never saw the winter salted roads as their is no sign of corrosion. We also have great original documentation including the original window sticker, original manuals, and service records. This car retailed for over $16,000 brand new! Take a look at the engine bay and then watch the video so you can hear this car start up and running.  
HERE IS A SHORT VIDEO SO YOU CAN HEAR THIS MID-ENGINE COLLECTIBLE START UP AND RUNNING (

CLICK THE ARROW TO START

):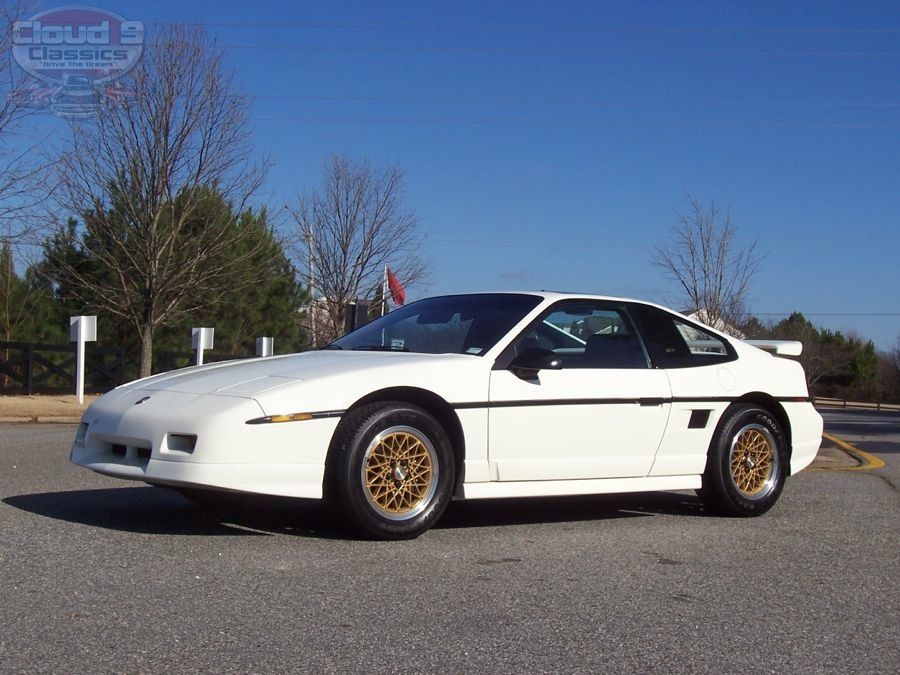 If you have any questions feel free to call me at 

770-359-8400 

and I will do my best to answer them.  If you are a serious buyer lets talk on the phone and discuss it. I will be happy to negotiate a deal and get this AWESOME FIERO in to your garage as soon as possible.  In addition to being a licensed Classic Car Dealer I am also a Transport Broker and will be happy to assist the buyer with a great rate on Enclosed or Open Transport anywhere in the US at the buyers expense or to any port for overseas buyers.