About This Vehicle
Mileage: 6,100
Engine: 6 Cylinder
Body Style: Coupe
Transmission: Automatic
Exterior Color: Red
Interior Color: Gray
VIN: 1G2PG1195JP220292
Price: SOLD
AMAZING, ORIGINAL, NICELY EQUIPPED 1988 PONTIAC FIERO GT WITH JUST
6100 ORIGINAL MILES!!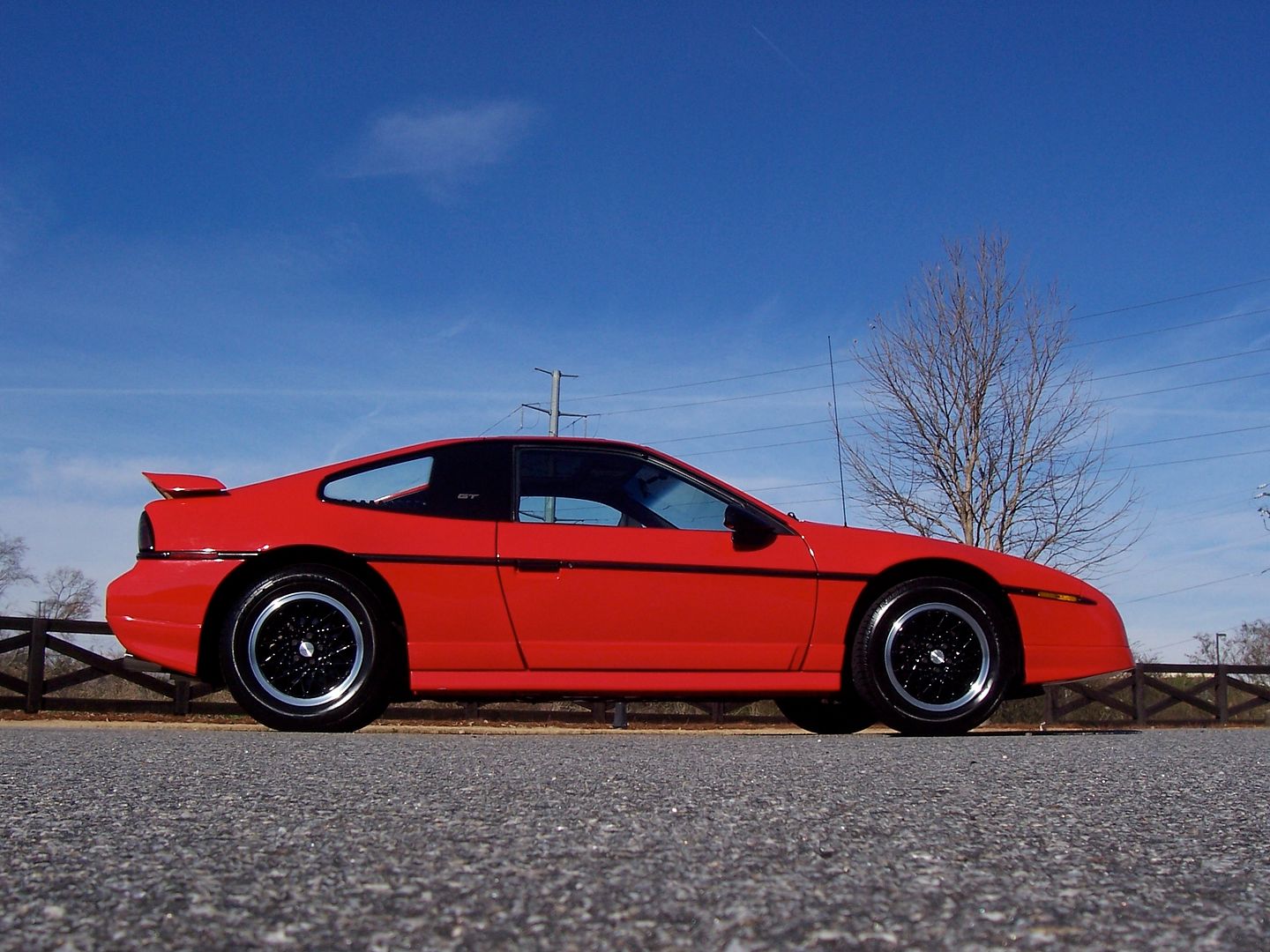 Regardless of whether you are an avid Fiero enthusiast, owned a Fiero back in the day, or knew someone who owned one, it is hard to argue that the 1988 Pontiac Fiero GT is going to be one of the iconic Pontiac Collectible cars as years go by.  Among other things, the Fiero was the first 2 seater Pontiac since the 1938 coupes. We all know Pontiac "used" to build excitement and there are sure to be many exciting years to come for owners of super low mileage, top quality Fiero GT's.  This is actually the second time I have owned this amazing, original Fiero.  I purchased it last summer from the original owner who was in his 70's and due to declining health decided it was time to let his beloved Fiero go to the next owner. It had been stored in a Climate controlled environment its entire life, driven only in the spring/summer months and obviously with just 6100 miles barely driven. It was always properly maintained each year and prior to me purchasing it all fluids were changed.  The night it arrived I was in awe as it sat in a well lit parking lot looking like the mini Ferrari it was.  My 15 year old daughter thought it was so cool and when we took it to the gas station that night people stopped and stared and complimented me on the car just like it was one of my 60's muscle cars.  After finally finding the gas cap release and fueling up it was up the highway at 75 mph I went. What a fun car to drive. The Fiero cornered the winding road to my warehouse like a true sports car.  A few weeks later I listed it on Ebay and on the final day of the auction a gentleman from SC called and we negotiated a price and ended the auction early so he could have the Fiero he wished he had never sold. He explained how he had always hoped that he and his son could enjoy his first Fiero together but at the time needed to sell it. Here was his chance to relive those memories. That was in July of this year and the Fiero had a little over 5600 miles on it.  I had the car transported to his door and he called me to tell me just how perfect it was and how happy he was with it. Well, fast forward to a couple of weeks ago and I received a call from Frank in SC.  He had received some very bad news late in the summer about his health and then recently was diagnosed with Leukemia.  As much as he hated to let the Fiero go he could not stand the thought of it sitting idle.  He called to see if I was interested in buying the car back from him so someone else could enjoy it and of course I jumped at the opportunity to pass this awesome Fiero on to another lucky individual.  I will do my best to honestly describe this future classic collectible and provide as many pics as possible as well as a video so you can see the true condition and quality of this car.  I had saved the original pics I had taken in July which are included as well as some I took a few days ago ( including the pic directly above and below this paragraph) so you can see that the condition of the car is essentially the same as when I sold it back in July the first time. Sit back and enjoy!!
The pictures that follow will give you a walk around tour of the near flawless body on this Fiero.  This car has all of its original paint that is in amazing condition. It was never in any accidents, minor or otherwise.  Upon close personal inspection the only flaws on the body that I think you will see are a few very tiny chips that have been touched up. I noticed one on one of the flip up headlights and another on the lip of  rear spoiler wing.  There is also a small scratch about 1 1/2 inches long on the bottom edge of the lower body effect on the passenger side. This is the only flaw on the body that was not there when I originally sold this to gentleman in SC so somewhere in the 400 or so miles he enjoyed it something must have kicked up or scraped this area. I could have easily touched this up but decided to leave it as is so that the next owner could decide if they wanted perfection or not. Some of you will also notice that in the pictures from July there is an original front license plate holder on the car.  The gentleman in SC did not need a front license plate in his state so he removed it but it is included with the sale if you decide to put it on. An additional note is that when I sold the car previously it had the original Goodyear tires on it.  The buyer felt that there was some dry rotting on the original tires and  decided to replace them, so the car is riding on brand new set of Uniroyal Tiger Paw radials mounted on the original black wheels that are in near perfect condition.  Overall the body and all exterior trim is an awesome condition.  It is nice enough to win shows but with the the extremely minor flaws I pointed out is also a car you could or should drive and enjoy whether it is to the shows or just for the pure fun and excitement.
Open the drivers side door on this 2-seater mid engine sports car and you will think this car just came off the showroom floor. The interior is basically perfect and shows no wear that I could see. The car was never smoked in and still has that new car smell.   Gauges are crystal clear and all electronics are functioning correctly including the pop-up headlights. I had the A/C system fully charged in July. Original floor mats look like they were barely used and with only 6100 miles that is pretty much the story.  The sunroof opens easily and does not leak.  Power windows and locks work great.  Just a time capsule inside this red beauty.  Here is a quick photo tour inside.
The Fiero's mid engine layout was chosen as a way to reduce aerodynamic drag and vehicle weight to improve fuel efficiency, and also for its handling, traction and braking benefits. The 1988 Model is considered the most desired by most for many reasons. Numerous changes were made to the 1988 Fiero. The most significant was a completely redesigned suspension to realize the full potential of the mid-engine layout. The new suspension included new two-piece brake calipers and upgraded brake rotors.  The GT model included the V6 motor with 43 hp more then the 4 cylinder, upgraded suspension and wider tires. Topping off the package were the new vented disc brakes on all 4 corners.  With just 6100 original miles this particular Fiero GT has really just been broken in and drives like a new one did in 1988. The automatic transmission shifts like it should.  During this final year of production the Pontiac, MI plant where the Fiero was produced shut down and Pontiac made the decision to cease production of the Fiero in February, 1988. There were only 6849 Fiero GT's produced in this final year. If you do some web research you will see that there are some very interesting comparisons of the Fiero to the Ferrari 308 and performance statistics would surprise the heck out of you with the Fiero. It is a known fact that Pontiac purchased several Ferrari 308 models for handling, engineering and comparison purposes. Some called it a mini Ferrari that was far more affordable.  Here are a few pics of the engine bay.
As you can see in the picture above I also have all of the original manuals stamped with the original owners name and the original dealership the car was sold at in Wisconsin.
Here is a short, amateur walk around video of this sweet Fiero:
Bottom line is that this particular Fiero GT is in amazing condition and is truly one of the few American automobiles of its time that can be considered a collectible.  Perhaps even better is that it can definitely be driven and enjoyed while it maintains its investment potential. It is definitely a vehicle that has left its mark and would fit it to any car collection.  Hopefully I have given you all the info you need to decide if this is the one for you but as always I welcome your phone calls and questions.  If you have any questions feel free to call me at 770-712-1326 and I will do my best to answer them.  Take a look at the pics and video and then picture yourself behind the wheel!!!